Everyone knows that hotels on the Las Vegas Strip can be pricey. If you are looking for a budget option, though, there are plenty of options for you.
Of course, there are an awful lot of hotels on the Las Vegas Strip. In fact, you probably won't find a more concentrated selection of incredible hotels anywhere in the world.
The other thing there is an awful lot of here is misinformation. I often hear from friends and social media followers about how they have been badly advised by travel agents for their first Las Vegas trip.
Let's try to cut through that information, then, and make sure Vegas visitors on a budget know their many great options.
RELATED READING: Las Vegas Strip: Everything visitors need to know
Luxor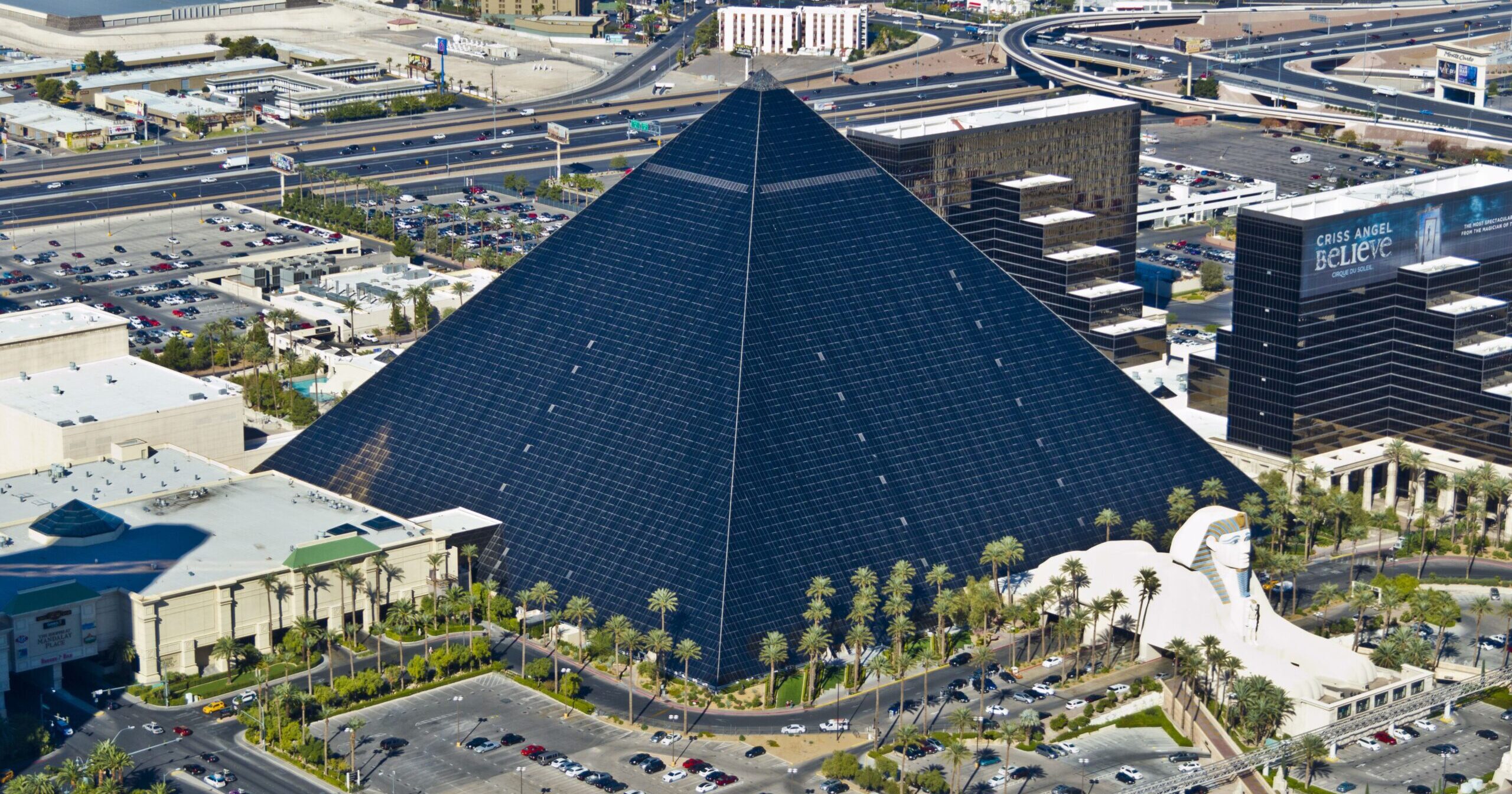 In Las Vegas these days, hotels are many, yet true icons are relatively few. Luxor is one of them, and it is also one of the most cost-effective places to stay on the Las Vegas Strip.
It probably doesn't matter what images you have seen of the Las Vegas skyline, I'd wager the Luxor has been in it. I mean, who wouldn't want to stay in a giant black pyramid?
There are some great deals to be found at Luxor, but there are some considerations too.
It is one of the more southern properties, so walking to centre-Strip could be a problem for some. In fact, in the summer desert heat, it will likely be a challenge for everyone. There are some great, easy and cheap transport links that can help you there, so don't worry too much about it.
Luxor is also not an isolated property by any means. You can walk to Mandalay Bay and Excalibur without going outside. New York-New York and MGM Grand, two other iconic Las Vegas hotels are also very nearby.
RELATED READING: Luxor hotel review and guide
Just be advised that if you want to stay in the Pyramid itself the rooms are now a little tired. The black exterior can make it quite dark in there too. There is a more modern tower as an option too, though.
The great thing about Luxor is that it is what many would consider a proper Las Vegas hotel. It has huge scale, distinctive theming and an iconic look. So, if you want to experience Vegas properly but have a budget, Luxor is a genuinely great option.
Flamingo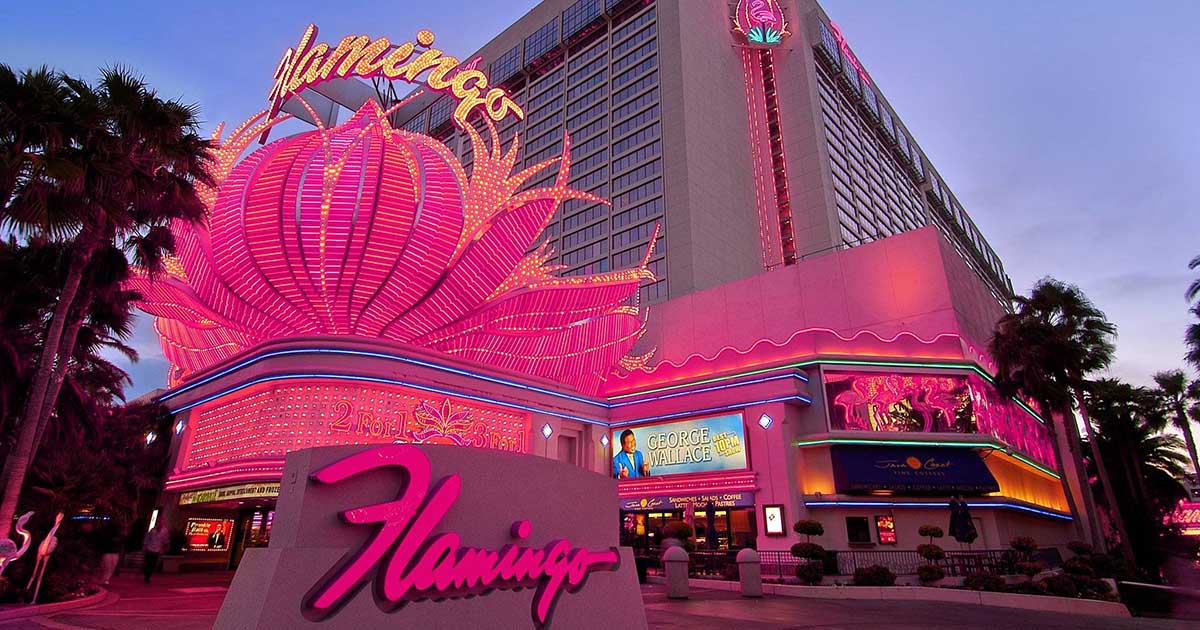 While we are on the subject of Las Vegas icons, it's impossible not to mention the Flamingo.
Flamingo wasn't the first resort on the Las Vegas Strip, but it is the oldest one still in operation today. It is also one of the most storied given its mob beginnings. The neon and distinctive pink look are synonymous with Las Vegas too.
In truth, though, there are few signs of its history today. It has been regularly renovated and expanded over the years, and it's very much a modern resort nowadays.
However, what Flamingo will do for you is put you right at the heart of the Las Vegas Strip. That is a location that tends to come with a price premium, but Flamingo bucks that trend.
RELATED READING: Flamingo hotel review and guide
It stands among giants and icons, with Caesars Palace opposite and The Bellagio also very close. Flamingo isn't nearly as expansive as those. That doesn't matter, though.
It's an established property with one of the best locations on the Las Vegas Strip, and it's one of the kindest hotels on the budget. You can't really ask for any more than that.
The LINQ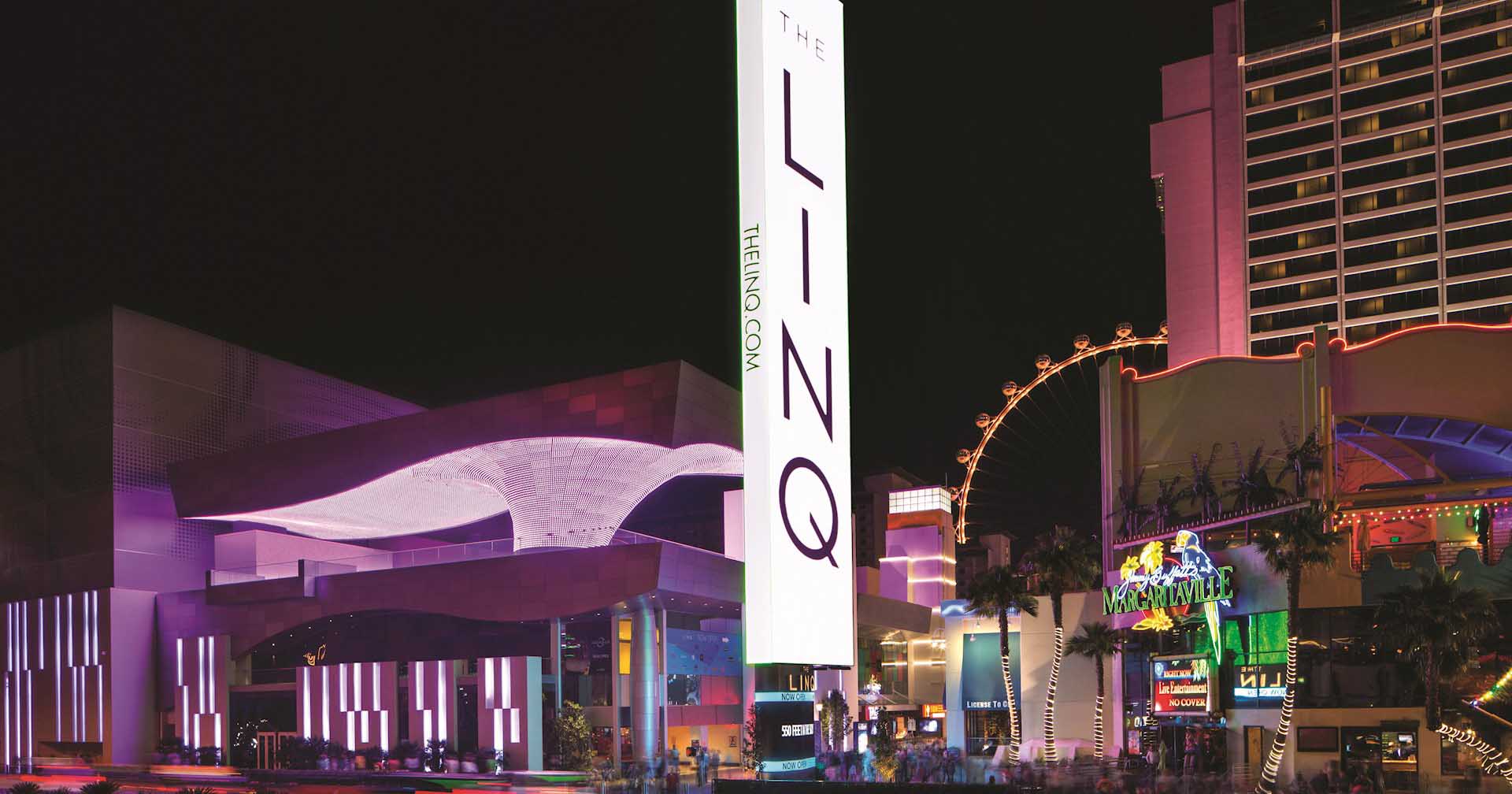 The LINQ is directly next door to Flamingo and is actually even cheaper still. In fact, The LINQ started off life as an annexation of its neighbour. It was called The Flamingo Capri then. Older visitors to Las Vegas know it best by another of its guises, though: The Imperial Palace.
These days, LINQ very much stands on its own. Granted, it's one of the smallest hotels on the Las Vegas Strip. That is reflected in its room sizes, too, which are probably the smallest around.
However, if you want to do the Las Vegas Strip on a budget, you will have to make compromises somewhere.
RELATED READING: The LINQ hotel review and guide
One thing The LINQ does have in its favour is the LINQ Promenade. It is one of the best attractions in Vegas with restaurants, bars, and the High Roller observation wheel. There is also a zipline for those who like a bit more of an adrenaline rush.
That all means that The LINQ does offer a lot to those wanting to do the Las Vegas Strip on a budget. I would advise, though, that the property is marketed towards a young crowd nowadays. Older visitors would probably be happier elsewhere.
Harrah's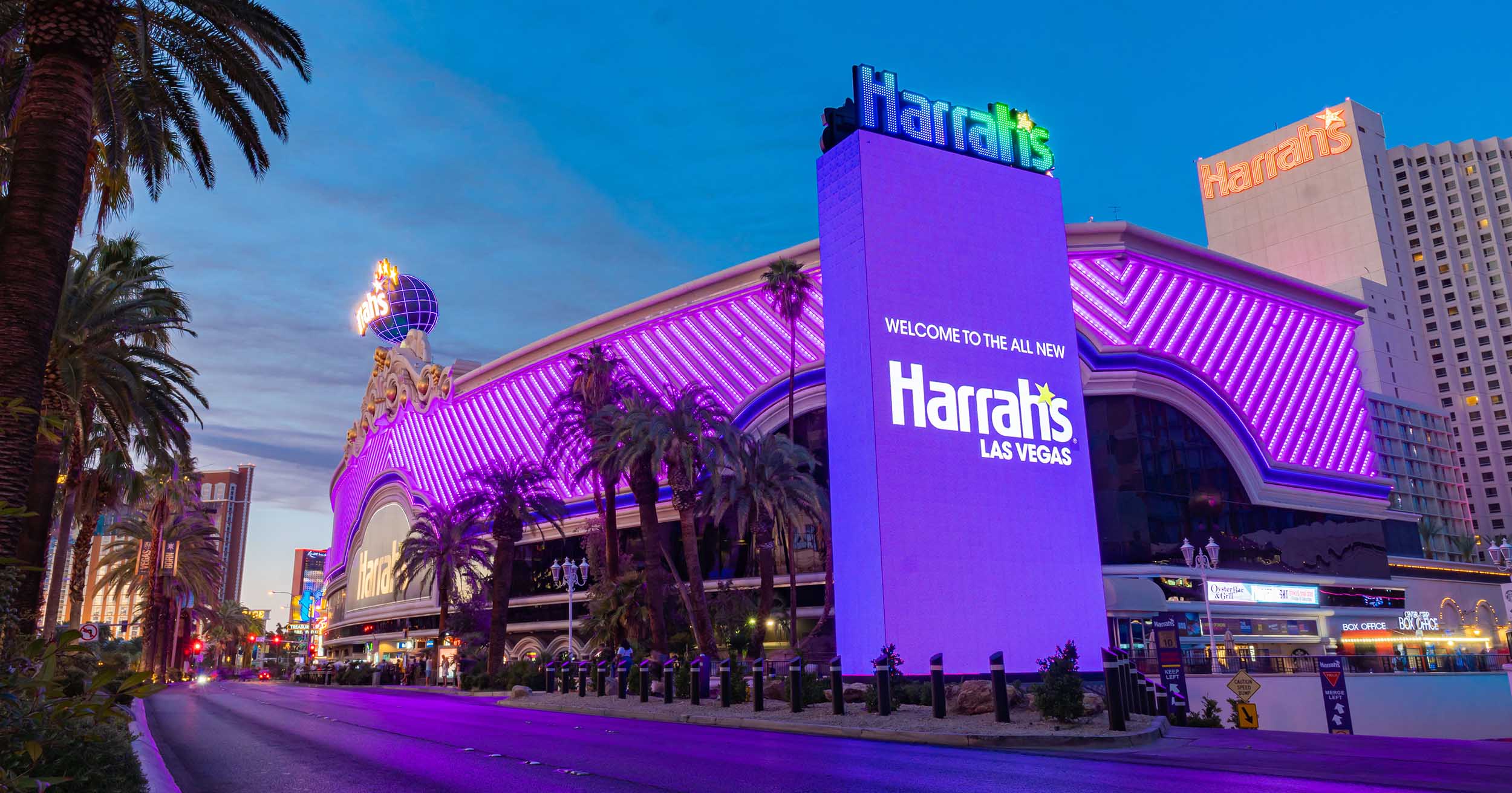 For now, I am just going to remain in the centre-Strip and pop along from The LINQ to its other neighbour, Harrah's.
In truth, Harrah's is a tough hotel to really summarise. That's because, in all honesty, there isn't really anything special about it. I don't want that to be misleading, though, as there also isn't anything bad about it.
I call Harrah's the Master of Mediocrity, but I do so affectionately. It's just a very solid, yet wholly unspectacular, all-rounder. There is plenty of spectacle all around you, though, so it's not something to really worry about. After all, in Las Vegas, a hotel is just somewhere to sleep off the fun and excess.
RELATED READING: Harrah's hotel review and guide
Harrah's is definitely getting more towards the north of the Strip. The Venetian is its neighbour, with The LINQ on the other side. Caesars Palace and Mirage, meanwhile, are opposite. So, like I said, you definitely won't miss out on Las Vegas spectacle if you stay at Harrah's.
Excalibur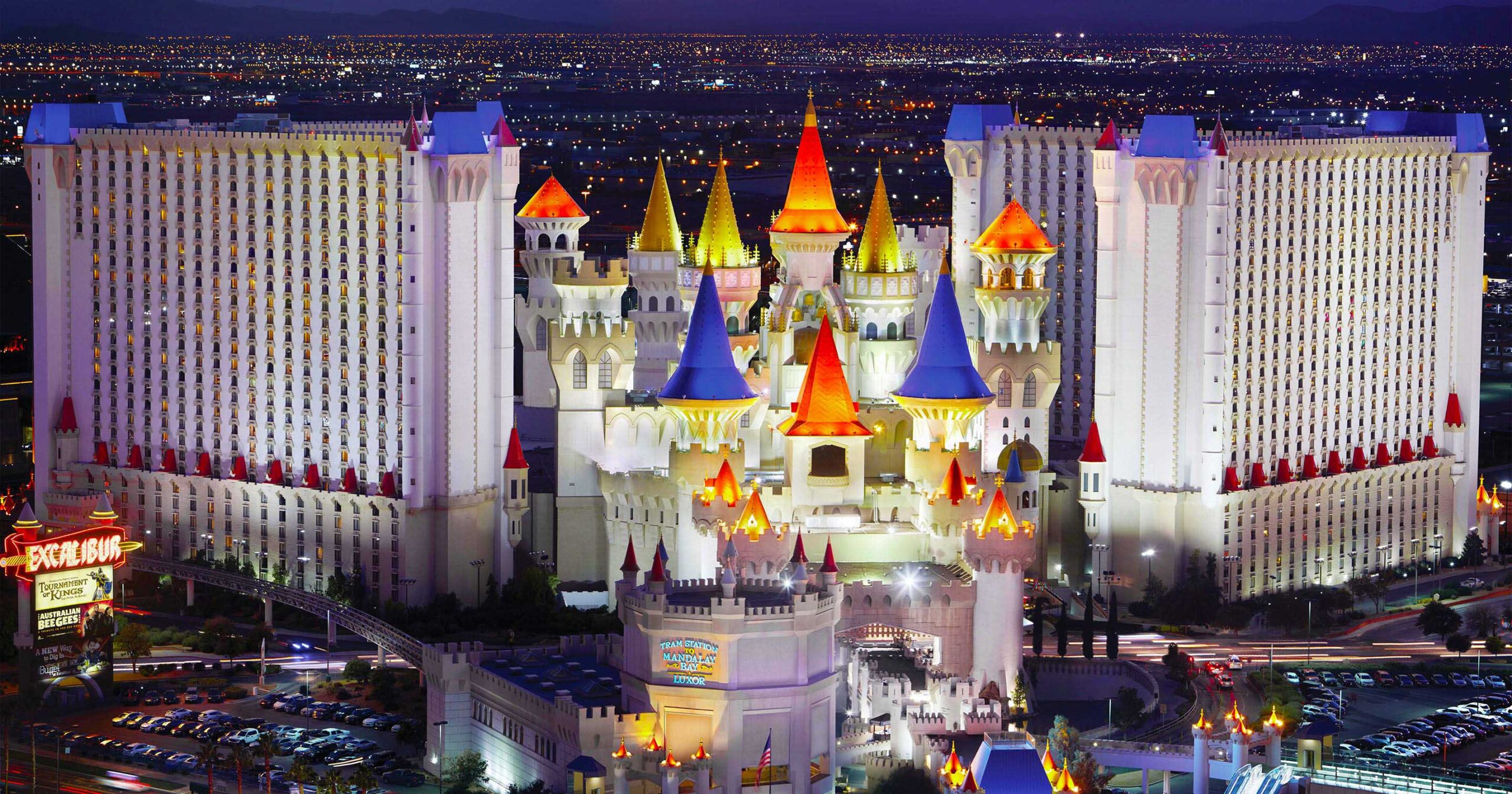 For many, Excalibur is the best budget property on the Las Vegas Strip. Fitting then, perhaps, that we have saved it to last.
Excalibur is at the south end, and is one of the four properties on the corners of the intersection where Tropicana Avenue meets Las Vegas Boulevard. The others are MGM sister-properties MGM Grand and New York-New York, and the Tropicana.
That's a great location, and the two MGM sister properties cost more. Therefore, you get a bit more for your buck at Excalibur. Tropicana is a similar price, but in truth it can't offer as much as Excalibur can. It's hard, therefore, to especially recommend it.
RELATED READING: Excalibur hotel review and guide
Excalibur has a medieval theme and looks like a fairytale castle. That may sound tacky to some, but I personally find it charming. You want a bit of flamboyance in when you're visiting Las Vegas, surely? It's part of the fun.
While the location is great, some of the rooms can be a little dated. The one I stayed in wasn't bad at all, though, and it was very much an entry-level standard one.
Budget Las Vegas Strip hotels to avoid
As I mentioned before, if you're a Las Vegas first-timer it is very easy to be miss-sold on certain hotels.
There are a lot of hotels out there that will be sold as a Strip location but mostly on a technicality. A great example is The Strat. I remember a travel agent once trying to sell me on The Strat telling me it was 'on the Strip' and a great price. The former was certainly true. Technically the latter is true too, but barely.
The Strat is the northernmost hotel on the Strip, and very isolated. It's a nice enough place to stay, but you won't get the Las Vegas experience from it. The same can be said of SAHARA, which is the closest to it.
Meanwhile, Circus Circus is in a similar boat, although Resorts World opening has made that a little more connected. I'd still recommend avoiding it, though. Unless you are taking kids, it's just a bit iffy.
There are also some properties that are not on the Strip, but will be sold as very close. Rio, Virgin and Palms can offer some great deals but, like The Strat, they require a lot of taxi travel to get to and from the Strip.
RELATED READING: Las Vegas myths and misconceptions – and why to ignore them