One of the things we get asked most often is when is the best time to visit Las Vegas for great weather. So, what can you expect from the weather in May and will it be a good time for you to hit the Strip?
The short answer is that depends what kind of climate you like. However, May is certainly a popular time of the year to hit the Strip.
Let's have a closer look at the Las Vegas weather in May.
High temperature: 31C/88F
Low temperature: 16C/61F
Day temperature: 26.9C/80F
Night temperature: 23.9C/75F
Sunshine hours: 13
Rainfall: 6.08mm
Rainfall days: 2
What to expect from the Las Vegas weather in May
The first time I ever went to Las Vegas was in May and the weather was just about perfect for me.
Coming from the UK it was definitely a bit of a shock to the system. It's not actually that much hotter than a British summer on paper. However, the dryness of the desert heat definitely makes it feel a lot hotter than that.
There really isn't much of a breeze at this time of year either. Occasionally you have a light breeze, but it's actually quite nice given the temperatures.
May is also the month when the hotter evenings really kick in too, so no jackets required.
RELATED READING: Five Las Vegas must-do's for first-time visitors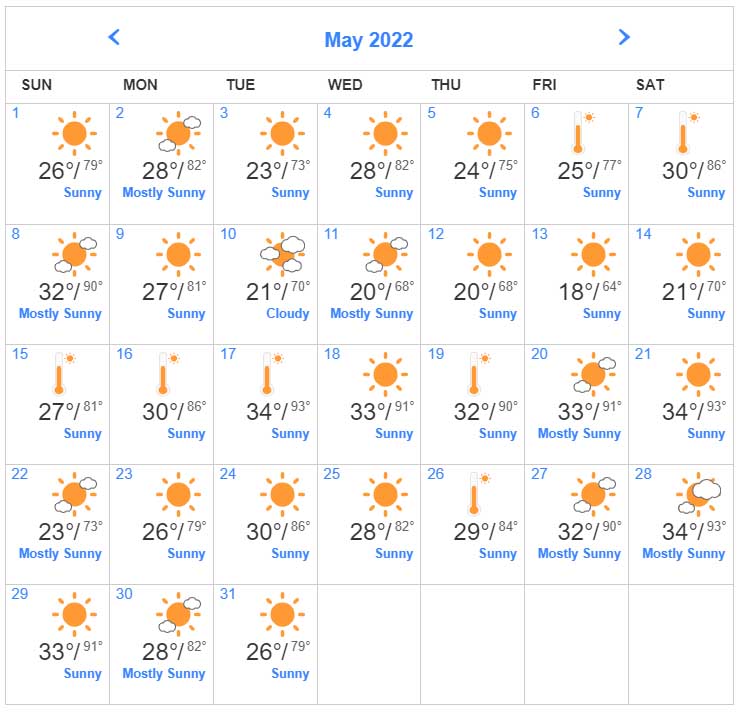 How likely is it to rain in Las Vegas in May?
Not very likely, is the simple answer. There are usually a couple of days in May every year that sees rain on the Strip.
When it does come down, though, it can really come down. Thunderstorms in Las Vegas are not uncommon, but you're also just as likely to get light rain.
The great thing about Nevada is that even when it does rain you are not likely to be caught out in it. Just head for the nearest casino, grab a drink and wait half an hour and it's usually passed.
RELATED READING: Top Las Vegas tips for first-time visitors and beginners
Humidity
Las Vegas is in the desert, so humidity is never really going to be a problem. For me personally, that is a big part of what makes the weather so good there.
It's a very dry heat generally, and it's very rare that the humidity climbs above 66% across the course of the whole year.
May is one of the most dry months of the year too. Humidity rarely gets above 25%, which makes it very comfortable for most.
What to pack for Las Vegas in May
You're only going to need summer wear in Las Vegas in May. Take a hoodie for the plane, put it in your bag as soon as you land, and forget about it until you head home.
The evenings are warm, so you won't even need a jacket for a night out.
May also firmly falls within pool season, so there will be plenty of opportunity to use your swimwear should you fancy it.
One of the issues that does often come up in the dry heat is dry skin or lips. That's why it's often recommended to pack a lip balm/chapstick. Don't worry if you don't though, almost every gift shop or convenience store have them to purchase.
RELATED READING: Best Las Vegas pools: Eight must-book hotels for swimmers and sunbathers