In many ways, Excalibur is one of those Las Vegas Hotels that you probably feel a little bit silly for loving, and yet you absolutely cannot help but do exactly that.
After all, it is a giant fairytale castle with over-the-top theming that shouldn't really be catching the imagination of anyone above the age of 10, but I make absolutely no apologies for the affection I have for it. It's a great Las Vegas property.
How, though, does it stand up against a lot of modern competition as a Las Vegas resort worth staying at in 2022?
Excalibur overview
Location: Strip (South)
Opened: June 1990
Last Renovated: 2015
Number of rooms: 4,032
Gaming space: 100,000 sq. ft
Operator: MGM Resorts
Permanent shows: Tournament of Kings, Thunder from Down Under, Australian Bee Gees
Signature attractions: King Arthur's Arena
Known for: Fun exterior and theming
Price guide: $
Location
Excalibur is well-situated on the Tropicana – Las Vegas Boulevard intersection at the southern end of the Las Vegas Strip.
That is a pretty sweet spot in all honesty, with pedestrian bridges linking it to the Tropicana Hotel and New York-New York. To the south, Luxor is also connected via an internal walkway and a tram runs from Excalibur to Mandalay Bay.
MGM Grand is also across the intersection diagonally, placing Excalibur right at the heart of a busy section of the Strip.
Getting around
If you prefer to be in the centre of the Strip or towards the north, Excalibur might feel a little far from the action you love. That said, it's very easy to get around Vegas if you have made Excalibur your base.
You can catch the Las Vegas Monorail from MGM Grand and head up the Strip that way or walk to the nearby Park MGM and take a separate tram to Bellagio.
The Las Vegas Deuce bus also stops close to Excalibur and is always a solid option for getting around too.
Excalibur Rooms and Amenities
Perhaps more so than any other Las Vegas Hotel, there appears to be a strong variation between the quality of rooms at Excalibur.
Some of the rooms are at a very good level, especially for the price. Others, though, can be a little ropey and dated. There is a degree of potluck about which one you end up in, though.
Generally speaking, Excalibur is a budget-level Las Vegas hotel and resort, so chances are you will end up somewhere in the middle of the two extremes. The average Excalibur room is absolutely fine. Dated, but fine.
Nab yourself a Strip view facing New York-New York and you've actually got one of the best views in Las Vegas for one of the cheapest rates.
Amenities at Excalibur are pretty light. There is not even a concierge these days, but there is the usual good quality pool, spa, salon and fitness centre.
It also boasts an impressively large casino. You can read more about that in our dedicated Excalibur casino guide.
Food and Drink
Excalibur has a buffet to enjoy. It is one of the lower end ones in Las Vegas, but it's fine. For starters, Excalibur is home to Dick's Last Resort, where the staff are literally paid to insult you. The insults are not as cutting and no-holds-barred as they once were, but it's still a unique and fun dining experience.
The resort has its own steakhouse too called Camelot. Steak is not hard to find in Las Vegas, but Camelot is a perfectly decent option at a reasonable price. Vagabond and Johnny Rockets offer cheap and cheerful, yet tasty, alternatives and Buca di Beppo provides an Italian Option.
Aside from that you are generally looking at food court options, but the choice there remains extensive.
Sherwood Forest Bar is confusing from a theme point of view. However, it's a fun place to grab a quick drink at Excalibur. Thunder Bar is a lot livelier and has a DJ on weekends.
Shows and Attractions
Excalibur is not short on shows and it offers some real variety within them too.
Thunder from Down Under is their headline act and it is one that attracts plenty of hen parties. 'Down Under' is also represented by tribute act the Australian Bee Gees, while Mac King provides some lighter relief with his comedy magic show.
Perhaps Excalibur's signature attraction, though, is the Tournament of Kings. Spectators are invited to settle into a 900-seat arena and watch knights battle it out, complete with horses, for the favour of King Arthur. It is family friendly and dinner is included, so I'd recommend it, even if it is a little cheesy.
Excalibur Pool
Excalibur has four pools with one of them reserved for adults only. There is also a waterslide to enjoy in one of them.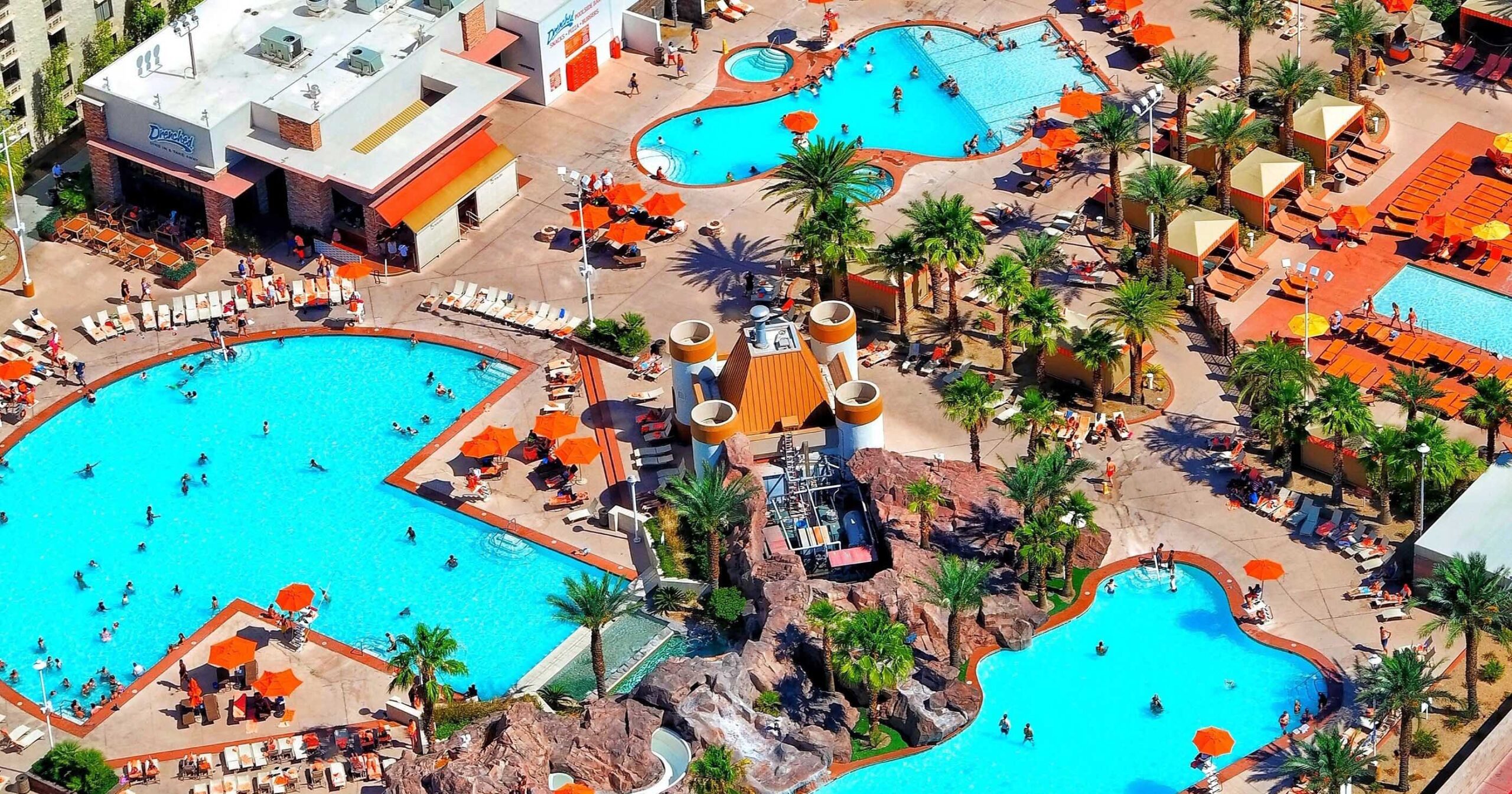 You will find better pool complexes in Las Vegas, but Excalibur will be enough for most in this regard. There are cabanas with air conditioning, refrigerator and a television for hire and a poolside spa for pampering.
Guests also won't find it difficult to get a drink beside the Excalibur pool either, so it covers all the bases comfortably.
RELATED READING: The best pools in Las Vegas and where to find them
Conclusion
Las Vegas Hotels have long since moved away from themes. However, there is a reason why Excalibur has remained and it continues to go strong.
Ultimately Excalibur is fun and friendly and it ticks all the boxes, including price point. Love it, and do so unapologetically.
Pros: Great price, fun theme, and a really good location with plenty going on around it.
Cons: Guests can be at the mercy of a lucky drip in terms of rooms, and there is no concierge service.
Considerations: Excalibur is a Las Vegas Hotel that invites you to leave your grumpy grown-up side at the door when you enter. If you can't do that, its probably not the right place for you.