The Cromwell is a rarity among Las Vegas Hotels as a small boutique property in an absolutely fantastic Strip location.
The building that is now The Cromwell went up in 1979 and operated as Barbary Coast and then as Bill's Gamblin' Hall and Saloon until 2013. It was then acquired by Caesars Entertainment who closed it for the year-long renovation that transformed it into what it is today.
It is a property that certainly offers a rather unique experience in Las Vegas as it is essentially a simple boutique hotel amid mega-resorts.
The Cromwell overview
Location: Strip (Centre)
Opened: April 2014
Number of rooms: 188
Gaming space: 40,010 sq. ft
Operator: Caesars Entertainment
Permanent shows: None
Signature attractions: Drai's Beach Club and Nightclub
Known for: Drai's Beach Club and Nightclub
Price guide: $$$$
Location
The Cromwell's location is just about as good as it gets in Las Vegas.
It sits right at the centre of the Strip in a packed cluster of Caesars properties, and the fact it is so compact makes it the easiest hotel of them all from which to access the action.
The downside is that guests may experience more noise in their rooms than other properties that are more set back from the Strip, but if you're in Vegas you're probably not going to be spending that much time in your room anyway.
Getting around
The location makes getting around from The Cromwell exceptionally easy.
Pedestrian bridges connect it to both Caesars Palace and Ballys directly, with another further bridge getting you to Bellagio too. To the north, Flamingo and the Linq promenade are just a stone's throw away.
Flamingo has a Las Vegas Monorail station too, so getting to the north and southern ends of the Strip is also made easy.
The Cromwell Rooms and Amenities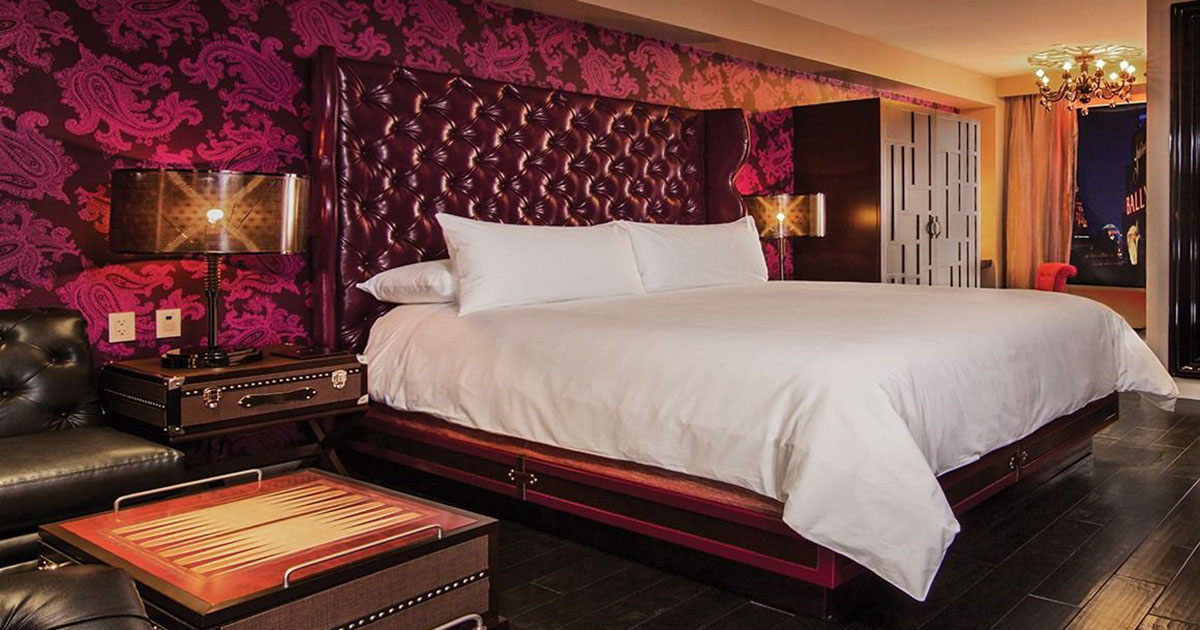 The rooms at The Cromwell are smaller than most in Vegas at 360 sq. ft and the décor is perhaps not to everyone's taste.
The colours are darker and that can make the room feel smaller as well, although I'd expect that most would like the unique styling.
There are not many rooms, so the upgrade options are fewer than when staying at other Las Vegas hotels. The views from some rooms can be quite uninspiring too, but that is just due to it's lack of height more than anything.
Amenities are limited by its size too. There is a pool and a fitness centre, but no spa or salon.
The gaming floor is one of the smaller ones on the Strip too, but it has most of what you're likely to want. You can read more in our separate casino guide.
Food and Drink
The Cromwell is unlikely to satisfy food-lovers with options very sparse.
There is only one restaurant in the property, although it is a very good one in all fairness. Celebrity chef Giada De Laurentiis brings a fine Italian menu and the views from there can be spectacular too.
The quick bites options are provided by Eatwell, and most should find something that they like. And the location means you will never be far away from plenty of food choices close by.
Shows and Attractions
Again, the limited size of The Cromwell proves too restrictive for it to house any real shows. There just isn't room for a theatre.
Nightlife is something that The Cromwell excels at with Drai's nightclub on the roof one of the places to be.
Technology plays a big part in the Drai's experience, with a giant 80-sided LED disco ball a big attraction.
This is especially popular with the younger crowd and has even hosted a series of the US version of Love Island.
The Cromwell Pool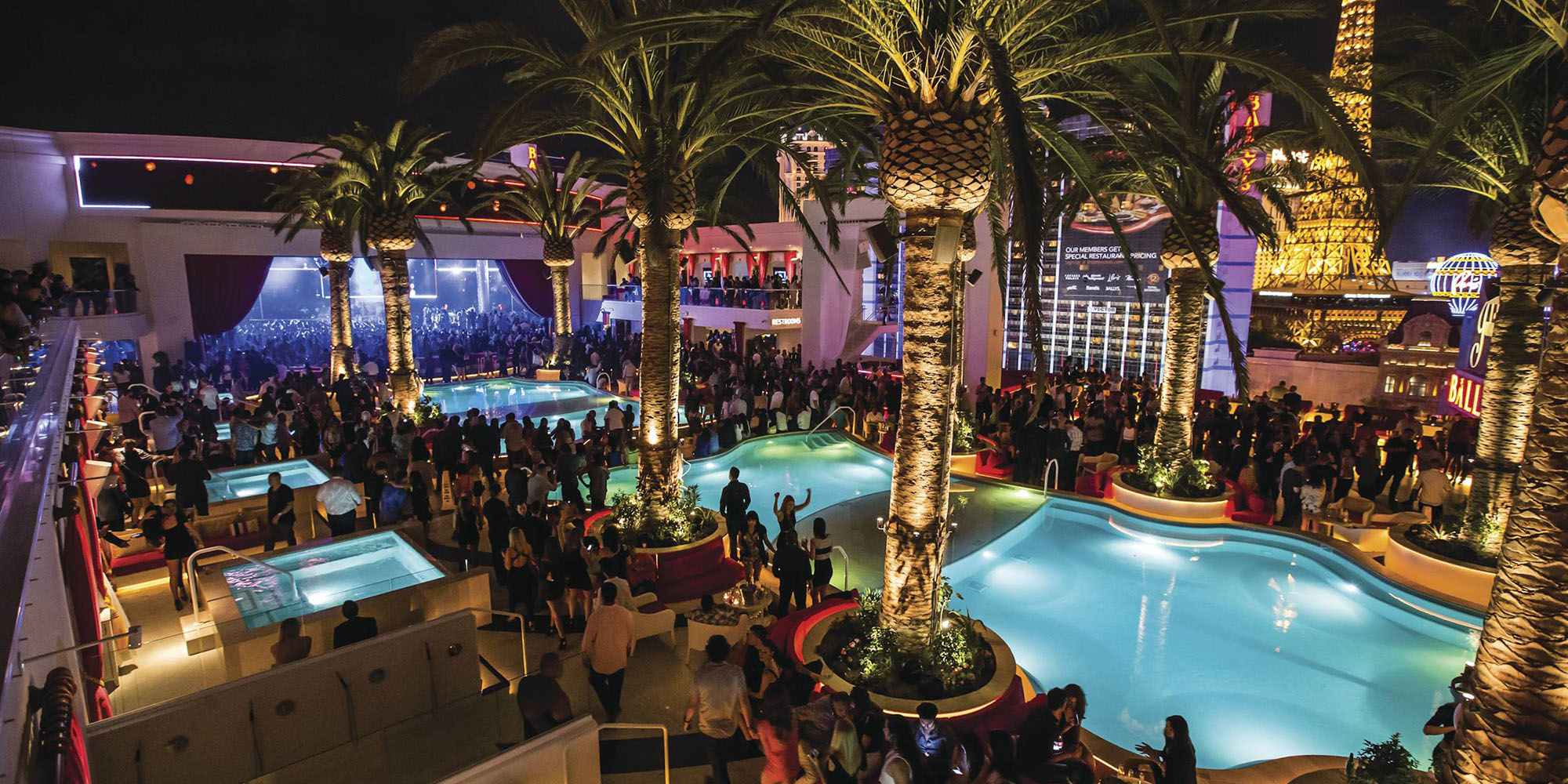 The pool at The Cromwell is small but incredible. It is situated on the roof, 11 stories above the Las Vegas Strip.
The pool is lined with palm trees and a full bar and drink service should keep you nice and refreshed, and Drai's Café is there for all your snacking needs.
Cabanas and bungalows are available for hire too, although there are not many available.
At night, it doubles up as Drai's nightclub and hosts one of the biggest and best parties in town.
Conclusion
The Cromwell is not a Las Vegas mega-resort, but it doesn't claim to be either. It's a small boutique hotel and an incredibly good one to boot.
Pros: The location is perfect and Strip access unrivalled.
Cons: Limited size makes for limited food and zero show options, although there are plenty of those in the neighbouring properties.
Considerations: The Cromwell probably has an inflated price point for the amenities it offers, but what you lose in amenities it gains in uniqueness and boutique chic, so weigh all that up before you book.