Whenever you think about the Las Vegas skyline and its iconic hotels, I'd wager the distinctive Luxor is one of the first images that comes into your mind.
In truth, in 2022 it's not what it once was and you won't find anyone disagreeing with that. Some of the shine has definitely worn off now and it has settled into a spot as one of the top budget Las Vegas hotels.
What it still is, though, is unique. It's a mega hotel casino resort shaped like a giant pyramid with elevators that run at 45 degrees and rooms built into the wall. It is, in all fairness, as incredible as it is tired and it remains a must on any Las Vegas to-do list.
Luxor overview
Location: Strip (South)
Opened: October 1993
Last Renovated: 2021
Number of rooms: 4,407
Gaming space: 120,000 sq. ft
Operator: MGM Resorts
Permanent shows: America's Got Talent Live, Blue Man Group, Carrot Top, Fantasy
Signature attractions: Titanic Artifact Exhibition, Bodies: The Exhibition
Known for: Iconic old-school theming
Price guide: $
Location
The Luxor is one of the Las Vegas hotels that sits on the far south end of the Strip, and that is something that can put off some visitors. It really shouldn't though.
Afterall, the Luxor is part of its own little MGM ecosystem with Mandalay Bay, Excalibur, MGM Grand and New York-New York all within easy walking distance. It sits directly between the first two on that list and you can walk between all three without ever having to brave the tough Nevadan summer heat.
Tropicana is also close by, as is the Allegiant Stadium, the home of the Las Vegas Raiders. It may well be the most southern extreme of the Las Vegas Strip, but it is one absolutely bursting with character.
Getting around
The location can make things tricky with regard getting around, but all that really amounts to is you probably needing to put a little more planning into when and how you visit the more northern properties.
The Monorail at MGM Grand helps there, with it taking you all the way up the east side of the Strip stopping off at hotels such as Paris, Flamingo and Harrah's along the way.
A smaller monorail operates between Mandalay Bay, Luxor and Excalibur, but it's just as easy and quick to walk between those three resorts in most cases.
The Deuce bus stops nearby too, meaning you always have that option and it's a good way to get to Downtown and back too.
Luxor Rooms and Amenities
Rooms at Luxor are essentially split into two different types: Pyramid rooms and tower rooms.
The Pyramid rooms are those incorporated into the original structure and they are therefore rather unique. They have sloping windows, you get to them using sloping elevators, and the moment you set foot out of your room you can see the casino floor.
There are a couple of flip sides to that though too. Those rooms have not been recently renovated and, although they are spacious enough at 420 sq. ft, they can feel smaller due to the darkened windows that create the striking black exterior.
The Tower rooms, by comparison, are much more modern and slightly bigger at 450 sq. ft with larger windows. The flip side of that is that you're not staying in a really cool giant pyramid.
Luxor has no shortage of amenities either. It has a spacious pool complete with cabanas (chargeable), a spa, a salon and a fitness centre.
They also host Temptation Sunday every week during summer, which is Last Vegas' only LGBTQ+ pool party.
Food and Drink
You're not going to find fine dining at Luxor because it is positioned as a budget option, but the food options are absolutely great.
The Luxor buffet is perhaps the most underrated on the Strip, and it is one of the cheapest too. Pyramid Café serves great yet affordable breakfast among other things and Public House is an old-school sports bar.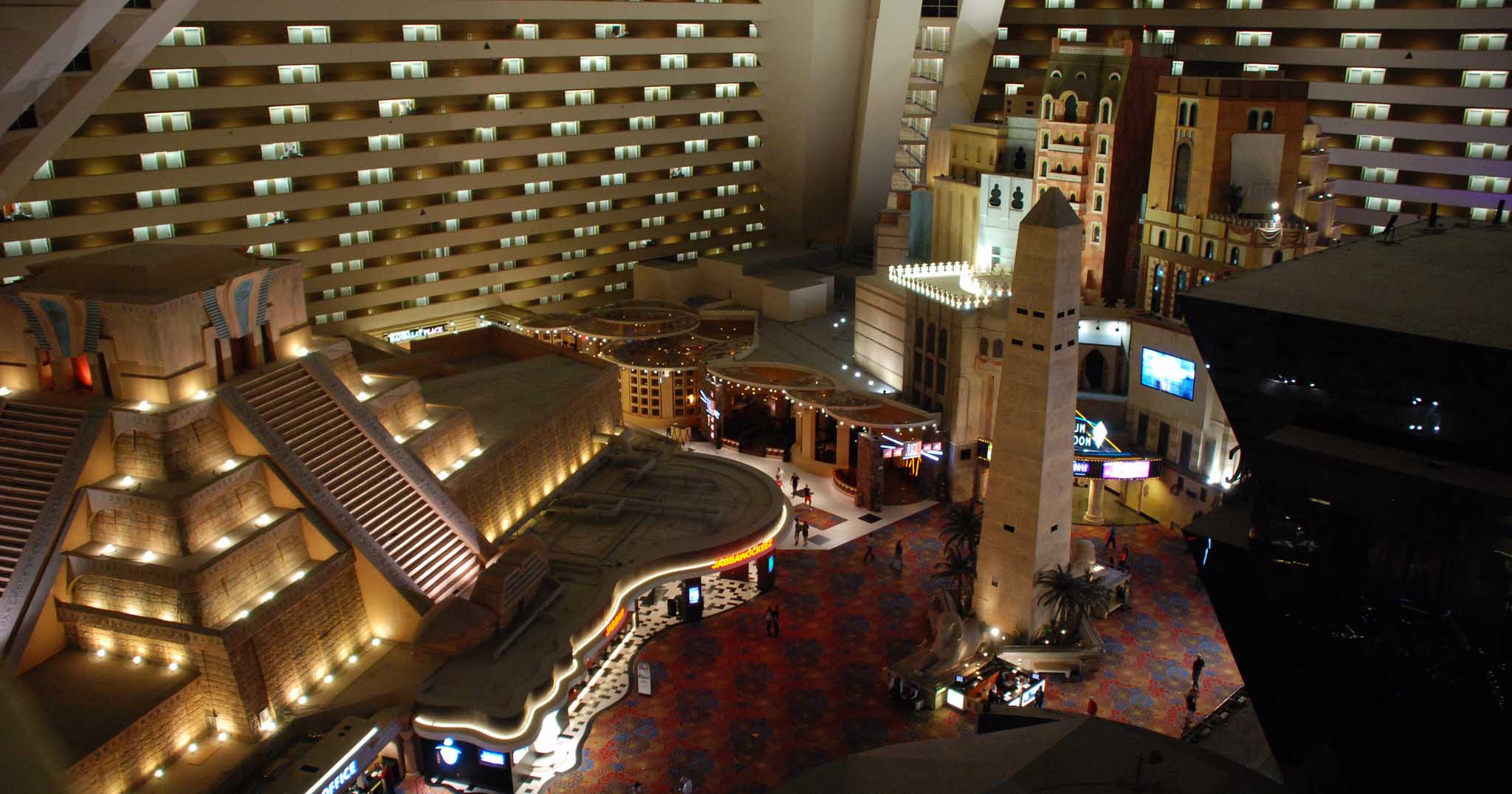 No Las Vegas hotel is complete without its own steakhouse. Luxor is no exception there and TENDER offers a high-quality option.
Luxor is probably not the best choice if swanky Las Vegas nightclubs are on your to-do lists. However, Centre, Aurora and Flight provide ample options for a good night out.
Shows and Attractions
Entertainment is an area in which Luxor has always shone and it's no different in 2022. There are no less than four permanent shows at the property, all offering something very different.
Carrot Top is an iconic Las Vegas comedian and he can be found at Luxor. If lighter, less edgy entertainment is more your scene, you might want to check out the America's Got Talent Live show instead.
If you'd prefer a trip into the brilliantly bizarre, then Luxor has that covered too with Blue Man Group. Fantasy, meanwhile, offers something for the adults in the form of burlesque.
The Titanic artifact exhibition is a treat for the history buffs and the scientists among you may get a kick out of Bodies: The Exhibition.
Luxor Pool
The pool at Luxor is just fine and the Egyptian theming is just as prominent there as it is inside.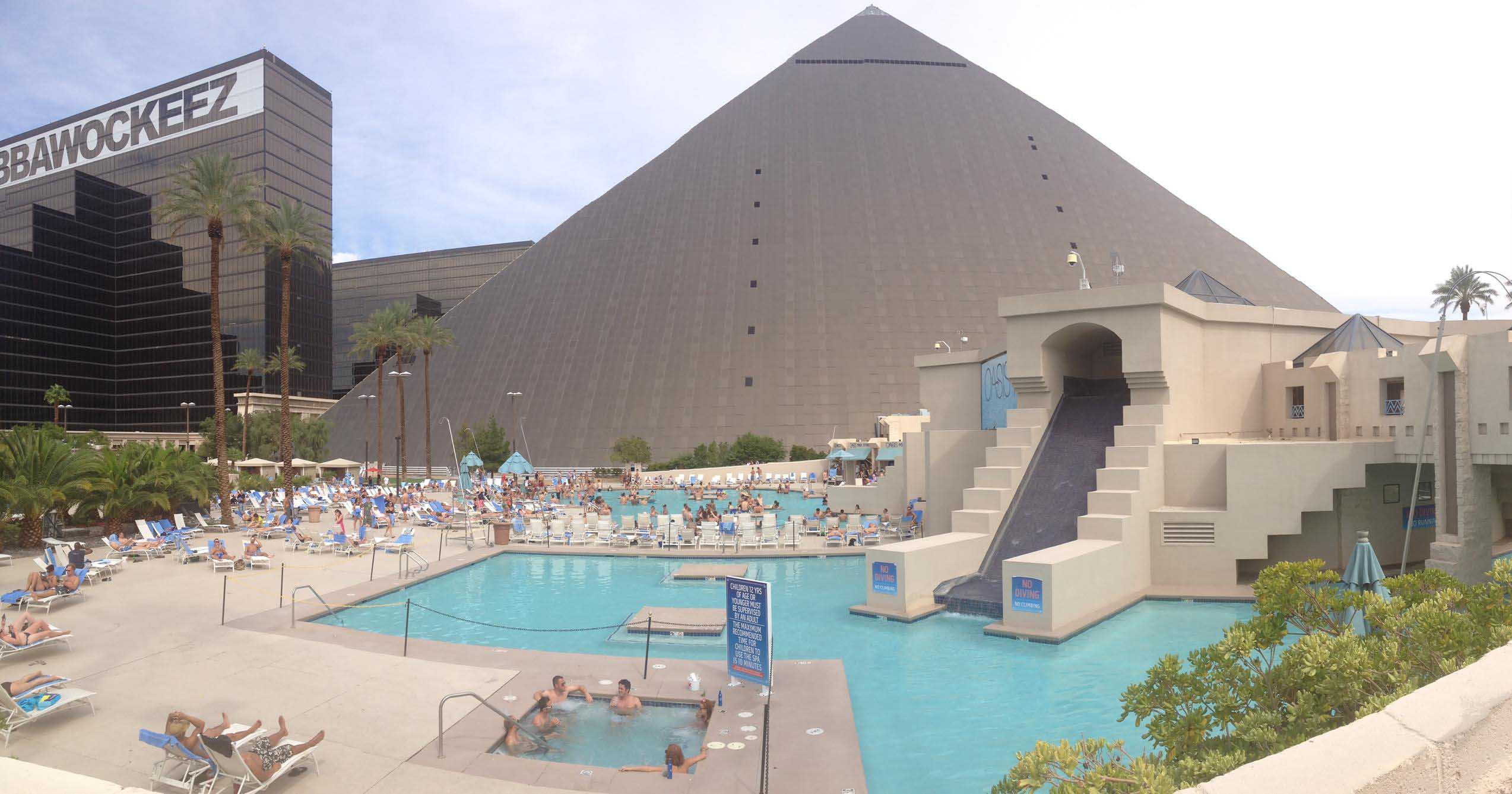 It's not up to the standard of, for example, Mandalay Bay next door, so if pool-side lounging is important to you I'd definitely reconsider Luxor.
Luxor is more than enough for the casual sun-worshipping pool-dipper, though. In fact, it is better than many pools that Las Vegas has to offer.
RELATED READING: The best pools in Las Vegas and where to find them
Conclusion
As I mentioned at the start, Luxor's best days are behind it now, but that is absolutely fine. It is still a great property with loads to offer and it does so at a brilliant price. It is classed as a budget option in Vegas terms. However, we are still talking about a mega-resort hotel casino here.
The location may put off some, but the theming is brilliant and it is a veritable las Vegas legend.
Pros: Great price, great theming, and ideal location for Las Vegas Raiders games
Cons: Some of the rooms are a bit dated and it can feel a little dark inside
Considerations: There are near constant rumours that Luxor is next in line for demolition. There is probably some substance to those rumours, so make sure you enjoy Luxor while you can.