There can be no question about it: The Flamingo is absolute royalty among Las Vegas hotels.
It opened all the way in the 1940s and it is the oldest resort on the Strip still operating today. It has obviously undergone a lot of changes over the years, but its storied past is part of what makes it so very special.
Flamingo was borne of mob beginnings. It was the project of mobster Bugsy Segal, although it also proved to be the death of him as if it were some plot in some classic movie. That, though, is Flamingo down to a tee. It is seeped in history to the point that it would be impossible to imagine Las Vegas without it.
Flamingo overview
Location: Strip (Centre)
Opened: December 1946
Last renovated: 2018
Number of rooms: 3,460
Gaming space: 72,299 sq. ft
Operator: Caesars Entertainment
Permanent shows: RuPaul's Drag Race Live, Piff the Magic Dragon, Wayne Newton, X Burlesque
Signature attractions: Flamingo habitat
Known for: History and some of the best neon on the Strip
Price guide: $$
Location
Flamingo was one of the Las Vegas Hotels that actually started the Strip, so it is no surprise to find it sitting in a prime spot right at its centre.
It is in the part of the Strip that is dominated by Caesars Properties with Cromwell and Linq its two immediate neighbours. That also places it immediately on the Linq Promenade, which is a very lively place to be.
The imposing Caesars Palace is directly opposite, with Bellagio – the closet MGM property – just a couple of pedestrian bridges or two away.
Getting around
While Flamingo is very much centre Strip, its immediate neighbourhood is very much the northern end of it. It is certainly much easier to get to that area of the Strip than it is the south.
Flamingo is connected to Caesars Palace via a pedestrian bridge, and another from there immediately gets you into Bellagio. Another bridge, just past Cromwell, gets you to Ballys and Paris.
Meanwhile, Linq, Harrah's and Mirage are all just a short walk away when you head north, as is the Venetian and Palazzo.
Accessing the southern end of the Strip by foot is a lot tougher, especially during the energy sapping summer months. However, Flamingo is served by a stop on the Las Vegas Monorail and hopping on that, for a small charge, will get you do MGM Grand in mere minutes.
Flamingo Rooms and Amenities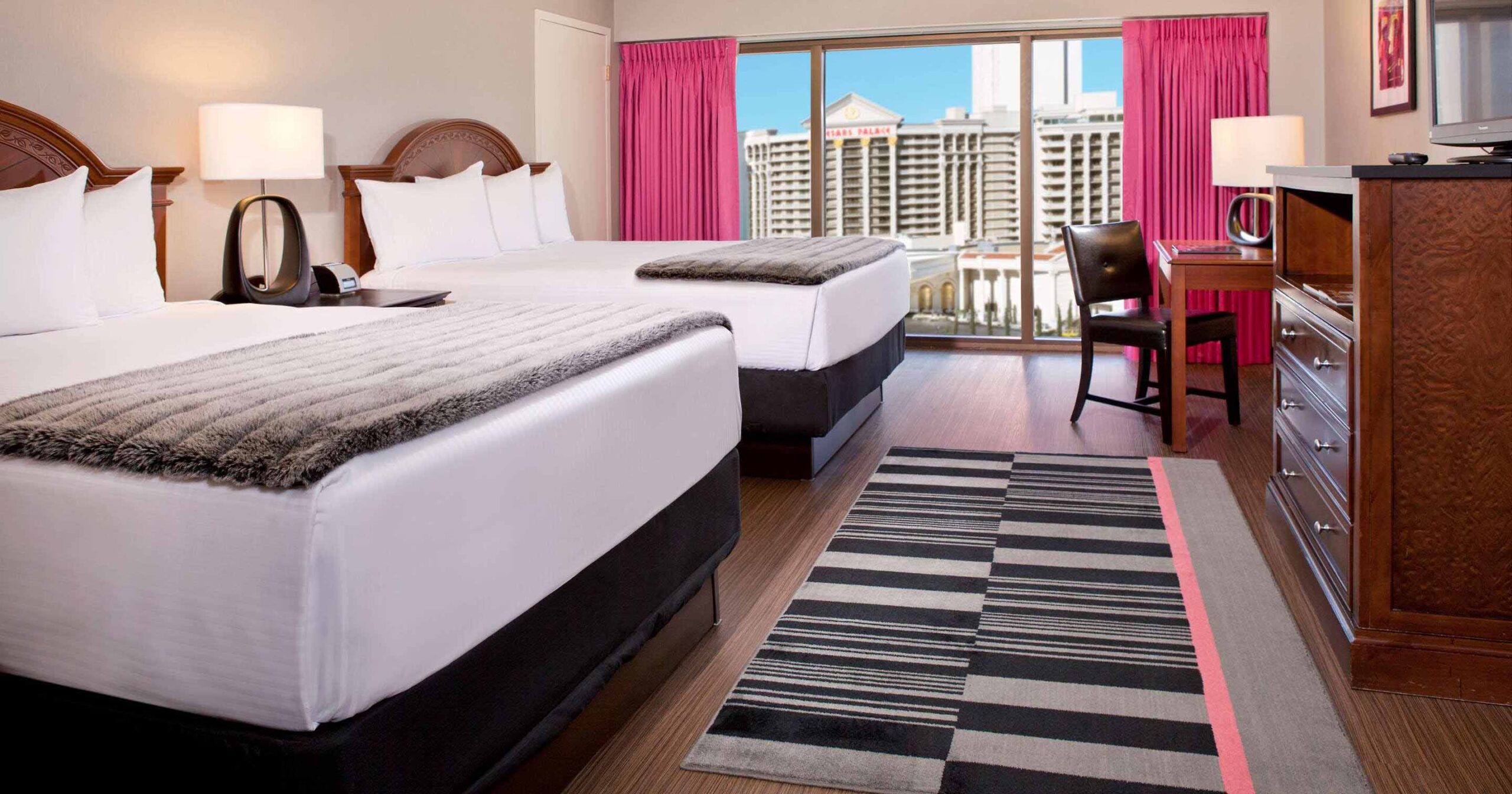 Flamingo has a good variety of rooms available for guests and all are of a decent standard, Most, particularly the most recently renovated ones, are to a very good one.
The most basic room comes in at 350 sq. ft and the upgrades start incrementally increasing that space relatively quickly.
Due to the layout of the property there is a wide variety of views available too, with most favouring rooms that overlook either the Strip or the High Roller.
Flamingo has a good array of amenities for guests too, There are two swimming pools, a fitness centre, a salon and a spa, as well as the usual good splattering of shops.
Food and Drink
Flamingo itself doesn't have an especially large selection of restaurants, although the fact it connects directly to the Linq Promenade means you won't be short on options.
Flamingo doffs its cap to its history with the Bugsy and Mayer's Steakhouse. There is a Mexican option too with Carlos 'N Charlie's.
The hotel also plays host to a Margaritaville, which offers a good menu in a relaxed setting. There is a food court too with Pizza and a Johnny Rockets, among other things.
There is no swanky nightclubs, although those who seek such things can easily pop next door to Cromwell to party the night away at Drai's.
Bugsy's bar is open 24 hours and is located at the centre of the casino. The Bird Bar and and sportsbook offer further drinking options.
The gaming floor, meanwhile, is comprehensive and light. You can read more about it in our separate casino review.
RELATED: Flamingo casino guide
Shows and Attractions
One thing that the Flamingo has absolutely nailed is its entertainment options, and they really highlight the resort as one who has total respect for its place in Las Vegas history.
Wayne Newton, who is a legend of Las Vegas entertainment, has a residency at Flamingo. RuPaul's Drag Race is an ideal fit with Vegas as a larger-than-life glitz-fest, and it is only right that it has found a home at Flamingo for its live version of the television show.
There is the more adult option too in X Burlesque – again, a classic Las Vegas Genre. A comedy magic option in Piff the Magic Dragon completes a brilliantly Las Vegas line-up.
In terms of attractions, the Flamingo habitat at the heart of the property is a very good one. It is completely free and provides a memorable oasis in the middle of the Vegas madness. You won't only find Flamingos there, so make sure you check it out.
Flamingo Pool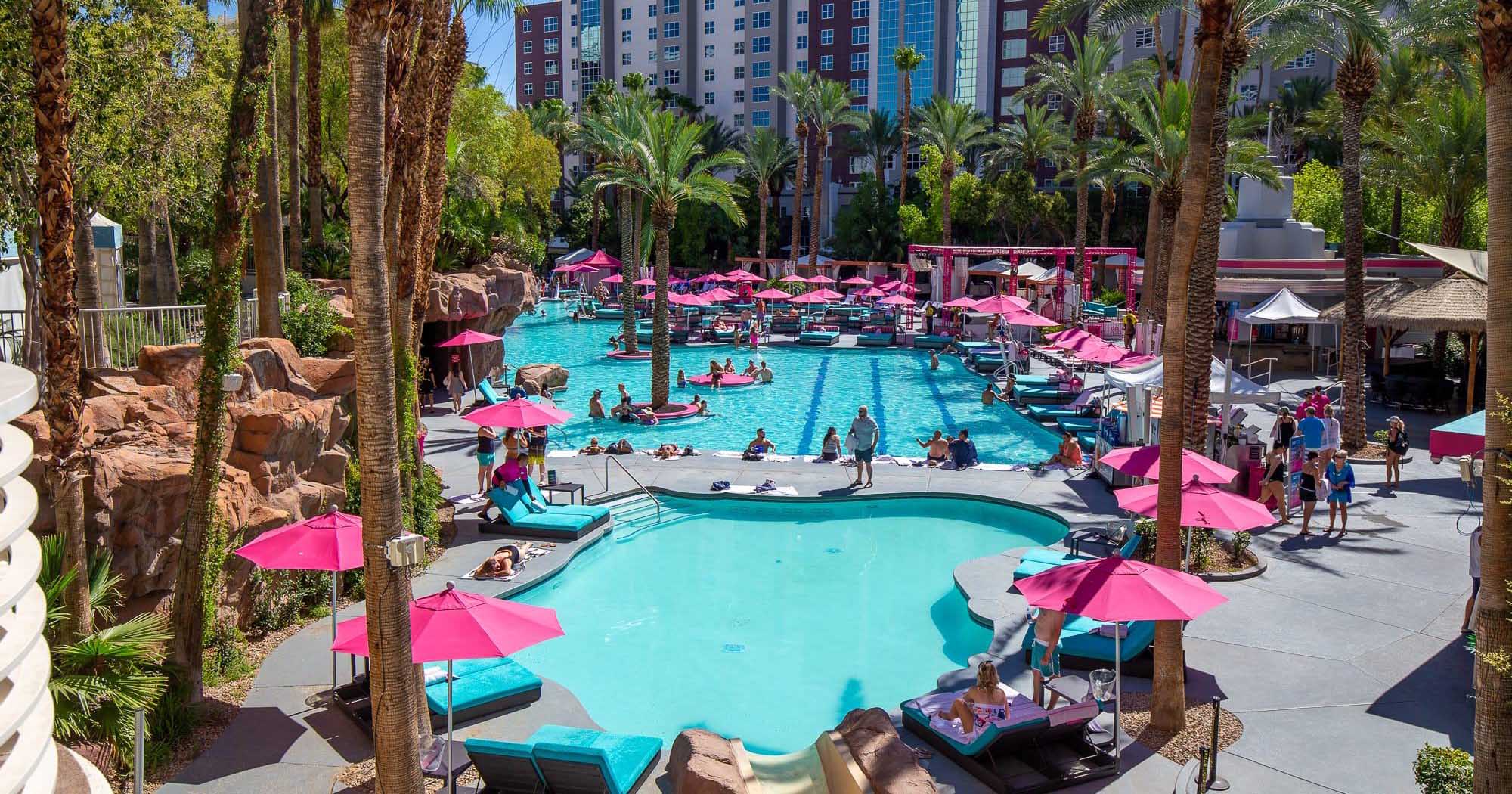 Flamingo has a very good pool complex. It has two pools and the landscaping is excellent.
The palm trees and pink colour scheme give it a tropical feel too. There is even a water slide for the more adventurous swimmers.
You will also find many cabanas and daybeds for hire too, and getting a drink is never a problem poolside.
Conclusion
Flamingo really is a brilliant place to stay and the fact is understands and celebrates its history make it one of the most likable of all Las Vegas Hotels.
Pros: Seeped in Las Vegas history and one of the best locations on the Strip.
Cons: Limited food and nightlife options.
Considerations: If you're looking for an ultra-modern property it may be best to look at other Las Vegas hotels. It is just not quite in the same league as rival properties. That said, the price point more than makes up for that.