Pizza is one of society's true unifiers. I am sure there are some people who don't like it, but I am yet to meet them. And, if you love Pizza, Las Vegas really has you covered.
In fact, the chances are you will actually get too much choice, so it can be quite tough to decide where to go for a good quality slice.
This quick-start cheat-sheet should help ensure you're not disappointed, though.
Secret Pizza
Location: Strip
Seating: No
Table service: No
Las Vegas is a city with many very well-kept secrets. Just how brilliant the Downtown Grand is, for example, or the great Carson Kitchen.
However, there is no doubt that the worst-kept secret in Las Vegas is Secret Pizza at Cosmopolitan. After all, when there are queues out the door and into the hallways of one of the busiest casino resorts in Vegas, it's probably fair to say the cat is out of the bag.
It is a 'secret' in the sense that there is no branding on it at all. There is no storefront either. Aside from the queues, there is just a corridor with a kitchen and counter at the end of it. Well, that and a pinball machine.
You will find that corridor on the third level of the Boulevard Tower (the one closest to the Strip), next to Blue Ribbon.
Evel Pie
Location: Downtown
Seating: Yes
Table service: No
Who hasn't wanted, at some point in their life, to eat great pizza at an Evel Knievel-themed place with a dive-bar vibe? Okay, you may have not realised you did until just this second, but you definitely want it. Admit it.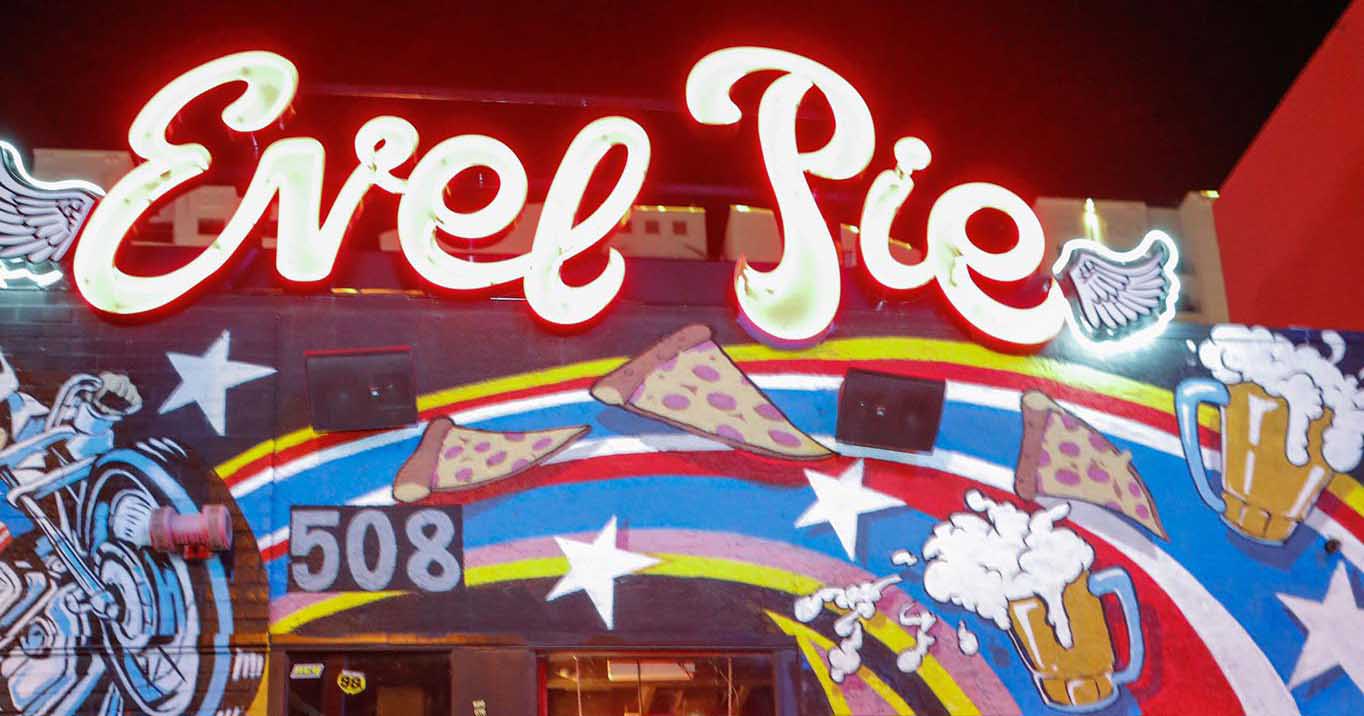 In Las Vegas, you can do just that. Evel Pie is located Downtown. It is not in the Fremont Street Experience, but it is on Fremont Street itself.
It is a goldmine of Evel Knievel memorabilia, most of which was donated by Evel's family. In fact, Evel's son Kelly Knievel is one of the owners.
In all honesty, the vibe and décor are enough by themselves to make Evel Pie worth checking out. However, the food just on its own is absolutely superb.
The menu is extensive, and you can buy by the slice or by the pie. I'd probably recommend giving the Grasshopper one a miss, though…
Pizza Rock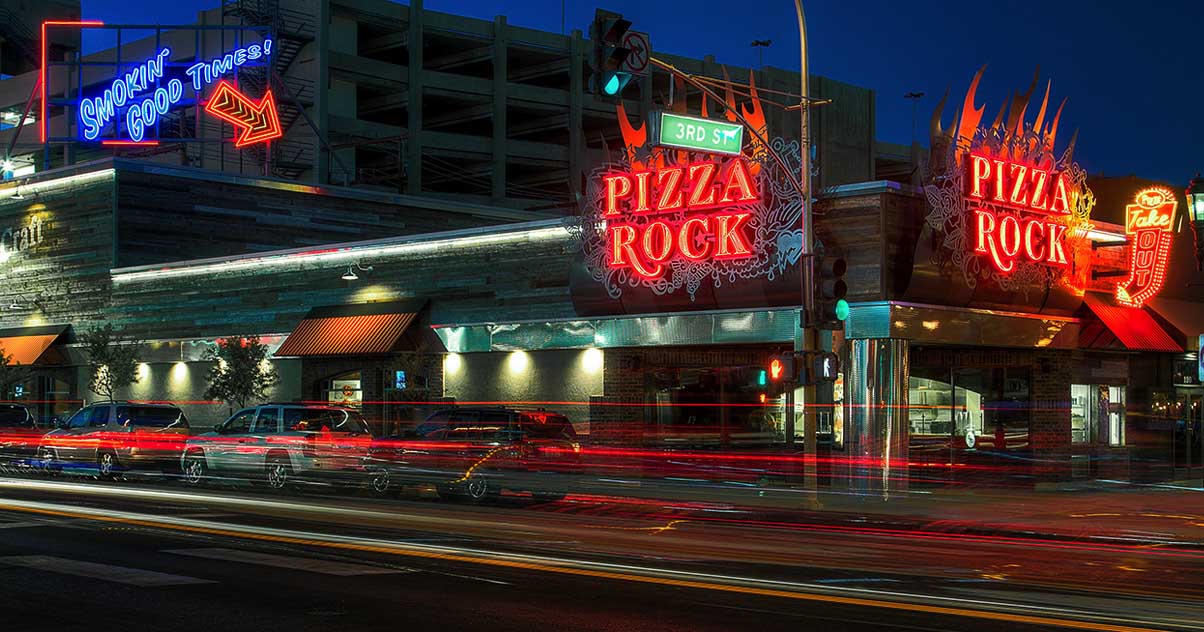 Location: Downtown
Seating: Yes
Table service: Yes
If you want a sit-down pizza meal in Las Vegas, then Pizza Rock is a really great place to scratch that itch.
You will find it opposite the Downtown Grand on North Street, not too far from Evel Pie actually.
The vibe is very different, though. Pizza Rock has a cool interior with table service. There is a full menu, including appetisers, and a giant truck in the middle with a flame-inspire paint job.
Pizza Rock also has a Happy Hour menu Monday to Thursday. Well, they say happy hour, but it's actually three hours, between 3pm and 6pm.
One thing to bear in mind with Pizza Rock is that it is definitely on the 'artisan' side of things rather than something simpler. That's not a criticism, though, just a consideration.
Pop Up Pizza
Location: Downtown
Seating: Yes
Table service: No
Staying Downtown, I would be remiss if I didn't mention Pop-Up Pizza at The Plaza.
Pop Up Pizza probably sits somewhere between Secret Pizza and Pizza Rock in that it has an attached seating area, yet it's still very much on the quick-eats side of things.
You'll generally pay between $20-$30 for a full pizza, which can be ordered to go, and around $5 per slice.
It is a multi-award winning pizzeria too, so it's obviously not just me who considers it among the very best in Las Vegas.
It's actually a really nice blend of no-frills with quality which, if you ask me, is what pizza should all be about.
Pop Up Pizza is open until midnight during the week and 2am on weekends. It's definitely a must-do if Pizza is your thing.
Giordano's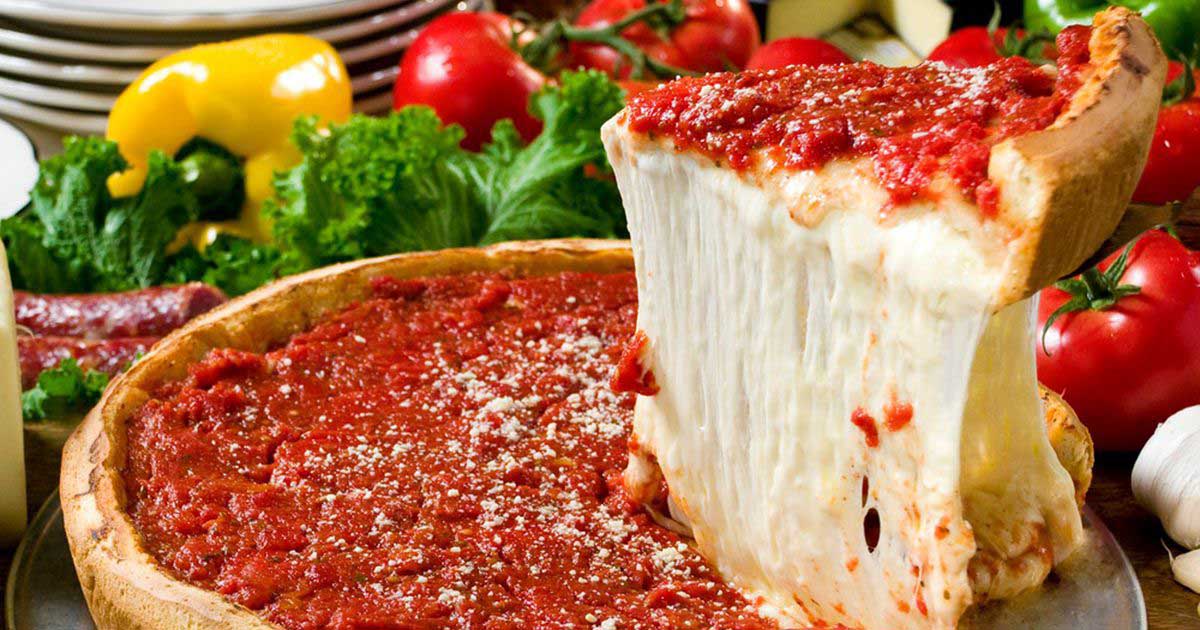 Location: Strip
Seating: Yes
Table service: Yes
This may sound contrary given I have just advocated for no-frills pizza, but Giordano's is exceptional.
One thing it is not, though, is 'no-frills.' In fact, you'll probably need a knife and fork to eat it. Giordano's serves the giant Chicago-style deep dish pizzas. As a Brit, I never really understood why Americans call pizzas 'pies' until I ate at Giordano's.
To be clear, they don't only sell deep dish pies. You can order thin crust instead, as well as starters, pastas, salads and sandwiches.
I heartily recommend going deep dish, though. They take around 45 minutes to cook, so it is certainly not a quick-eats option. However, they are spectacular. Just make sure you have plenty of room because they are a challenge, even when shared.
Giordano's is located on the Las Vegas Strip in the Grand Bazaar Shops at Bally's, opposite The Bellagio.
Pizza Cake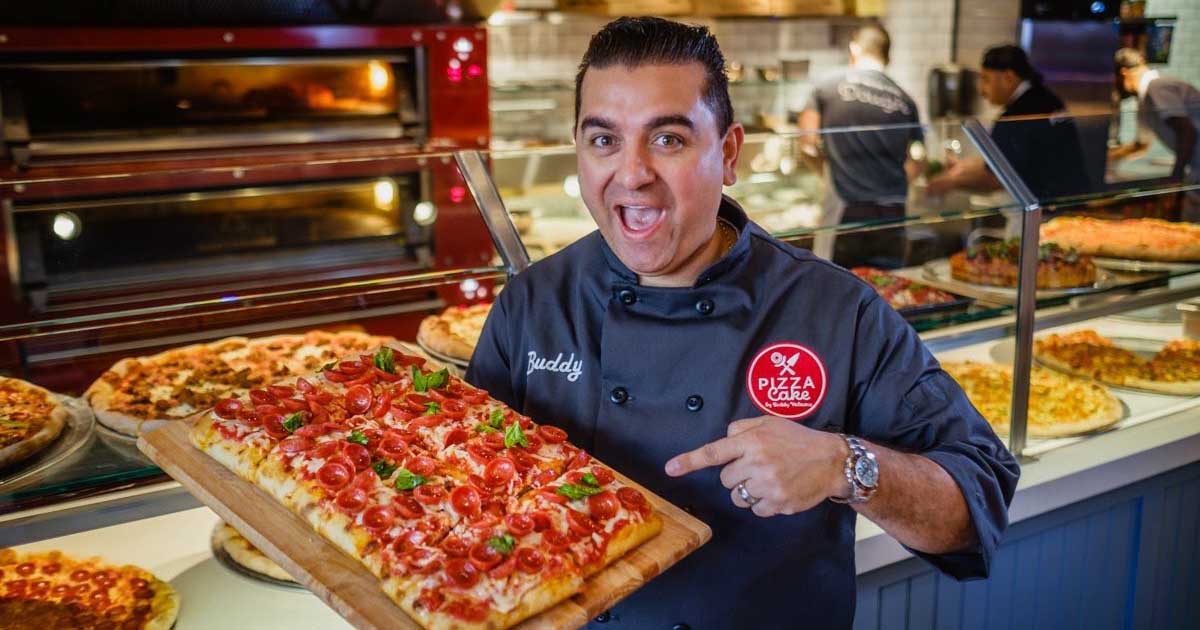 Location: Strip
Seating: Yes (very limited)
Table service: No
Pizza Cake is in Harrah's and, to be honest, I'd probably say it was a great easy option rather than especially great pizza. That said, your average pizza is still better than the best most other food has to offer, right?
It's the brainchild of Chef Buddy Valastro and has a solid menu. It's open until 1am during the week and 4am on weekends. Late-night food is becoming harder to find in Las Vegas since the Covid pandemic, so this one is very much appreciated.
I don't want to oversell Pizza Cake here. There is nothing groundbreaking about it. It's just good quality pizza in a good location that provides a great late-night option.
If you are wondering where the 'cake' comes into it, there is a 24-hour cake vending machine attached to it.
Pin-Up Pizza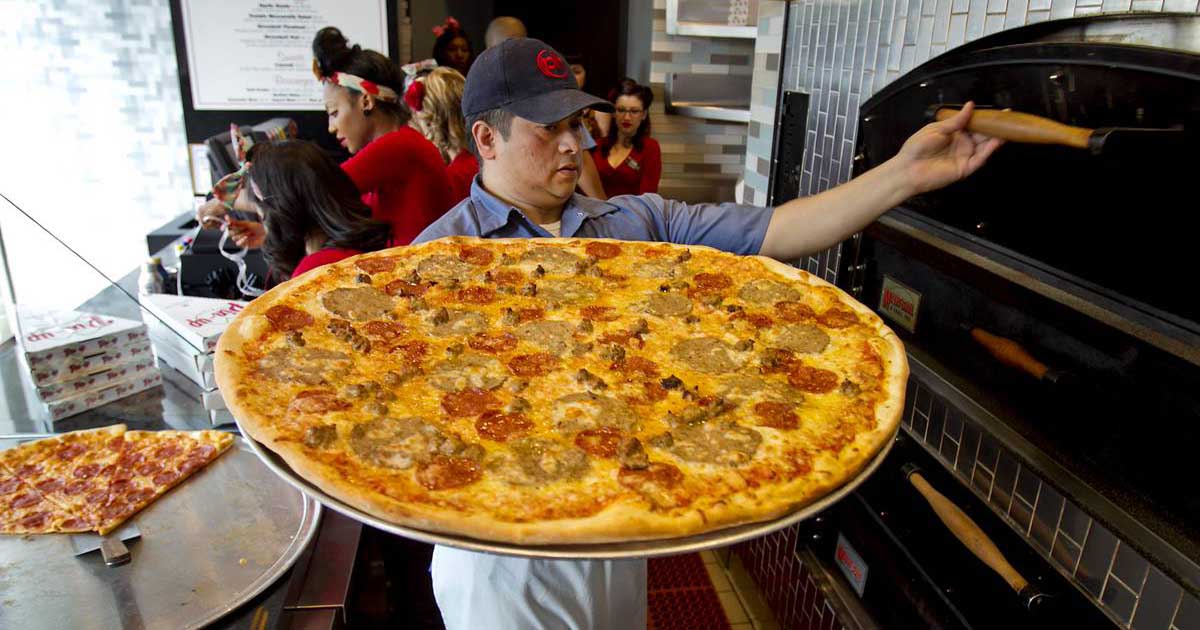 Location: Strip
Seating: Yes
Table service: No
Everything in Las Vegas is bigger. The hotels are bigger, the walks are longer and, hopefully, the winnings are bigger too. I can't guarantee that last one, but you get the point.
The pizzas are bigger too, but only if you go to Pin-Up Pizza. You will find it at Planet Hollywood, and the slices really are enormous.
Huge portions are all well and good, of course, but it counts for nothing if the quality isn't on point too. Pin-up delivers on that too, though.
In fact, chefs import fresh ingredients from Naples, Italy, like the pomodorini pelati tomatoes, which are used in the pizza sauce.
There is a seating area attached to Pin-Up Pizza and you can order it to go as well.