If you're in one of Las Vegas' many hotels, the chances are that you're going to want to have a gamble. So, what can you expect from the Mandalay Bay casino?
Mandalay Bay is an easy place to spend a lot of time in simply due to its location. Unlike many centre Strip properties, it's not somewhere you quickly visit on your way to somewhere else.
The casino, then, probably needs to be better than most, and it probably just about delivers on that.
Mandalay Bay Casino overview
Total gaming space: 135,000 sq. ft
Rewards program: MGM Rewards
Number of Slot and video poker machines:  1200+
High Limit slots room: Yes
Table games: Baccarat, Blackjack, Roulette, Craps, Texas Hold'em
Poker Room:  Yes
Sports book: Bet MGM
Smoking: Yes
The Mandalay Bay casino has a lot a lot of square-footage available and to their credit they do not try to over-utilise it.
When you're playing slot machines in the Mandalay Bay casino you won't feel cramped or short on space with someone else right on top of you. It's a pleasant, spacious area with high ceilings and plenty of elbow room.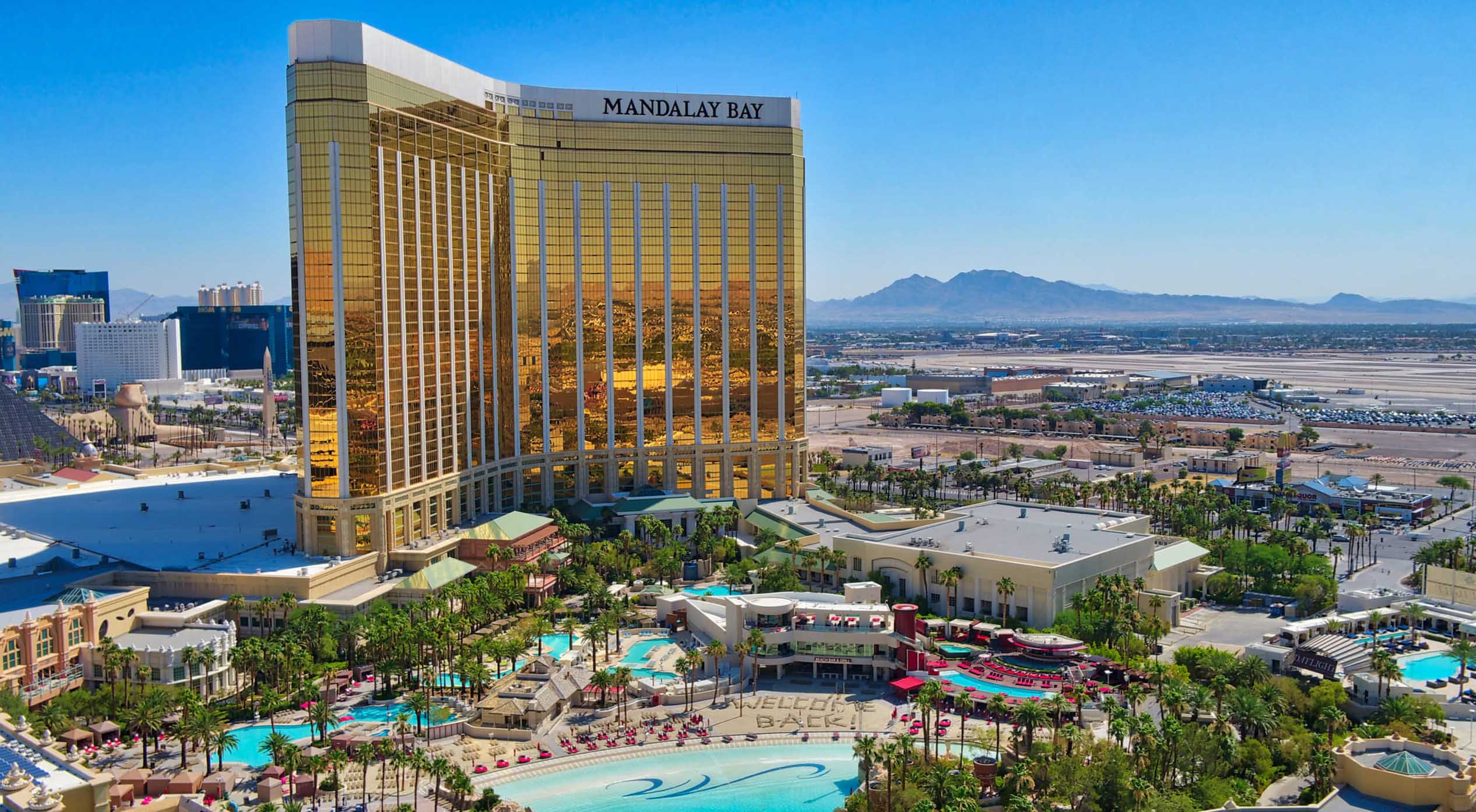 Gambling at Mandalay Bay casino
The selection of games is great as well with all the modern favourites alongside a solid showing of classic older-school machines. There are also a number big-money progressives for you to try your hand at.
In terms of layout, the casino is a large square so, weirdly, you can lose your bearings in there just by virtue of forgetting which way you're facing, but it's not complicated to navigate by any means.
There is a nice balance between the number of slot machines and table games, with the tables generally congregated towards the middle of the casino floor.
For those who love to frequent the tables, you can enjoy roulette and blackjack as standard and there are a few poker variants dotted around too.
The days of $5 blackjack on the Las Vegas Strip are mostly over now, though. You will occasionally see a table with that minimum at Mandalay Bay in quiet times, but I wouldn't expect it. Generally, you're looking at a $10-15 dollar minimum.
The Mandalay Bay casino is one of the relatively few left in Vegas with a dedicated poker room too, although how busy it is at any point can vary wildly.
Drinks service and sportsbook
If you're doing Vegas properly, you shouldn't really need to buy yourself a drink, and the Mandalay Bay waitress service is generally good. However, there are plenty of bars dotted around the casino floor too just in case.
There is a large sportsbook too. It is a little dated now, but it's certainly expansive.
Rewards Club
Mandalay Bay is part of the MGM Rewards programme. That is an essential one to join if you want to maximise they value you get in Las Vegas.
Sister properties Luxor, Excalibur, New York-New York and MGM Grand are nearby too. That obviously means there is good potential for racking up those tier credits.