There are many more flashy Las Vegas hotels than the Downtown Grand, but there are few that are more likable.
It's actually quite hard to put your finger on just why that is, but ultimately Downtown Grand just has that really nice and friendly atmosphere and feel that makes you always want to return there.
The property was originally opened in the 1960s as Lady Luck. It reopened under its new name in 2013 after a $100million renovation – and that has been money incredibly well-spent.
Downtown Grand overview
Location: Downtown
Opened: October 2013 (as Downtown Grand)
Last renovated: 2020
Number of rooms: 1,124
Gaming space: 24,085 sq. ft
Operator: Fifth Street Gaming
Permanent shows: None
Nearby Attractions: Fremont Street Experience
Price guide: $$
Location
Downtown Grand is one of the four major properties in this part of the city that is not directly connected to the Fremont Street Experience. The others are the nearby Main Street Station, California, and El Cortez which is a little further away and in the other direction.
That is not to say, though that the Fremont Street Experience is not easily reached. In fact, it is literally just a minute's walk away.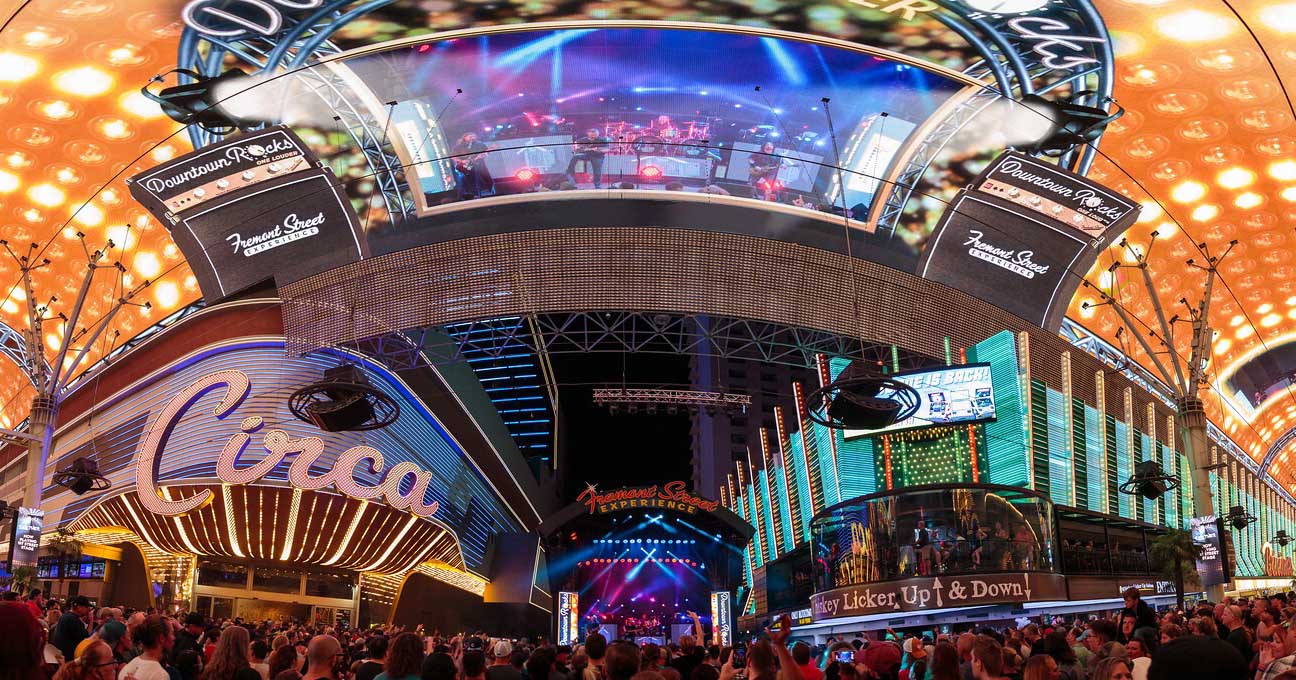 In many ways, that is perhaps part of the Downtown Grand's appeal as noise and bustle is kept to a minimum compared to other properties around Fremont Street.
Getting around
As with all the hotels in this part of Las Vegas, getting around from the Downtown Grand is incredibly easy and actually very pleasant too.
Everything you are likely going to want to see and do Downtown is all within walking distance.
You access the Fremont Street Experience closer to the eastern entrance than the west, so that puts you closer to the SlotZila zipline and The D than you are the biggest live music stages and Circa.
Main Street Station and California are very close by, as is the Mob Museum and its fun speakeasy. Heading in the opposite direction gets you to Container Park.
You will need a taxi or the Deuce Bus to get to the Las Vegas Strip from Downtown Grand, though.
Downtown Grand Rooms and Amenities
The rooms at Downtown Grand are exceptional and among the most-recently renovated in all of Las Vegas.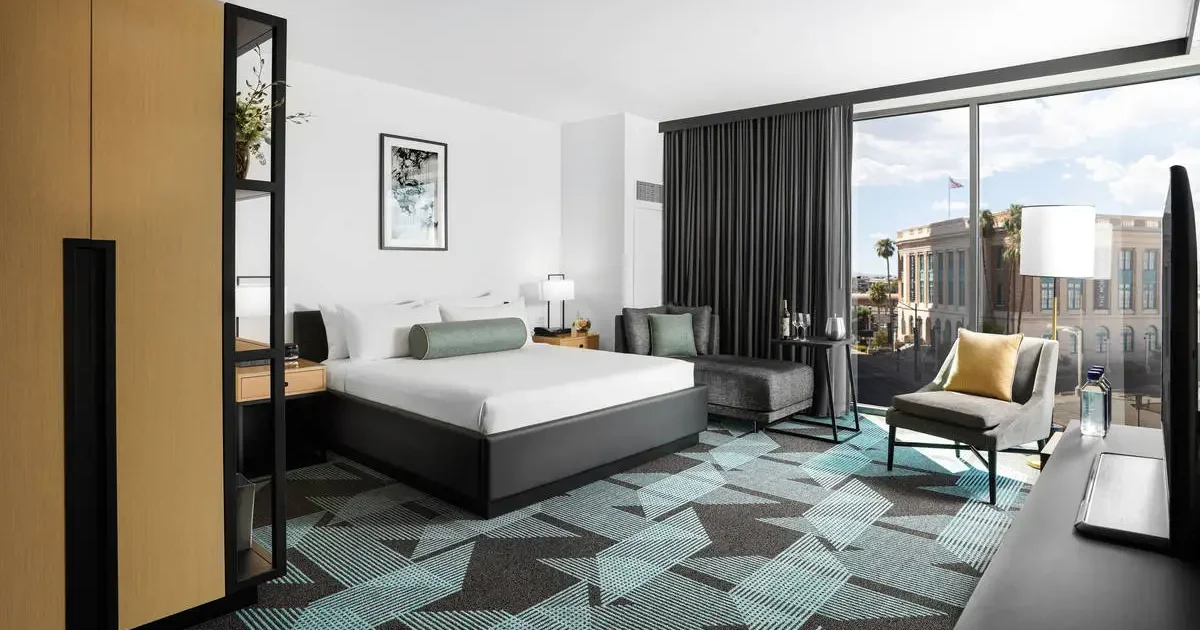 Rooms in the Gallery Tower are 300 sq. ft at a minimum which should be plenty for most. You can upgrade to suites for a little – or a lot – more space depending on how much you want to spend.
The Casino and Grand Tower is largely more of the same, although the rooms are more premium and larger.
Downtown Grand prioritises atmosphere and entertainment over amenities, but there is a very good rooftop pool to enjoy and the casino is small but very welcoming.
Food and Drink
Most properties in Las Vegas have an in-house Steakhouse and the Downtown Grand has an excellent one in the form of Triple George Grill. Sidebar is an extremely stylish addition too with Prohibition era theming.
More casual dining options can be found at Freedom Beat and the super cool Hogs & Heifers that is located just across the road. Pizza Rock, meanwhile, is some of the best Pizza anywhere in Las Vegas.
Downtown Grand also has a number of bars, so you won't find it hard to get a drink there.
Shows and Attractions
The Downtown Grand does not sit directly upon the Fremont Street Experience. I would be wrong, though, not to include it among its attractions. It's literally just a minute away.
Freemont Street Experience is one of the top reasons to visit Downtown, and arguably the best attraction in the whole city.
There are live music events, free concerts, a high-resolution video canopy and a zipline – and that's just for starters. The Container Park and Mob Museum are also within easy walking distance too.
Additionally, Downtown Grand often puts on its own music events beneath their two towers, so keep an eye on their exceptional website for more information.
Downtown Grand Pool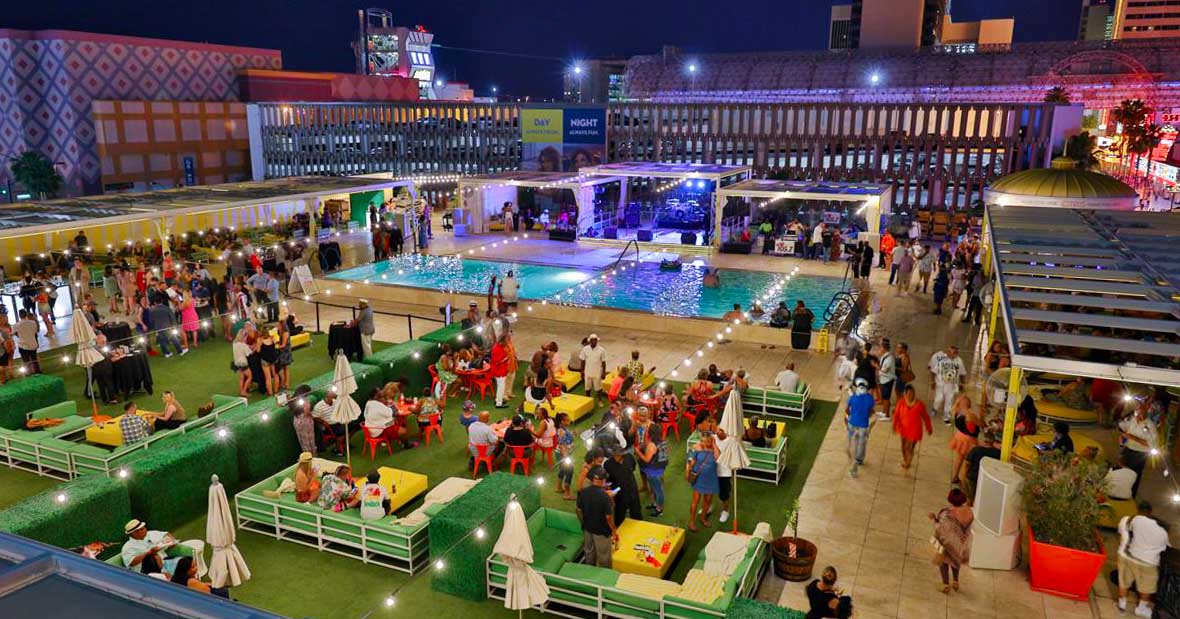 Finding a pool in this part of Las Vegas isn't always easy, but Downtown Grand has a great one.
The property has a sprawling rooftop pool complex that covers an area of 35,000 sq. ft. The pool itself is not as big as you will find in the mega-resorts of the Strip. However, you will find plenty of lounges, cabanas, and even firepits and lawn games up there.
They also have guest DJs to bring the party atmosphere and a bar that serves frozen cocktails and food.
Conclusion
Downtown Grand is one of the best hotels that you can pick – certainly in the Downtown area of Las Vegas.
Pros: Great rooms, good food choices, good pool area, a fun casino and a brilliant location. What's not to love?
Cons: If you were being picky you could point to the fact it is slightly light on amenities and it is not on the Fremont Street Experience.