The Plaza is one of the most iconic of the Las Vegas Hotels and continues to provide a top destination for guests even to this day.
It is home to some of the best vintage neon in Las Vegas, and movie-lovers might recognise it as Biff's Pleasure Paradise from Back to the Future Part II. From personal experience, I can say that Plaza has some of the best guest service I have experienced as well.
Plaza is situated in Downtown and, alongside Circa is probably the most physically imposing property in that part of Las Vegas.
Plaza overview
Location: Downtown
Opened: July 1971
Last renovated: 2019
Number of rooms: 995
Gaming space: 80,000 sq. ft
Operator: PlayLV
Permanent shows: None
Nearby Attractions: Fremont Street Experience
Price guide: $$
Location
Plaza is located at the very top of the Fremont Street Experience at the western entrance. Therefore, it has an absolutely prime spot.
That is the liveliest part of Downtown and where you can find most of the live music. It stands just across the road from the oldest hotel on Fremont Street, the Golden Gate, and the newest, Circa.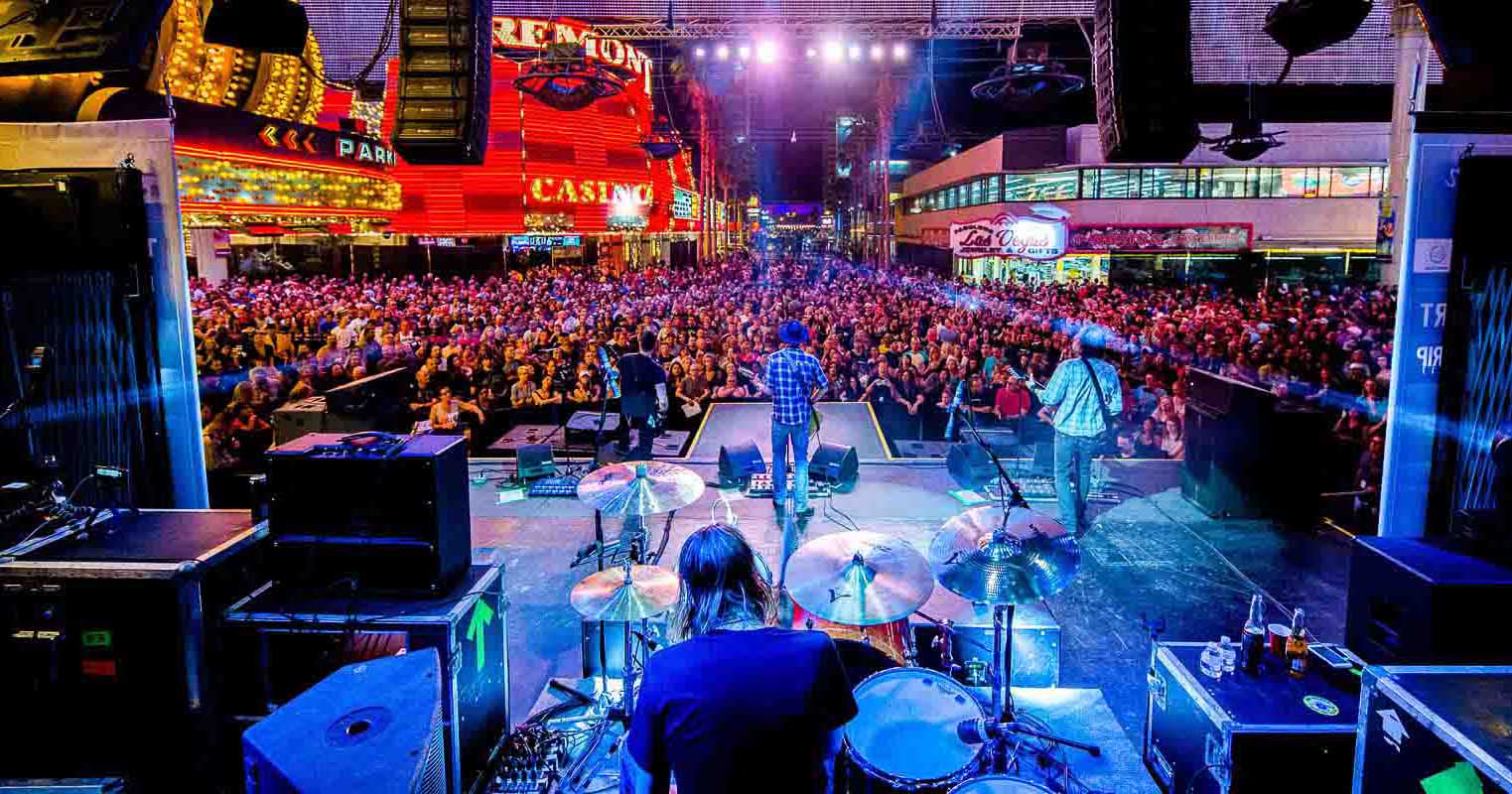 Although now obscured by the video Canopy, Plaza looks all the way down Fremont Street and, at one time, was the most visible and dominating property in the area.
Getting around
The views are now obstructed but the location remains one of the best in the Downtown part of Las Vegas.
The Fremont Street Experience is literally across the road and Main Street Station, the California and Mob Museum are also easily accessible if you head north instead.
El Cortez and the Container Park can be a bit more of a trek, but it is easily manageable and you definitely won't be bored on the journey.
RELATED: Eight reasons you must visit Downtown Las Vegas
Although Plaza is Downtown, it has a good location for getting to the Strip. The Deuce bus stopping just outside along with a busy taxi rank, although at peak times you may need to queue.
Plaza Rooms and Amenities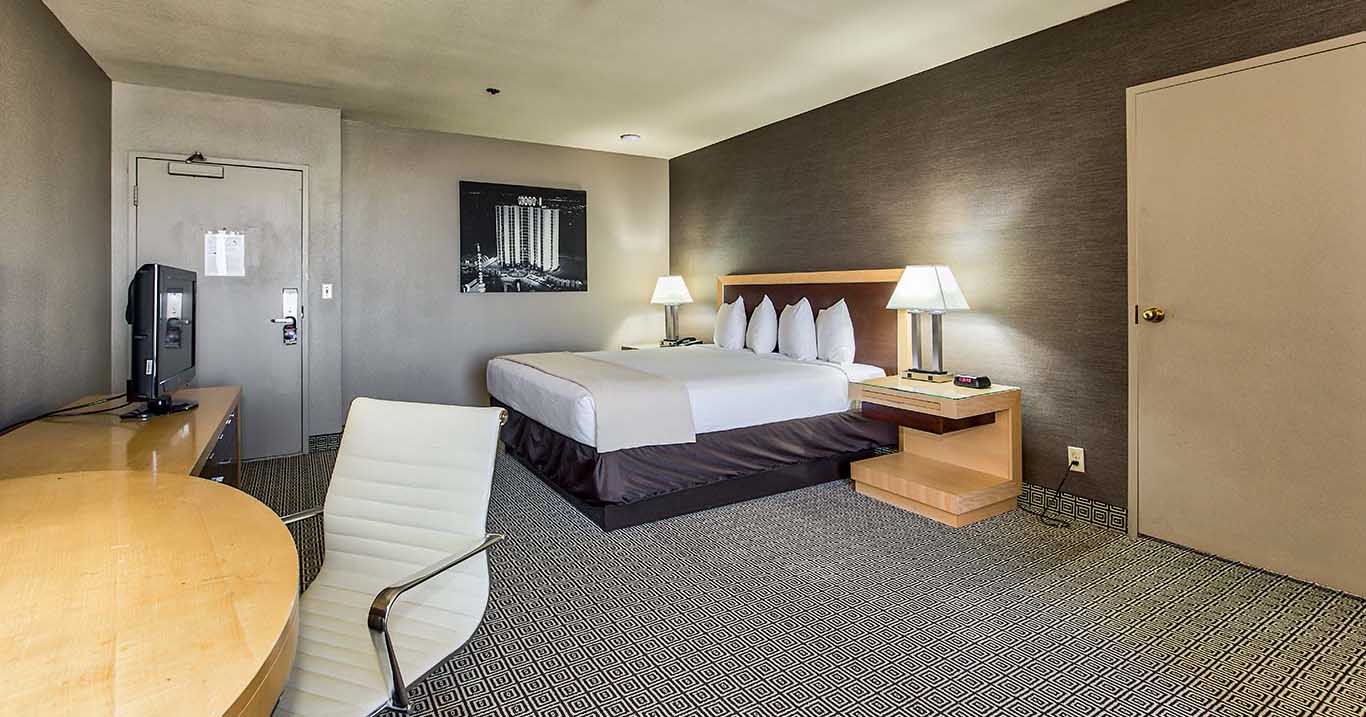 Plaza has a lot of rooms compared to most of the other Las Vegas hotels in the Downtown area, and they have a really great selection too.
Space is unlikely to be an issue, with the smallest coming in a 325 sq. ft. That compares very competitively to many of the mega-resorts on the Strip.
There is a selection of suites available too which are incredibly spacious and if you want something special then make sure you inquire about the Pool Patio Rooms and Penthouse Suites.
Amenities are good at the Plaza too, with a good quality pool deck and a fitness centre. Plaza also has, in my opinion, one of the very best casinos in Las Vegas.
Food and Drink
Plaza has a great choice of eateries, headlined by the outstanding Oscar's Steakhouse. Oscar's is perhaps my favourite restaurant in Vegas with outstanding food and great views of Downtown Vegas.
Meanwhile, Hash House A Go Go does giant breakfasts and they are exceptionally tasty. Late night options are provided by Pop-Up Pizza, which often wins rave reviews as the best pizza in Vegas. However, many may prefer the trusty Subway and McDonalds are also both in-house. There are Mexican and Asian options on-site too.
Bar options are top-class as well, with the recently opened Sand Dollar providing bar food, live music and pool tables. There is a separate sports bar too, and the Omaha Bar at the centre of the gaming floor is open 24 hours.
Shows and Attractions
Fremont Street Experience is the top attraction Downtown and Plaza is in a great position from which to enjoy it.
The whole length of the Fremont Street Experience is brilliant and Plaza is at the liveliest end of it.
Plaza, however, does boast a unique attraction inside it's own walls too in the form of Studio 71. The small photo space was opened to celebrate the property's 50th anniversary and it has become one of the best places for selfies in Vegas. Studio 71 essentially takes you back to 1971 when the Plaza opened, complete with mirror balls, neon, and LED-lit backdrops.
The Mob Museum and Container Park and its giant mechanical fire-spitting praying mantis are both within walking distance too.
Plaza Pool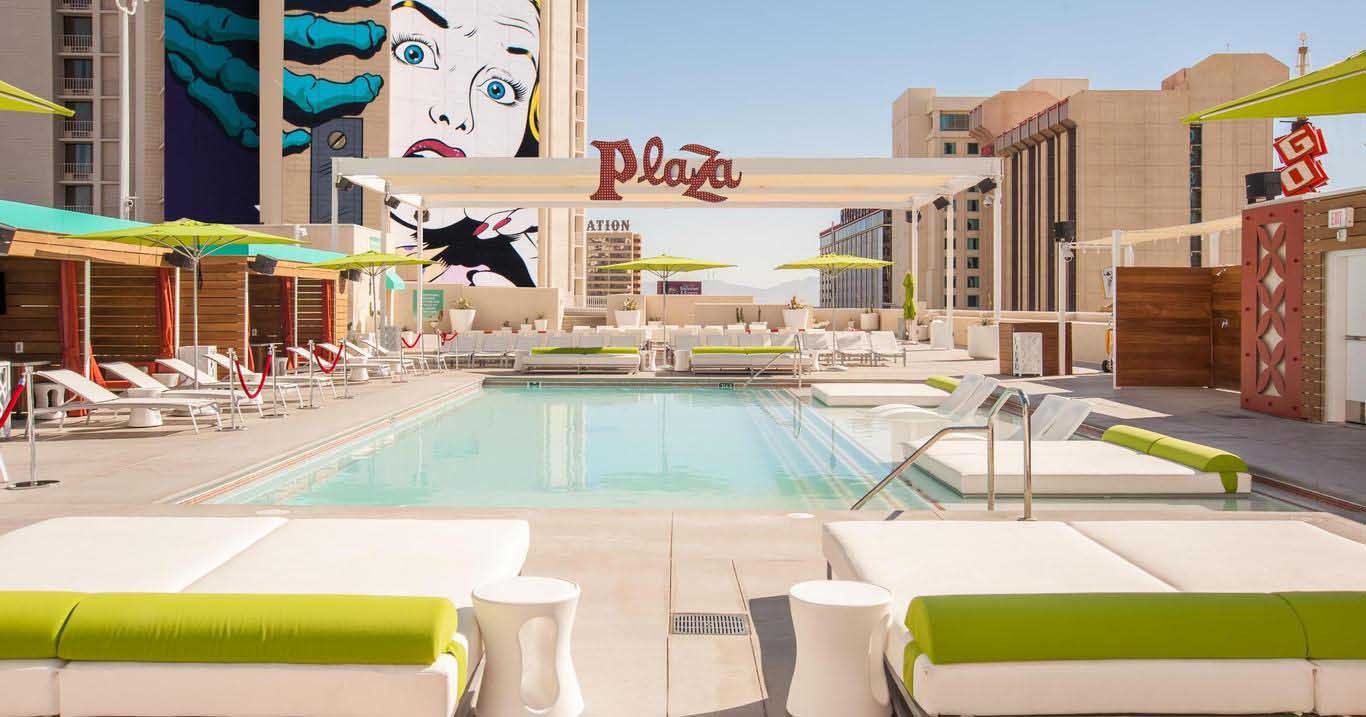 Plaza has one of the best pool complexes Downtown. Sunbathing space can be tough to find in that part of Las Vegas, but the Plaza is definitely an outlier to that.
The rooftop pool deck covers a 70,000 sq. ft area and is designed with relaxation in mind. Cabanas and daybeds are available for hire and are similar in quality to those you find on the Strip.
If you haven't played pickleball before, it is a racket sport that evolved from badminton. Plaza has several rooftop courts for you to give it a try.
A pool bar serves cocktails and beers to guests from 9am to 7pm too, although it is seasonal.
Conclusion
There is a very good chance that Plaza is my favourite property in Downtown Las Vegas. It's iconic yet modern and large yet intimate and friendly.
Pros: Good selection of rooms, brilliant food options and outstanding guest service, although you're unlikely to need the latter.
Cons: There are none, really. The only thing I would mention, however, is that Plaza is not a mega-resort. If that's what you are looking for, you are probably better off on the Strip.