Everybody knows The Strat as an iconic piece of the Strip skyline, but how does it compare to other Las Vegas Hotels?
The first thing to mention here is that it is impossible to imagine Las Vegas without The Strat. It boasts the tallest observation tower in the United States and the second tallest in the entire Western Hemisphere.
It recently underwent a branding change from Stratosphere, mainly because everyone always just shortened it to The Strat anyway.
The Strat overview
Location: Strip-ish (North)
Opened: April 1996
Number of rooms: 2,427
Gaming space: 80,000 sq. ft
Operator: Golden Entertainment
Permanent shows: Iluminate, Rouge
Signature attractions: Big Shot, Insanity, X Scream, SkyJump, Sky Pod
Known for: Thrill rides
Price guide: $
Location
Most people consider The Strat to be located on the Las Vegas Strip, albeit at the very north of it, but Clark County does not agree. The Strip does not actually fall into Las Vegas city limits, it is in the unincorporated towns of Paradise and Winchester instead.
The Strat, though, is actually located within the Las Vegas City limits, in a slightly iffy neighbourhood called Naked City.
Either way, The Strat is very isolated. Sahara is nearby, and Circus Circus and possibly Resorts World are within reasonably comfortable walking distance, but that is about it.
Getting around
I won't beat around the bush – the location does make it difficult to get to and from The Strat.
First-time visitors are advised to be careful about being offered The Strat as accommodation as part of a package deal for that reason alone. I have been in that position myself, where a travel agent has tried to sell me on The Strat, especially given the budget price. Agents like that are not trying to con you – they just don't know Vegas. They just see a 'Strip' property at a good price and think they have found you a bargain.
However, while the Strat is fine in terms of accommodation, it is not going to provide you with a great taste of Las Vegas. It is neither Strip nor Downtown and can't offer the best of both worlds too.
Staying there is fine, but be aware that you'll be reliant on taxis and the Deuce Bus for getting around.
The Strat Rooms and Amenities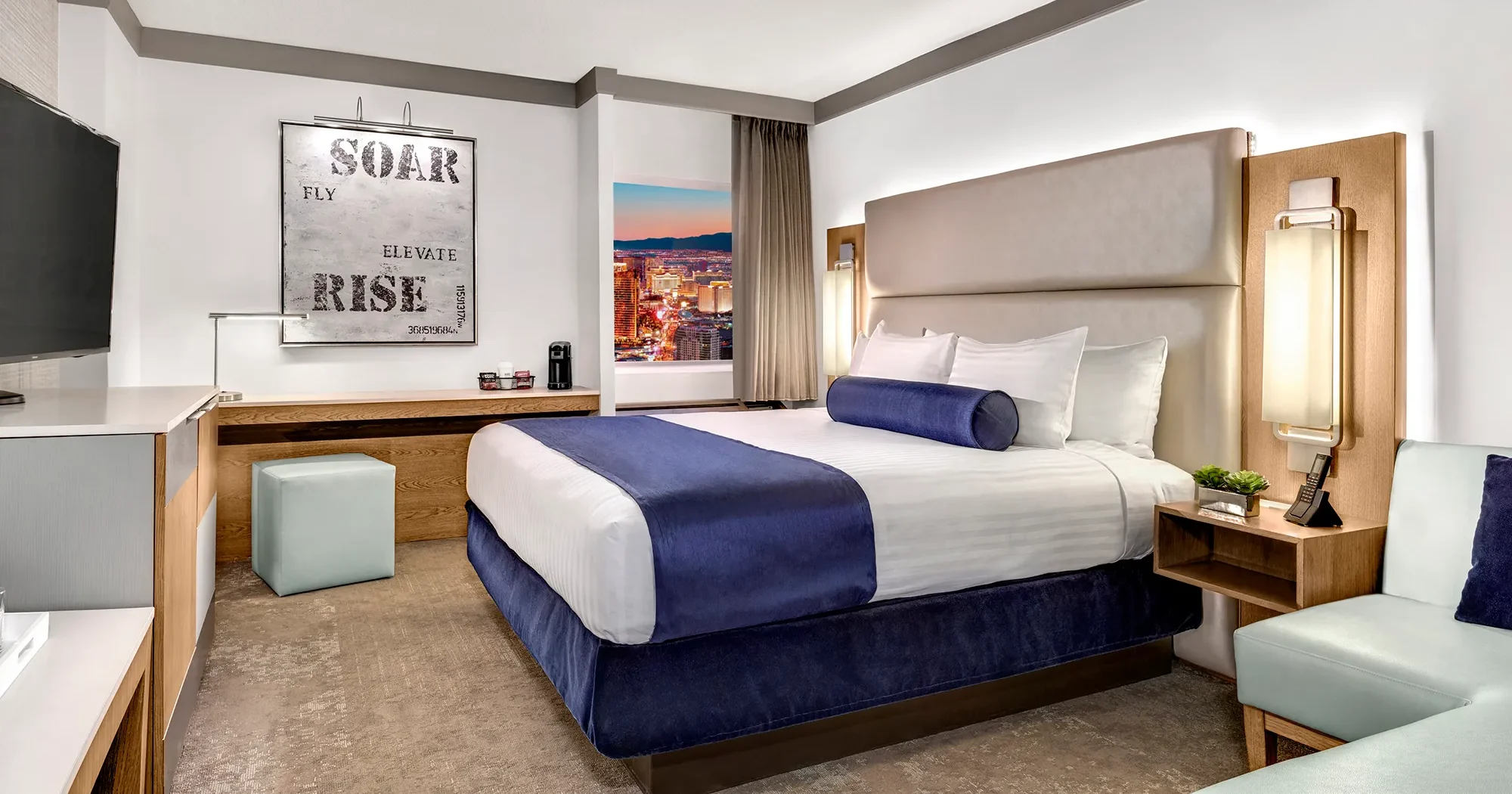 The Strat rooms are fine and spacious enough at 300 to 350 sq. ft. They are obviously not the best or most spacious around, but for the price point they are probably above average.
One advantage of the location is that suites are available at a reasonable price, and they are a good standard.
Amenities are a little on the light side. There is no spa or salon, but there is swimming pools and a fitness centre.
Food and Drink
The Strat has arguably the finest dining experience in all of Las Vegas in the Top of the World restaurant.
It is located more than 800 feet above the ground at the top of the SkyPod (that's the name they have given the observation tower) and the whole place revolves as you eat. It takes 80 minutes to do a 360-degree rotation and the views are unrivalled, especially at sunset.
You are going to have to dress up for the privilege, though. An 'upscale' dress code is enforced, and expect to pay high-end prices too. However, you are unlikely to be disappointed.
There are a few lower cost options too in the form of a pizzeria, a grill, and a sports bar.
You will find a few bars too, including 108 Drinks, which is on the 108th floor of the SkyPod overlooking the Top of the World restaurant.
Meanwhile, the Remix Lounge provides a nightclub option for those inclined.
Shows and Attractions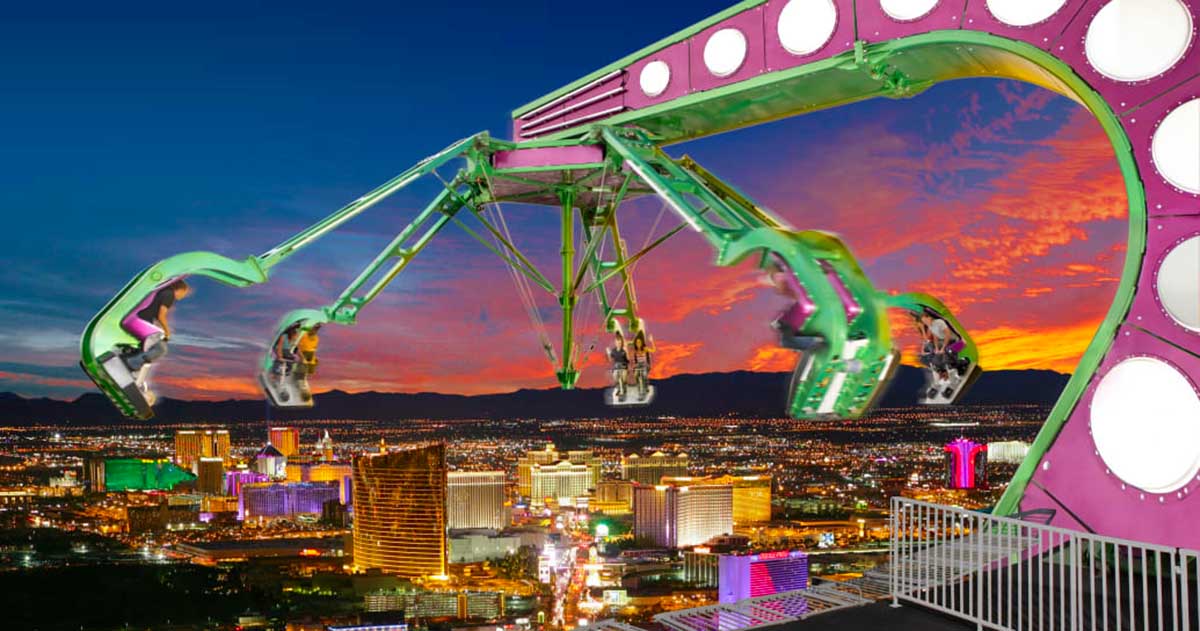 The Strat is all about attractions over shows, and that means thrill rides.
If you are the kind of person who likes to needlessly flirt with the possibility of plummeting to a messy end from a great height, then be sure to check out the SkyJump. Technically it is a 'decelerator' ride that involves jumping from the 108th floor 829 feet above the ground and falling at speeds topping 40mph before you are slowed by your cord and land safely.
There are three more thrill rides on the roof of the building too. X Scream fastens you into a rollercoaster style car and then dangles you off the building for a bit. If being more than 800 feet in the air wasn't already enough for you, the Big Shot will propel you a further 160 at 45mph for apparently no good reason. Insanity is a rotating claw ride that spins you while you dangle from the roof.
I have only personally done two of them, and I consider coming through them both without soiling myself to be among my greatest personal achievements.
There are some shows to enjoy too. Iluminate is a dance act with a difference in that they do it in the dark with some cool lighting effects, and Rouge is very much for adults.
Xavier Mortimer and his magic act and Banachek's mind reading complete an eclectic line-up.
The Strat Pool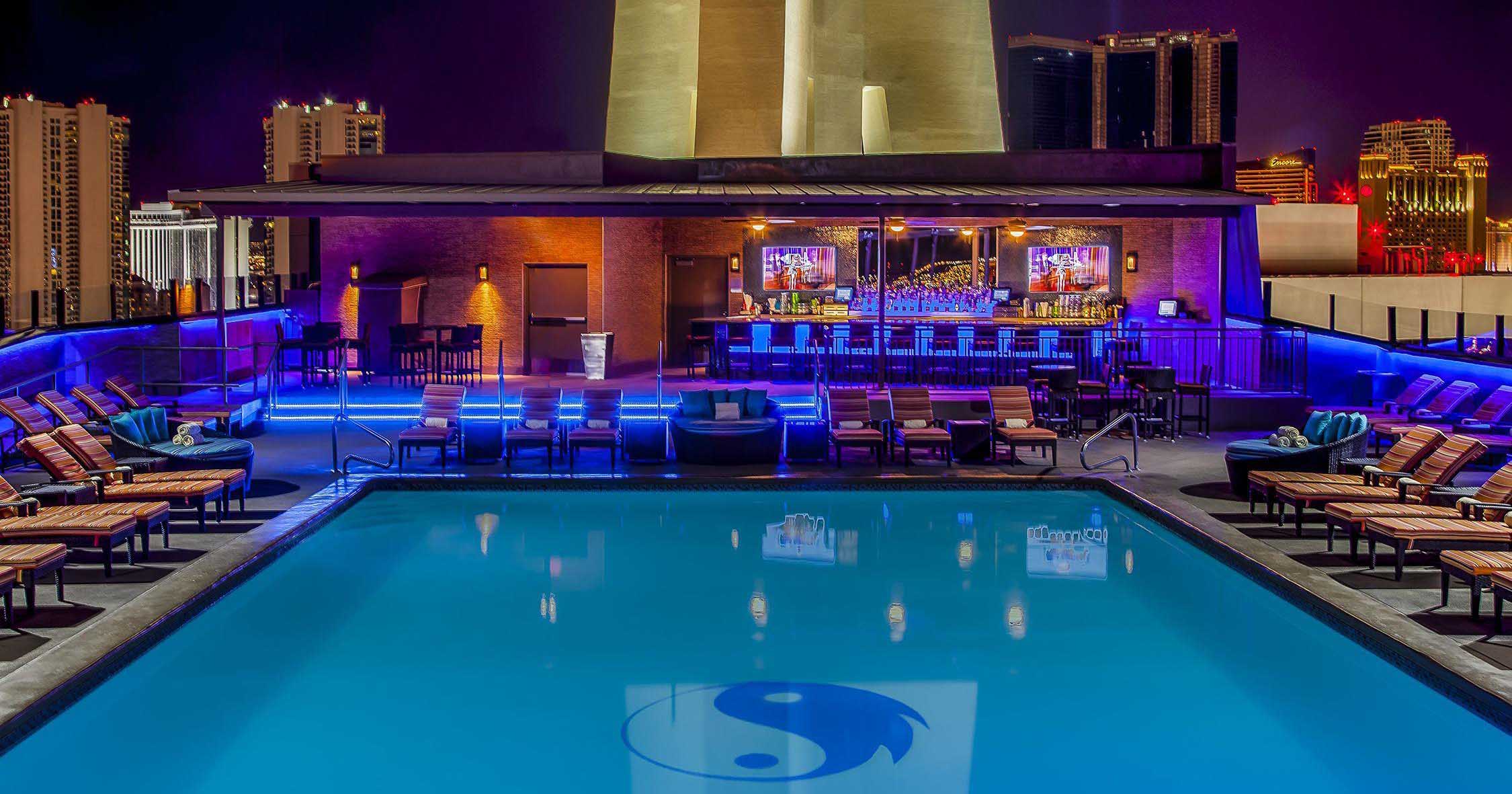 The Strat has two pools, both of them on rooftops, but both offering very different experiences.
Elation pool is your typical resort-style hotel pool and it is on the 8th floor. There is a café and bar up there too and minors are allowed as long as they are accompanied by an adult.
The 24th floor, meanwhile, is home to the Wet24 pool, which is adults only and states that tops are optional. There are DJ sets to liven things up as well as a bar.
Conclusion
The Strat has always struggled to find its place a little due to its location. However, as long as guests know what compromises they are making it's a high-quality resort at a good price.
Pros: Great for thrill-seekers and extremely affordable.
Cons: The location makes getting around quite challenging.
Considerations: If you are a first-time visitor to Las Vegas and want to fully experience the Strip, The Strat isn't going to work for you. It is ideal, however, if want to be close enough to the action without needing to be in among it.