The Bellagio is arguably the icon among all the Las Vegas Hotels, and that is a reputation that is thoroughly well-deserved.
That may sound like a bold statement to make given the competition. However, the property and its fountains have become synonymous with the Las Vegas Strip and even today it remains close to the top of the to-do list for all first-time visitors.
The Bellagio is a lot more than just its fountains, though.
Bellagio overview
Location: Strip (Centre)
Opened: October 1998
Last renovated: 2021
Number of rooms: 3,933
Gaming space: 156,000 sq. ft
Operator: MGM Resorts International
Permanent shows: O
Signature attractions: Fountains, conservatory
Known for: Fountains
Price guide: $$$$$
Location
The Bellagio stands right in the middle of the Strip at the Flamingo – Las Vegas Boulevard intersection.
In many ways, the Bellagio actually defines what we consider 'centre Strip' due to its sheer presence and the crowds that the quarterly-hour fountain shows attract.
The property is directly between two other superpowers of the Strip too. Its northern neighbour, Caesars Palace is a behemoth that is one of the oldest casino resorts in Las Vegas. To the south is Cosmopolitan, which is the modern and current must-stay hotel on the Strip, especially for younger visitors.
Getting around
Getting around from Bellagio couldn't really be any easier, in truth. As mentioned, Caesars and Cosmopolitan are literally next door, and they are must-visit properties.
Paris is across the road and Venetian and Mirage at the north end of the Strip are within easy walking distance.
Meanwhile, the southern part of the Strip is a longer trek, although there is a tram that goes from Bellagio to Park MGM that will make it an awful lot easier.
The hotel itself is located some distance away from the Strip, though. There is a huge lake at the front, after all. That means it can take a while to get from your room to the Strip.
Bellagio Rooms and Amenities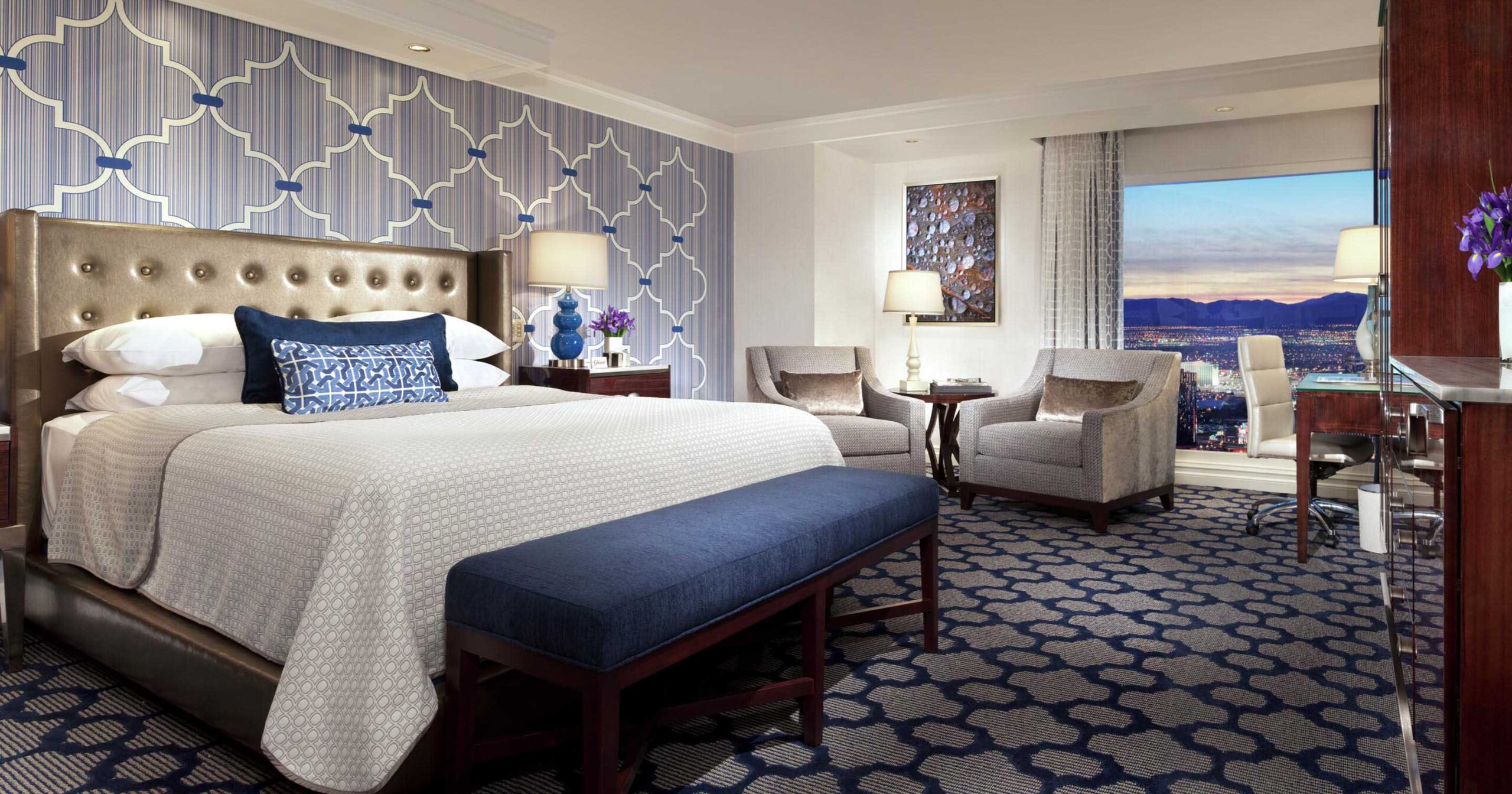 You're just not going to get anything other than an exceptional room at Bellagio. The most basic is 510 sq. ft.
Suites are harder, and more expensive, to come by, but they are enormous and impeccably styled.
Some of the rooms come with a view of the fountains. However, if you want one the chances are you will need to be prepared to pay extra.
Bellagio has more amenities than most too, with two different spas, a salon, a sprawling pool complex, a fitness centre, and golf trips. There are guest services and concierges available as well at all times.
If you love your shopping too, there is a number of high-end outlets to explore.
The gaming floor is one of the biggest on the Last Vegas Strip too. You can read about it in our separate Bellagio casino guide.
RELATED READING: Bellagio casino guide
Food and Drink
The fountains are a real spectacle in Las Vegas and Bellagio make sure they make the most of them with their dining options.
Dining with a view is commonplace at Bellagio too, with the fine-dining restaurants positioned on the water's edge.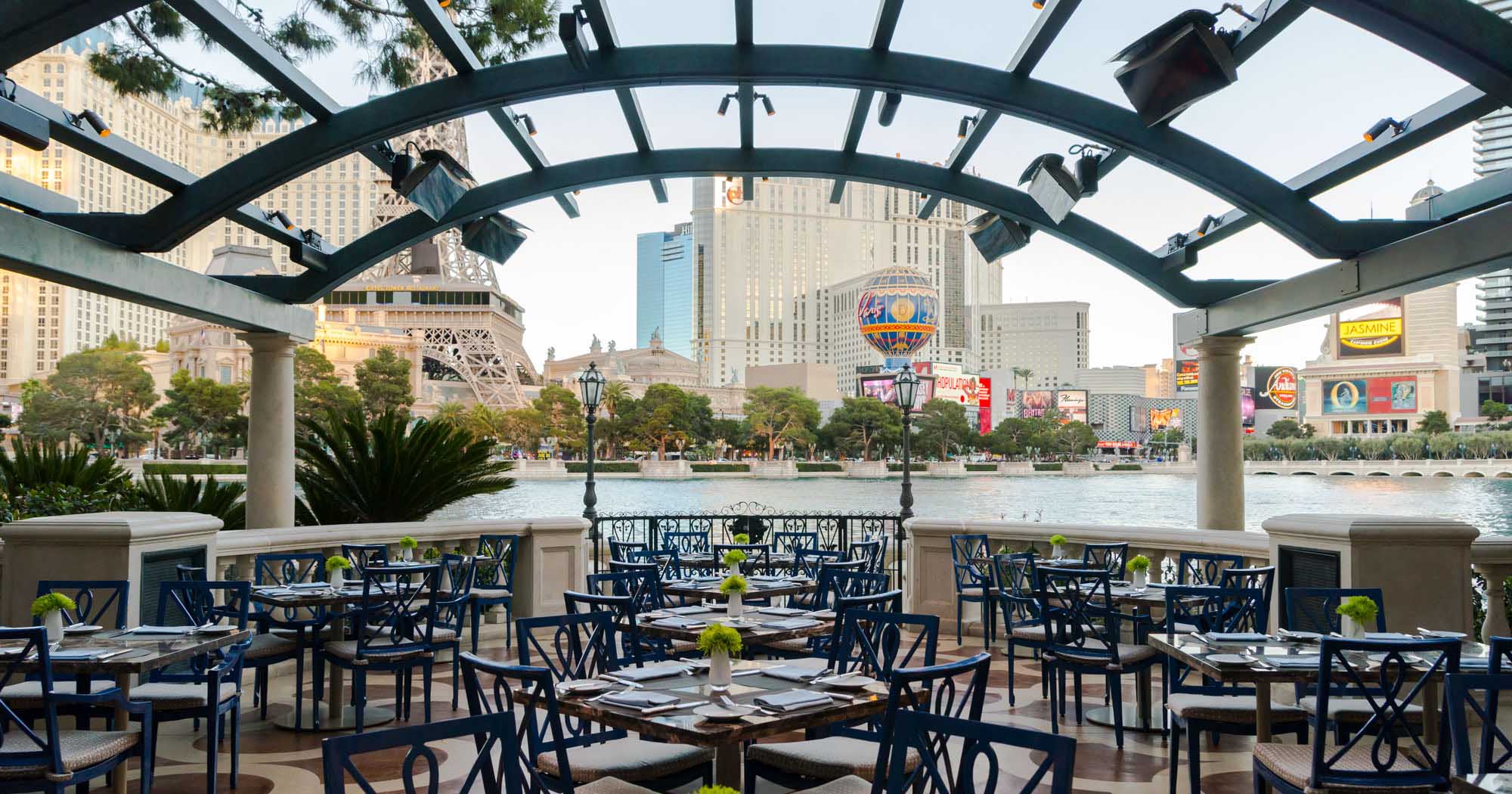 PRIME steakhouse is a particularly good choice for that with his having a small terrace that has a very VIP feel for all, yet it is open to anyone. Spago, by Wolfgang Puck, meanwhile, offers a higher vantage point from their terrace.
French restaurant Picasso is tucked away to the side, but that means you get views of both the fountain shows and the hotel and there is an Italian option with LAGO by Julian Serrano too.
For those who want a truly remarkable dining experience and are happy to pay for it, Le Cirque is definitely worth a visit. Asian food is not as well represented in Bellagio as it is in other properties. However, Yellowtail has you covered with some Japanese cuisine.
If you love your Las Vegas buffets, then Bellagio has one of the very best in town.
The Mayfair Supper Club bridges the gap between dining and nightlife by offering old-school Las Vegas cabaret-style entertainment whilst you eat.
Nightclubs are not really a Bellagio kind of thing, but the Lily Bar and Lounge and the Baccarat Bar are great options for drinks.
Shows and Attractions
The signature show at Bellagio is the O by Cirque du Soleil. Like most CdS shows it is a bit of a mind-bending experience, especially given this one takes place in a giant water tank.
The stylings of the theatre are brilliant too. It gives the impression that the whole things is submerged with echoey water drips adding to the ambiance.
Obviously the Fountains are the big attraction at Bellagio. However, they are not the only one.
The property is also known for its spectacular conservatory which has a themed display running all year round. They change them four times a year and each one seems to be better than the last. Like the fountains, the conservatory is free of charge.
Bellagio Pool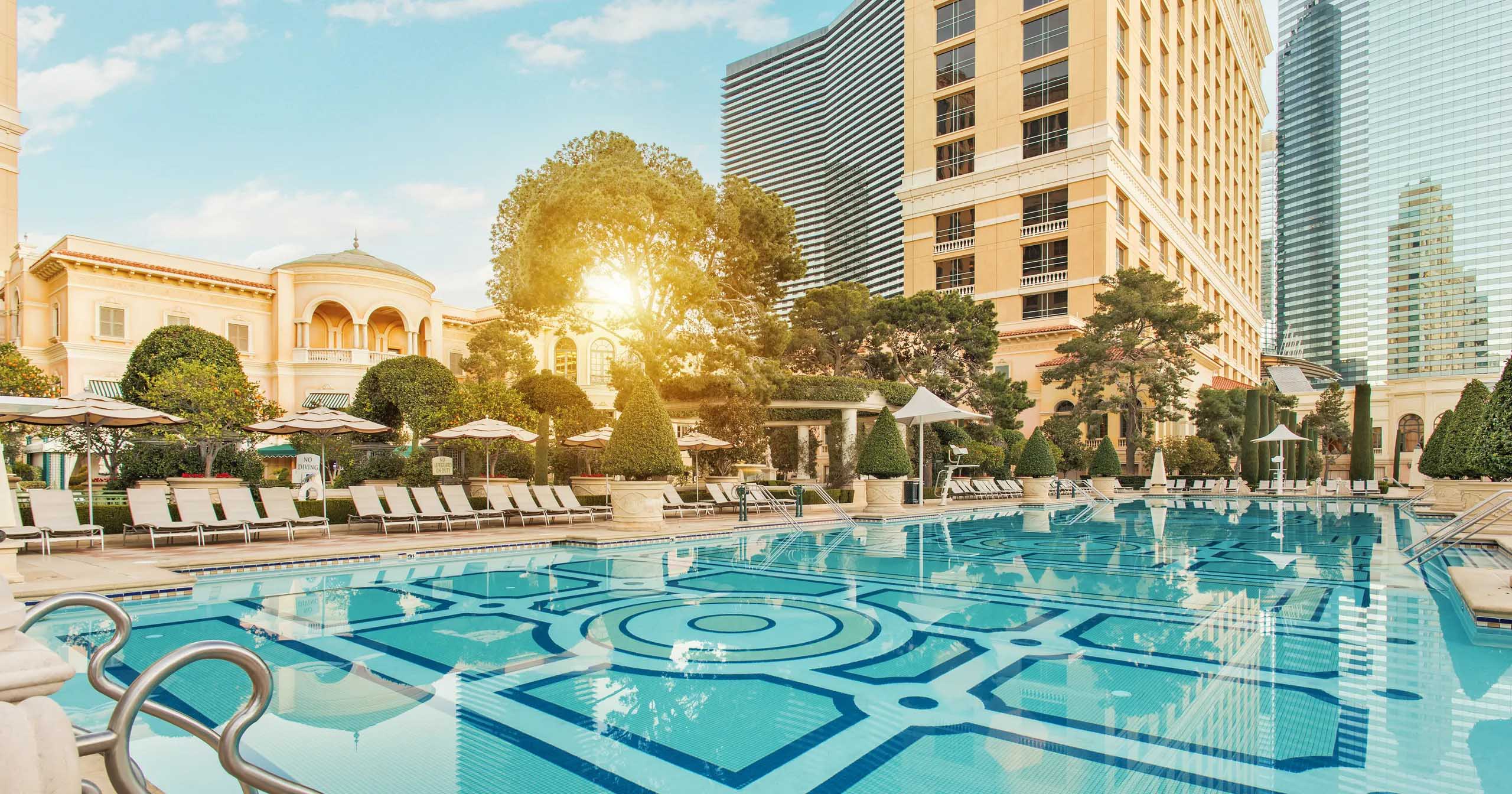 The Bellagio pool is absolutely immaculate in its tranquillity and it's a really nice place to while away a few hours.
Pool parties are not really Belaggio's thing. So, if you want a relaxing pool experience in Las Vegas then this would be a very good option.
Cabanas, daybeds and premium loungers are available at a cost, and there is a poolside café too. For those so inclined, poolside spa treatments are available.
RELATED READING: The best pools in Las Vegas and where to find them
Conclusion
The Bellagio is a Las Vegas icon for a reason. In fact, for several reasons. Its theming is subtle but it absolutely delivers on Italian grace and understated elegance.
Yes, it's a high-end price point, but it's a high-end property in every possible way.
Pros: Everything.
Cons: Nothing.
Considerations: If you are younger and looking for great nightlife and parties, Bellagio is unlikely to push your buttons.