One of the things we get asked most often is when is the best time to visit Las Vegas for great weather. So, what can you expect from the weather in July and will it be a good time for you to hit the Strip?
July is one of the busier times of the year in terms of tourist numbers on the Strip. The weather can divide opinion, though.
Let's have a closer look at the Las Vegas weather in July.
High temperature: 41C/106F
Low temperature: 23C/73F
Day temperature: 35.6C/97F
Night temperature: 32.2C/90F
Sunshine hours: 13
Rainfall: 9mm
Rainfall days: 4
What to expect from the Las Vegas weather in July
Whether or not you will enjoy the weather in Las Vegas in July depends entirely upon your tolerance for heat.
Temperatures regularly get over 100F at this time of year, and that is just too hot for many. Others, though, will absolutely love it.
I personally found the weather very good in July. Temperatures are high but humidity is low. It was also quite changeable too. When storms came in, they were actually quite spectacular. They were also brief, which was nice.
If you are someone who struggles in the heat, though, I would maybe advise avoiding July if you're booking a Vegas trip.
RELATED READING: Five Las Vegas must-do's for first-time visitors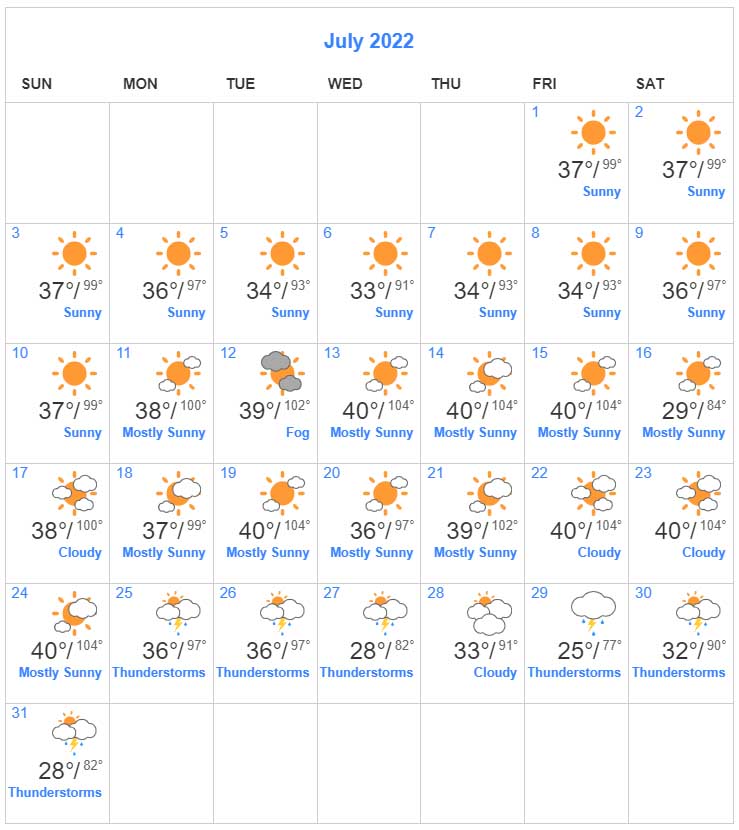 How likely is it to rain in Las Vegas in July?
On average, it rains in Las Vegas on about four days during July. That means you're likely to see rain around once a week.
The rain can be quite spectacular too, with stormy skies above the Strip not uncommon at all.
However, for all rain can come during July, it tends to pass very quickly too. It can be pretty spectacular to watch as well, safe in the knowledge it won't last very long.
RELATED READING: Top Las Vegas tips for first-time visitors and beginners
Humidity
Las Vegas is in the desert, so humidity is never really going to be a problem. For me personally, that is a big part of what makes the weather so good there.
It's a very dry heat generally, and it's very rare that the humidity climbs above 66% across the course of the whole year.
You won't see anything close to those levels of humidity in July, though. In fact, it sometimes drops as low as 6%.
What to pack for Las Vegas in July
You're only going to want your summer wear, really. In fact, even t-shirts can be relatively rare in July. Vest-tops seem to be the go-to.
Evenings and nights are very hot too, so you won't be needing a jacket at all.
Definitely bring your swimwear, though. July is the height of pool season in Vegas and it's a great way to cool down in the heat too.
One of the issues that does often come up in the dry heat is dry skin or lips. That's why it's often recommended to pack a lip balm/chapstick. Don't worry if you don't though, almost every gift shop or convenience store have them to purchase.
RELATED READING: Best Las Vegas pools: Eight must-book hotels for swimmers and sunbathers