One of the things we get asked most often is when is the best time to visit Las Vegas for great weather. So, what can you expect from the weather in August and will it be a good time for you to hit the Strip?
August is a very popular time of the year to visit Vegas, especially if you're a real sun worshipper. It's not quite July levels of heat, but it's certainly up there.
Let's have a closer look at the Las Vegas weather in August.
High temperature: 39C/102F
Low temperature: 23C/73F
Day temperature: 35.4C/96F
Night temperature: 35.6C/97F
Sunshine hours: 13
Rainfall: 9mm
Rainfall days: 5
What to expect from the Las Vegas weather in August
Whatever the weather does in Las Vegas in August, it does it pretty spectacularly.
Generally speaking, the weather is incredibly hot. Temperatures go near or above 100F with real regularity.
August is also monsoon season, though. In 2022, the city has seen some incredible storms. That's not unusual, although not all years will be quite as pronounced for stormy weather.
Don't let that put you off, though. The weather in August is great in Vegas and it's unquestionably one of the best times to visit.
RELATED READING: Five Las Vegas must-do's for first-time visitors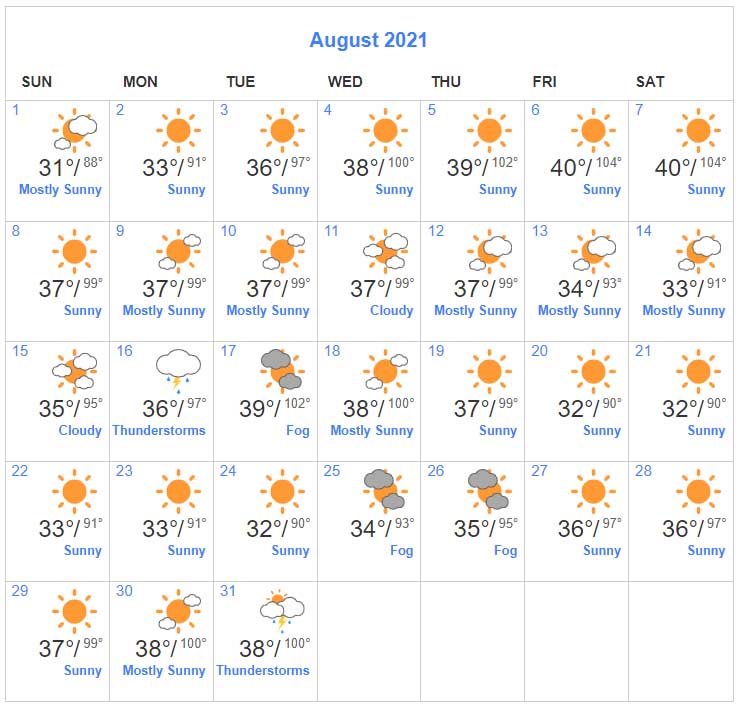 How likely is it to rain in Las Vegas in July?
If you're going on vacation to Vegas in August, you will be fairly lucky to avoid seeing some rain.
Five days during the month tend to see rainfall, so on average around once a week. When it comes, it can be incredibly heavy as well with some spectacular monsoon-style storms.
That can create a lot more standing water on the Strip than you would usually see. As mentioned, in 2022 the water really came down on, and in some cases, through, the roofs of casinos. That's just all part of the Vegas fun, though, right?
RELATED READING: Top Las Vegas tips for first-time visitors and beginners
Humidity
Las Vegas is in the desert, so humidity is never really going to be a problem. For me personally, that is a big part of what makes the weather so good there.
It's a very dry heat generally, and it's very rare that the humidity climbs above 66% across the course of the whole year.
Despite some excess rain being around, the humidity in August doesn't really climb. The air is still dry throughout the whole month.
What to pack for Las Vegas in August
The unpredictability of the weather in August can make it tough to know what to pack. However, my advice would be to not over-prepare for any stormy weather you might encounter.
For the vast majority of your time there, it's going to be scorching hot, so get your summer and swimwear packed.
Chuck a hoodie in as a precaution, but that's probably all you will need in terms of colder weather attire.
One of the issues that does often come up in the dry heat is dry skin or lips. That's why it's often recommended to pack a lip balm/chapstick. Don't worry if you don't though, almost every gift shop or convenience store have them to purchase.
RELATED READING: Best Las Vegas pools: Eight must-book hotels for swimmers and sunbathers