Whether you want a chilled day lazing around in a luxury pool or the loudest wettest party, you are spoilt for choice when it comes to the best Las Vegas pools.
After a wild night of indulgence in sin city, nothing hits the spot more than a dip in the pool and. With temperatures soaring to over 120 degrees in the summer, it's a great way to cool off.
Nearly all Las Vegas hotels have a swimming pool, but they can vary greatly in both quality and vibe. For many, a good pool will make or break your vacation, so here is my lowdown of the best ones in town.
Golden Nugget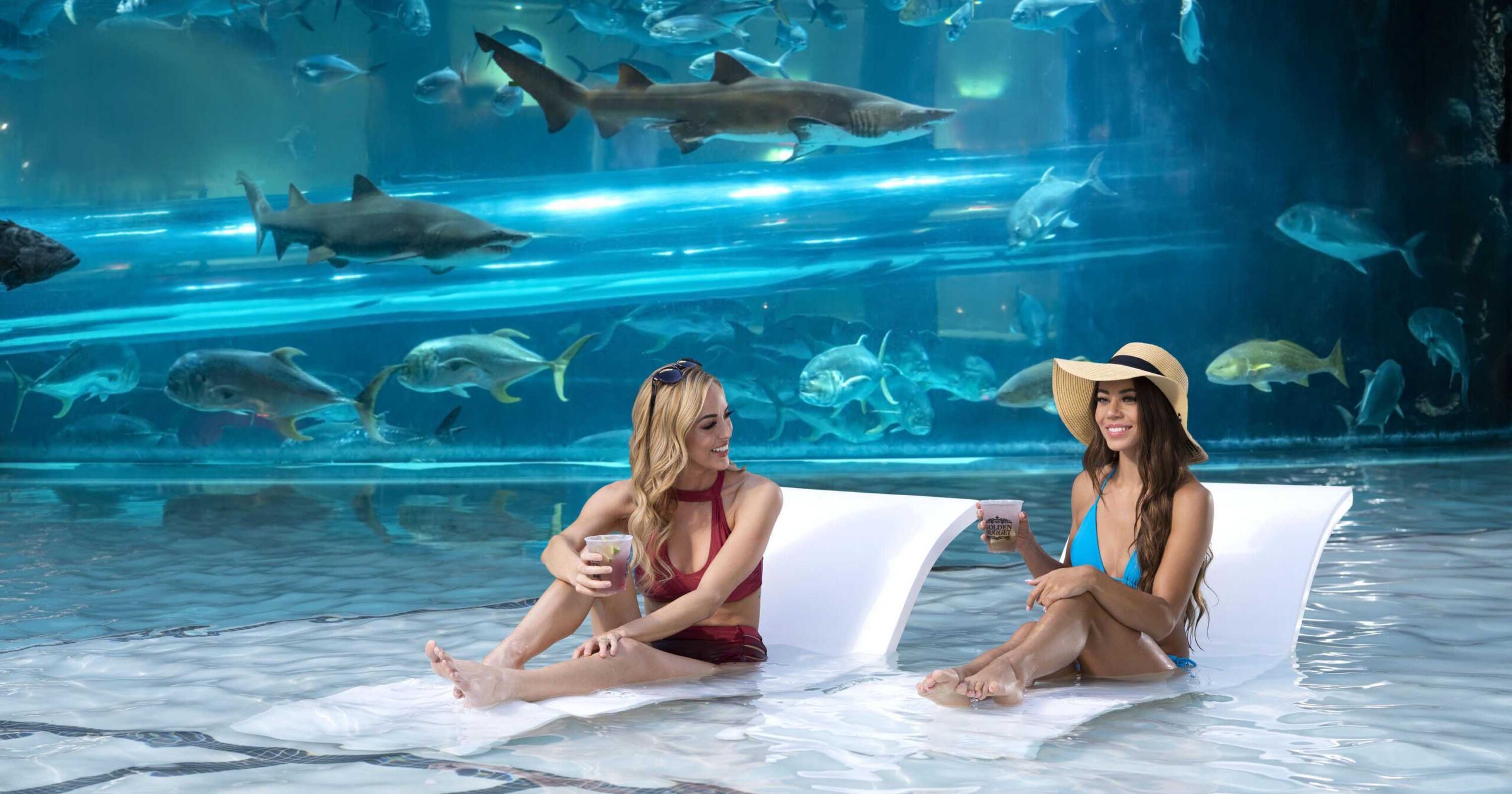 So I've gone off-strip for this one, but we can't discuss the best pools in Las Vegas without mentioning the Golden Nugget.
The $30million pool area features a 200,000-gallon shark aquarium that sits right in the centre of the pool complex. Ever wanted to swim with sharks? Well, you can here, albeit with a glass barrier in between you.
You can even ride the waterslide that goes right through the shark tank too.
If you want a less terrifying pool experience, there's plenty of space to relax too amongst the cascading waterfalls and chilled out pool bars.
Mirage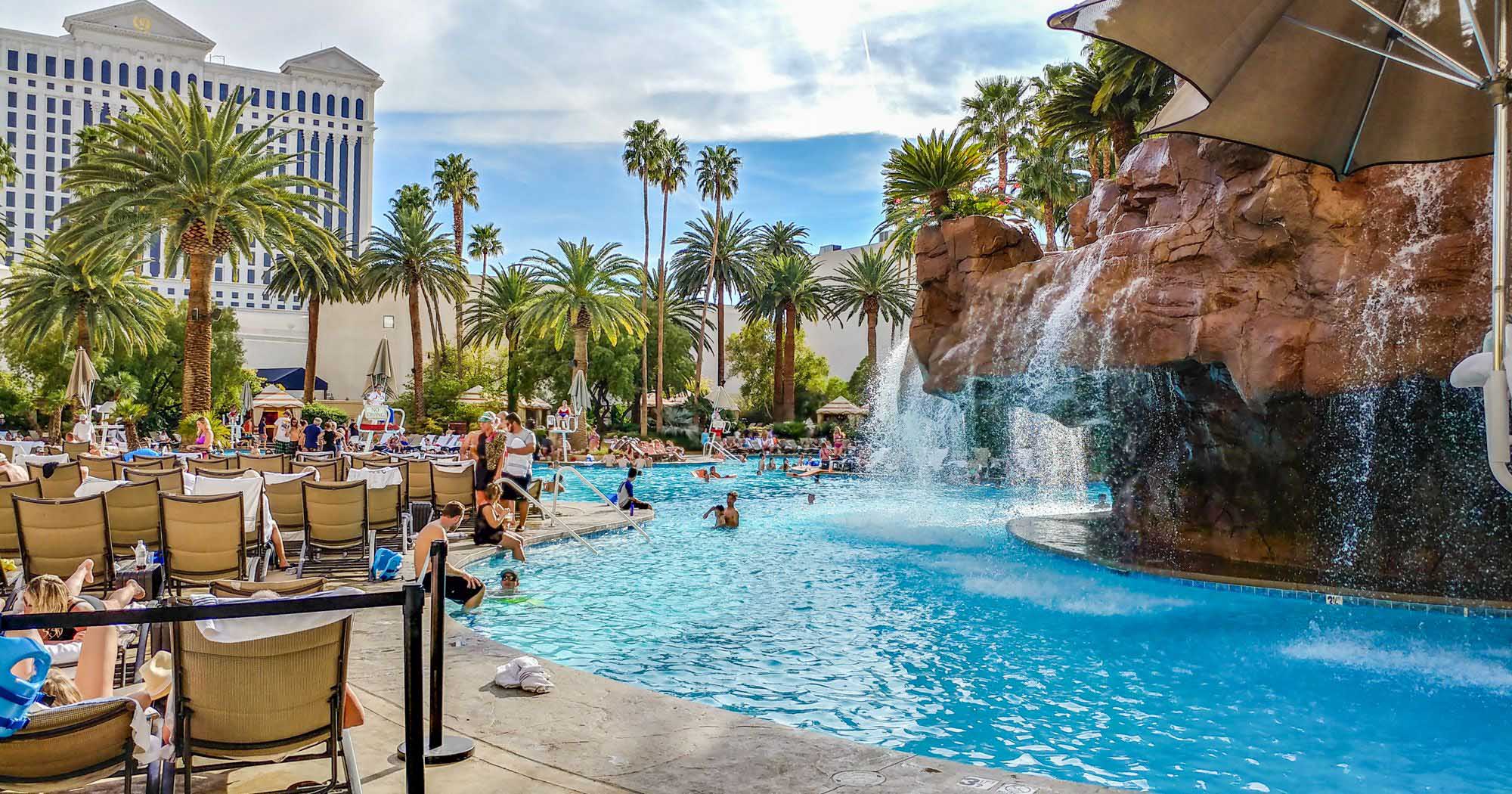 I don't really know why or how, but the Mirage pool manages to create an atmosphere of absolute serenity in the surroundings of neon and sound.
Maybe it's because its situated directly beside the dolphin habitat. Maybe it's because it's not frequented by the younger louder crowds. Whatever it is, the Mirage pool area is a little haven of tranquillity and calm where you wouldn't expect it.
With palm trees, cascading waterfalls and small food shacks, you really can get away from it all for a few hours and lose yourself in the tropical ambience.
Mirage also hosts an adult-only pool area – The Bare Pool Lounge. It offers a more exclusive pool experience of 'summertime utopia' according to the website. I've never tried it myself, though.
Cosmopolitan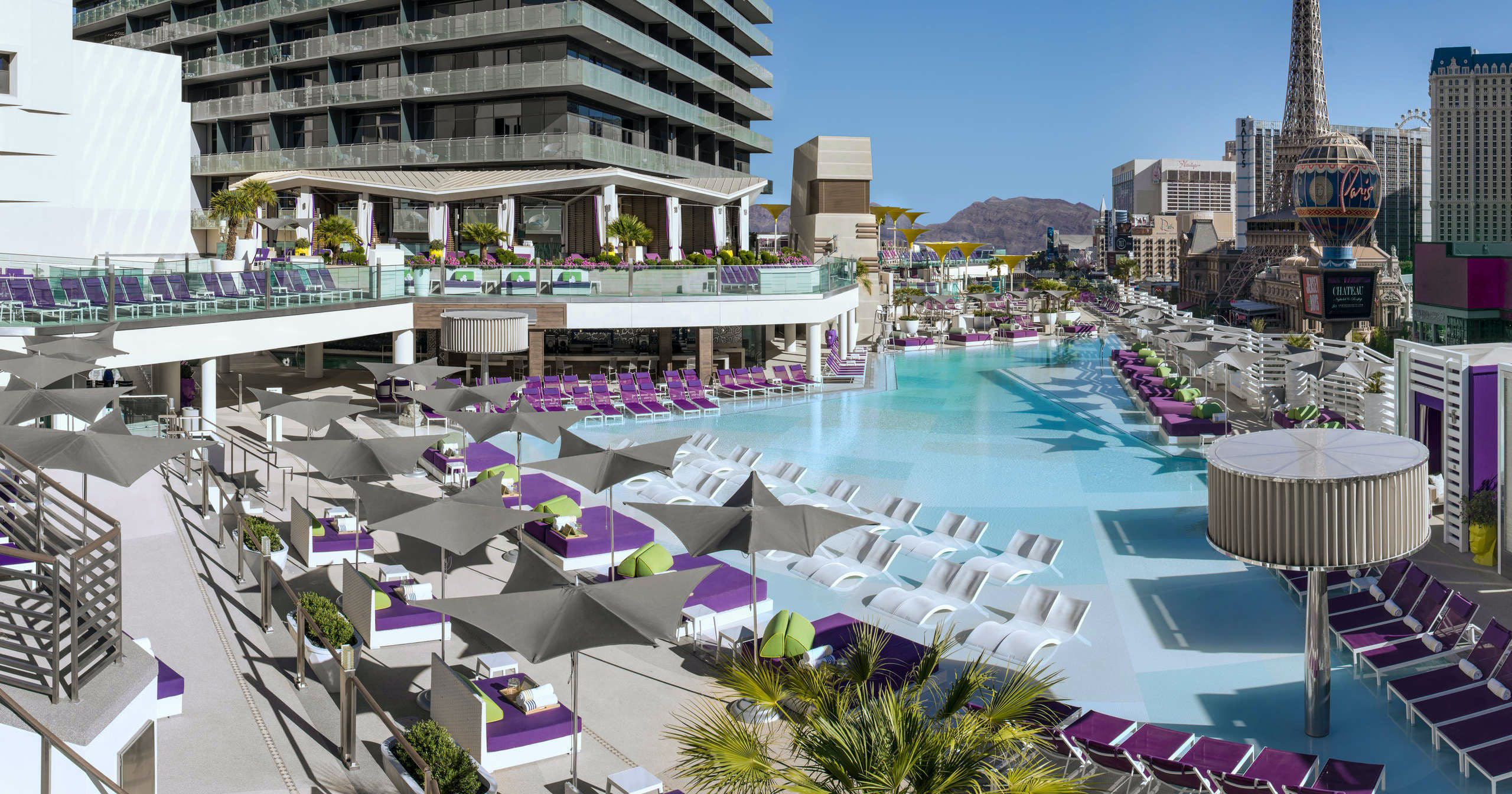 Of course, the most modern and trendiest of Las Vegas hotels has to feature on our list. The Cosmopolitan offers three completely different pool experiences for guests.
Fancy sitting around the pool while enjoying stunning views of the strip? No problem. The Boulevard Pool has probably THE best location of any pool. It is right on the strip surrounded by glass walls and has a fun, lively vibe that is just perfect for socializing and those perfect pool pics.
The Chelsea pool, meanwhile, is situated on the side of the resort. It's further from the strip and is more suited to those who want a more chilled vibe or some peace and quiet.
Lastly, the Marquee Dayclub is the newest and arguably the most popular pool party experience on the strip. With over 22,000 square foot of party space, and regular stints from internationally acclaimed DJ's this is THE place to be seen right now in Las Vegas.
MGM Grand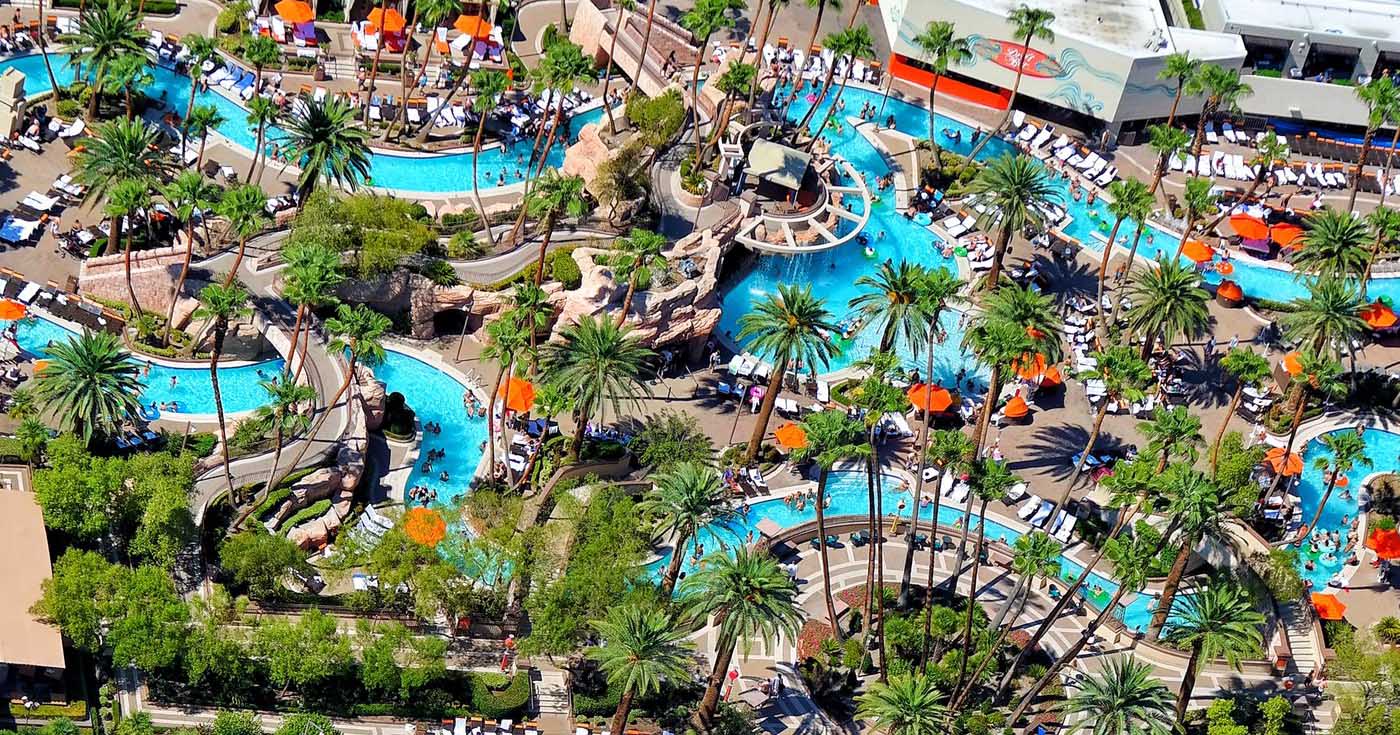 With four pools, three whirlpools and an epic lazy river, MGM Grand is one of the biggest pools on the Las Vegas Strip.
Set over 6.5 acres, this stunning pool area has waterfalls and poolside massages. Guests can spend hours drifting round that quarter mile long lazy river too.
For those wanting the full pool party experience, the Wet Republic Ultra Pool is the place for you. Open Mondays and Thursdays to Sundays, these parties offer live DJ sets from some of the biggest names around. There is also a 2,500 square-foot open-air lounge as well as oversized personal Jacuzzis and intimate plunge pools.
Caesars Palace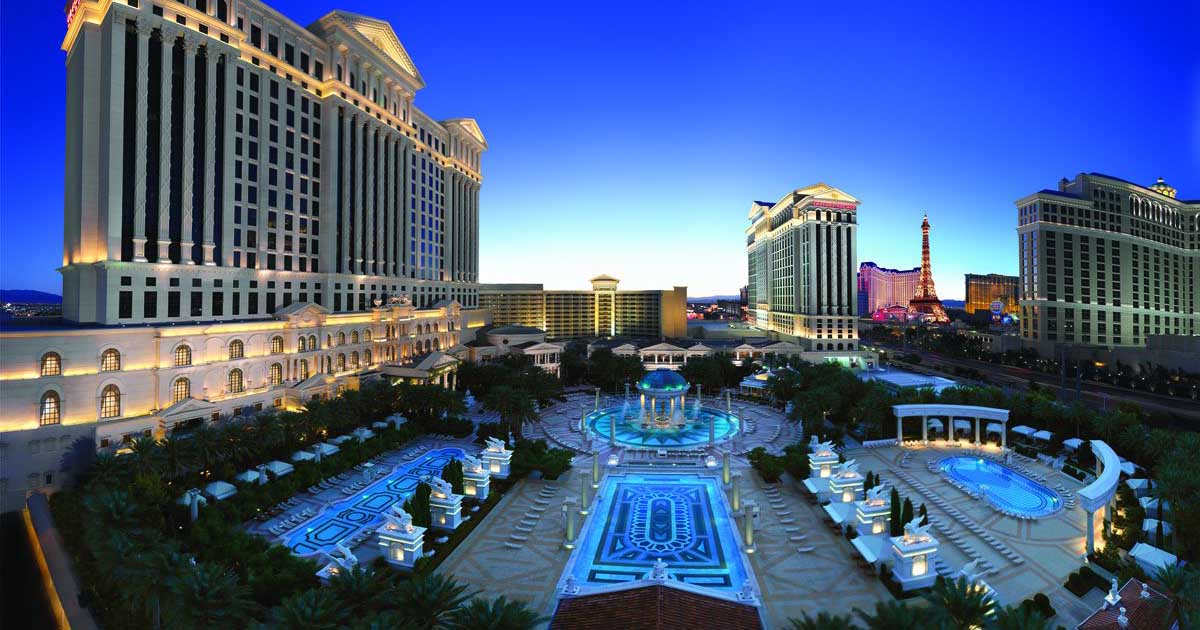 The Garden of the Gods Oasis at Caesars Palace is an incredible 4.5 acre pool complex. It is made up of seven different water experiences with something for everyone.
One of the most well-known and recognized Las Vegas hotel pools is the Temple Pool . It has on-theme Roman statues and waterfalls and provides a relaxing and chilled vibe in stunning beauty.
The Neptune pool, meanwhile, is the biggest and most vibrant with live music from a DJ. The Fortuna Pool is worth checking out too. There, you can get your gambling fix without even leaving the pool at the swim-up casino tables.
RELATED READING: LAS VEGAS GAMBLING: Quick start guide to hitting the casino
For families there is the Apollo Pool, which is more casual with fun games on the lawn. There's also a specific children's pool, the Juniper pool, with family-friendly themed floaties and bubbles to keep the young ones entertained.
Bellagio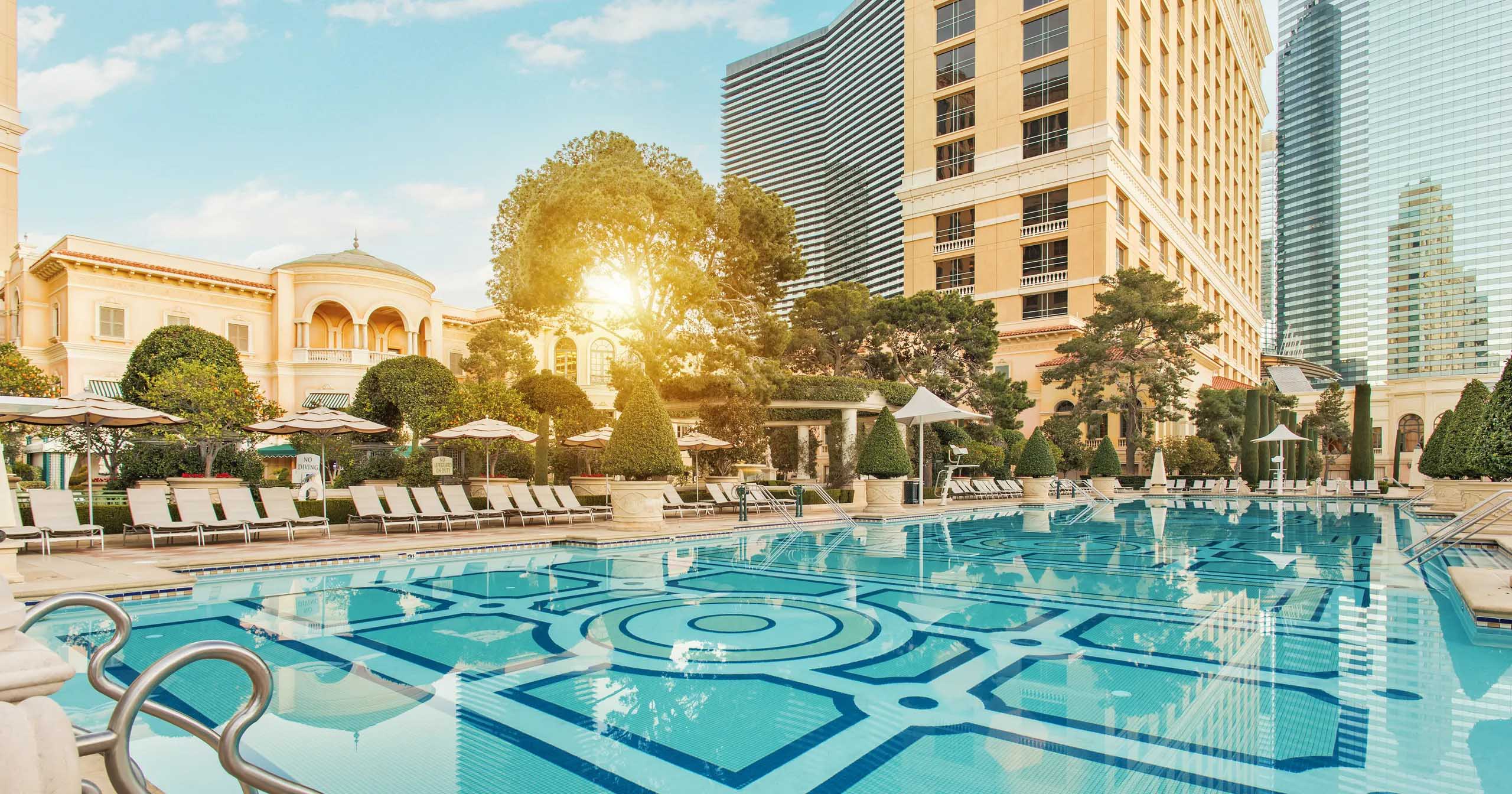 There is, frankly, nothing that The Bellagio doesn't do brilliantly and the pool area is better than most too.
There are multiple pools within the complex, all immaculately styled with Italian elegance and set in an idyllic garden.
If you're looking for a party atmosphere, then admittedly the Bellagio won't be for you. It's not that kind of place at all.
However, it offers a level tranquillity that can be tough to find elsewhere on the Strip. So, if you like you lounge around the pool with a good book and zero stress, you will struggle to find better options than Bellagio.
Circa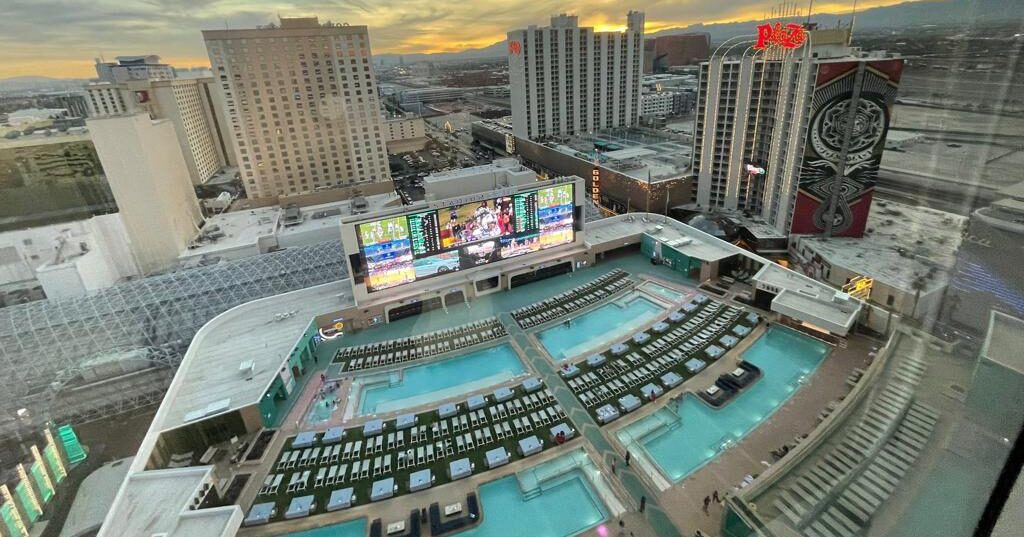 Las Vegas has set a phenomenally high bar when it came to pool experiences. However, Circa then came along and built something truly incredible.
Circa has the best sportsbook in Vegas and they decided they would replicate that outside too by building an enormous screen to watch multiple games. There are booths beneath it where you can place your bets.
The aptly named Stadium Swim really is something to behold and provides a genuinely unique poolside experience in Las Vegas.
Mandalay Bay
Named the Las Vegas Review Journals 'Best Pool of Las Vegas' seven years in a row, we just have to put Mandalay Bay as our number one.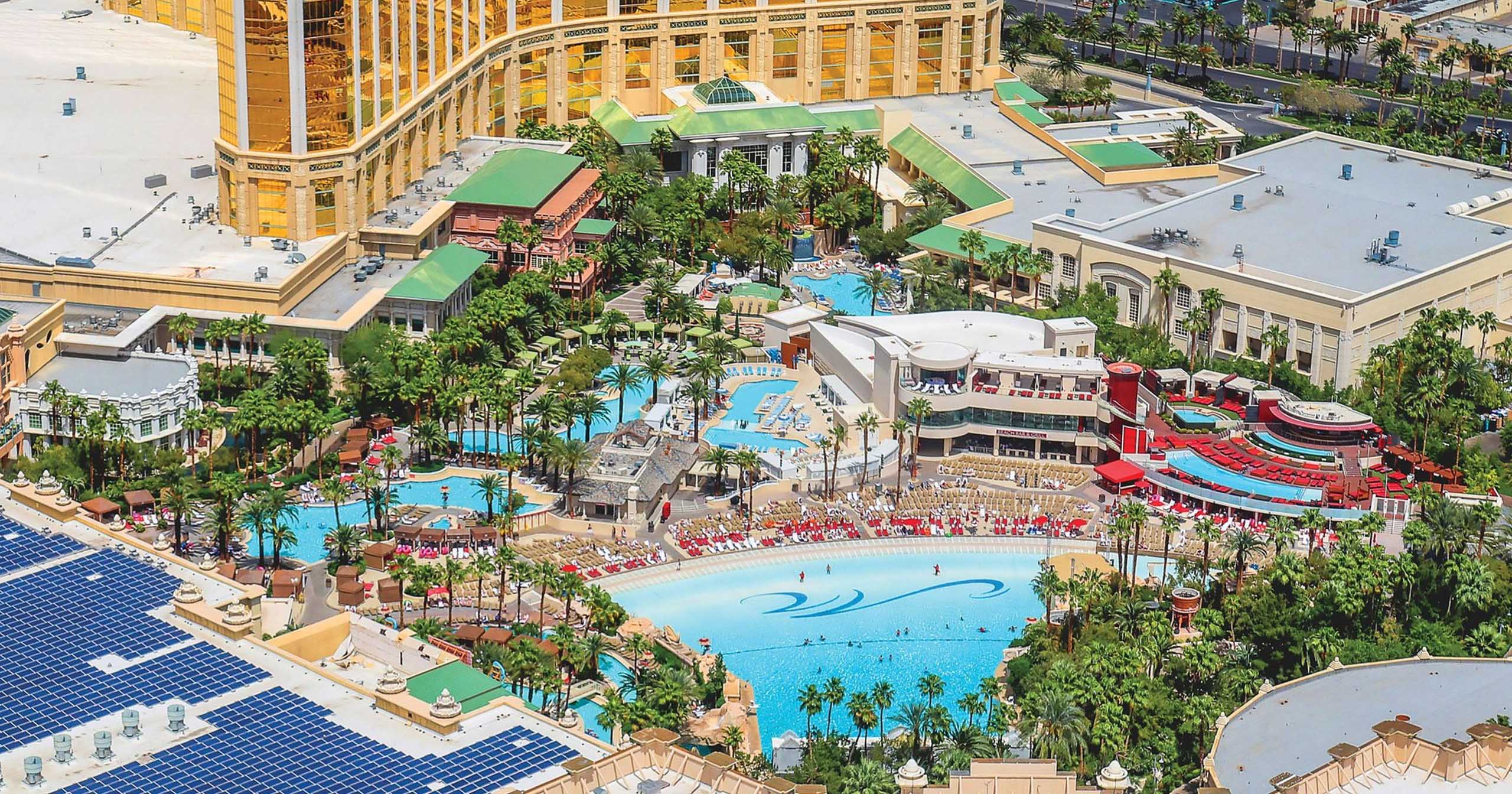 This 11-acre aquatic playground includes three heated pools, a wave pool, a lazy river. It even sits on a man-made beach of 2,700 tons of real sand.
While the main pool area is popular with families, Mandalay also has an exclusive private area. Moorea Beach Club for over 21's only and has stunning views over the beach.
Although a relaxing haven through the week, Mandalay Bay is also home to one of the hottest pool parties on the Strip every weekend- the Daylight Beach Club.
With guest DJ's, celebrity appearances and hundreds of scantily clad partygoers, this pool is more night-club than swimming pool on Fridays, Saturdays and Sundays.