The extraordinary Las Vegas hotels provide a stunning backdrop for everything that goes on in the city. In fact, they are a huge part of why people fall in love with Las Vegas in the first place.
This is probably the most subjective of all of our features on Begas Vaby. What I consider to be the best-looking properties on the strip is largely down to personal taste and preference. One thing for sure is that we are all spoiled for choice.
So agree or disagree, we're happy to hear from you either way. This, though, are my choices for the best-looking hotels on the Las Vegas Strip.
New York-New York
I can't quite put our finger on why this is my favourite, but it just captivates me every time.
The corner location, the distinct Manhattan skyline, the different colours of each skyscraper, the red rollercoaster weaving around it, the replica Empire State Building, Chrysler Building, Statue of Liberty and Brooklyn Bridge… it all just makes me grin from ear to ear when I see it.
The inside doesn't disappoint either. The main casino is modelled around Times Square, with the eateries styled with a Greenwich Village theme. You really will struggle to find a more atmospheric and welcoming property on the strip.
RELATED READING: New York-New York hotel review and guide
Bellagio
For sheer beauty, class and sophistication, The Bellagio brings something to the Strip that no other property does.
It is a building that you just love to look at. The cream paint job and symmetry is pristine and immediately satisfying. Then, of course, there is the enormous lake and iconic fountains out in front.
Inside a world-famous glass art sculpture commands the ceiling of the hotel reception. Meanwhile, the conservatory offers a seasonal floral display with real eye-catching beauty for guests all year round.
RELATED READING: Bellagio hotel review and guide
Venetian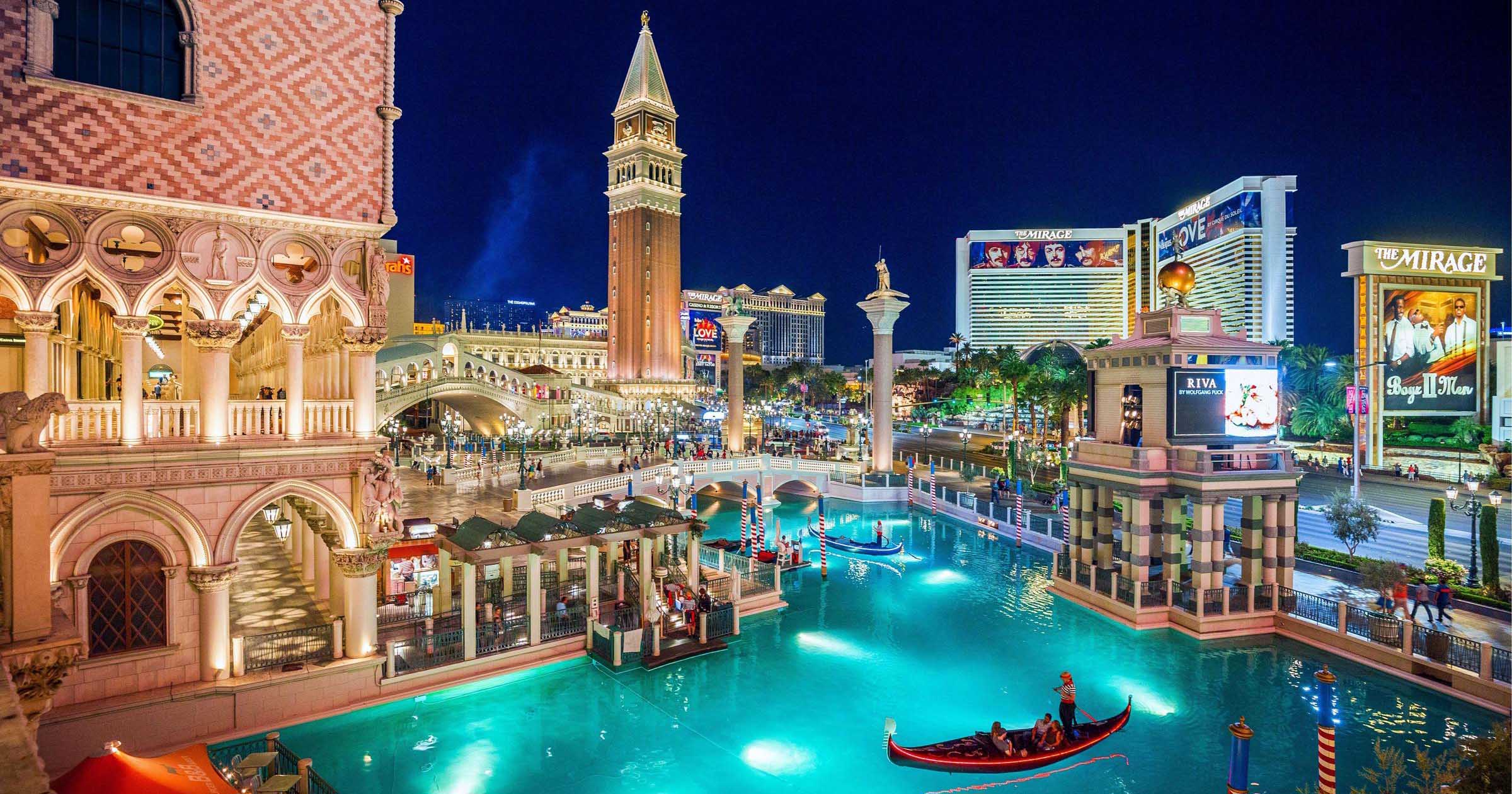 For a distinct, instantly recognizable property on the Las Vegas Strip, you can't look past The Venetian.
The exterior brings all the romance and beauty of Venice. There is a replica of the Rialto Bridge and the Piazza San Marco. The canals of Venice are also replicated here complete with outdoor Gondola rides.
Inside the exquisite décor continues with the Grand Canal Shoppes featuring St Marks Square. Restaurants, bars and entertainers adorn the banks of the indoor canals while guests are serenaded by gondoliers.
RELATED READING: Venetian hotel review and guide
Mirage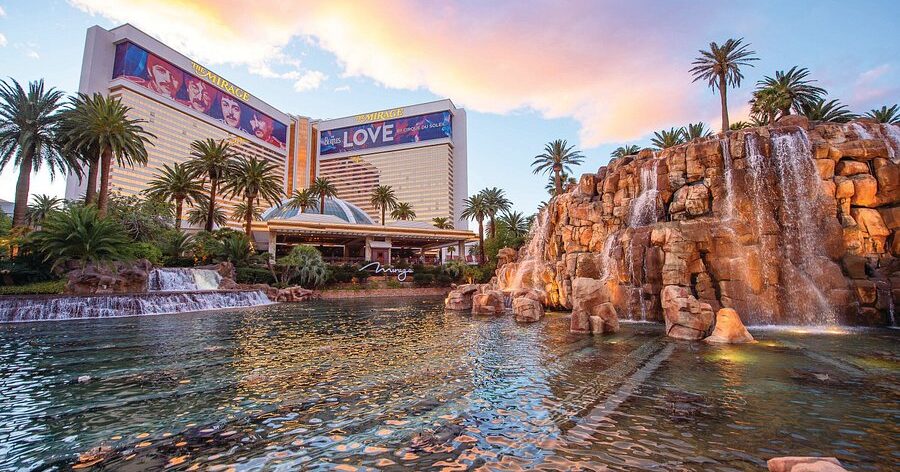 Mirage was the first ever super resort on the Las Vegas Strip is still, for many, the best.
This Polynesian-themed property features a volcano and waterfalls outside. Meanwhile, a large atrium adorns the hotel entrance complete with palm trees and a water feature.
Inside, the 53-foot-long, eight-foot-tall aquarium behind the registration desk is home to nearly 1000 specimens. Outside, meanwhile, the property still has a secret garden and dolphin habitat which is open to visitors.
One thing to keep in mind is that, at the time of writing, The Mirage's future is unclear.
Hard Rock will soon acquire the property and they intend to make significant changes. The iconic volcano will be replaced by a giant guitar-shaped tower, and that is just the start.
In other words, enjoy it in its current guise while you can.
RELATED READING: Mirage hotel review and guide
Mandalay Bay
Mandalay Bay Resort is an exotic ancient South Seas getaway featuring floor to ceiling windows. However, what really makes them striking is their 24 karat gold tint.
The glimmering exterior in also accompanied by flowing water, lush foliage, and glamorous architecture which continues its opulence internally too.
Mandalay Bay is at its most breathtaking at 'golden hour'. At this time of day, the sunset really helps bring the best our of  the golden glass. It is a stunning sight to see.
The golden stylings continue inside too, and Mandalay Bay also has arguably the best pool in Las Vegas too.
RELATED READING: Mandalay Bay hotel review and guide
Cosmopolitan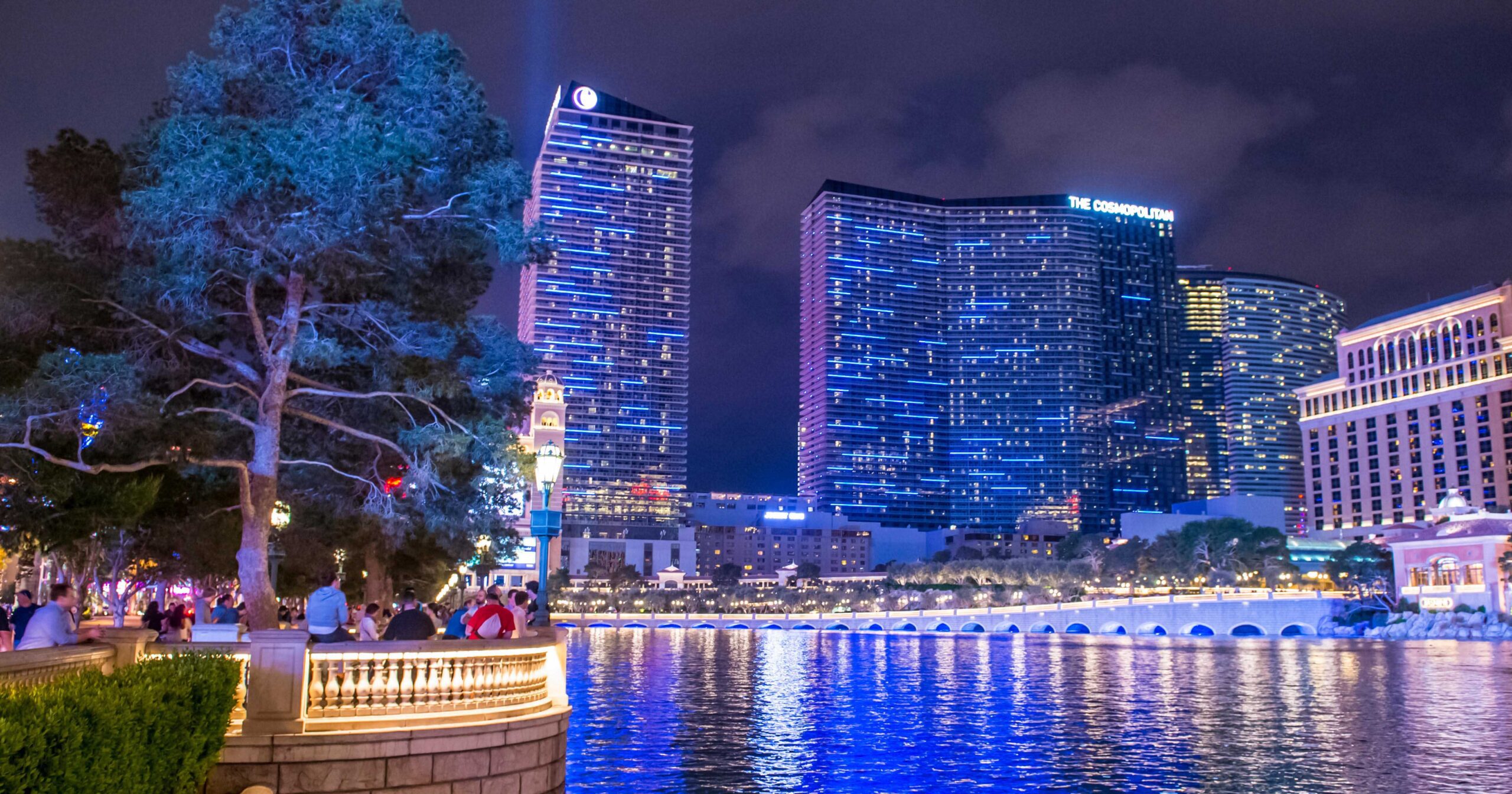 Las Vegas hotels don't need to have a theme to be incredibly good looking. If you doubt that statement, I suggest you take a good look at the Cosmopolitan.
It's one of the newest resorts on the Strip, built at a time when theme hotels are not in fashion.
The result is incredible, though. Cosmopolitan has two dark grey towers that are trimmed with blue neon at night.
Inside it is a boutique-chic wonderland of crystal and cutting edge cool. In short, it's a veritable modern classic.
RELATED READING: Cosmopolitan hotel review and guide