New York-New York is unquestionably one of the most iconic of the Las Vegas Hotels and it continues to effortlessly stand the test of time even to this day.
In fact, for many it is the best-looking of all the Las Vegas hotels of them all and the Strip is simply unimaginable without it.
Since it opened, it is fair to say that newer hotels have surpassed it in terms of luxury and modernity. However, New York-New York should be on everyone's list of places to stay in Vegas and with very good reason.
New York-New York overview
Location: Strip (South)
Opened: January 1997
Last renovation: 2014
Number of rooms: 2,024
Gaming space: 51,765 sq. ft
Operator: MGM Resorts
Permanent shows: Terry Fator, Mad Apple
Signature attractions: Big Apple Manhattan Express Roller Coaster, Hershey's Chocolate World
Known for: Iconic design and exterior, roller coaster, great theming
Price guide: $$$
Location
You will find New York-New York situated at the heart of the MGM neighbourhood on the south of the Las Vegas Strip.
Excalibur, the MGM Grand and Park MGM surround the hotel and are all no more than a pedestrian bridge away. That means if you make your base at New York-New York, you can make the absolute most of your MGM Rewards card.
RELATED: Las Vegas rewards clubs and how to make the most of them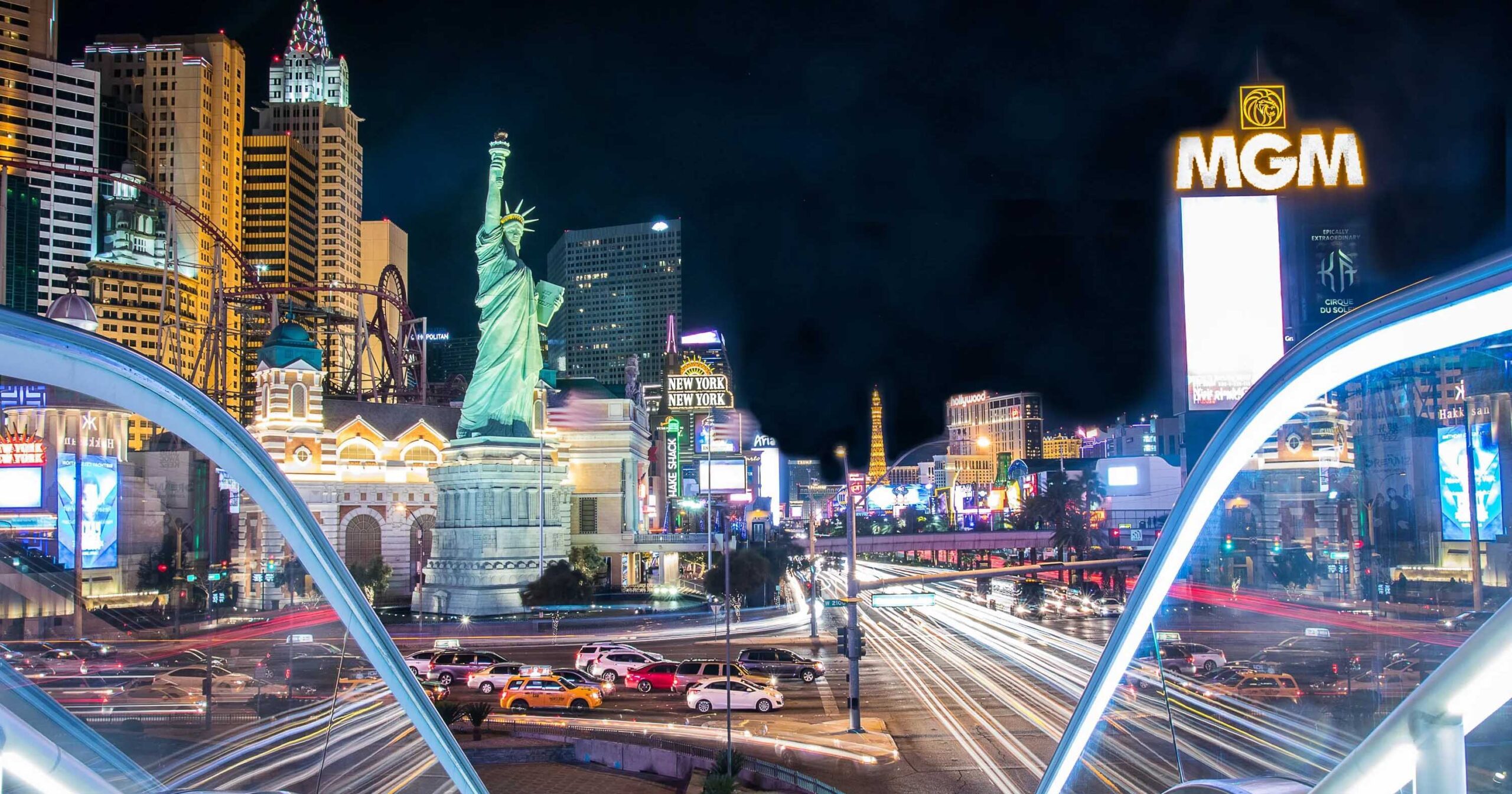 One thing to bear in mind is that it is still very much situated on the south end of the Strip. The northern properties, therefore, can be a bit of a trek away. If you prefer to frequent Caesars properties you should also take note that the closest, Planet Hollywood, is a decent walk away.
Generally, though, the location is a good one, especially if you like sports given its proximity to the the Allegiant Stadium and T-Mobile Arena. In fact, New York-New York is a bit of an unofficial home of the Vegas Golden Knights hockey team, and game-days can produce an atmosphere unlike anything else you will find on the Strip.
Getting around
Some might consider New York-New York to be a little too far south, and there is some merit to that.
You shouldn't really have any real problems getting around from there, though, as it is a very well-connected property. In fact, all three of its neighbours have monorail connections to the entire strip.
From Park MGM you can get a tram straight to the Bellagio via Aria. Excalibur, meanwhile, has a monorail connection to Luxor and Mandalay Bay.
If you cross the road to the MGM Grand you can take a monorail all the way up the east side of the Strip with stops at Ballys/Paris, Flamingo, Harrash's/Linq, The Westgate and Sahara.
There are also nearby stops for the Deuce bus.
New York-New York Rooms and Amenities
The rooms at New York-New York can be a bit on the small side compared to other hotels in Las Vegas. That great exterior styling came at a cost of a little less room inside, and for us that's a reasonable price to pay.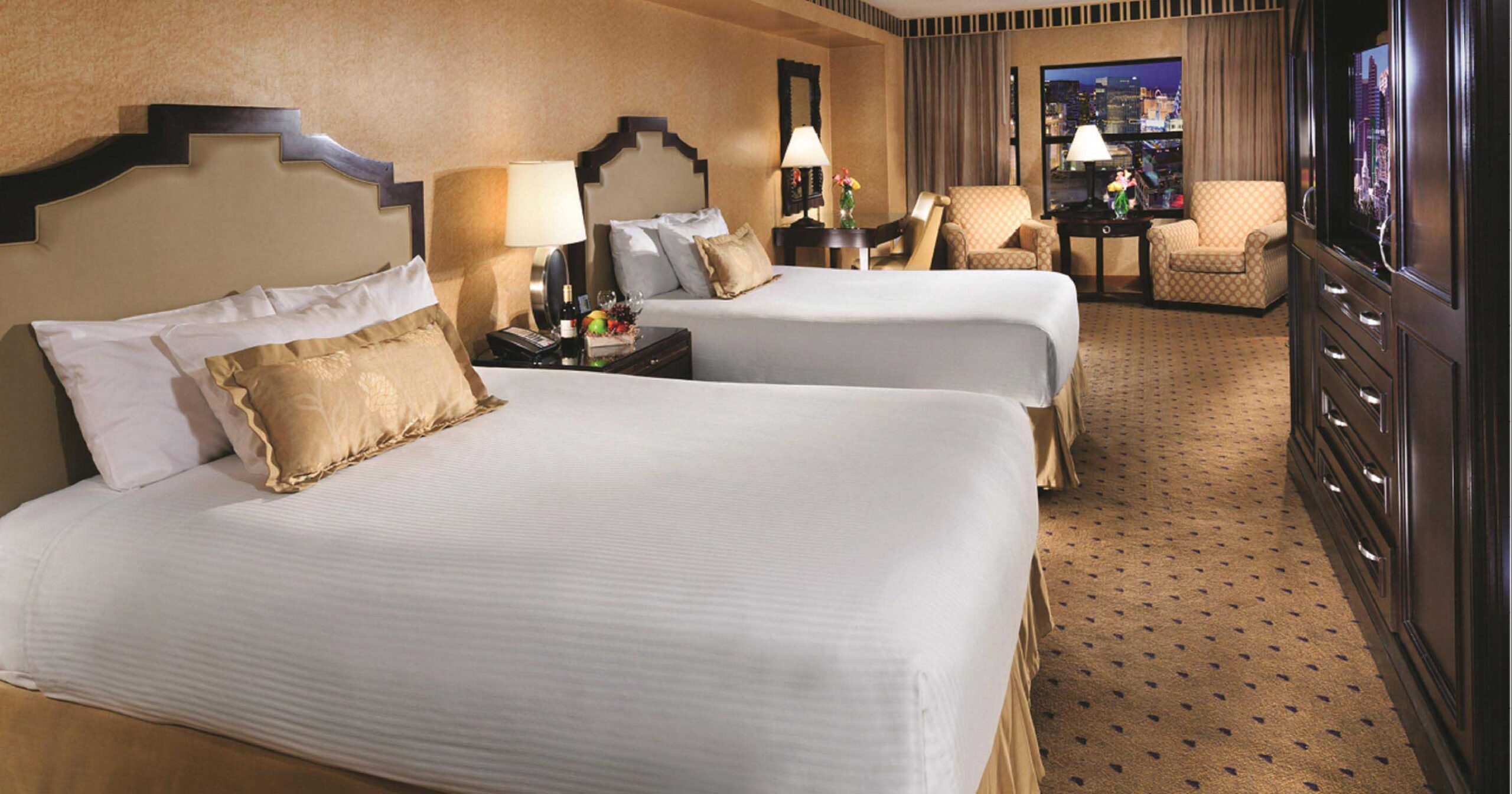 After all, you still get at least 350 sq. ft of space at New York-New York. That starts increasing to 450 sq. ft with the first upgraded level.
The property does not stand on the largest plot of land by any means, so amenities are not particularly extensive. They are still more than adequate, though. Guests have an on-site spa and fitness centre, nightclubs, bars, a litany of dining option and a large pool. For kids, there is also the Big Apple roller coaster and an arcade too.
For adults, the casino is definitely one of the best in Vegas.
RELATED READING: New York-New York casino guide
Food and Drink
Part of the theming and DNA of the hotel is that it rejects fine and fancy dining in favour of a more New York-esque casual and down to earth vibe, and that is very much reflected in its food options.
Gallagher's Steakhouse is about as fancy as it gets and that would be very much a mid-level eatery at many of the other hotels on the Las Vegas Strip.
Tom's Urban and Nine Fine Irishman are really affordable and serve good simple foods. The former is renowned for its 40oz beers too, which are a must.
There is a great chocolate cocktail bar outside Hersey's too. At night, the atmosphere is cranked up with duelling pianos at the Times Square bar and in Coyote Ugly.
Shows and Attractions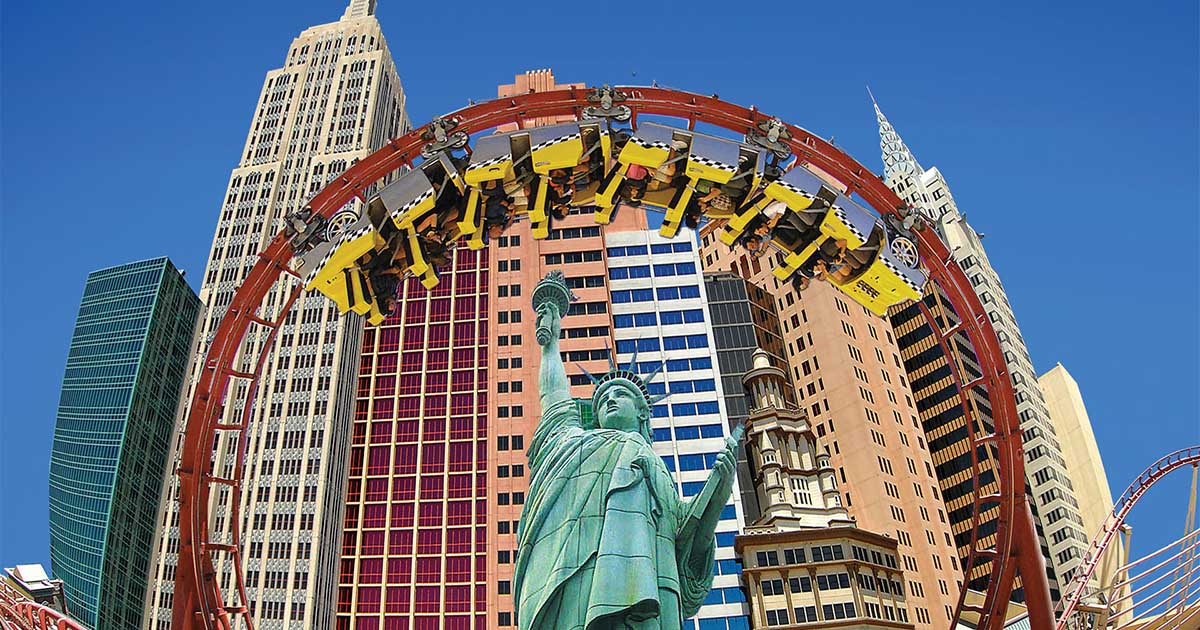 Cirque du soleil have been resident in New York-New York for years now. However, their Zumanity Show has just come to the end of its run.
It has been replaced by a new show called Mad Apple, so Cirque fans will want to check that out. Las Vegas puppeteering royalty Terry Fator is also resident at New York-New York now after years at the Mirage.
The main attraction at New York-New York is that vibe, really. It's very unique among Las Vegas Strip properties. The rollercoaster and styling are part of that as attractions, but its portfolio in this regard is definitely lagging behind other hotels. However, its proximity to so many other resorts makes this ultimately unimportant.
New York-New York Pool
The pool at New York-New York is a good size and well served by bars, and it also has the incredible backdrop of the hotel's superb exterior styling to its credit.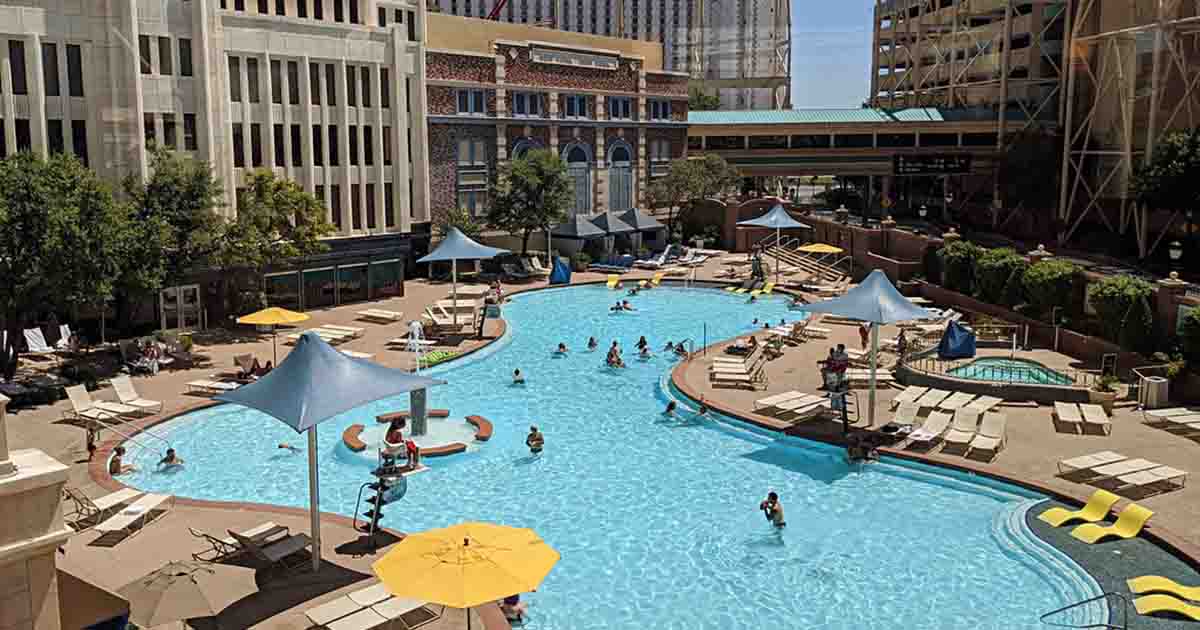 The pool is ultimately fine, although there is one drawback for those seeking a relaxing poolside experience: the roller coaster thundering around overhead!
That won't bother everyone by any means, but it is something to bear in mind.
RELATED READING: The best pools in Las Vegas and where to find them
Conclusion
New York-New York is a Las Vegas icon and there is a plethora of very good reasons for that.
The styling is brilliant both in and out and the atmosphere is incredible, especially when the Vegas Golden Knights have a game. It's just a great property all round really.
Pros: Unique vibe and incredible styling in a bustling location for a reasonable price point.
Cons: It's not a paradise for fans of fine dining by any means, and if you're more comfortable on the north of the Strip the location may feel quite isolated.
Considerations: New York-New York is a bit of throwback in terms of atmosphere and vibe. That will be great for some, but fans of the more modern resorts may not find everything to their taste.