The Mirage is incredibly important among the modern Las Vegas hotels because it was the first of the mega-resorts on the Las Vegas Strip.
The giant resorts are something that most of us just come to expect when we visit Las Vegas now, but that probably wouldn't have been the case without the success of Mirage.
Nowadays it is looking tired in places, although it is in the process of a change in ownership, meaning a much-needed renovation is due.
That is just cosmetic, though. The fact is that Mirage remains one of the very best places to stay and visit on the Las Vegas Strip.
Mirage overview
Location: Strip (Centre-north)
Opened: November 1989
Last renovated: 2008
Number of rooms: 3,044
Gaming space: 90,548 sq. ft
Operator: Hard Rock
Permanent shows: Love
Signature attractions: Siegfried and Roy's Secret Garden
Known for: Being the first modern mega-resort in Vegas
Price guide: $$$
Location
Mirage is situated next to Caesars Palace and it is just about centre Strip, although at the very northern tip of it.
Harrah's and Venetian stand opposite and Treasure Island and Wynn/Encore are definitely within its neighbourhood too. Resorts World – the newest hotel on the Las Vegas Strip – is also within walking distance for most.
The Fashion Show Mall is nearby too, while the Forum Shops are literally next door, so if you enjoy some retail therapy as part of your Las Vegas experience then the location of Mirage will certainly suit.
Getting around
As mentioned, Mirage sits on the northern tip of centre Strip, so you're going to have to be prepared to do a little more walking than you would if you were staying at one of the Las Vegas Hotels in the central clump of properties.
Hotels such as Cosmopolitan, Paris and Planet Hollywood are within walking distance, as is Bellagio, but it can feel like a bit of a trek, especially in the summer.
Mirage has its own neighbourhood though, with must-see properties such as Venetian and Caesars Palace on its doorstep.
The trusty Las Vegas Monorail can be a lifesaver when you are at Mirage. There is a station at Harrah's across the road and it will get you to Paris and MGM Grand with a fraction of the walking.
Mirage Rooms and Amenities
Mirage rooms start at just shy of 400 sq. ft so you won't be short of space. One thing that the standard rooms do lack is a large bathroom, though. It's absolutely fine, but it's poor in comparison to more modern properties on the Strip.
Suites are also available and they are enormous. The views from rooms views vary due to the 'Y' shape of the hotel – although the worst you're seeing out of your window are the spectacular Nevada mountains.
Mirage has one of the very best pools in Las Vegas, so for that reason alone it scores well in the amenities stakes. There is also the standard spa, salon and fitness centre.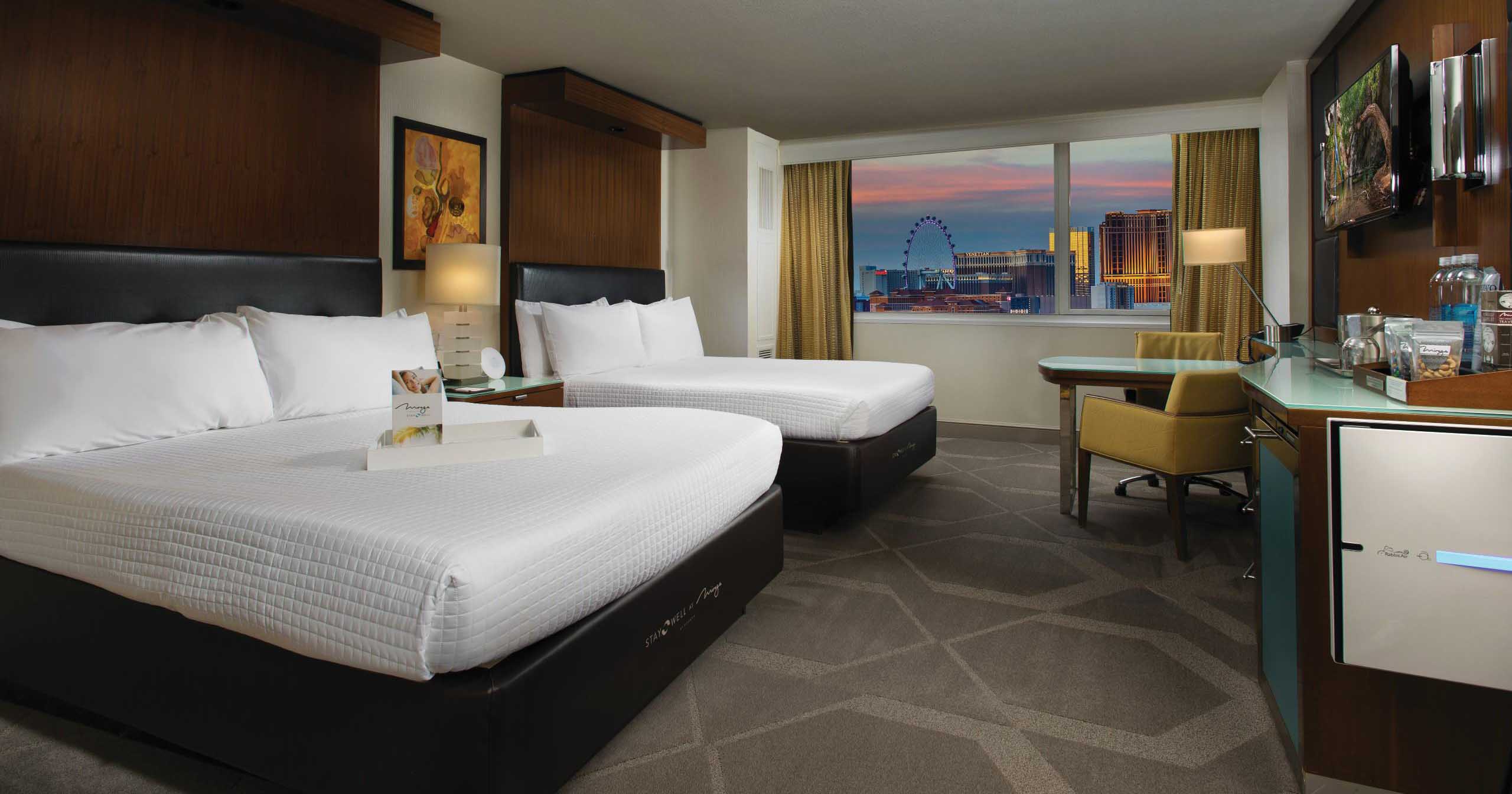 The gaming floor brilliantly snakes around the various bars and eateries and is one of the most welcoming in Las Vegas. You can read more about it in our separate casino guide.
Food and Drink
Mirage has one of the best collections of dining options on the Las Vegas Strip. Their restaurants are high in quality but reasonable on the pocket.
There are two steakhouses from which to choose: Tom Colicchio's Heritage and STACK. The latter is less celebrated but arguably better.
OTORO serves Japanese food and there is an Italian option in Costa as well. If you like your Mexican cuisine, then El Diablo's Cantina should hit your taste buds just right.
California Pizza Kitchen is also quality, and Snacks makes sure you have something to eat 24-hours a day. Try the burger there. I highly recommend it.
Breakfast, meanwhile, is amply taken care of by The Pantry, although you may need to book as it's very popular. The Still is a bar/restaurant hybrid with a great selection of craft beers. You also have the quicker options, which includes a Starbucks.
In terms of nightlife Center Bar can get very lively and that atmosphere feeds into the casino floor. There is a sports bar too attached to the sportsbook.
RELATED: Mirage casino guide
Shows and Attractions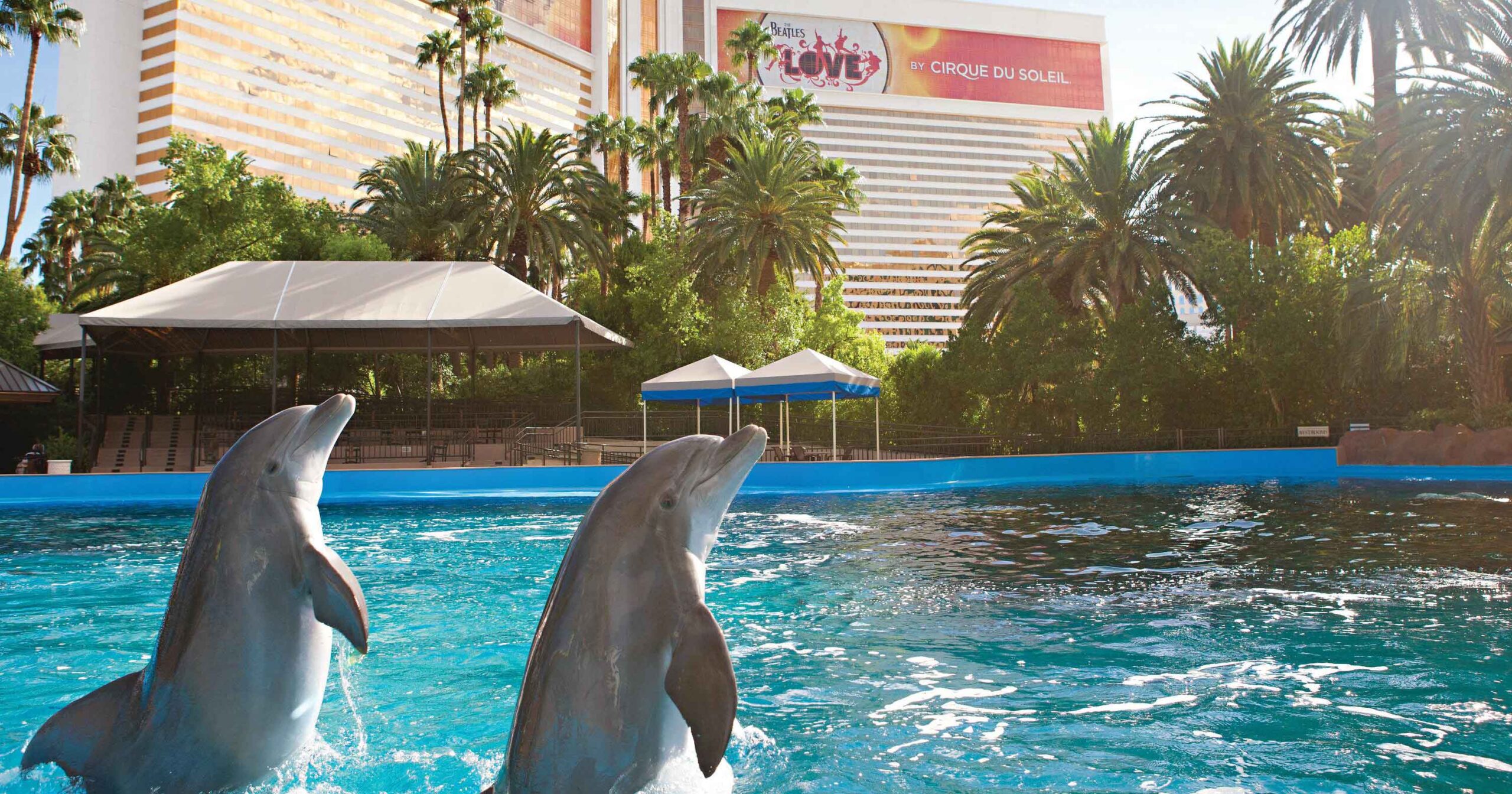 Love is the big show at Mirage, although just how long it lasts now is another matter. It's a brilliant Cirque du Soleil extravaganza to the music of The Beatles, but it's not really on brand for the Hard Rock, so its days do seem limited.
The same can be said, sadly, of the Volcano attraction. Ever since it opened the Mirage has been lighting its Strip-side volcano for passers-by to enjoy for free, but Hard Rock have already confirmed they will rip it out to make room for a giant tower-shaped hotel tower.
That leaves the Siegfried and Roy Secret Garden. Siegfried and Roy are Las Vegas royalty and their magic show was famous – or infamous – for their use of big cats.
The show is no longer running, but the tigers and lions remain in the Secret Garden. They are certainly spectacular, although some visitors may feel uncomfortable with their captivity.
Mirage was previously famous for its dolphins, but they have now all been removed following the sale to Hard Rock.
Mirage Pool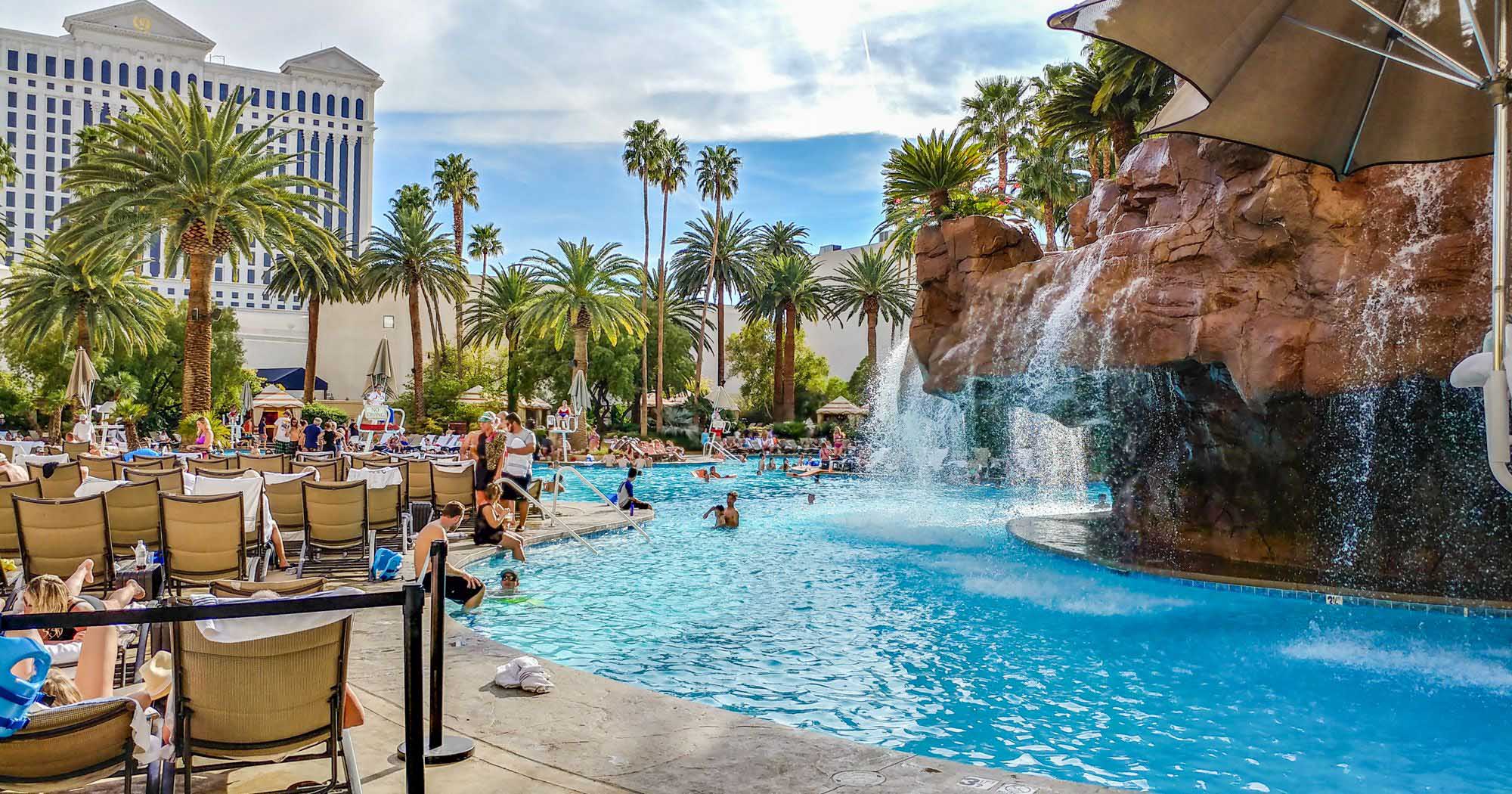 The Mirage has one of the best pools in Las Vegas with its brilliant Polynesian landscaping and cascading waterfalls.
Despite the busy Las Vegas Strip location, the Mirage pool manages to create a real sense of quiet serenity. The pool complex was famed for its party atmosphere in the previous Hard Rock property, though. Perhaps, then, that relaxing vibe won't last for much longer at Mirage.
As usual, cabanas and daybeds are available for hire, and you won't find it difficult to find a drink either.
Conclusion
The future of Mirage is a little unclear at this point. However, for now it remains an icon among Las Vegas hotels. It's obvious that changes are on their way, but the place is due an upgrade.
Definitely enjoy it how it is while you can, though.
Pros: Mirage is just an exceptional resort with nice rooms, great atmosphere, a brilliant pool complex and a casino that blends into its surroundings rather than dominating them.
Cons: It is a little dated now, but that is just nit-picking really.
Considerations: Just make sure you soak it all in when you are there. Change is inevitable in Las Vegas, but Mirage as we know it is coming to the end of its life and it will be missed.