There can be little question that Mandalay Bay is one of the most iconic of all the Las Vegas Hotels. It is known for its striking gold exterior and boasts what many consider to be the best pool that Vegas has to offer.
That said, picking a Las Vegas hotel can be a challenge even for experienced visitors. Mandalay Bay is certainly a property that asks you to make compromises, but in return it offers you things that you just can't get elsewhere on the Strip.
The compromises, therefore, are definitely worth serious consideration and ultimately you haven't experienced all that Las Vegas has to offer before you have stayed at Mandalay Bay.
Mandalay Bay overview
Location: Strip (South)
Opened: March 1999
Last renovation: 2016
Number of rooms: 3,209
Gaming space: 135,000 sq. ft
Operator: MGM Resorts
Permanent shows: Michael Jackson: One
Signature attractions: Shark Reef, Mandalay Beach, Shoppes at Mandalay Place
Known for: Family friendly and perhaps the best pool in Las Vegas
Price guide: $$$$
Location
Remember those compromises we talked about? Well, let's get the biggest one out of the way immediately.
If you want to be right in among the hustle of the Las Vegas Strip, then Mandalay Bay might not be for you. The resort is located at the very south end of the Strip and, although the centre-Strip properties are relatively easy to access, walking to them is not recommended – particularly in the hottest times of the year.
Whether that is a pro or a con, though, is entirely up to the individual. The location makes it a brilliant property for anyone bringing children to Vegas and a stay at Mandalay Bay is can really add a relaxing dimension to a trip to Vegas.
It is also the closest property to the iconic 'fabulous' Las Vegas sign, which first-time visitors are going to want to visit.
Mandalay Bay is also a great location for the any sports fans coming to Vegas with both the Allegiant Stadium (Las Vegas Raiders) and T-Mobile Arena (Vegas Golden Knights) very easily accessible and within walking distance.
Getting around
Although the location is relatively remote, no one would say that Mandalay Bay is even remotely isolated.
The Luxor is its nearest neighbour and the two resorts are connected by walking through the Shoppes at Mandalay Bay. Luxor is then, in-turn, connected to Excalibur via a walkway.
Transport links are aplenty too. A free monorail connects Mandalay Bay to Luxor and Excalibur, and from the latter you can easily walk to MGM Grand to access a separate line that takes you (at a cost) all the way to the north end of the Strip with plenty of stops en-route.
The Las Vegas Deuce – a buss service that covers the Strip and Downtown – also has a stop outside Mandalay Bay.
Mandalay Bay Rooms and Amenities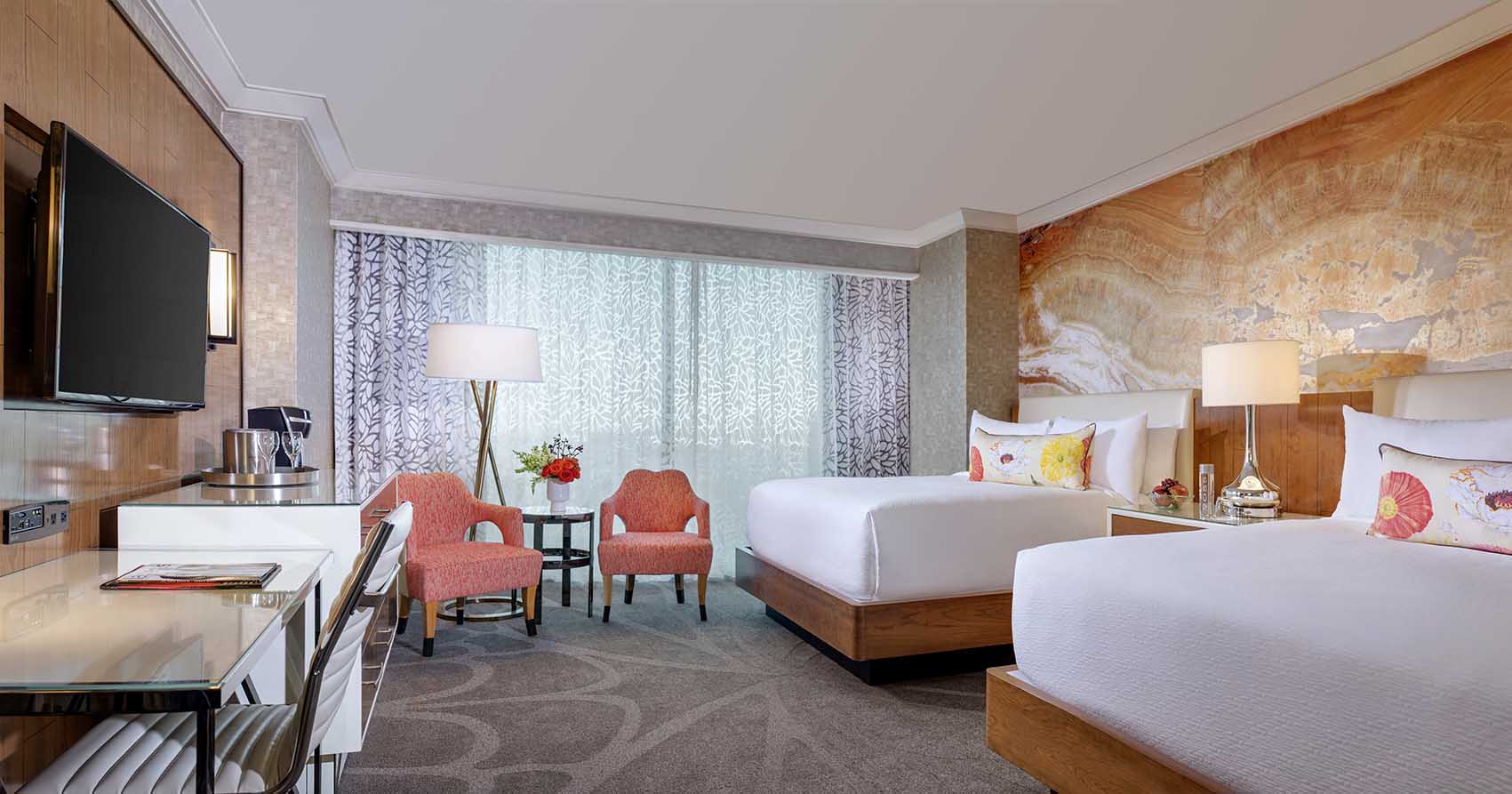 You're not going to find a bad room at Mandalay Bay with the resort offering some of the most spacious on the Las Vegas Strip, which really is quite an achievement.
Even the most basic will come with 550 sq. ft of space and they only get bigger from there once you start going through the upgrades.
Every room comes with an en-suite bathroom, television, minibar and safe too. The most recent renovation was in 2016 and its holding up very well.
Mandalay Bay has plenty of amenities to offer its guests too. It has two spas, a beach club, two nightclubs, several bars, shops and restaurants. There is even an ice bar for those who fancy it.
The hotel also offers trips to nearby golf courses for those enjoy that kind of thing.
It is worth remembering that guests also share the amenities of sister property the Delano, which boasts the really swanky Skyfall Lounge, a sky-bar with panoramic views of the Strip.
The hotel also has a plenty to offer gamblers and you can read all about that in our separate casino guide.
Food and Drink
You're not going to go hungry, put it that way. It's also unlikely you'll struggle to find something to your taste.
High-end diners can treat themselves to steak, Italian by Wolfgang Puck, French and Japanese cuisine. Aureole, meanwhile, is an absolute must for wine-drinkers.
There are also countless low-cost quick eats and casual dining options too, while Mandalay Bay also boasts arguably the best Irish Bar in Vegas too in Ri-Ra, which is located in the Shoppes that connect to Luxor.
Shows and Attractions
The Cirque du Soleil show Michael Jackson: One is the permanent big-hitter at Mandalay Bay. Demand for tickets remain high despite it being there for a number of years, which speaks of its quality.
Mandalay Bay also has its own on-site entertainment venue in the Michelob ULTRA Arena. It is the home of the Las Vegas Aces, a women's basketball team, and it also utilised for concerts and music.
House of Blues offers a plethora of live music options too. Mandalay Bay also host concerts at their incredible pool from time to time.
Meanwhile, there is also an on-site aquarium in Shark Reef, which also offers sea turtle and stingray feeding experiences. If you are feeling brave, there is a shark feeding interactive experience too. Shark Reef is part of what makes Mandalay Bay so child friendly, although you do have to pay for admission.
Mandalay Bay Pool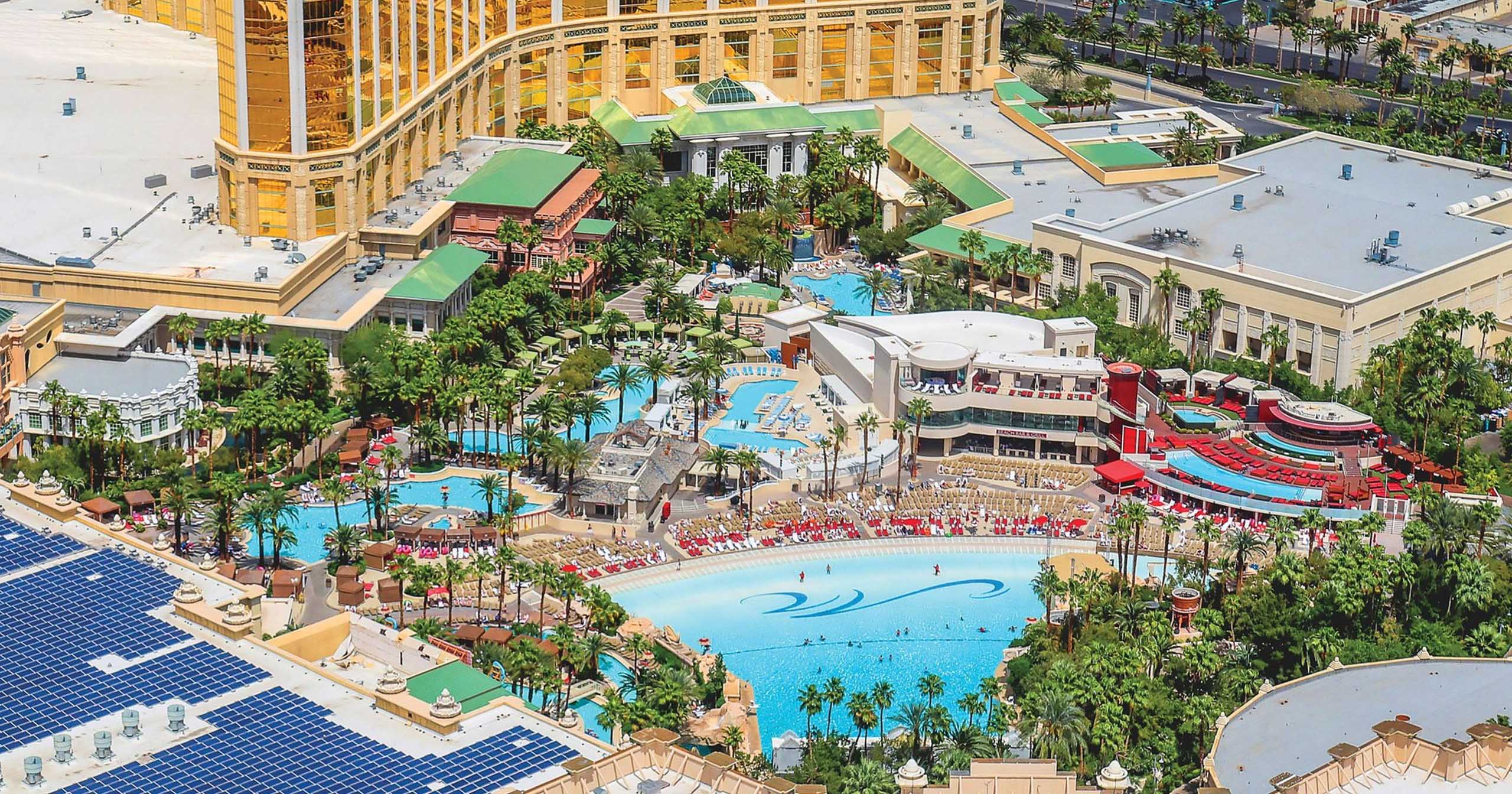 There is no question that the Mandalay Bay pool is right up there with the very best in Las Vegas. The resort has created its own beach in an 11-acre area. Combined with the tropical theming of the hotel, the pool complex really can help you enjoy a slice of paradise whilst on the Las Vegas Strip.
There is a lazy river, a wave machine, a lagoon and pool-side bars and grills. Cabanas can also be reserved if you're happy to pay for them.
When we talk about Mandalay Bay asking for compromises on location in return for a unique Las Vegas experience, the pool is a very big part of that.
RELATED READING: The best pools in Las Vegas and where to find them
Conclusion
As long as you go to Mandalay Bay prepared for the location, you're not going to be disappointed. The rooms are modern and spacious, the pool is probably the best you'll find in Last Vegas, the casino is sprawling (see our separate Mandalay Bay casino guide for more information), and the amenities are expansive.
Pros: Incredible pool, great food and entertainment options, easy access to Luxor and Excalibur.
Cons: Location can be frustrating, higher-than-average price point.
Considerations: The pool, Shark Reef and location make it attractive for families. That makes it great for parents wanting to Vegas with their children. However, it is perhaps not the best choice for those who go to Vegas to get away from children!