Of all the Las Vegas hotels, few command the same splendour as the magnificent Venetian and its twin property The Palazzo.
The complex is the second largest hotel resort in the world in terms of number of rooms and the architecture is stunning, with the Grand Canals of Venice replicated in perfect authenticity.
While most of the Las Vegas mega-resorts are operated by either MGM Resorts International or Caesars Entertainment, Venetian is tied to neither. That means the owners make the property more of a priority than others on the Strip, but its rewards card doesn't get you anything the second you step outside the resort.
Venetian overview
Location: Strip (Centre-north)
Opened: May 1999
Last renovated: 2003
Number of rooms: 4,049 (7,092 including Palazzo)
Gaming space: 120,000 sq. ft
Operator: Apollo Global Management
Permanent shows: Atomic Saloon Show
Signature attractions: The Grand Canal and Shoppes
Known for: Unrivalled theming
Price guide: $$$$$
Location
Venetian, along with Mirage, sits at the very northern tip of what most people consider to be the centre Strip area of Las Vegas.
It can feel a lot more out of the way than it actually is, though. Much of that is due to how far set back from the road it is, meaning it can take a while to even reach the Strip before you can start exploring it.
Its location is generally okay, though. Mirage is opposite and Harrah's is next door. The Wynn/Encore and Treasure Island are slightly to the north, and the newly-built Resorts World is nearby too.
Getting around
As mentioned, getting around from the Venetian can feel a bit tougher than it is for other properties due to the time it can take to get out of the resort.
Generally, though, you will find most of Vegas' icons are within walking distance. Paris and Cosmopolitan can be a trek, but Caesars Palace and Bellagio are easier.
There are no pedestrian bridges on this section of the Strip, so you will need to test your patience whilst using one of the pedestrian crossings to get to Mirage and Caesars Palace.
For access to the great MGM properties at the south of the Strip, I recommend jumping on the Las Vegas Monorail at neighbouring Harrah's and riding it to MGM Grand.
Venetian Rooms and Amenities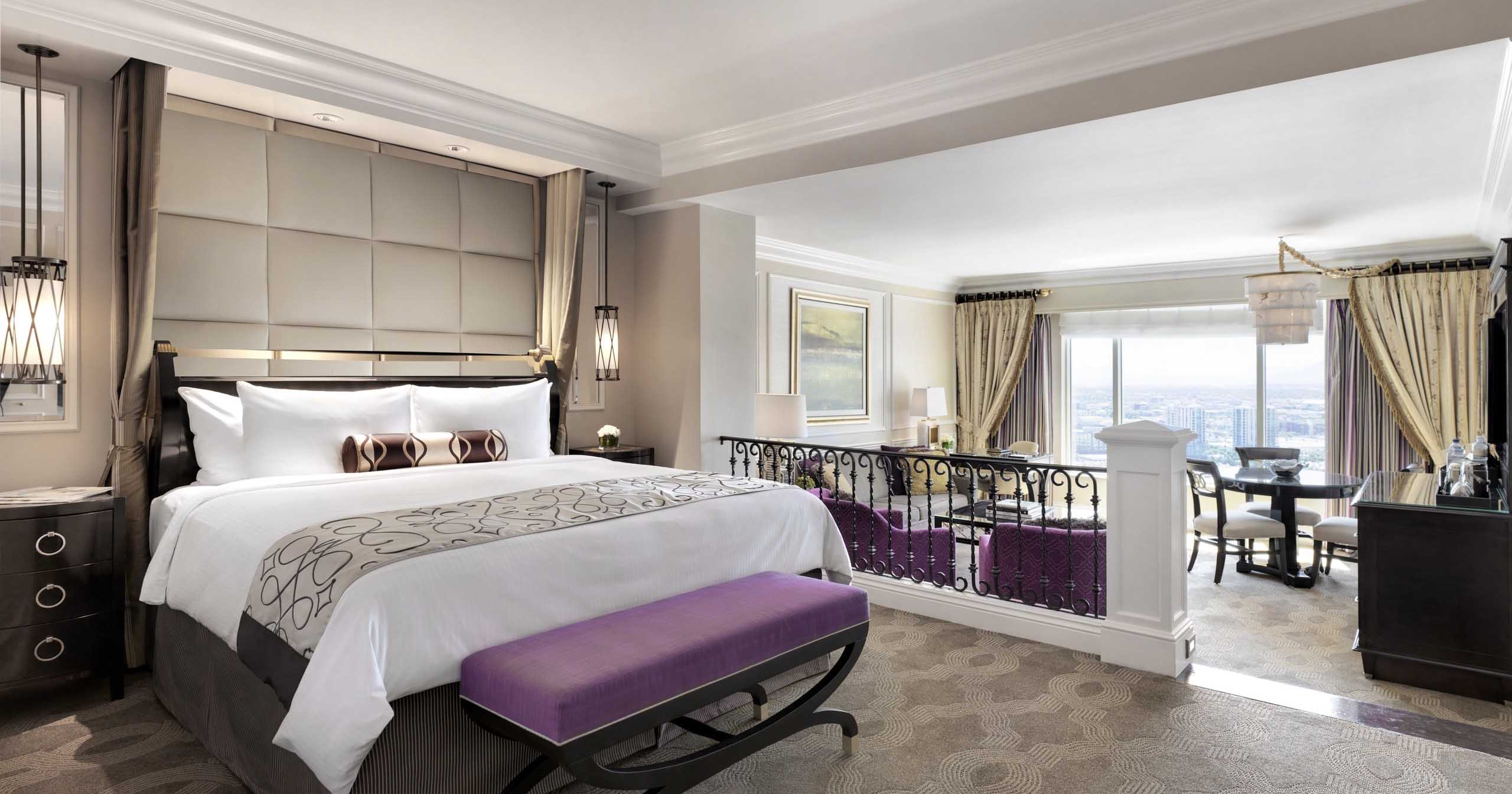 The is no question that The Venetian and Palazzo have the best standard rooms anywhere in Las Vegas. The bar on that is incredibly high too.
A Luxury King Suite is the very least you will get. It is a whopping 650 sq. ft with a living area down a small staircase and it really does feel incredibly premium. The bathrooms are spectacular too.
You can upgrade if you want to, and the rooms only get more spectacular when you do, but why would you need to?
Hotel amenities are premium too with a large pool complex, a salon, a spa, a gym and a business centre.
The gaming floor is one of the largest in town too and the Palazzo has another just like it. You can read more about the Venetian casino in our separate guide.
Food and Drink
The Venetian food options are far too numerous to cover them all, but suffice to say you are unlikely to find a wider selection of quality eateries anywhere in town.
High-end dining can be had at Mott 32 (Asian), and there are no fewer than three steakhouses in the resort. As you would expect with the theming, there is a lot of Italian options to enjoy too.
In addition to Mott 32, lovers of Asian cuisine can enjoy themselves at The X Pot, Noodle Asia, The Hong Kong Café and TAO Asian Bistro.
If more casual dining is your thing, you will want to check out the one of the two Grand LUX Cafes on site, especially if you like a breakfast buffet, and Rockhouse. The Royal Britannia Gastropub is another great option here.
There are also a couple of seafood restaurants and two that offer Mexican cuisine, one of which with Canal-side dining.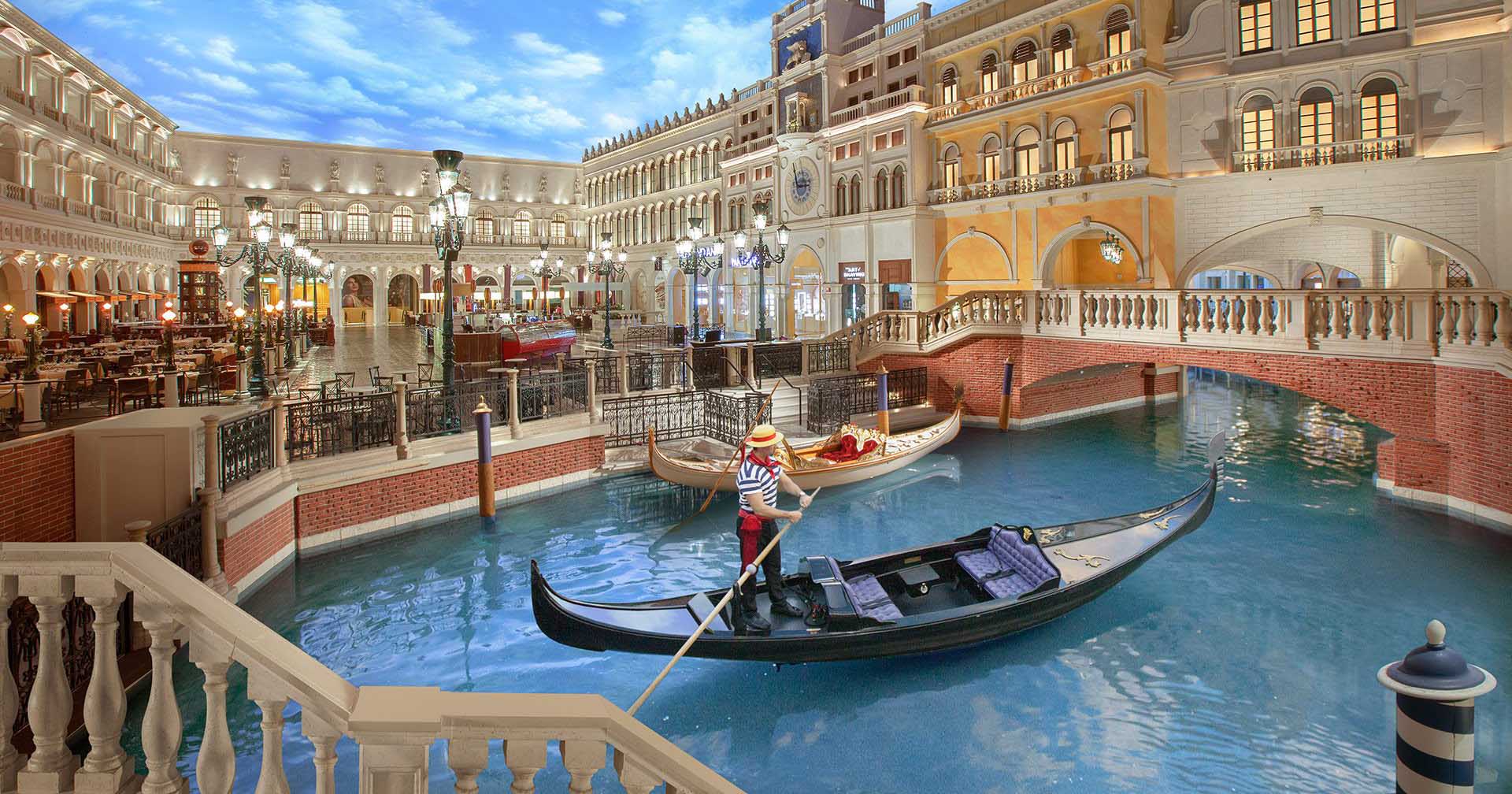 You will also find the Grand Canal lined with smaller bakeries and quick eat shops, and the food court that is attached to the gaming floor is one of the very best in Las Vegas.
The variety is similarly impressive for nightlife too, with TAO a real destination venue for many. There are also multiple cocktail bars, though, and even a Karaoke Bar for those inclined.
Shows and Attractions
Spiegelworld's Atomic Saloon Show is the one in residency, and it is exceptional. There is a Cowboy theme that provides a riotous and raunchy romp through the wild, wild West. Expect to see the odd nun turn up too though.
The Venetian also has a very large theatre and it fills it with a series of guest stars and shows.
Chicago, Willie Nelson and ZZ Top are just some of those who have done short spells there in the past. Indeed, there is rarely a time when a headliner is not appearing on the Venetian horizon.
The theming at Venetian is to such a level that the resort itself is one giant attraction. The Grand Canal and its gondola rides are perhaps its signature one though.
You can choose to be ferried around in a traditional Venetian boat, while being serenaded as you go.
The Venetian and Palazzo are connected by a high-end shopping mall.
At the time of writing, the incredible MSG Sphere is nearing completion. When it opens it will provide Venetian with a domed music venue with an LED-covered exterior and it is sure to be a huge hit among visitors for years to come.
If all that wasn't enough, there is a Madame Tussauds on-site too.
Venetian Pool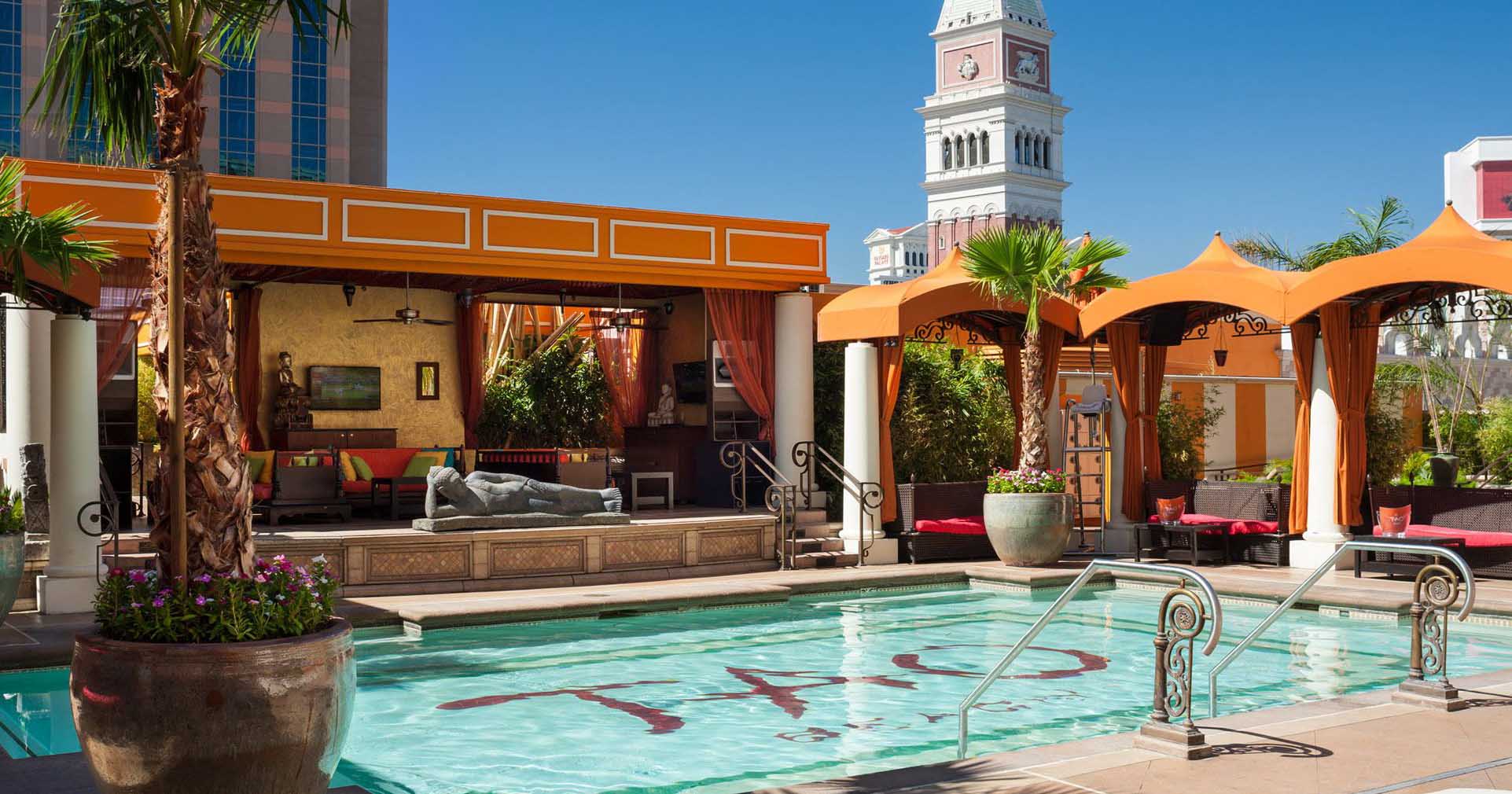 The Venetian's pool complex is recently renovated and the result should be a paradise for sun-worshippers.
There are multiple pools, all with a very different vibe, and you are likely to get a poolside lounger.
Cabanas are available for hire, as are daybeds and premium loungers. You can also enjoy a poolside drink and spa treatment, while there are two different pool clubs to join for partying if that is your kind of thing.
Conclusion
The Venetian is an incredible resort that is incredibly easy to love. The theming is the best in Vegas and it manages to maintain an incredibly high-end feel around it.
Pros: Biggest and best standard rooms in Las Vegas, great theming, truly high-end feel, brilliant food options.
Cons: The location isn't the best, largely down to how long it takes to get from your room to the Strip. It's also very pricey. It's worth that price point, but much cheaper options exist.
Considerations: Seasoned gamblers may see little value in the Venetian due to it's independent rewards programme.