Las Vegas has a reputation as an expensive destination. Of course, it can be, but it really doesn't have to be. For those who are watching the pennies, it is easily possible to do Las Vegas on a budget.
Whether you want cheap eats, free rooms, discounted show tickets or 2-4-1 cocktails, there is plenty to be had in Las Vegas. You just need to know where to look for them.
Maybe you love a gamble, but don't want to pay for it. Or you want an endless supply of free drinks all day. In this guide, we show you some of the ways you can make your Las Vegas spends go further.
RELATED READING: Las Vegas Strip: Everything visitors need to know
Las Vegas Apps
This is possibly one of the best kept secrets for Vegas first-timers. Many visitors don't know that they can earn lots of Vegas rewards long before they even visit.
The most comprehensive series of apps comes from the myVEGAS group. They have five different apps incorporating slots, Blackjack and Bingo. Users can play for free to build up points. They then redeem those points for real-time rewards in Las Vegas.
This is one of the easiest ways to do Las Vegas on a budget. Amongst the rewards are free hotel stays, 2-4-1 buffets, free slot play and discounted show tickets and attractions.
Related Reading: myVEGAS – How to use it to get Las Vegas freebies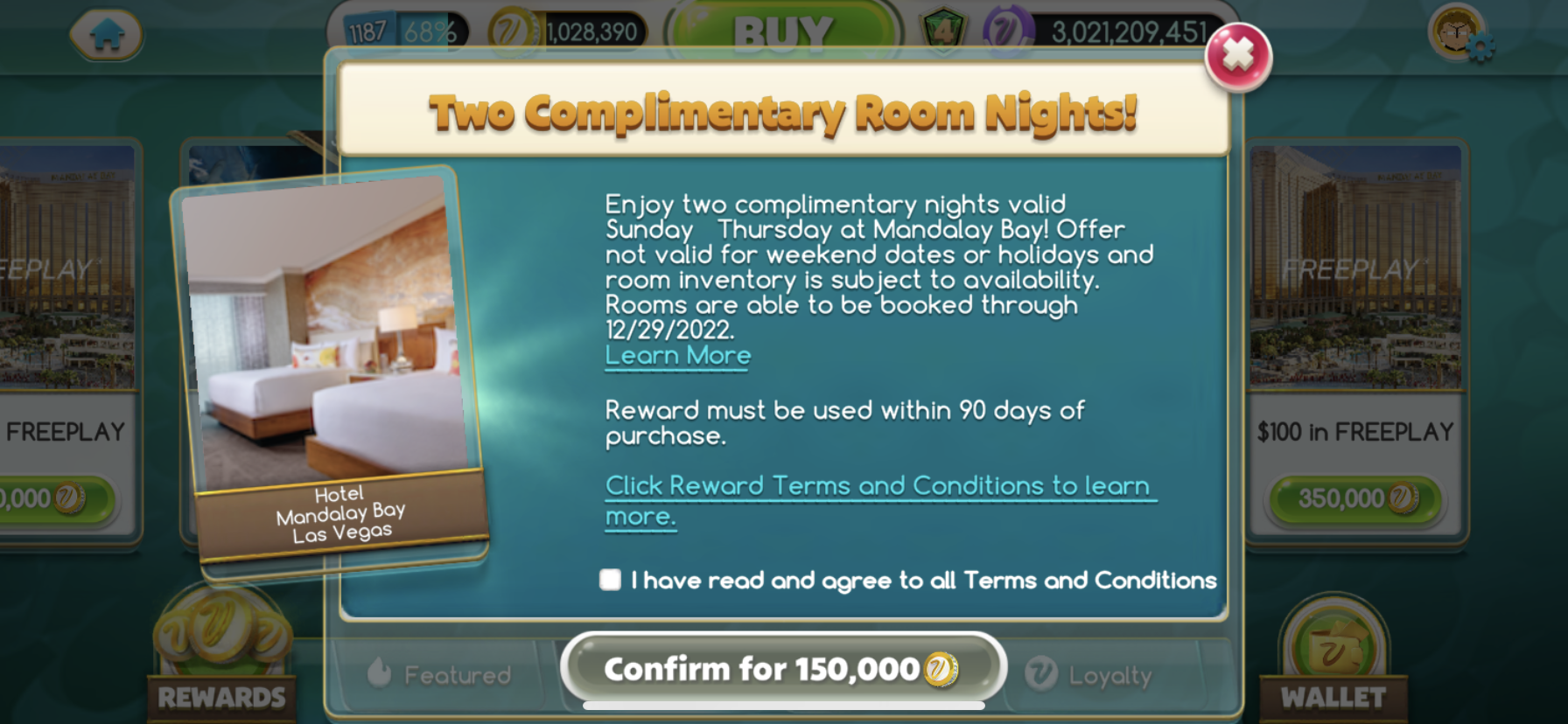 The downside is that it can take a while to build enough points to earn the big rewards. And you can be tempted to buy additional coins to speed up the process.
The plus is that it can be completely free and you can make fantastic savings. And redeeming the rewards is really straightforward.
The apps to look out for are myVEGAS Slots, myVEGAS Blackjack, myVEGAS Bingo, myKONAMI Slots, and POP! Slots.
Some resorts have their own app, for example Wynn and Binions, so its worth checking these out if this is where you're staying.
RELATED READING: How to get comped for a free room in Las Vegas
Cheap Eats
Las Vegas has just as many cheap eats options as it does fine dining restaurants.
It's true that the further you go off-Strip, the bigger the value. But you can still do Las Vegas on a budget in the centre. Downtown offers a great selection too.
Miracle Mile Shopping centre, beside Planet Hollywood has a few options for example.  At Ocean One, everything on the lunch menu is $4.99 and they also do 3 cocktails for $10. Not too far from there La Salsa has breakfast specials for $4.99.
In n Out Burger on LINQ Promenade do a Double Double burger for $4.99. While Shake Shack at New York-New York have the Shack Burger for $6.99
Two of my favourite cheap eats are Secret Pizza at Cosmopolitan which starts from $7.99 a slice. And Dirt Dog at Grand Bizaar Shops in front of Ballys which do a bacon-wrapped house dog for $8.95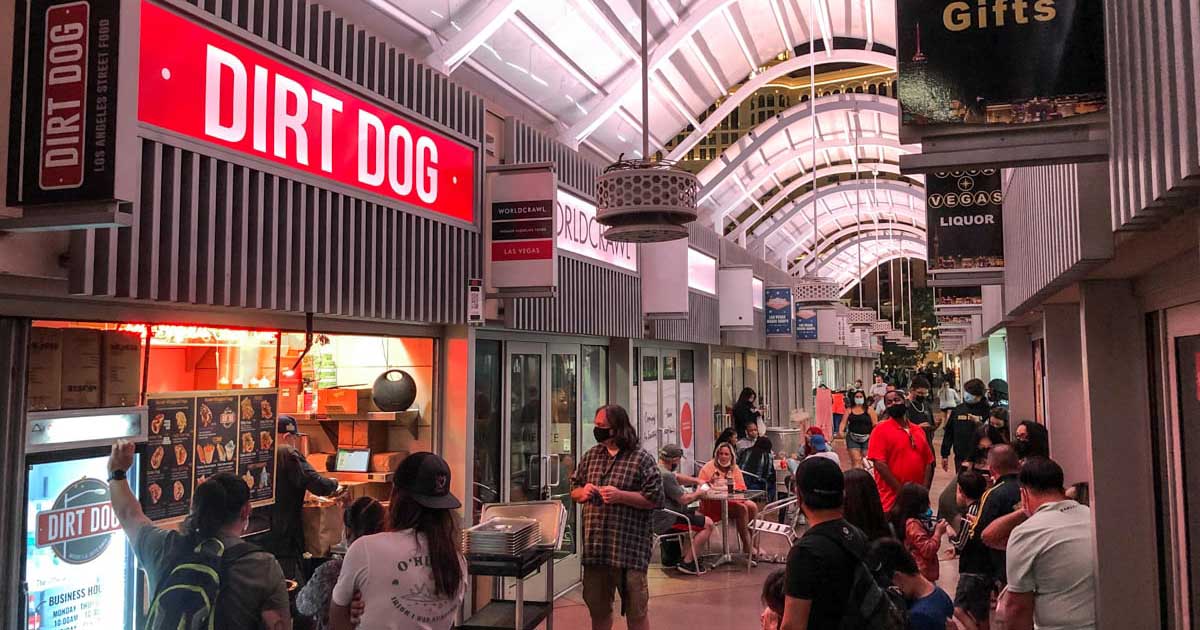 Some of the best Strip bargains can be found at Casino Royal where a foot long hot dog will set you back $2.99. You can wash it down with a $3 beer, too. Just off the Strip, but only a few minutes walk, you can get $1 beer and $2.50 hot dogs at Stage Door dive bar. While at Ellis Island, you can get a 10oz steak and eggs breakfast for just $8.99.
Of course, there is the usual McDonalds, Denny's and White Castle options for value eats. But one of my best recommendations is Hash House a Go Go at the LINQ.  Prices start from $14.99 but the portions are so big you can easily order one to share.
RELATED READING: Best pizza in Las Vegas – where to grab a great slice
Las Vegas Happy Hours
If you're happy to adjust the time when you eat or drink to do Las Vegas on a budget, then you will be rewarded. Many of the bars and restaurants offer a daily happy hour. And this includes some of the big-name establishments too.
Most of the happy hours run late afternoon and some run late night too. We found the 3pm – 7pm time to be about the best time to catch a bargain.
There are far too many examples of Strip happy hours for me to break down here. The best advice I can give you is to look at the establishments website before you visit.
One of the best places to check out is Miracle Mile Shops. Blondies Sports and Grill run an all-you-can-drink for $20 promotion. This runs Monday – Friday 3pm – 6pm and 9pm – midnight. There are also excellent happy hour deals at Flights, Oceans One, Cabo Wabo and Nacho Daddy.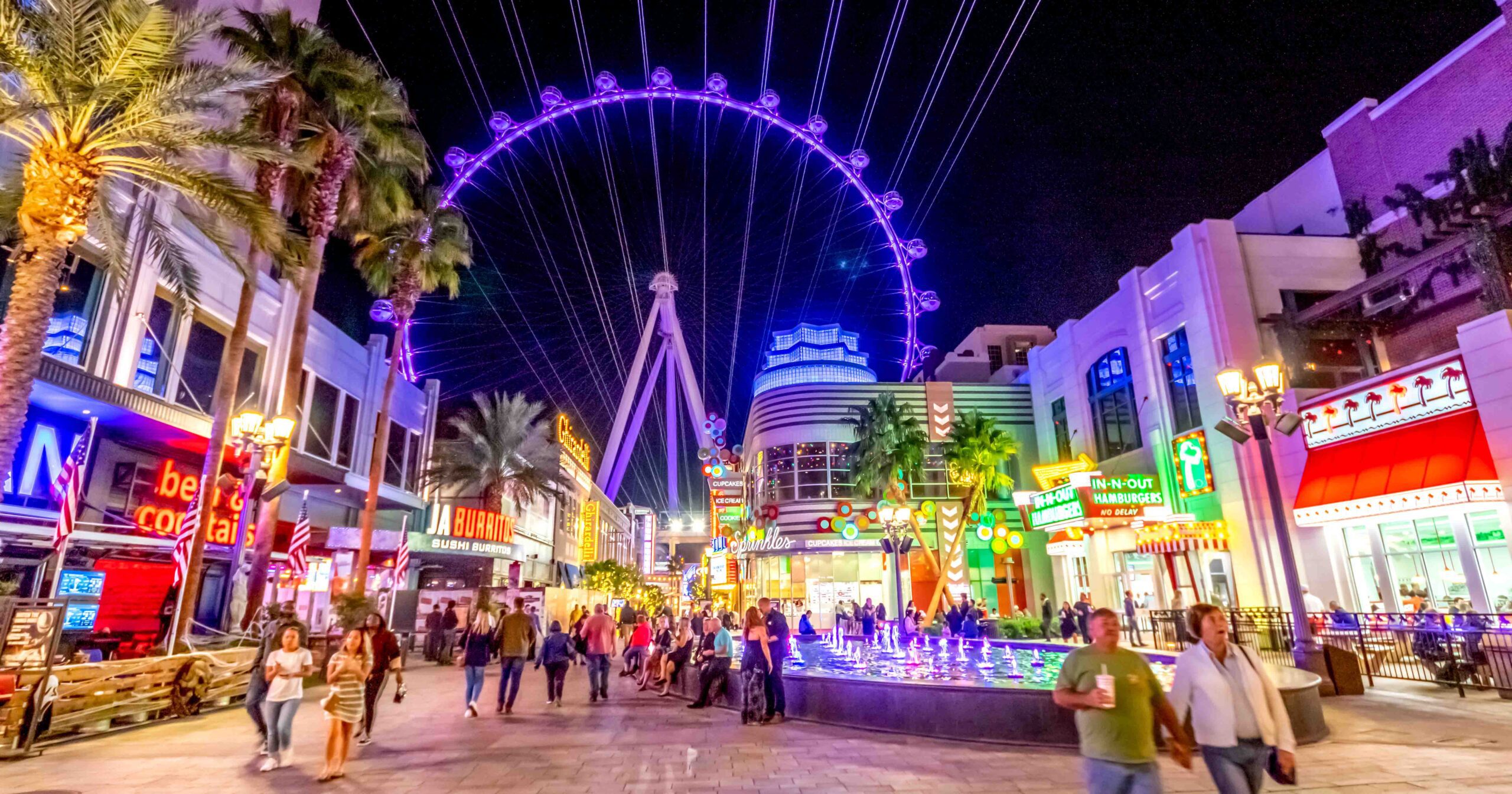 LINQ Promenade also has a really good selection of happy hours. Virgil's Real Barbeque and Favourite Bistro have good deals. And at AmeriCAN you get 'daily drinking specials' until 6pm.
The Venetian has an excellent range of eateries offering happy hour deals too. Buddy V's Ristorante, Grimaldi's and Rockhouse all offer happy hour drink and food deals. As do Sugarcane and Royal Britannia.
There really is a huge selection of happy hours on the Strip. Almost all hotels have at least one. So its a great opportunity to do Las Vegas on a budget.
Low Rolling
For those who think this is a myth, let me put the record straight. Drinks are completely free if you're gambling in a Las Vegas casino.
It is very possible to receive complimentary alcoholic drinks all day while you sit at a slot machine or on a table game.
However, there are two big caveats to this. Firstly, you need to be actively gambling, you can't just sit close to a machine or watch the action. Secondly, you must tip the servers or they won't come back!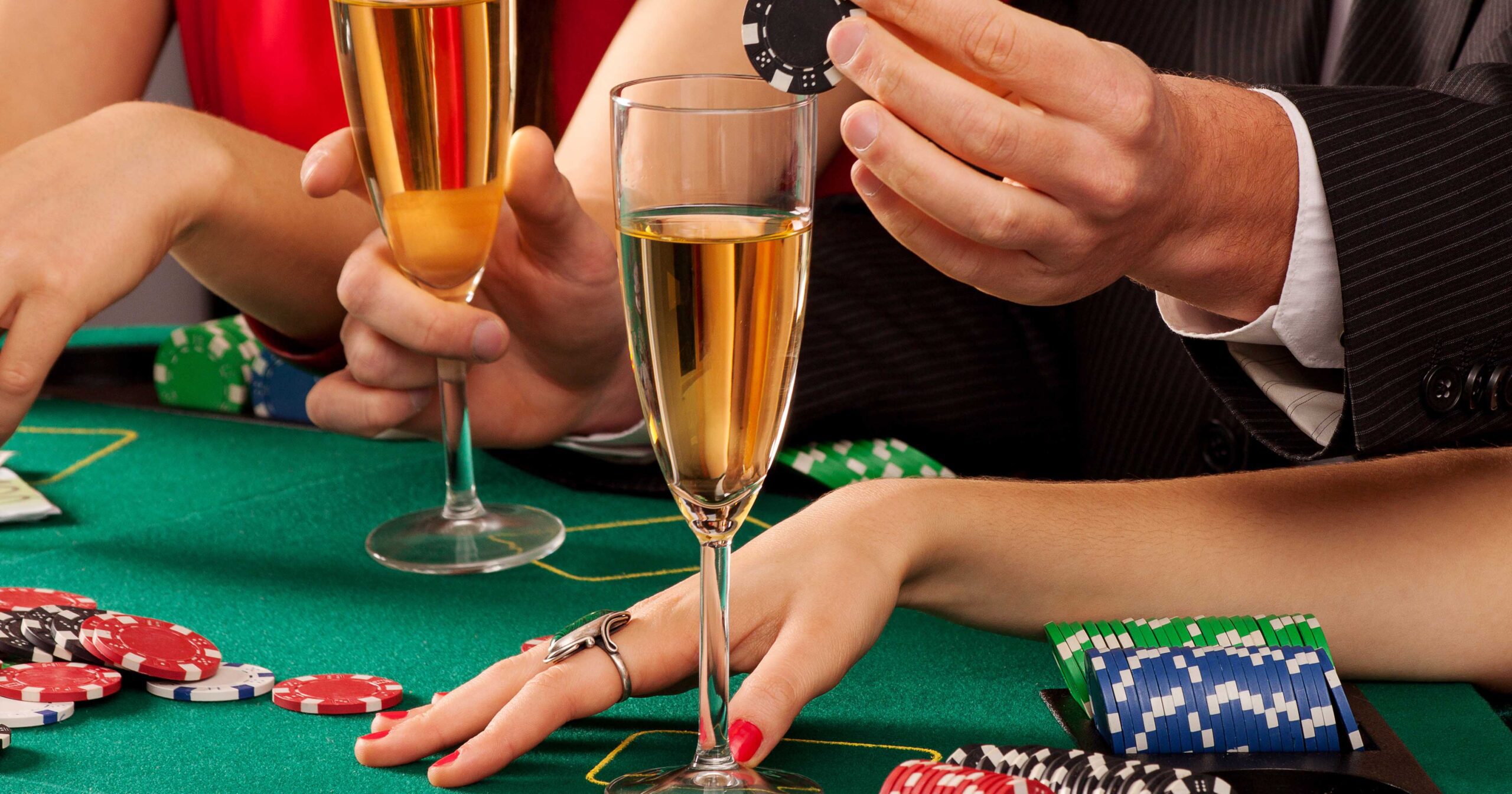 However, low-rolling in a casino can be one of the best ways to do Las Vegas on a budget. You can while away the hours soaking in the casino environment while betting very little. Specifically on the slots.
Many of the newer machines won't take less than 50 or 60 cent a spin. But you can still find plenty of retro machines and penny slots darted around too.
As mentioned, you must tip the server for each drink so your budget must include this too. But as long as you find a good slot that gives you regular small line hits, it is possible to while away hours low-rolling. And leave the casino in a very merry state too.
Travel around Las Vegas
The most cost-efficient way of getting around the Las Vegas Strip, other than your feet, is the Deuce bus.
A 24-hour pass is $8 and a three-day pass is $20 and you can hop off and hop on as many times as you like.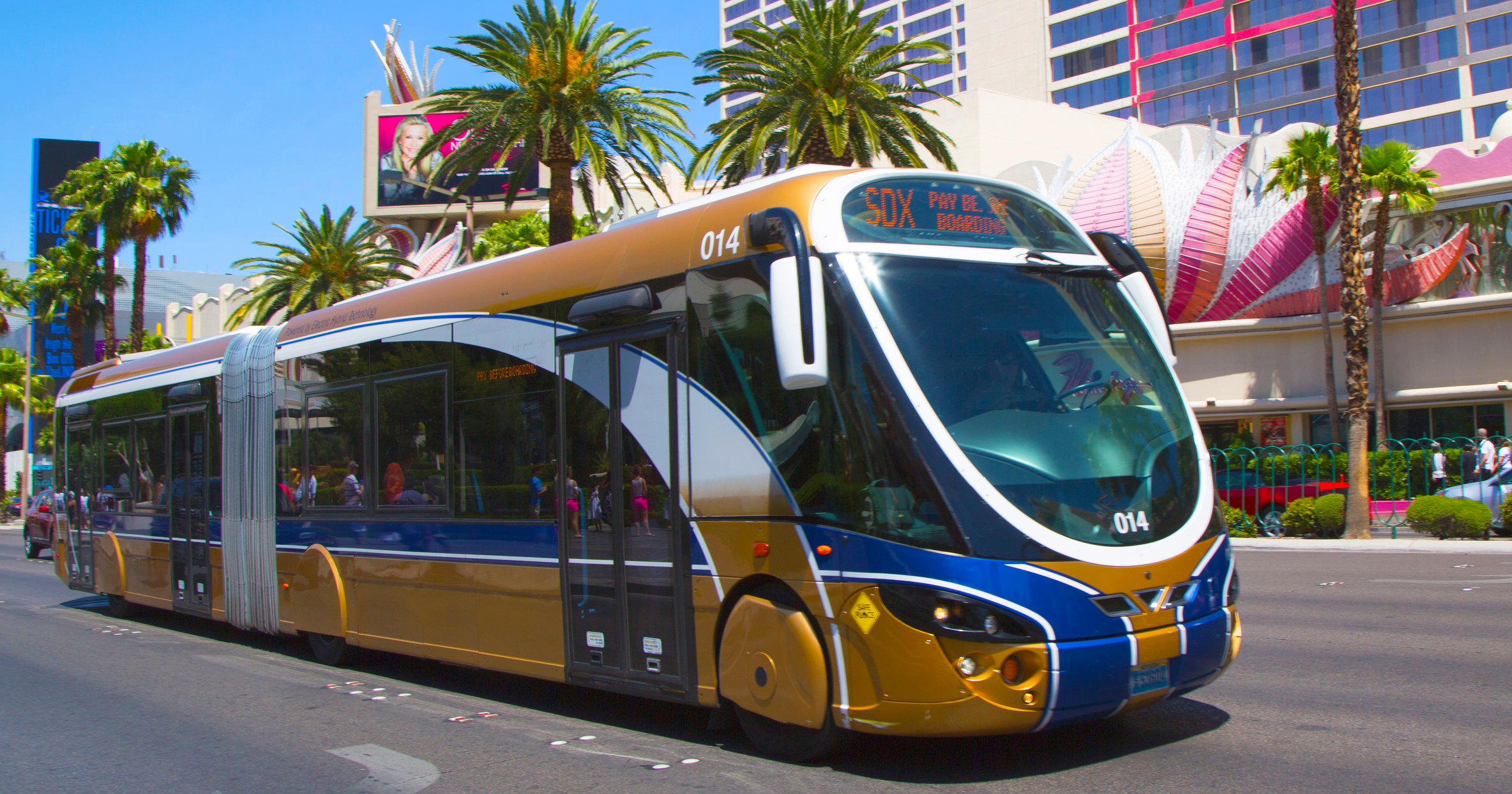 With a regular schedule running every 10-20 minutes the Deuce bus operates 24 hours a day.
It starts from the South Strip Transit Terminal close to the airport and runs all the way to Downtown Vegas.
Along the way it stops at the famous Welcome to Las Vegas sign. It then stops at virtually every hotel and casino along the Las Vegas Strip with stops every quarter mile.
It carries on to the Fremont Street Experience in Downtown Las Vegas, the Las Vegas Premium Outlets South and then returns along the same route.
Of course, there are also tram and monorail alternatives. And as you would expect Uber and Lyft operate in Las Vegas too. But you will not find a more comprehensive or cheaper travel option than the Deuce.
Groupon
Groupon has discount deals on just about everything so why not Vegas?
I'm pretty sure everyone knows how Groupon works now. But just in case you've been in a cave for the last few years, Groupon is a discount app.
Once you download it you can search on whatever location you want and it will come up with a range of discounts. This includes food, drinks, shows, experiences and activities too.
At present Groupon has deals on frozen cocktails at Senior Frogs. It also had reduced priced tickets for Marvel Avengers S.T.A.T.I.O.N at Treasure Island.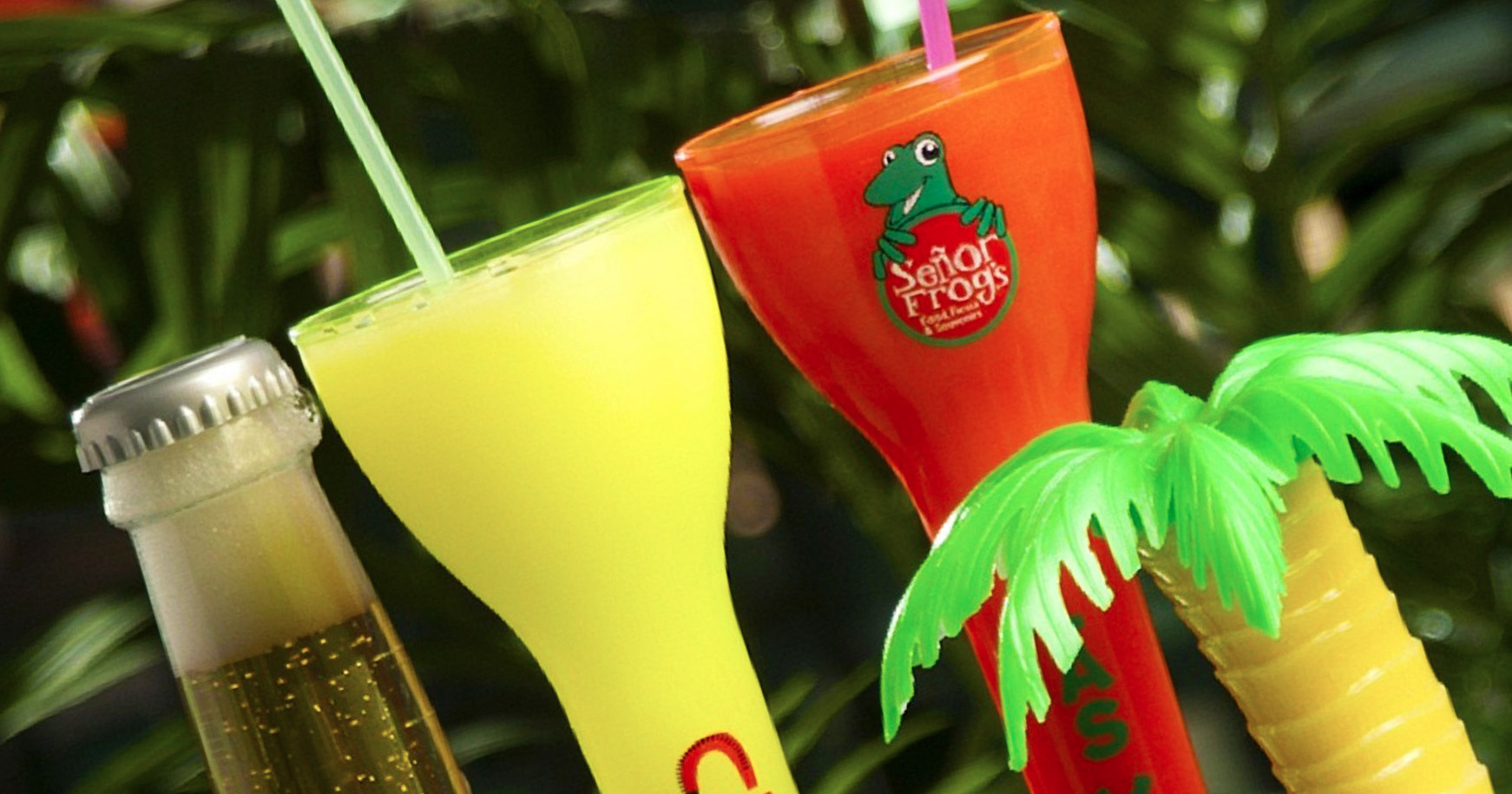 There are discounted Helicopter rides over the Strip, reduced price escape rooms and food discounts too.
It's always worth checking out Groupon a few weeks before you visit Vegas as they have a constantly changing range of offers.
Rewards Clubs
I've left Rewards Clubs until the end of the list for a reason. The general rule of these is the more you spend, the more freebies you'll receive. So you may think they aren't really suitable for those doing Las Vegas on a budget.
However, I disagree. And that's because the algorithm that's used to determine what rewards you get is so mysterious.
On the surface, every dollar you put through a resort counts. So the bigger you spend, the bigger the rewards. However, this doesn't take into account how often you visit Vegas or how long you play at a machine when you do. See low-rolling above!
In fact, in my own personal experience, I have received reward offers from resorts that I can barely remember playing at. Or if I have, it may have been $20 dollars at the most.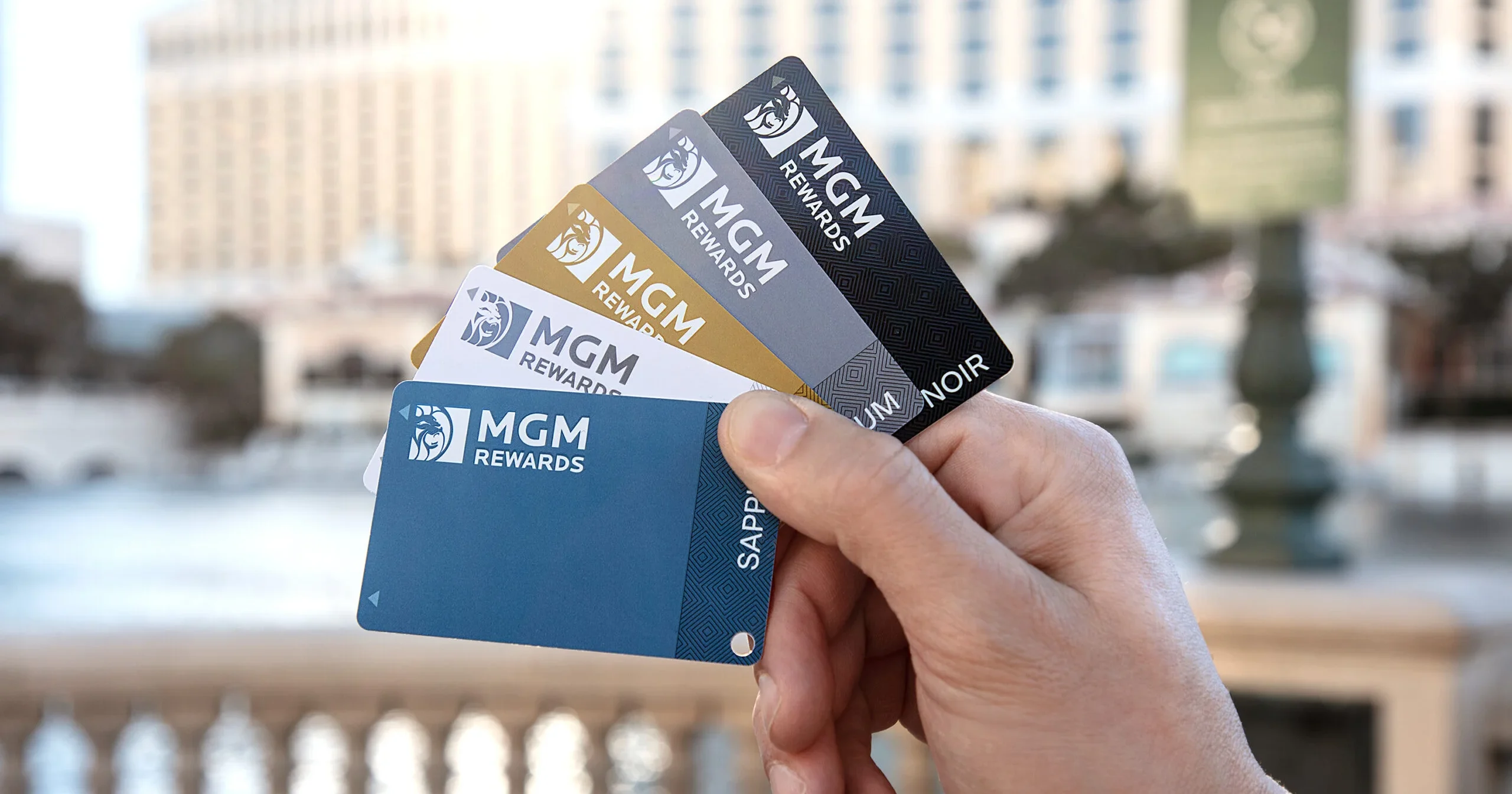 For this reason I would always recommend you join the Rewards Clubs for any resorts you plan on visiting. In some cases you even get a reward just for joining. Sometimes free slot play, sometimes a spin on a bonus wheel. But it does happen.
The two biggest on the Las Vegas Strip are MGM Rewards and Caesars Rewards but there are plenty of independent ones too.
So get a Rewards Card, do some low rolling or put a happy hour meal or drink on the card. You never know what rewards you might receive in your inbox to entice you back.
Check out our guide for further information on Rewards Clubs