Among all the Las Vegas hotels, Wynn and sister property Encore set the bar for luxury.
Wynn was opened in 2005 with Encore following three years later, and together they hold more Forbes Travel Guide (FTG) Five-Star awards than any other resort and casino in the world.
They do, obviously, come with a price point to match, but there is little doubt that in terms of pure opulence, Wynn resort is in a league of its own on the Las Vegas Strip.
Wynn overview
Location: Strip (North)
Opened: April 2005
Last renovated: 2018
Number of rooms: 2,716 (4,750 with Encore)
Gaming space: 189,000 sq. ft
Operator: Wynn Resorts
Permanent shows: None
Signature attractions: Lake of Dreams, Wynn Golf
Known for: Total luxury
Price guide: $$$$$
Location
Wynn is very much in the northern area of the Las Vegas Strip, and it is relatively isolated. That is probably why building a sister property in Encore on the doorstep was such a priority.
The Palazzo and Venetian are next door to the south and Treasure Island is across the road.
Wynn resort is not quite as isolated as it once was since Resorts World was built. Resorts World is slightly to the north, but it's a very natural partner for Wynn in terms of luxury.
Getting around
All the properties on the north of the Las Vegas Strip come with some challenges in getting around. Walking to the likes of Bellagio and Cosmopolitan from Wynn will be challenging for most, and in the height of summer there will be few who will fancy it.
Treasure Island and Palazzo are accessible across pedestrian bridges, and Mirage, Venetian, Harrah's and the LINQ Promenade and surrounding area are within walking distance. The same can be said of Circus Circus. However, if you're the kind of person who seeks the luxury of Wynn, Circus Circus is probably unlikely to appeal!
The Deuce Bus can be a godsend in terms of getting around Vegas when you are staying at Wynn. There is a stop outside Encore and it will take you all the way down the Strip to the Southern properties. The northbound route, meanwhile, will get you to Downtown.
Wynn Rooms and Amenities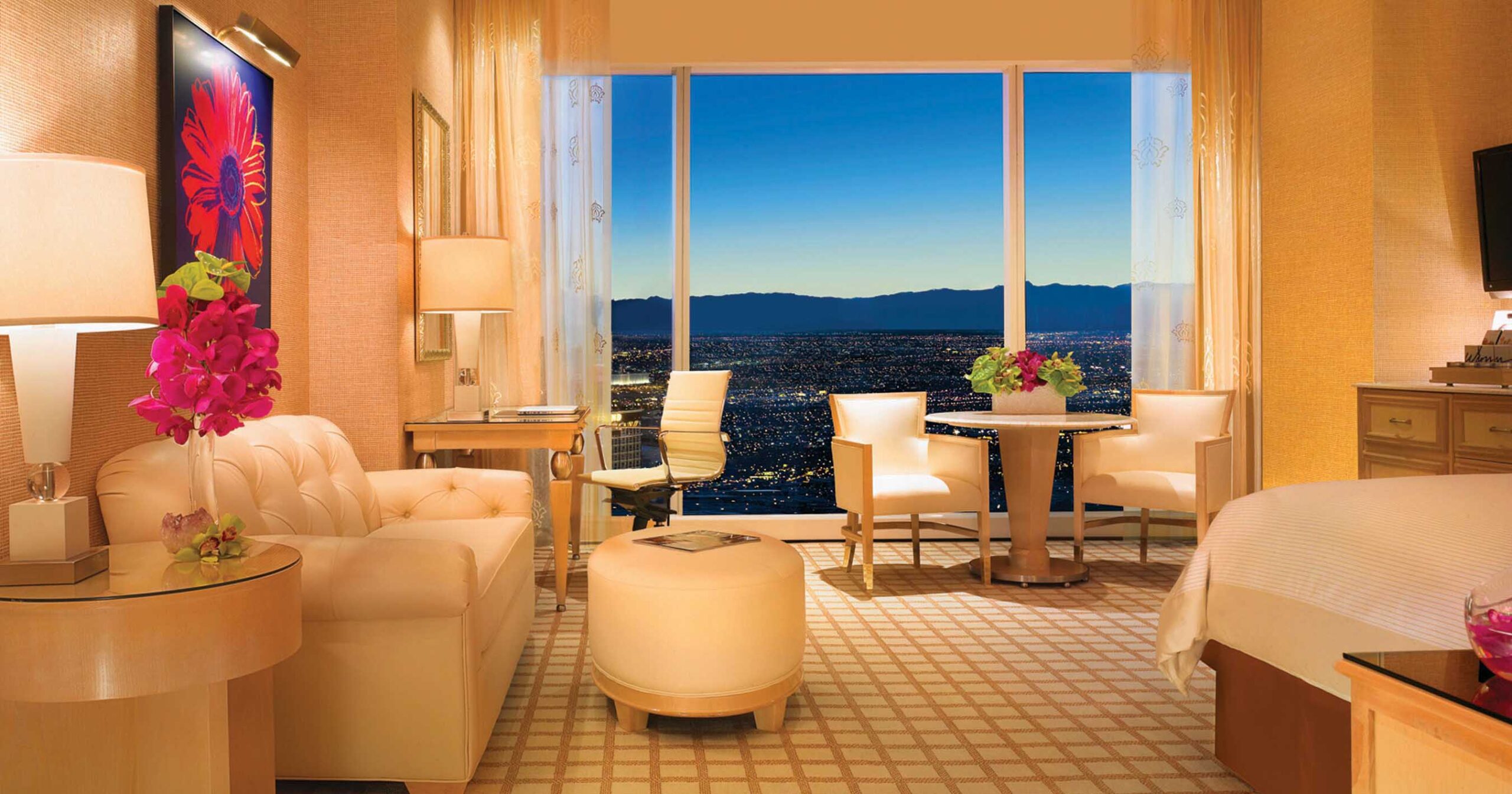 The standard rooms at Wynn are incredibly spacious as standard, coming in at more than 600 sq. ft. Upgrades quickly increase that, although the price skyrockets as they do.
Room design is special too. The room is served by giant floor to ceiling windows and the bed faces it, rather than runs parallel to it, meaning you benefit from the view from the moment you wake up in the morning.
The furniture is to an immaculate standard, and if you really fall in love with it there is an on-site shop where you can order replicas to your home address.
Amenities are plentiful too, as you would expect. The pool complex is fantastic and there is a spa, salon, barber shop and fitness centre. Wynn also has its own exclusive golf course for guests and a large amount of high-end shops for those who enjoy making some retail therapy part of their Las Vegas experience.
The gaming floor, meanwhile, is enormous.
Food and Drink
Restaurant options are almost too numerous to adequately cover here. There are no fewer than ten fine-dining options with Mexican, Italian and Asian all covered.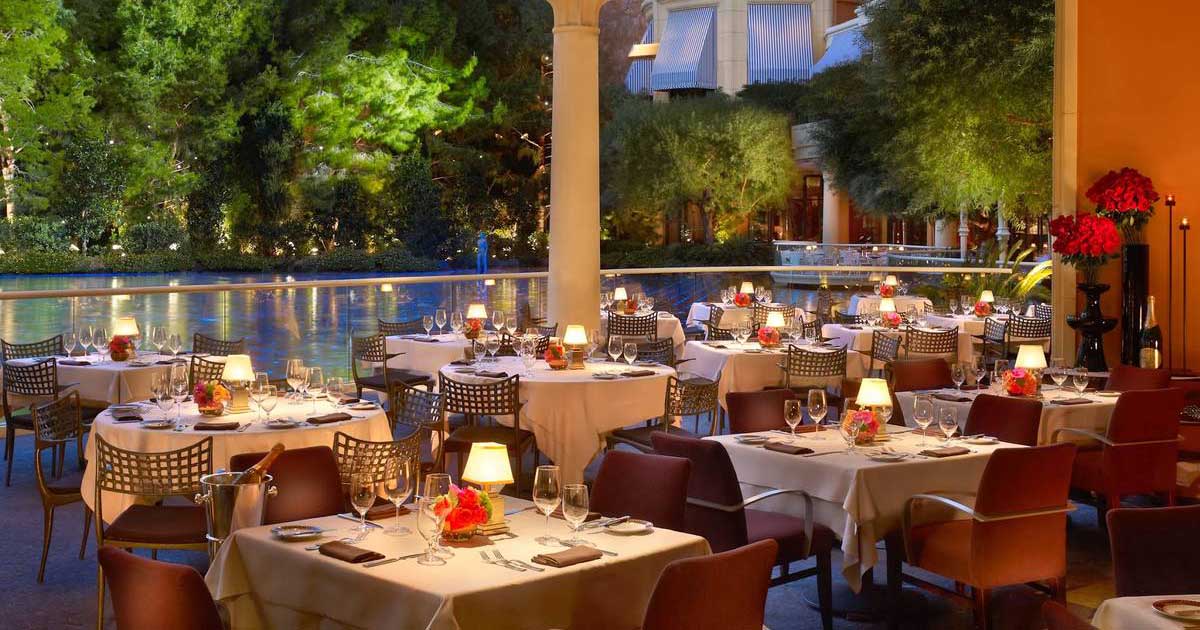 One special one to mention is the SW Steakhouse which is one of the few places in Las Vegas that serves certified Kobe beef. Dining there is truly a sublime experience, especially if you get a table on the patio overlooking the Lake of Dreams.
There are another 11 casual dining options, including a very highly-regarded Buffet. Allegro serves pizzas cooked in the wood-burning oven as well as homemade pasta.
Charlie's Bar and Grill is a crowd-pleasing American style burger joint. Meanwhile, Red 8 and Wazuzu provide two more outstanding Asian options.
Wynn has a lot of bar options too ranging from casual to more formal places. Meanwhile, Wynn's XS Nightclub and the Encore Beach Club are two of the most exclusive party destinations in town.
Shows and Attractions
Le Reve used to be the star attraction at Wynn, but it shut down during the coronavirus crisis and it never reopened.
The resort now relies on booking big-name music stars to have short runs at the Encore theatre, which is a small yet brilliant venue. Bryan Adams was among those to play there in 2021 and Lionel Ritchie is booked for late 2022. Many others perform there too, so it's worth keeping an eye on their schedule.
Lake of Dreams remains a big attraction for the resort too. It is a dreamy, fantastical light and animatronic show taking place on the lake in Wynn. There are several variants running at any one time, so try to catch multiple shows if you can.
Wynn Pool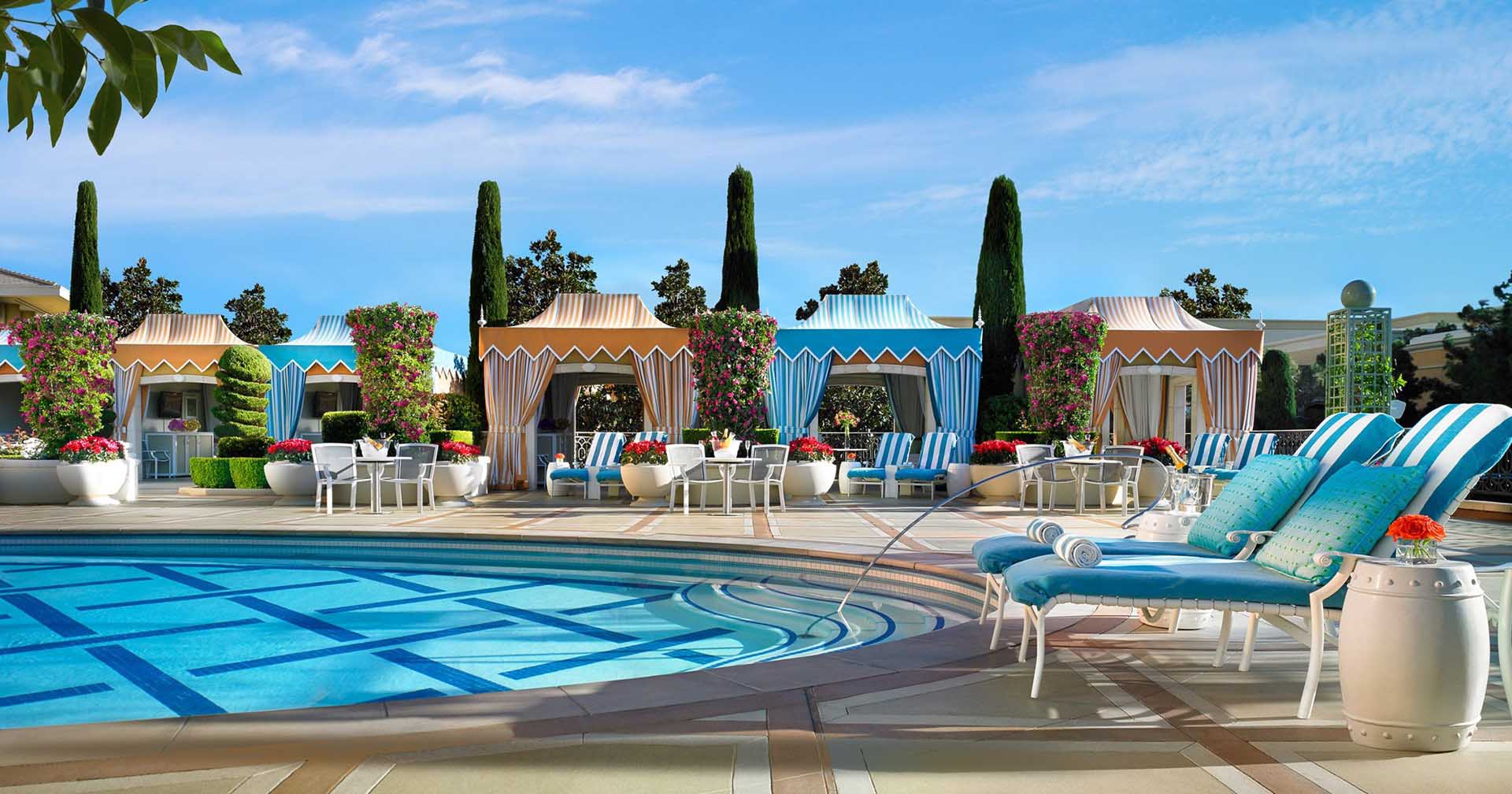 The Wynn pool is idyllic and premium, although some may find it too much so. It's easy to feel self-conscious splashing around noisily in such a place, for example.
The same can probably be said of the Encore pool, although the fact it doubles up as a nightlife venue suggests things are more laid back there.
The usual selection of cabanas and daybeds are available for hire, and poolside drinks and snacks are easy to come by.
Conclusion
Wynn resort is premium luxury at its finest in Las Vegas. You pay for high-end opulence and that is exactly what you get.
The location may put some people off, but with so many amenities and dining options and a sister property next door, you are going to have everything you need plus a lot more.
Pros: Unrivalled luxury, great rooms with a unique design and spectacular views.
Cons: For some the Wynn resort will be too high-end and the prices can be eye wateringly expensive. The location is also not the best if you want to spend a lot of time exploring the Strip.
Considerations: If you are wanting a very relaxed holiday without worrying about feeling self-conscious about yourself, Wynn probably isn't the best place for you. There won't be any staff judging you or anything, but the sheer decadence of the décor will leave you wanting to be on nothing but your best behaviour.