When it comes to Las Vegas, it can be hard to make your money go further. That is where Las Vegas rewards clubs can really help.
So, if you want your Las Vegas gambling reward you as much as possible, you might want to read on.
Rewards clubs are something that almost every Las Vegas casino hotel offers. Broadly speaking, they are an identity card that tracks all of your spend within a particular resort, or group of resorts, and gives subsequent rewards or offers based on your spend.
However, what these rewards and offers are in reality vary greatly depending upon the property or programme.
Most Rewards Club operate a tier system so the more you spend, the more points you earn. The higher you climb the tier ladder, and the greater the rewards.
It is also worth noting that points can be gained not just from Las Vegas gambling, but from anything you spend within the resort including room costs, dining, shows and shopping. Most have partner programmes as well, such as credit card partners that allow you to go even further.
RELATED: Quick start guide to hitting the casino floor in Sin City
Las Vegas Rewards Clubs
The Las Vegas Strip resorts are mostly divided up into two main ownership groups: MGM and Caesars.
MGM Las Vegas properties
Bellagio
Mandalay Bay/Delano
Luxor
Excalibur
MGM Grand
New York-New York
Park MGM/Nomad
Aria/Vdara
Cosmopolitan is MGM too, although at the time of writing it hasn't yet moved to MGM Rewards. The Mirage, meanwhile, is currently being taking over by Hard Rock so is also not included.
Caesars Las Vegas properties
Caesars Palace
Planet Hollywood
Paris
Flamingo
Harrah's
LINQ
The Cromwell
Rio
Ballys (soon to be renamed the Horseshoe)
Downtown, Circa, The D and Golden Gate all operate under the same Rewards programme. The name of that one is Club One, and it's a great one to sign up for.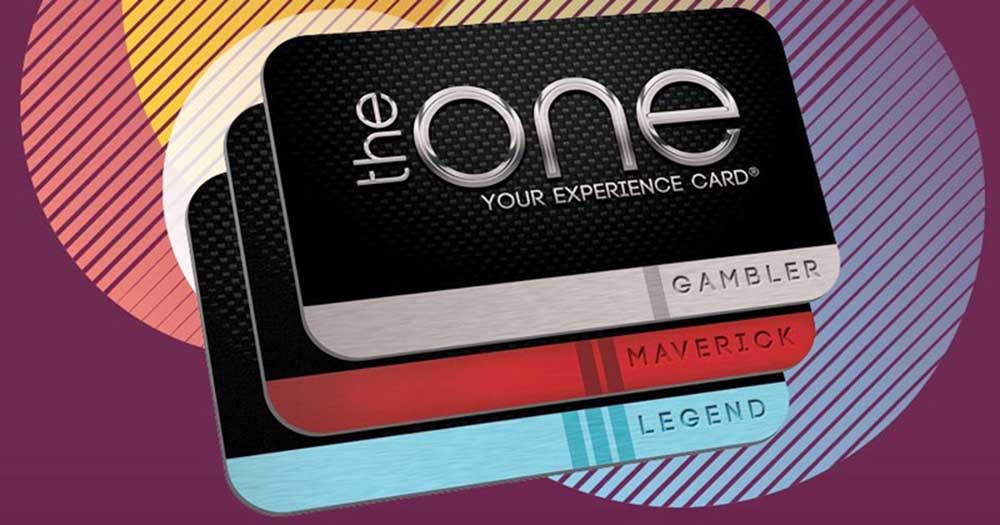 For the grouped resorts you only need one card. So, for all of the MGM properties you only need one card that will work across all resorts. It is the same for Caesars and Club One. It doesn't matter which hotel you get it at, either. Just go to the one that you visit first or is most convenient.
The rest of the Strip properties operate independently and have their own individual rewards clubs, so properties such as Venetian/Palazzo, Wynn/Encore, Resorts World and Treasure Island, as well as many of the off-Strip and Downtown hotels. Cosmopolitan is still part of this group too, but I'd expect that to change before too long.
There are two other group Rewards programmes that run in Las Vegas, but they are for mostly outlying casinos.
The My Rewards card (also known as Boarding Pass) covers all the Station Casinos. While the Boyd Rewards programme covers all the Boyd casinos which does include three Downtown properties – California, Freemont Street and Main Street Station.
How to get a Las Vegas rewards card
Getting a Rewards Card is very simple. There is no spend minimum or special criteria to worry about. As long as you are over 21 and have photographic ID you can get a card. All you really need to do is go to the rewards desk, which is well sign-posted in all Las Vegas casinos.
Many resorts offer an online application system where you can pre-apply to save time. Just give your reference, show your ID, and pick up your card when you arrive in Las Vegas. This isn't essential, though.
The only thing to be aware of is making sure you have a valid photographic ID. For most US guests, a driving licence is sufficient. It's a little more complicated if you ate visiting from the UK or other foreign countries. If you are, a passport is usually required.
Sign-up rewards
Some of the independent resorts will entice you with Rewards Club sign-up offers. For example, Cosmopolitan used to give $25 free play for joining and Binions gave $15 free play, so look out for any offers that might be around when you join.
Rather than free play, some casino's will offer a free spin on an offers wheel when joining so you may end up with some resort credit or a complimentary drink. Its always worth asking.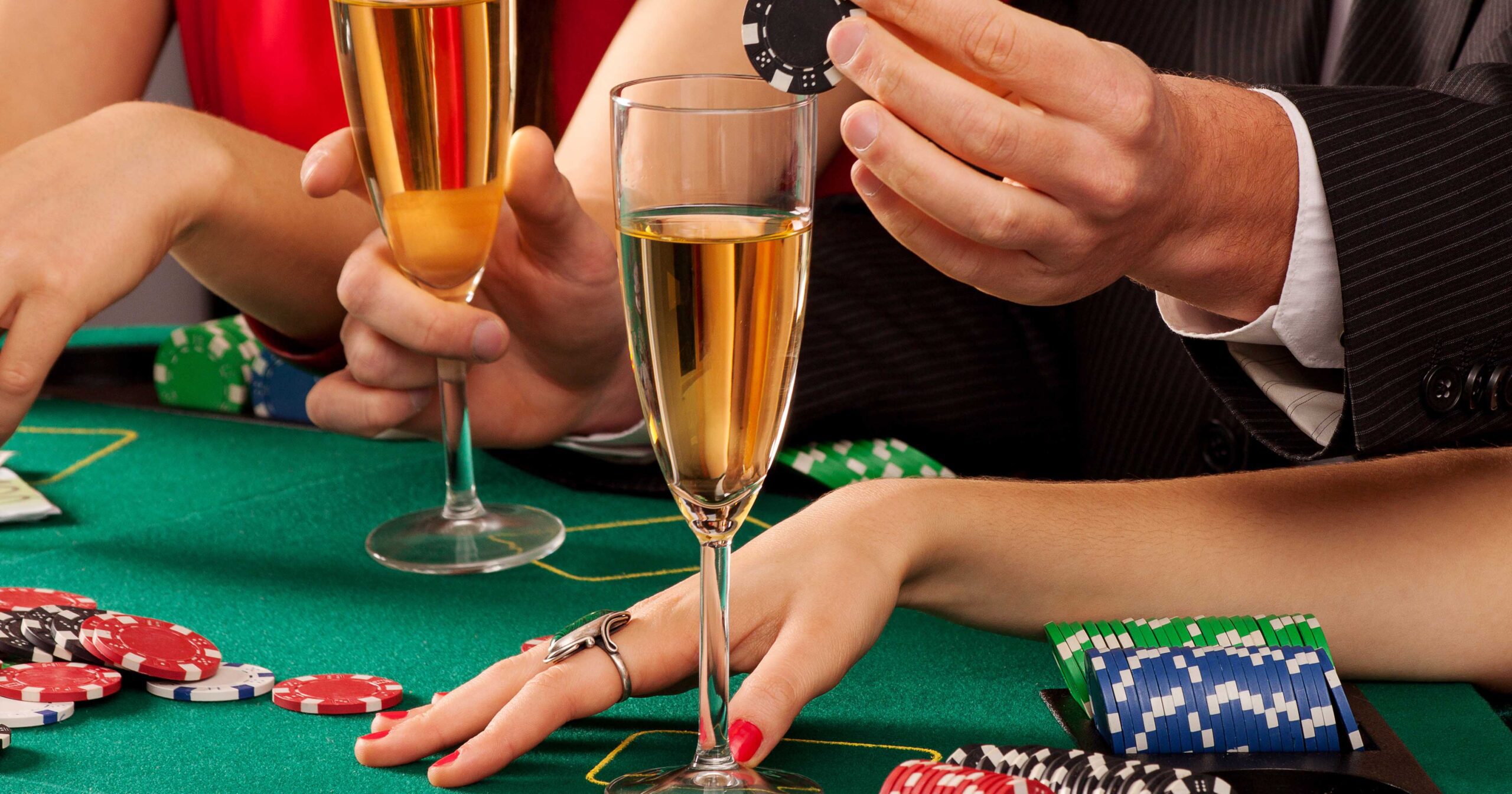 As soon as you join a Rewards programme you will immediately be eligible for some basic rewards whether that is discounted room rates, special priced show tickets or money off restaurant and bar spend. These do vary considerably, though.
For that reason, I always recommend joining every club, especially for any hotels you are staying at or enjoy visiting frequently as you might as well be earning something while you spend.
How to use your Las Vegas rewards cards
Exactly where you can and can't use your Rewards card can vary a lot too depending on the resort and the specific outlet or retailer you are spending at.
So, for example, if you are dining at a chain restaurant or shopping at an independent store within a large resort hotel, the Rewards card may not be linked. Never be afraid to ask though when you pay your bill.
As a whole though, most restaurants, bars and hotel shops will take the card and put it through the till. This is also the case for any spend you make directly through the hotel so if you're booking show tickets or booking a spa treatment for example you will get the points.
If you forget to submit your card when you pay your bill, simply keep the receipt and take it to the Rewards Club desk afterwards. It can be a pain, especially if there are queues, but you will get the missing points added to your account.
All of your Las Vegas gambling adds reward points too. So, if you are playing on a slot machine, make sure you insert your card into the reader and it registers with your name before you spin.
The process is less systematic for those who enjoy playing table games, as it is impossible to record every hand or every bet. Instead, the on-duty pit boss will make an assessment based on your bet level and how long you are spending at the table and allocate points accordingly. Just hand your card to your dealer when you sit down at a table.
Tier system
As mentioned earlier, all Las Vegas Rewards Clubs operate a tier system and the higher you climb the more rewards you get.
It is impossible to go through all of the levels and rewards for each club and we would suggest visiting each rewards programme separately for full details.
However, here is a quick summary of the main two Las Vegas Strip Rewards programmes for MGM and Caesars. For clarity, every advanced level gives the benefits of the one below plus the added ones we've listed.
MGM Rewards tiers
Up to 19,999 credits – Sapphire: Guaranteed lowest room rates and discounted show tickets
20,000 to 74,999 credits – Pearl: Invites to exclusive events/promotions, complimentary concert tickets and complimentary self-parking
75,000 to 199,999 credits) – Gold: Resort fees waivered, exclusive $100 dining experience, complimentary room upgrades
200,000 credits – Platinum: Air travel credit up to $600, complimentary annual cruise, $200 dining experience
Noir (by invitation) – $1200 air travel credit, $500 dining experience, access to VIP lounge, complimentary airport transfer
Caesars Rewards tiers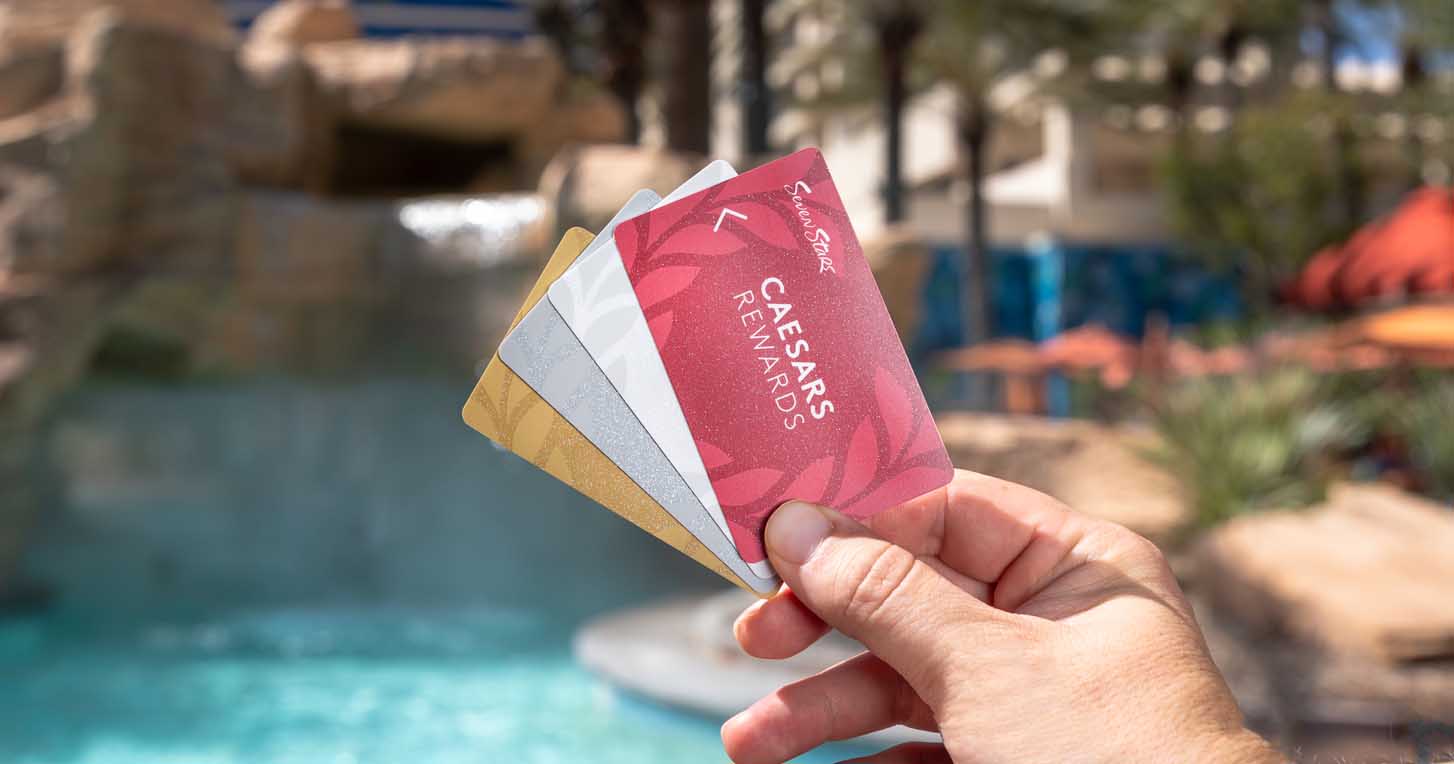 Up to 4,999 credits – Gold: Free or discounted hotel stays, exclusive pre-sale access to select shows
 5,000 to 14,999 credits – Platinum: 15% discount in casino shops, complimentary valet and self parking, monthly $10 free sports bet online, complimentary stay at Paradise Island in the Bahamas
15,000 to 24,999 credits – Diamond: 15% off best room rates, no resort fees, two free nights at Caesars Palace in Dubai, access to VIP lines in hotel and restaurants, $100 celebration dinner
25,000 to 74,999 credits – Diamond Plus: Complimentary access to VIP Laurel Lounge, $30 monthly free sports bet online, guaranteed room with 72 hours notice in Las Vegas
75,000 to 149,999 credits – Diamond Elite: $600 air fare credit to Las Vegas once a year, $75 monthly free sports bet plus discount on Norwegian Cruises
150,000 credits – Seven Stars: Upgrade to best available room and complimentary early check-in/late check-out. $1200 air credit plus $500 dining credit to any Caesars destination resort. $500 celebration dinner and congratulatory voyage with Norwegian Cruise Line
Moving between levels
Most people will, in truth, struggle to hit the heady heights of Noir or Seven Stars level. However, it is possible to reach Pearl or Gold with MGM and Platinum or Diamond with Caesars. That is especially true for those who visit Las Vegas often or spend a lot when they're there.
Ultimately, you don't actually always have to reach a certain tier level in order to receive fantastic offers. There doesn't actually appear to be an exact science behind it in many cases. Once you leave Las Vegas, though, you should start to receive some offers to entice you to return.
The majority of offers will be discounted or complimentary hotels stays for your next trip. Casino freeplay and resort credit (which can be used in the bars or restaurants) is offered too. For some, the dreaded resort fees could be waived.
As a rule of thumb, it is always a good idea to check out your Rewards accounts sporadically. The offers can change dramatically according to different seasons, major Vegas events or hotel occupancy levels. Therefore, you're going to want to be on top of them.
Las Vegas rewards points
MGM Rewards recently changed their policy on how they allocate tier credits. Whereas previously guests in las Vegas were getting 25 tier credits per $1 spend, they now only get 4 tier credits instead.
They have also split their system into two different categories. Tier credits are the points you earn to climb the tier ladder. Rewards credits, meanwhile, are what you build up to go put towards comps at MGM resorts. You get to choose how you spend them – e.g. resort fees, slot freeplay, show tickets etc.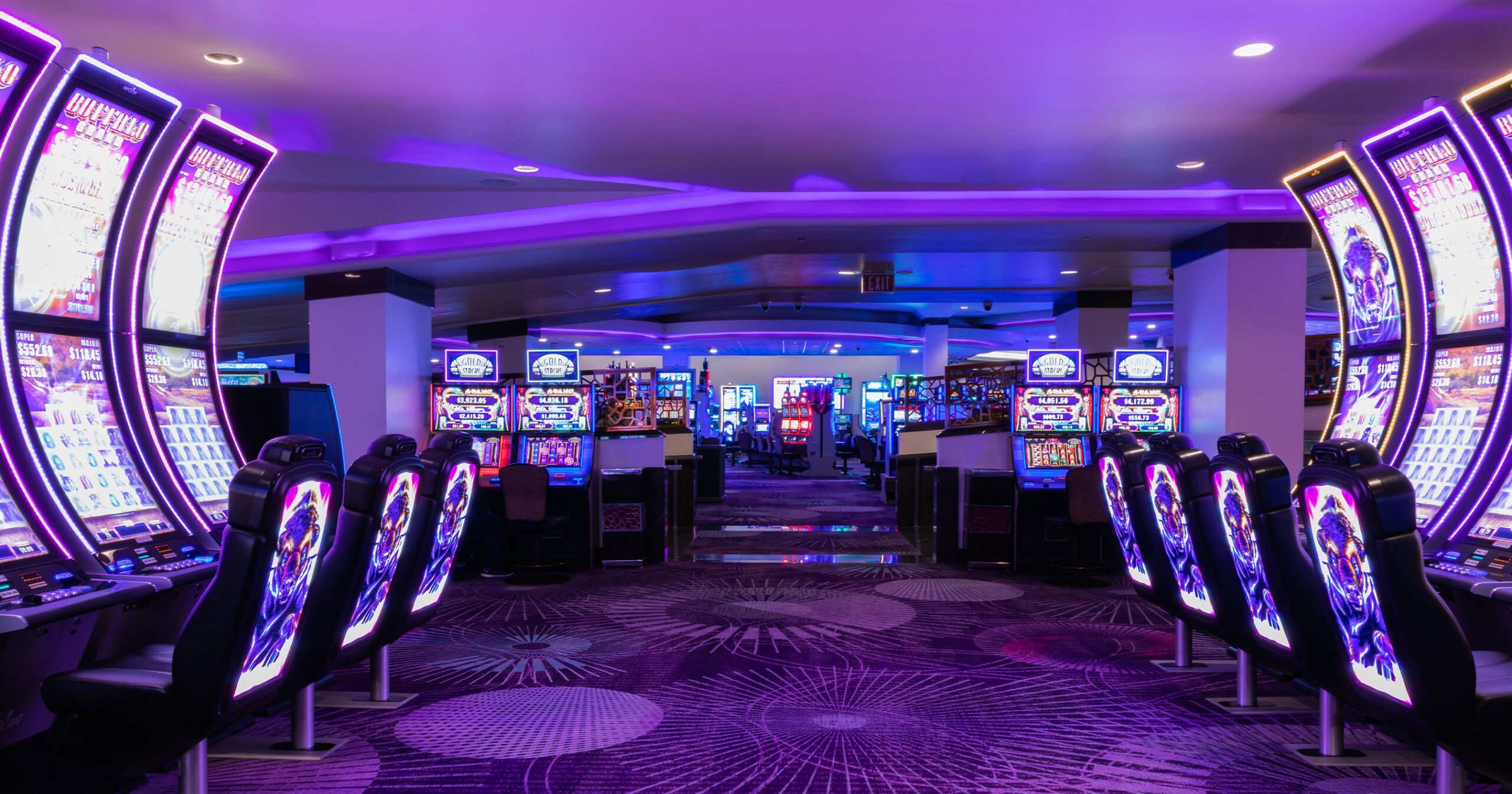 What you should see when you look at your MGM Rewards account is your tier level and your rewards point total as two separate things.
The detail of how each point is allocated is quite confusing, and deliberately so it seems. Phrases such as 'at least one tier credit per $5 spend' don't help either.
MGM Rewards appear to give 4 Tier credits and 1 MGM Rewards point for every $1 spent on hotel, shopping, dining, amenities and slot play.
Caesars Rewards, meanwhile, give at least 1 Reward Credit for every $1 spent on hotel, shopping, dining and amenities. But for gambling they give at least 1 Reward Credit for every $5 played on slots or $10 wagered on Video Poker or Bingo
Both Rewards programmes give the same information with regard to Table Games. The pit boss is in charge here, and points issued according to their judgement. Generally, it's based on the type of table game you are playing, your average bet, and how long you play.
It may appear from the above that Caesars are less generous when it comes to tier credits, however it's also worth remembering that their tier system is easier to climb for new starters.
Las Vegas rewards clubs offers
It is worth looking in detail at the promotions that each Rewards Club offers. At the time of writing, MGM Rewards has a double points offer, meaning that you will earn double the points for every $1 spent. This is definitely worth taking advantage of if you are able to plan your vacation at these times.
Rewards Clubs also offer tier matches with other Rewards Clubs. Its fair to say that this a often at the higher level but nevertheless can be a great way of receiving rewards without having spent anything extra. If its not stated on their website, then you can always contact them and ask directly. I've heard of people being successful with this.
Check out MGM Rewards, Caesars Rewards or any of the other Rewards Clubs for full details of any offer or promotion they may be running at the time of sign-up.
RELATED READING: How to choose the best Las Vegas hotel for you