The Las Vegas gambling scene mixes retro Vegas with some of the most modern technology you can find. While some new resorts are all about the state-of-the-art tech, some stick to their more traditional beginnings. So lets take a look at the oldest on the Las Vegas Strip – Flamingo casino. 
I simply cannot imagine the Las Vegas Strip without the Flamingo. Its classic pink neon at the front of the building has been a constant fixture since it opened in the 1940s.
However, despite its incredible endurance, don't be fooled into thinking that the Flamingo casino is behind the times. You can get almost everything you want from this casino.
RELATED: Quick start guide to hitting the casino in Las Vegas
Flamingo Casino overview
Total gaming space: 72,299 sq. ft
Rewards program: Caesars Rewards
Number of Slot and video poker machines:  1600+
High Limit slots room: No
Table games: Baccarat, Blackjack, Roulette, Craps, Poker
Poker Room: No
Sports book: Caesars Sportsbook
Smoking: Yes
ALSO READ: LAS VEGAS HOTELS: Flamingo review and guide
Flamingo casino is right in the heart of the Las Vegas Strip. It is in an excellent location, one to rival any of its competitors even today.
The pink is carried through the casino but it's not an overly themed casino in any way. It is really more décor than it is 'theming,' I would say.
It is very bright, light and airy, which is due to a lot of natural light coming in. It's small size and layout, which makes it easy to navigate, also help here.
I always feel personally that Flamingo casino is more of a pass-through casino, though. It's very easy to stop by for a couple of hours, have a little gamble, some food or drink and then pass on to the next.
However, maybe that is due to its close proximity to its neighbouring casinos more than anything. It works more as a casino-crawl friendly stop rather than a destination casino. That's just my personal opinion, though.
What is also means is that Flamingo casino doesn't feel intimidating or too overwhelming. It is a casino you can drop in anytime and feel welcome and is great for Vegas beginners who are just dipping their toe into the Las Vegas gambling scene.
Gambling in the Flamingo casino
When you do visit, Flamingo casino offers a fantastic choice. With over 1600 slot machines packed into quite a small casino floor, there is something for everyone.
Flamingo casino has recently expanded their penny game selection offering 2-cent progressive games that are ideal for those with tighter budgets too.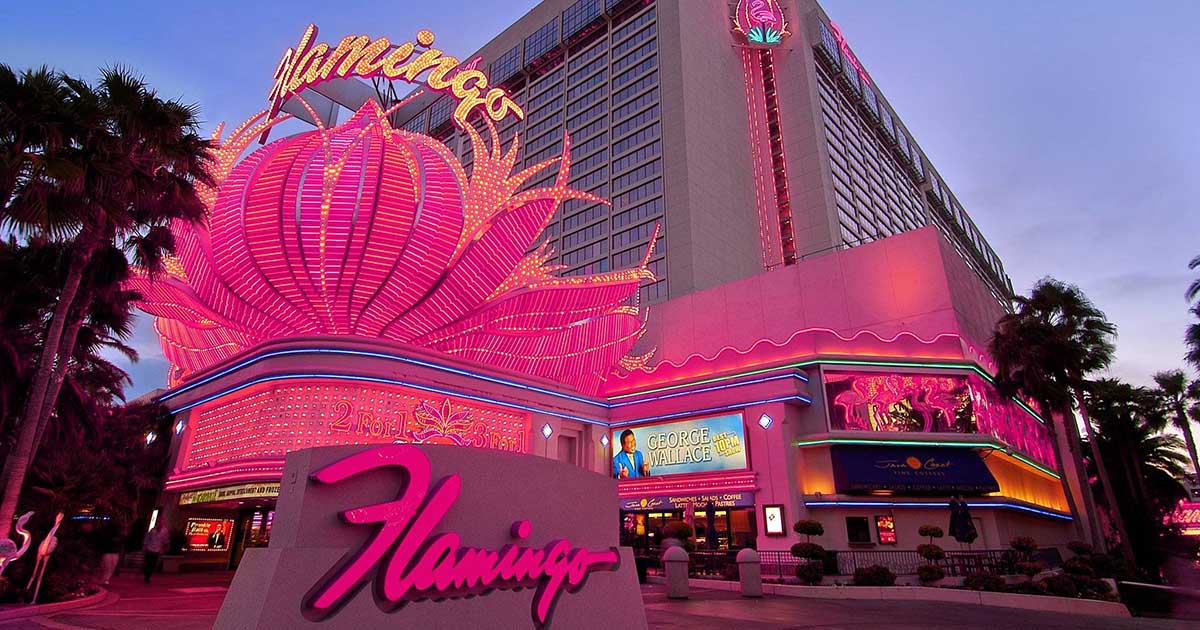 Despite its smaller size, Flamingo does offer some table games too. It has all the usual Blackjack, Roulette and Craps tables as well as some Poker variations too.
Additionally, Flamingo casino is one of the few places you can find quite reasonable table minimums. Many feel priced out of the table games on the Strip, so a stop at Flamingo is worth a try. Bear in mind, though, that at busier times the minimums tend to go up everywhere.
For those who enjoy even more high-octane Las Vegas gambling, Flamingo casino offers as small high-limit table area. If you enjoy higher stakes, though, there are bigger and better high-limit experiences elsewhere.
Sportsbook and drinks service
As with all Las Vegas gambling, a complimentary drinks service is available to anyone gambling on the casino floor. I've always found Flamingo casino to be be fairly good with a regular waitress service. Obviously, though, this can fluctuate depending on how busy it is.
If sports is where you prefer to get your Las Vegas gambling fix, then Flamingo casino has a decent Sportsbook.
It's not the most impressive on the Strip by any means, though. You're probably better off using the incredible option of Caesars Palace Sportsbook just across the road.
Rewards club
Flamingo is part of Caesars Rewards, which is one of the very best in Las Vegas.
The property is also surrounded by other Caesars casinos, so it's a great place to gamble if tier progression is your goal.
RELATED: Las Vegas rewards clubs and how to make the most of them