What better way to kick-start your Vegas day than with a killer breakfast. With so much choice, the options are endless. Whether you want spectacular views, sumptuous plates, food on the go or an all you can eat buffet, Las Vegas has it all.
Choosing the 'best' of anything can be quite subjective. For this reason, I've given a few options to suit different budgets and styles.
Whatever you choose, these are sure to super-charge your Las Vegas morning and start your day off in the right way.
Mon Ami Gabi
Location: Strip/Paris
Seating: Yes
Table service: Yes
Not only does Mon Ami Gabi have one of the best views in Las Vegas overlooking the Bellagio Fountains, but it also has an incredible breakfast menu.
Although this wouldn't be considered a cheap breakfast option, the menu actually offers excellent value. A good sized plate of waffles is around $15.95 and the incredible eggs benedict will set you back $18.95.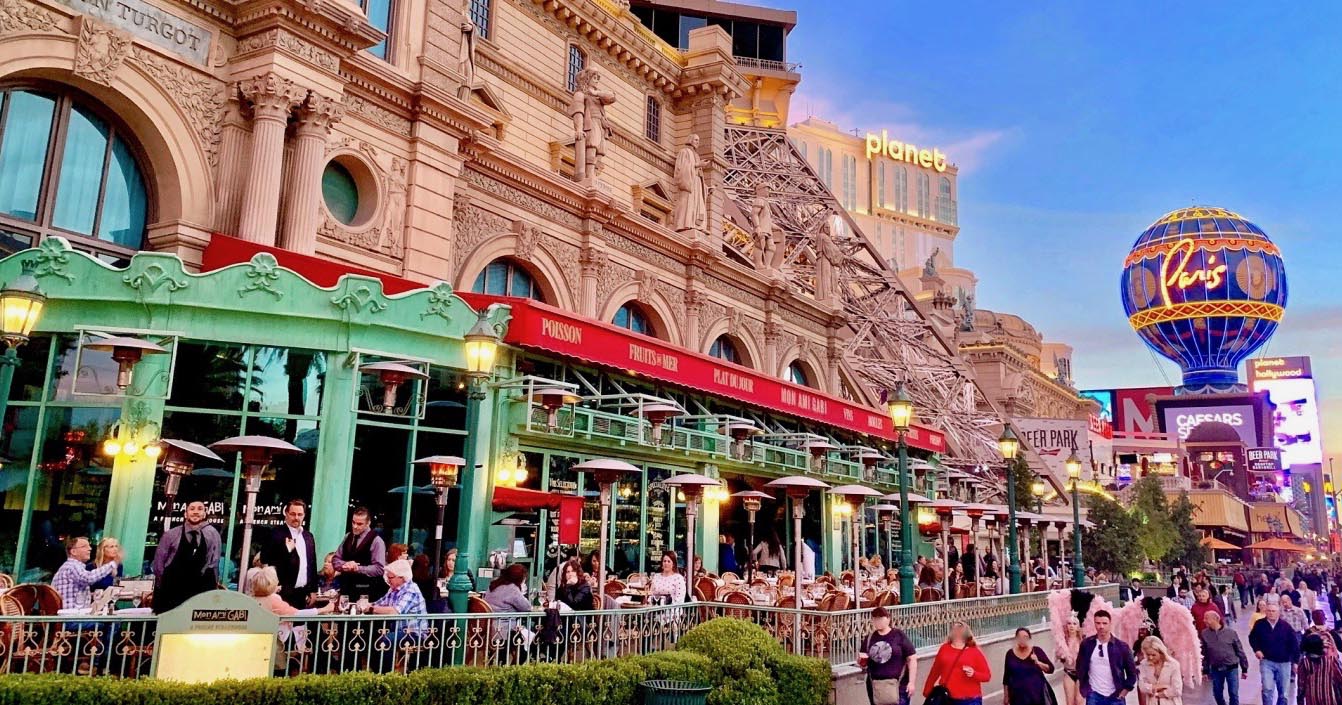 Mon Ami Gabi can get very busy so it is advised to book ahead. You can walk in and join the waitlist though. Then just explore the Paris resort or have a quick spin on a slot while you wait.
On a warm morning, you can sit outside on the terrace. If not, a window seat is just as nice. What is really special about this place is the ambience. Fantastic service, great food, and lovely views, what more could you want?
Mon Ami Gabi features in one of our recent YouTube vlogs for those who want to check it out.
The Henry
Location: Strip/Cosmopolitan
Seating: Yes
Table service: Yes
One of the trendiest breakfast spots in one of the coolest hotels, The Henry is a new Vegas favourite.
Their signature breakfast dishes are the Short Rib Eggs Benedict, served on potato cakes which costs $22. And Henry's Big Brioche French Toast for $18. Be warned, portion sizes are big.
The Henry is an unusual mix of contemporary and traditional in its décor. It has an up-scale feel but also very relaxed and welcoming.
It has peculiar opening times, opening from around 11pm on an evening until 2pm the following day. That makes it a perfect late-night or early morning stop. Whenever you visit though, the service will be exceptional.
Egg Slut
Location: Strip/Cosmopolitan
Seating: Yes
Table service: No
Possibly the place to get breakfast in Las Vegas right now is Eggslut. Or at least it can look that way by the size of the queue!
Eggslut promises gourmet food but with a quick bite feel. It's certainly not high-end but it's very popular and trendy. And, of course, the menu is all based around eggs.
This is essentially a walk-up breakfast option. There is limited casual seating inside but you can also use the egg-themed seating outside too. You can get a take-away as well.
In fact, you can often see lots of Cosmopolitan guests, some even in bathrobes, popping down to grab their breakfast to take back to the room.
The Eggslut menu only has 8 main dishes on it. With prices ranging from $8-$16 it is very reasonable too.
The Pantry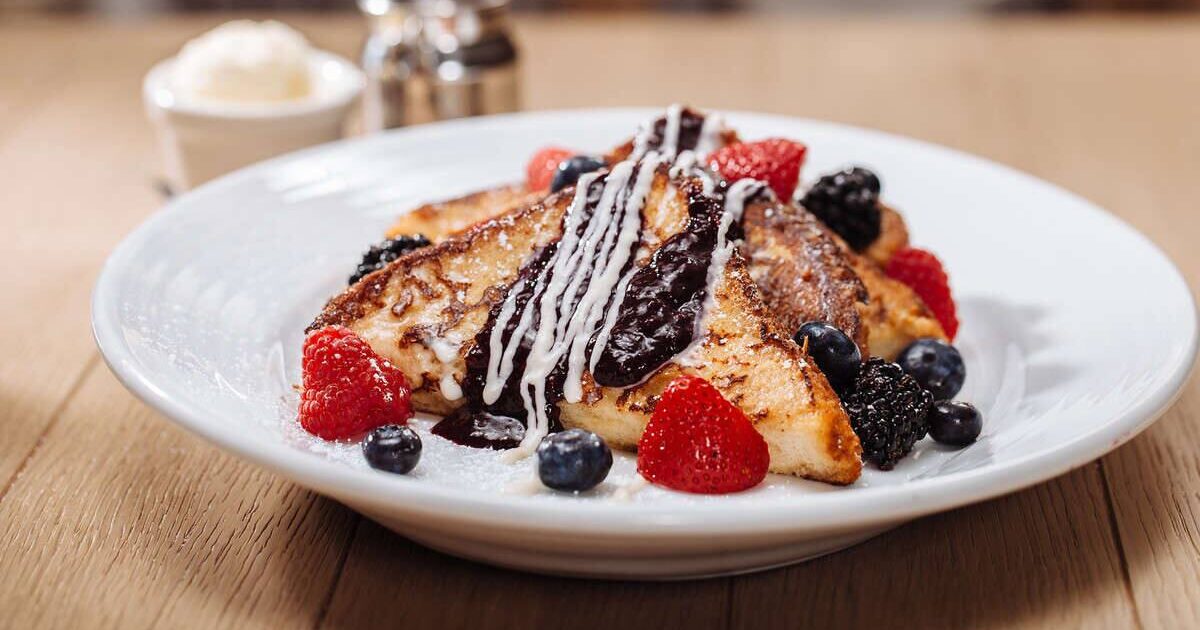 Location: Strip/Mirage
Seating: Yes
Table service: Yes
The Pantry offers all day breakfast in a bright and lively setting. It has a traditional family kitchen feel but with a modern vibe.
Situated towards the back of Mirage, overlooking the casino, The Pantry is a busy little place that always seem to have a buzz about it.
You can go for big dishes such as the All American Breakfast for $21, or the Jackpot Combo for $30. They also have a range of omelettes, pancakes and waffles from $15.
The Pantry does get very popular so I'd recommend booking. Alternatively you can join the walk-in line and go and explore the casino while you wait.
Peppermill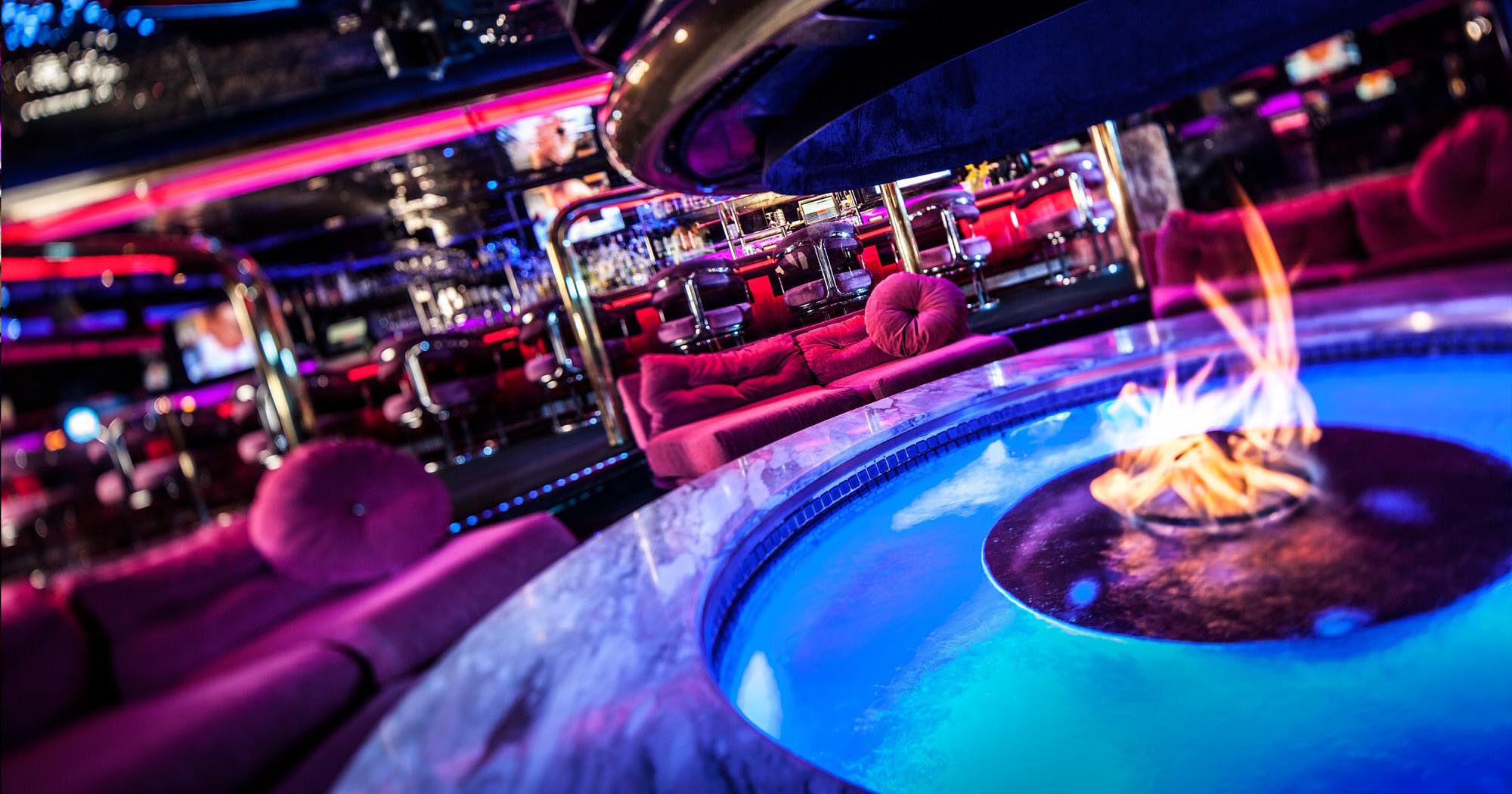 Location: North Strip/Opposite Resorts World
Seating: Yes
Table service: Yes
Peppermill is one of the most photographed places in Las Vegas. It has has even featured in many big movies, including Casino and Showgirls.
The impressive interior makes for a unique breakfast experience in Vegas, and the extensive all day breakfast menu is just as impressive.
They have all the usual breakfast options, club sandwiches, specials and a huge range of omelettes. But it is possibly their selection of pancakes and waffles that stands out the most.
Most breakfast options range from $16-$24 but portions sizes are substantial. And with a setting that makes you feel like you're in a movie, a Peppermill breakfast is a must.
Ellis Island
Location: Off–Strip (Behind Ballys)
Seating: Yes
Table service: Yes
Ellis Island is one of those little secrets of Las Vegas that first-timers don't usually find.
We've classified it as off-Strip but it really is less than a 10 minute walk away and can be accessed really easily.
Here you will find some of the best value food and drink anywhere in Vegas. Their breakfast menu starts at just $6.99 for French toast and pancakes.
Breakfast sandwiches and omelettes are also reasonable for around $8.99. Meanwhile the famous Ellis Island 10oz Steak and Eggs breakfast is just $14.99.
Hash House A Go Go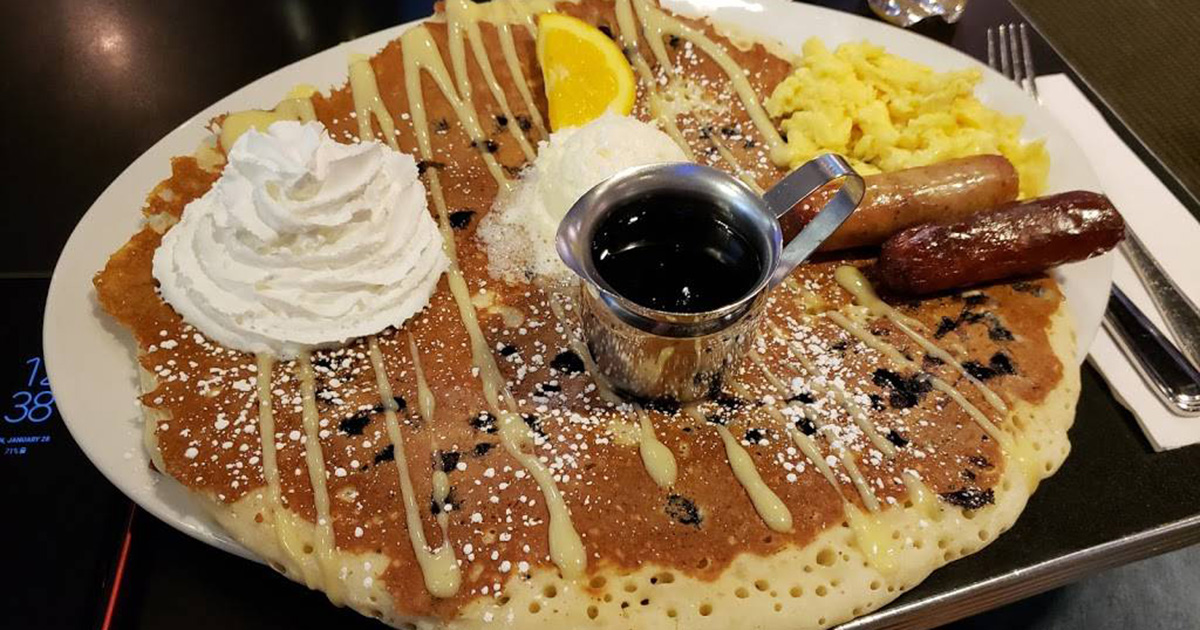 Location: Strip/LINQ, Downtown/Plaza
Seating: Yes
Table service: Yes
Hash House A Go Go has earned its reputation as one of best value eateries in town.
Their portion sizes are legendary. That means that even if they aren't the cheapest, you really only need one to share.
That's not to say they are expensive either though. On my last visit, I ordered the Brown Sugar Banana twisted flapjack for $13.49. I barely managed to eat half of it before admitting defeat.
Their signatures breakfast dishes are the 'hashes'. These are served in a cast iron skillet on a bed of crispy fried potatoes, two eggs, homemade biscuit a filling of your choice. They are around $19.99 and will fill you up for the day.
If you are in Downtown Las Vegas, there is also a Hash House A Go Go in Plaza.
Breakfast Buffets
Location: Strip
Seating: Yes
Table service: Yes
Possibly one of the best breakfasts you can have in Las Vegas is an all-you-can-eat buffet.
Many hotels have these but my two favourites are the Wicked Spoon at Cosmopolitan, and the Bellagio Buffet. Luxor, Excalibur, Caesars Palace, MGM Grand and Wynn also have them.
These buffets offer everything you could ever dream of for breakfast and much much more. Bacon and eggs? Obviously. Carved meat and spicy chicken? Ok. Mac n cheese and pizza? Erm. And don't even get me started on crabs legs and curry.
Basically, you get the idea. You want it, you've got it. The best tip I can give for these though is to look for a 2-4-1 deal. That way, can make serious savings and fill up for the day too.
Fast-food Breakfast
Location: Strip
Seating: Sometimes
Table service: No
The Las Vegas Strip has plenty of quick fast-food type breakfasts and food halls for those who just want a cheap fast option.
There's the usual McDonalds, Dennys and White Castle fast food places. Many of the hotels also have a food-hall offering one seating area with various food vendors offering varieties of food.
These are a great option if groups of people want to eat different foods but want to sit together. You can usually eat for under $10 too, so they are perfect for a budget breakfast.
RELATED READING: How to Las Vegas on a Budget