One of the things we get asked most often is when is the best time to visit Las Vegas for great weather. So, what can you expect from the weather in January and will it be a good time for you to hit the Strip?
January is certainly one of the quietest times of the year in terms of tourist numbers on the Strip. Much of that is probably due to the weather.
Let's have a closer look at the Las Vegas weather in January.
High temperature: 14C/57F
Low temperature: 1C/34F
Day temperature: 11.3C/52F
Night temperature: 8.3C/47F
Sunshine hours: 8
Rainfall: 12.7mm
Rainfall days: 6
What to expect from the Las Vegas weather in January
January is, on average, the coldest month of the year in Las Vegas. In fact, the average temperature throughout the month is just 8C/48F.
In fact, the temperatures will rarely go above 14C/57F, and even that mild is relatively unusual.
There can also be a breeze at times too which makes it feel a little chillier, especially on an evening.
Generally speaking, the weather plays a large part in January being one of the quieter months of the year in Las Vegas. It's not necessarily bad, it's just not the usual weather you associate with the place.
RELATED READING: Five Las Vegas must-do's for first-time visitors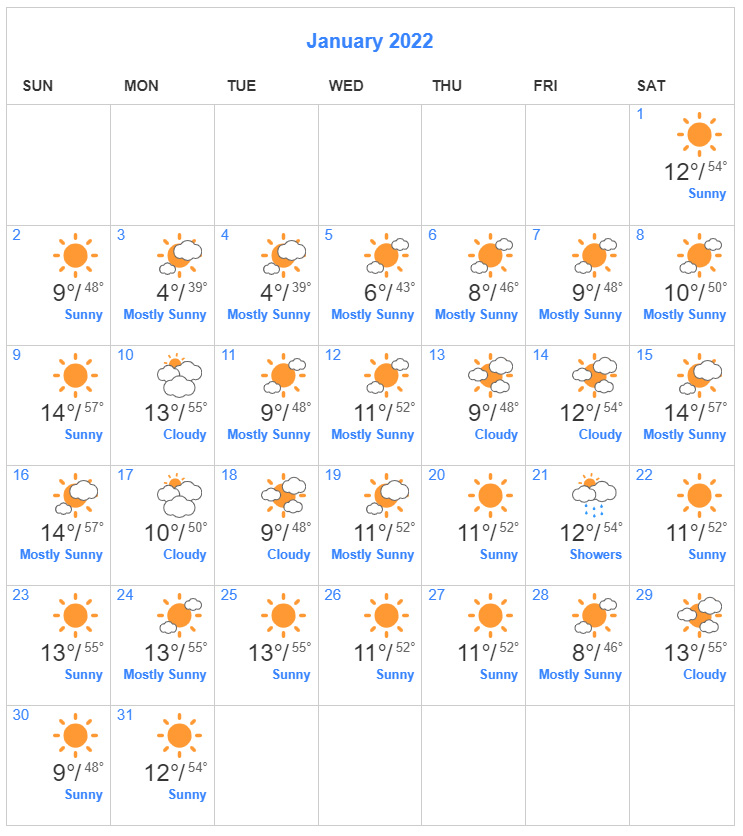 How likely is it to rain in Las Vegas in January?
If you visit in January you should be prepared for rain. To be clear here, rain is not going to consume your vacation by any means. In Nevada, rains tends to come and go reasonably quickly.
At this time of year, 20% of days tend to see some rain. That works out at about six days in the month, so you'll be lucky to avoid it.
Still, while that is wet by Las Vegas standards, it's not especially rainy by any means. When it does rain, though, it can be heavy. In fact, you might even see a little snow in January on the Strip, although that's a very unusual occurrence.
RELATED READING: Top Las Vegas tips for first-time visitors and beginners
Humidity
Las Vegas is in the desert, so humidity is never really going to be a problem. For me personally, that is a big part of what makes the weather so good there.
It's a very dry heat generally, and it's very rare that the humidity climbs above 66% across the course of the whole year.
January is one of the more humid months, but it still won't even get close to being uncomfortable. It's most humid at the start of the month, although it doesn't really change all that much in truth.
What to pack for Las Vegas in January
You can definitely leave you shorts at home if you are visiting Las Vegas in January. You're just not going to need them.
It's jeans and jackets kinds of weather, and even the hotter days are not going to attract you to the sun-loungers.
Most of the pools tend to be closed at this time of year anyway, so you probably won't be needing your swimwear either. That said, some hotels have heated pools, so it will be an option for some.
One of the issues that does often come up in the dry heat is dry skin or lips. That's why it's often recommended to pack a lip balm/chapstick. Don't worry if you don't though, almost every gift shop or convenience store have them to purchase.
RELATED READING: Best Las Vegas pools: Eight must-book hotels for swimmers and sunbathers