You won't find many Las Vegas hotels that have been operating for longer than Harrah's, certainly not on the Strip, at least.
It originally opened in 1972 as a Holiday Inn and the Holiday Casino with the exterior made out to look like a river steamboat.
Following a $200million renovation in 1995, it reopened a year later as Harrah's, a name it has retained ever since.
Harrah's overview
Location: Strip (Centre-north)
Opened: October 1996
Last renovated: 2021
Number of rooms: 2,542
Gaming space: 90,637 sq. ft
Operator: Caesars Entertainment
Permanent shows: Menopause The Musical, Donny Osmond, Tape Face, X Country
Signature attractions: The Piano Bar
Known for: Being a spectacularly consistent all-rounder
Price guide: $$
Location
Once you get to Harrah's you are definitely starting to get into the more northern reaches of the Strip, although it's still just about central.
Harrah's is directly opposite the Mirage and the Forum Shops at Caesars Palace. The Venetian and The LINQ are just next door too, so there is plenty going on.
It's an excellent location and no one is likely to be disappointed with it.
Getting around
It is easy to get around from Harrah's, although pedestrian bridges are a little sparse up at that end of the Las Vegas Strip.
To cross the road to the west side where Mirage and Caesars Palace are located, there is a pedestrian crossing that can test your patience at times.
There is an awful lot within walking distance, though, including the likes of Bellagio and Cosmopolitan.
Heading north, the Venetian/Palazzo, Treasure Island, Wynn/Encore and the Fashion Show Mall are all short walks away.
When you're at Harrah's, the Las Vegas hotels on the south end of the Strip can feel a very long way away, but the resort has its own stop on the Monorail and you can use that to get to the MGM Grand with ease.
Harrah's Rooms and Amenities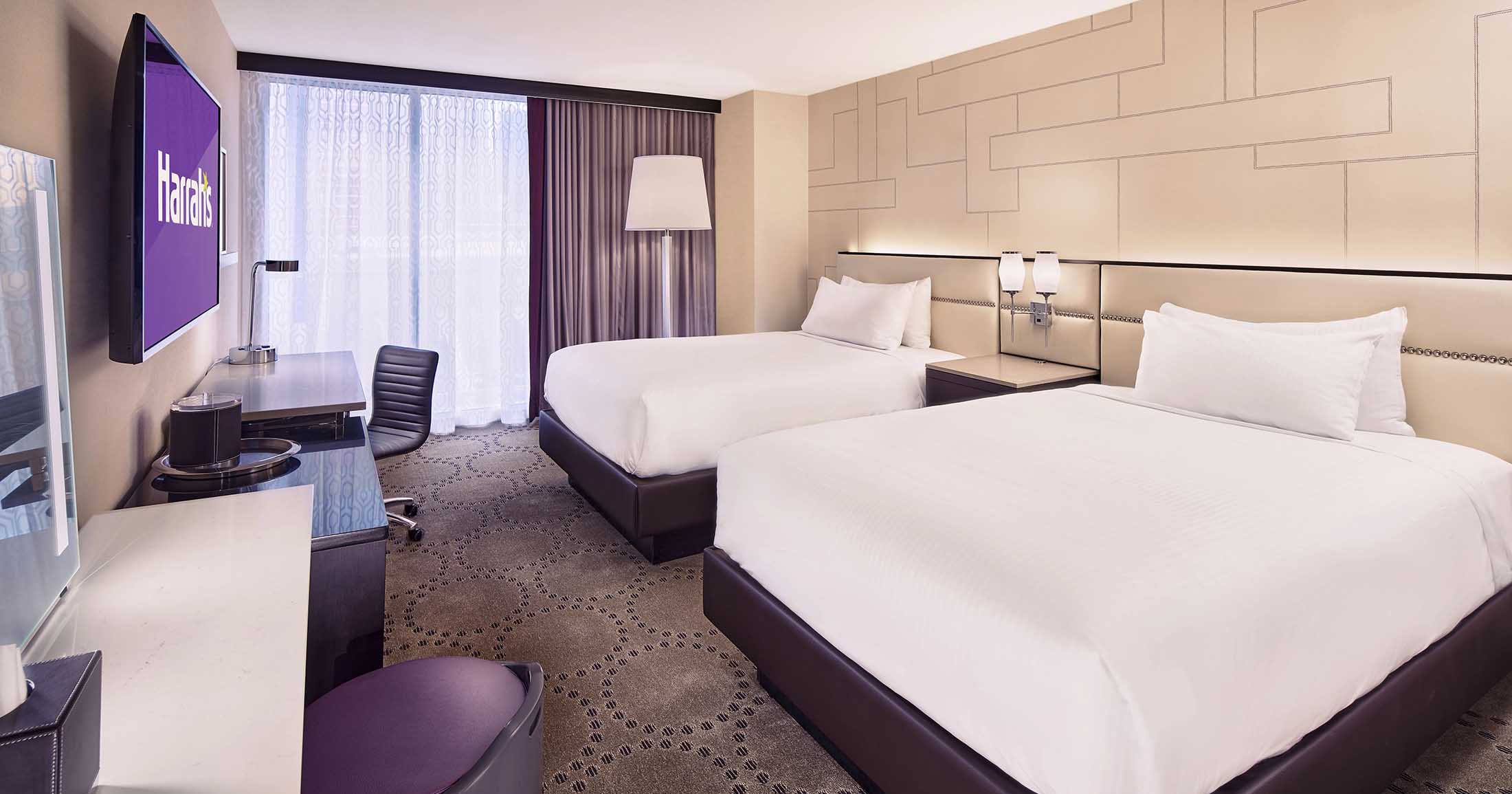 Harrah's is one of the older properties and it has gone through a lot of renovations, so the room types can really vary.
The smallest, for example, the Mountain Deluxe Queen, is just 280 sq. ft, although you're much more likely to be put in one of the Valley Deluxe rooms at 300 to 340 sq. ft instead.
There is plenty of scope for upgrades though, so don't be afraid to be bold at check-in.
Amenities are very standard fare for Las Vegas Hotels on the Strip too. There is the usual pool, spa, salon and fitness centre.
The gaming floor is deceptively large, and you can read more about that in our separate Harrah's casino guide.
Food and Drink
Harrah's doesn't have the array of sit-down high-end restaurants that some other Las Vegas hotels enjoy, but there is a good variety of options.
The top restaurant there is Ruth's Chris Steak House, which is a solid enough option for the meat-lovers, and Walk-Ons is a sports bar/restaurant hybrid.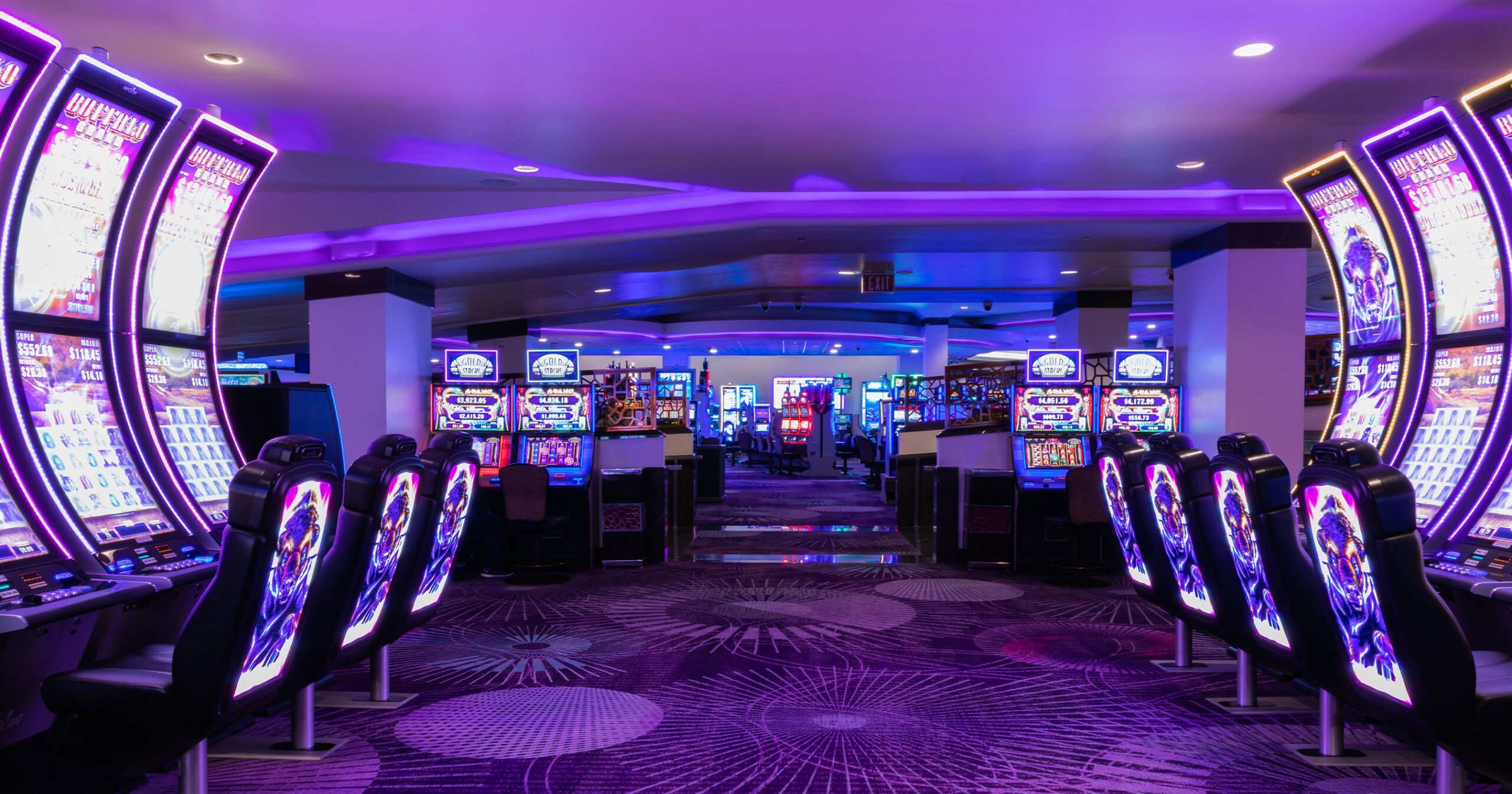 Where Harrah's excels is the quick and easy eats options. Pizza Cake is incredibly popular and with good reason, and Bobby's Burgers (Bobby Flay) can draw a crowd too. You also get an Oyster Bar if you're brave enough and a Food Hall.
Starbucks and Ben and Jerry's are in-house as well, and there is a McDonalds just next door.
Nightlife is brilliant in Harrah's and is focused around the south entrance to the property. There you will find the exceptional Piano Bar that has a variety of great performers and shows including a unique Elvis Pressley tribute act.
Just outside is the lively Carnival Court that is a hive of live music and bartender showmanship.
Shows and Attractions
Harrah's has a very good selection of shows, including a Las Vegas legend in Donny Osmond. He was with sister Marie at Flamingo for years, but he now has his first ever solo Vegas residency at Harrah's.
There is comedy in the form of the close-to-the-bone Menopause The Musical and the unusual comic stylings of Tape Face, who made his name on America's Got Talent. Showgirls are represented at Harrah's too in X Country.
In terms of attractions, though, it's all about the lively nightlife and Piano Bar and Carnival Court.
Harrah's Pool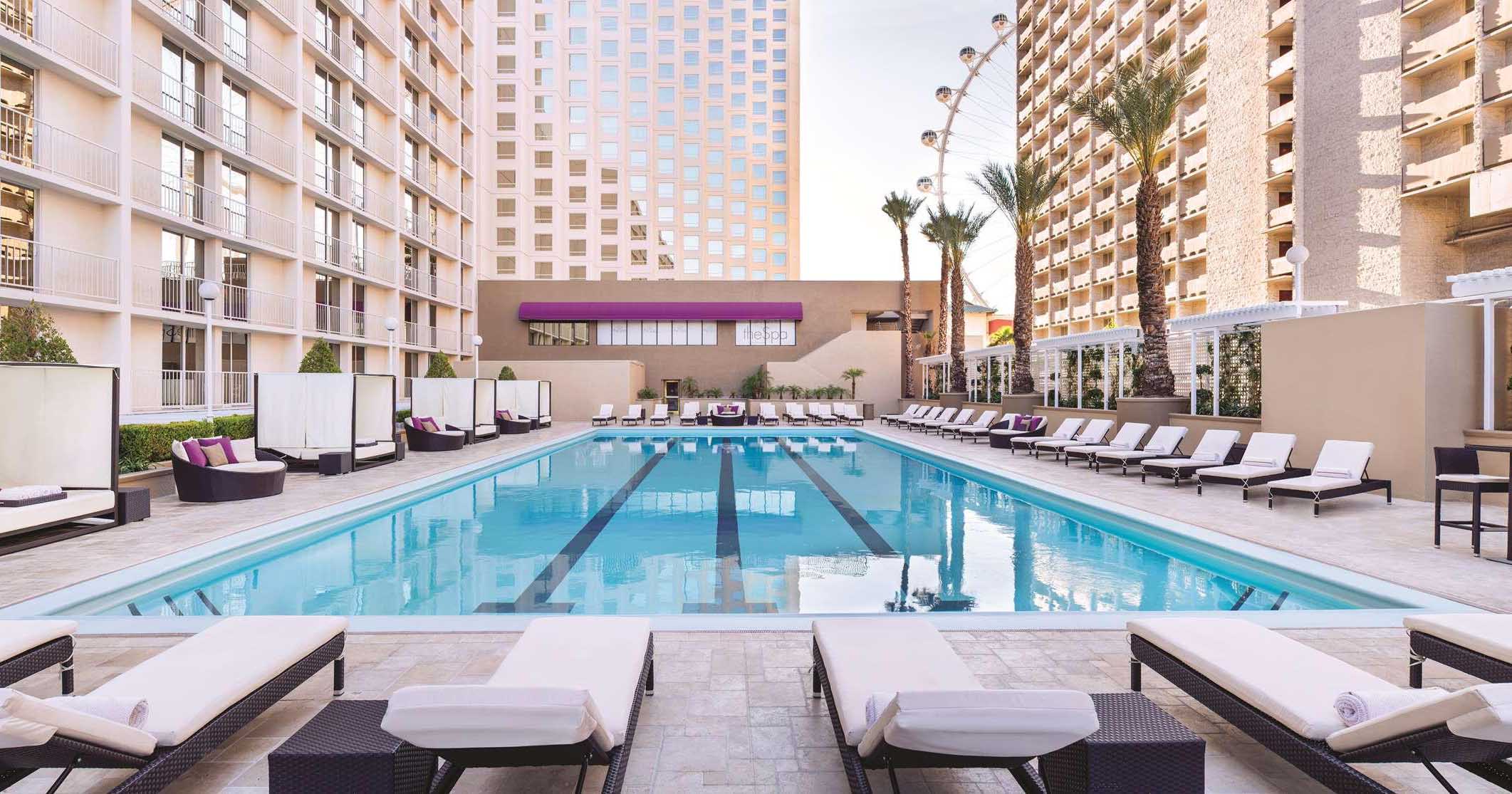 Harrah's has a pool, although it is not the sprawling complex that you can get at other Las Vegas hotels.
The pool is a large rectangular one that doesn't have any real outdoor sculpting, although that is really due to a lack of space.
That lack of space also impacts the amount of cabanas and daybeds that are for hire. They have them, but they are not as numerous and easily available as those at other properties.
The pool area is fine, really, but expectations should be managed too.
Conclusion
Harrah's is a good, solid and affordable hotel in a very good location that grants easy access to the resorts at the north end of the Strip.
Pros: The nightlife is brilliant fun and it has a good array of entertainment options too.
Cons: Small rooms by Vegas standards and unlikely to appeal to older guests.
Considerations: Harrah's is basically the Las Vegas hotels master of mediocrity. It's fine, but only fine. It won't disappoint, but it won't wow either. It's just very solid.