.There are few Las Vegas Hotels more synonymous with Sin City than the MGM Grand, and it remains one of the Strip's true icons to this day.
It is one of those properties that is impossible to miss with its emerald green exterior stylings – a rare remnant of the hotel's original yet long gone Wizard of Oz theming – and giant golden lion.
What, though, does the property offer guests today?
MGM Grand overview
Location: Strip (South)
Opened: December 1993
Last renovated: 2019
Number of rooms: 6,852
Gaming space: 171,500 sq. ft
Operator: MGM Resorts International
Permanent shows: David Copperfield, Jabbawockeez, Ka
Signature attractions: MGM Grand Garden Arena, The Hunger Games: The Exhibition, TopGolf
Known for: Being the place to watch the biggest Boxing bouts
Price guide: $$$
Location
MGM Grand stands in one of the corners of the busy Tropicana – Las Vegas Boulevard intersection at the south end of the Strip.
Tropicana, New York-New York and Excalibur are on the other corners, making it one of the busiest and best places to be in Las Vegas, certainly in terms of hotel guests if not sheer footfall.
That part of the Strip is especially good for sports fans, with both the Allegiant Raiders Stadium and the T-Mobile Vegas Golden Knights Arena very easily accessible from there.
Meanwhile, the volume of nearby MGM sister properties make it the best area of the Strip to be to make the most of your rewards card.
Getting around
MGM Grand is the start (or the end) of the Las Vegas Monorail, and that makes getting around from there incredibly easy. Guests should keep in mind, though, that it is not a free service. That said, a pass is definitely worth the money, especially if you plan on visiting the central and north parts of the Strip quite regularly.
Centre Strip, Mandalay Bay and the iconic Fabulous Las Vegas sign are walkable too from the MGM Grand, although in summer neither is especially advisable.
Add in a nearby stop for the Las Vegas Deuce bus and getting around from a base an MGM Grand becomes very easy.
MGM Grand Rooms and Amenities
MGM Grand arguably has the widest range of rooms and suites of any Las Vegas property, which is some going.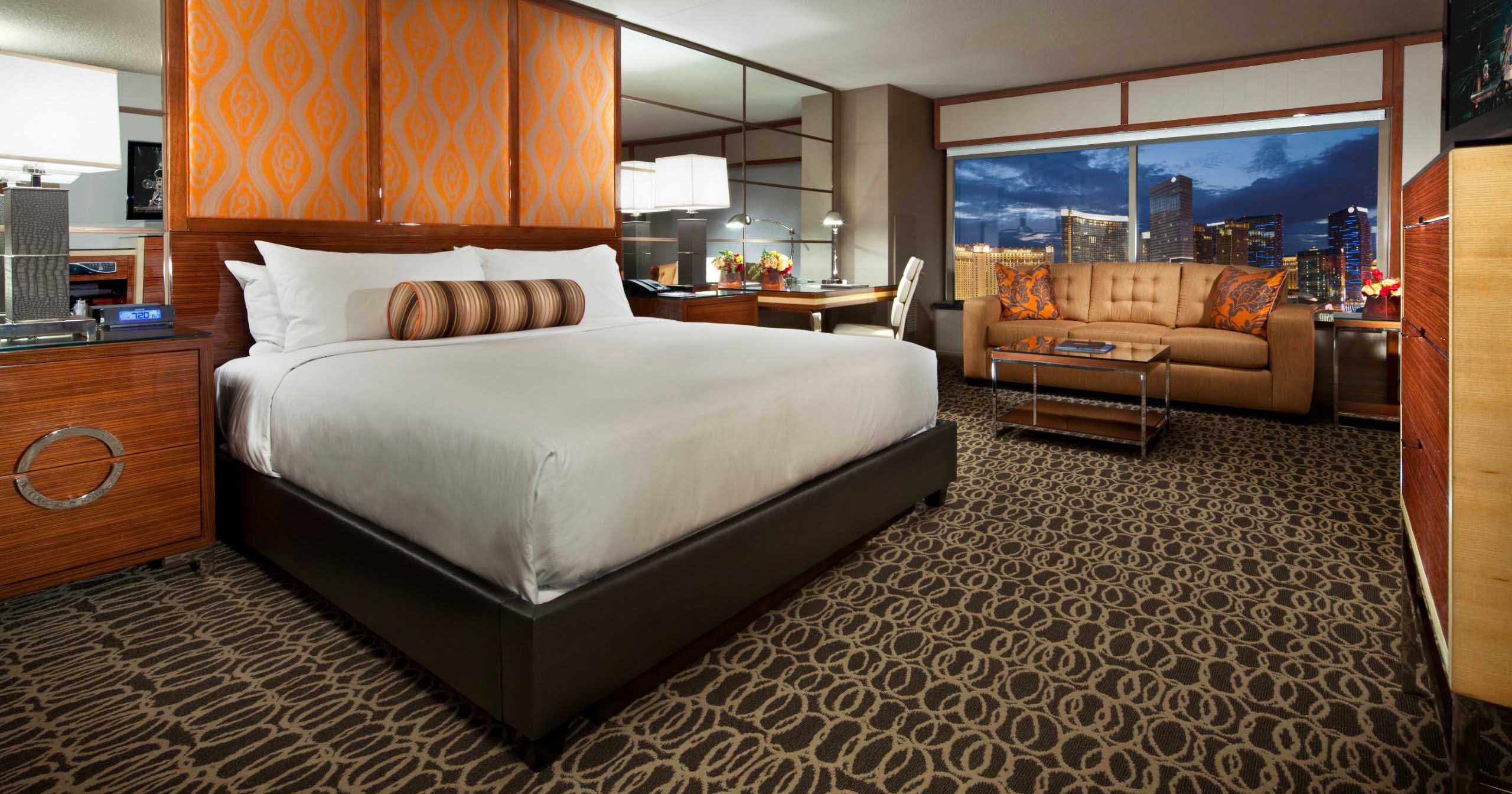 The most basic room, the West Wing King, is probably one to try to avoid, though. Despite a passable 350 sq. ft, it feels a little boxy by Las Vegas standards, largely due to a lack of much natural light.
The first upgrade level to the Grand King offers a big difference at 446 sq. ft and large windows.
One of the most attractive things about the MGM Grand is the abundance of suites. They start at a whopping 675 sq. ft and are very affordable. In fact, they are often included in comp offers for MGM Rewards members.
MGM Grand is also not short on amenities. It has one of the very best pool complexes in Las Vegas, complete with a lazy river. There is a fitness centre, a spa, a salon, and even a barber shop.
Hotel guests are also served by a concierge desk, which is no longer a given in Las Vegas.
For those who enjoy to gamble in Las Vegas, the MGM Grand casino is one of the biggest around.
RELATED READING: MGM Grand casino guide
Food and Drink
If dining options from named chefs is your thing, then MGM Grand is definitely going to be your kind of place.
There is French food by Joel Robuchon, Japanese cuisine by Masaharu Morimoto, steak by Tom Colicchop and a Wolfgang Puck Bar and Grill.
The named chefs just scratch the surface of the vast MGM Grand dining options, though. There is a Chinese restaurant too, and an Italian one, a BBQ place and a Southern Kitchen. For those less fussed, there is a buffet and a food court too.
Those seeking an active nightlife are also well-served, with the Hakkasan Nightclub the jewel in the crown.
There is also a sports bar, a whiskey bar, a country music bar, a comedy club, and two lobby bars.
Shows and Attractions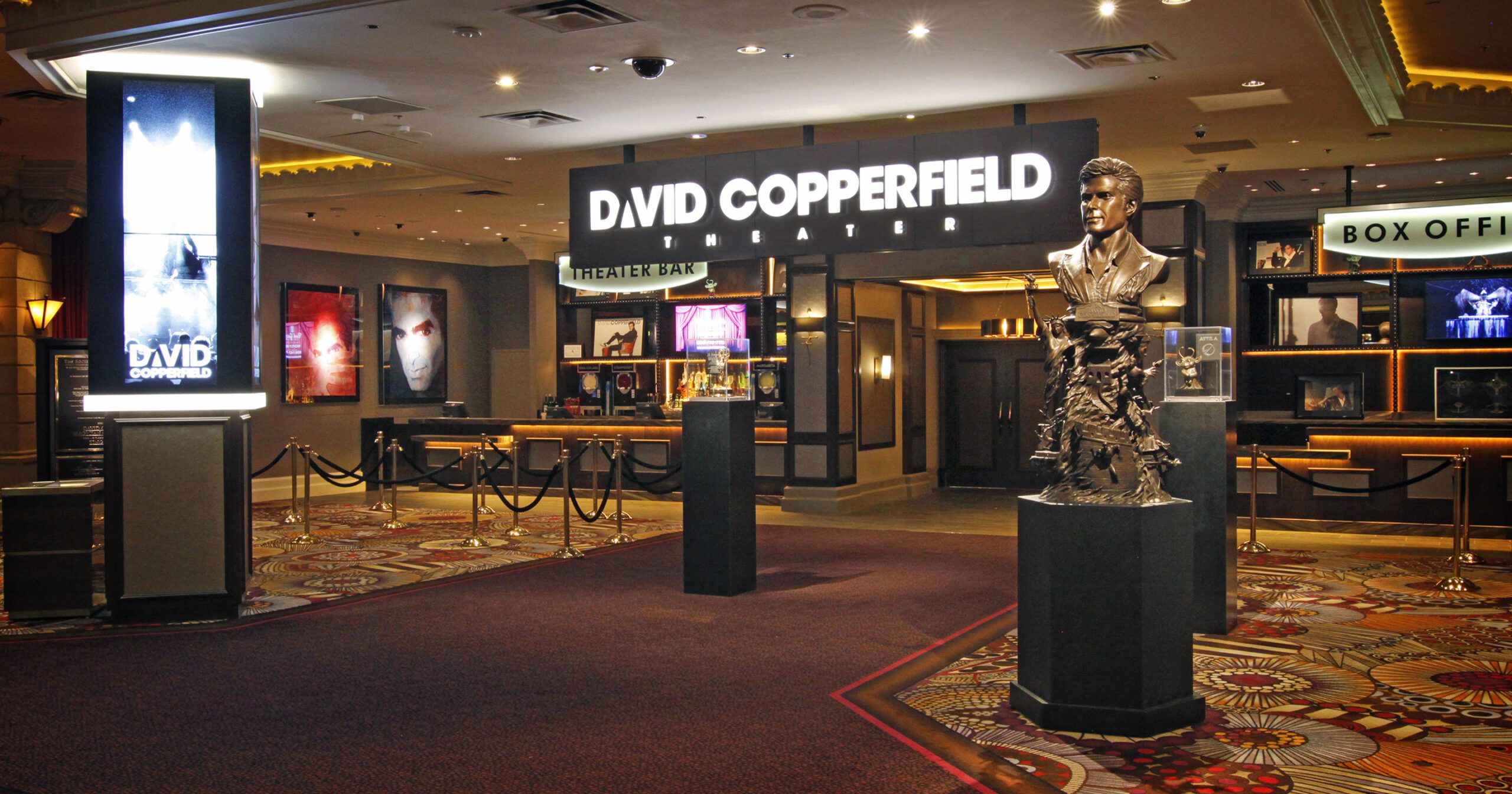 David Copperfield is veritable Las Vegas entertainment royalty, and he has made MGM Grand his home. He isn't as dramatic as some of the modern illusionists, but he will still leave you scratching your head. At this point, no Las Vegas checklist is probably truly complete without seeing him.
Cirque du Soleil is also represented at MGM with the Ka show, and Jabbawockeez have a residency too. The latter are tough to explain. Jabbawockeez is essentially a dance troop with a lot of modern special effects tossed in there.
MGM Grand have strong historical ties to the movie industry, and was initially themed around the Wizard of Oz. You won't find much evidence of that nowadays, you can still enjoy The Hunger Games Exhibition which explores the movie franchise.
TopGolf is also at the property. It is an attraction that attempts – and largely succeeds – to make a cool experience out of a driving range.
The Arena is definitely the biggest attraction, though, with it playing regular host to massive boxing bouts and events.
MGM Grand Pool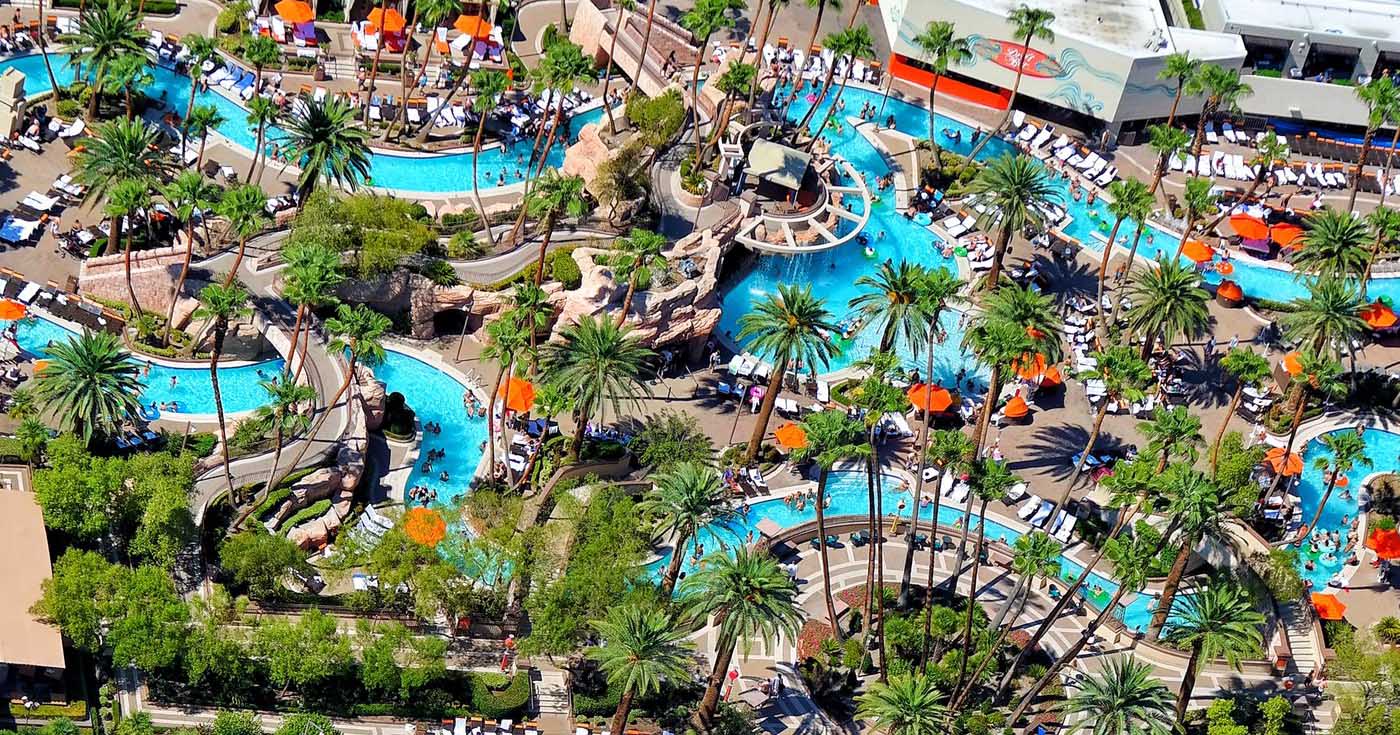 The 6.5-acre pool complex at MGM Grand is one of the very best in Las Vegas, without question.
There is a quarter-mile lazy river, several different pools, cascading waterfalls, poolside massages and plenty more to enjoy too.
MGM Grand make the most of it with one of the coolest pool party experiences in Las Vegas too – The Wet Republic Ultra Pool. If live DJ sets from big names, an open-air lounge and personal Jacuzzis and intimate plunger pools are your kind of pool party thing, then be sure to check it out.
RELATED READING: The best pools in Las Vegas and where to find them
Conclusion
MGM Grand is a Las Vegas icon and with very good reason. In terms of grandeur, the property has been surpassed by others on the Las Vegas Strip. However, it still offers a full experience at what is now a very reasonable cost.
Pros: Some of the best food options in Vegas, incredible pool complex, good location
Cons: The basic room is below the Vegas standard.
Considerations: It can be tough to find your bearings at MGM Grand. They layout is not especially logical to say the least.