The Las Vegas gambling scene has so many well-known and much loved casinos. The themed resorts in particular are what people remember when they think of the Strip. But can the older themed casinos keep up with the ultra-modern mega resorts of today? Lets take at look at Circus Circus casino.
Circus Circus casino has been present on the Strip since 1968, although it didn't originally include a hotel.
It is undoubtedly one of the most recognisable resorts in Las Vegas. The unmistakable Big Top and neon clown signage have been drawing crowds for over 50 years.
Originally marketed as a family resort, Circus Circus has maintained this reputation even today. How this family-friendly image fits with the gambling element of the casino though, can be difficult.
Nevertheless, the Circus Circus casino is steeped in history and full of character. In my opinion, it is a Las Vegas gambler must.
RELATED: Quick start guide to hitting the casino in Las Vegas
Circus Circus Casino overview
Total gaming space: 123,928 sq. ft
Rewards program: Circus Players Club
Number of Slot and video poker machines:  1400+
High Limit slots room: No
Table games: Blackjack, Roulette, Craps, Poker
Poker Room: No
Sports book: William Hill kiosk
Smoking: Yes
ALSO READ: LAS VEGAS HOTELS: Circus Circus review and guide
Situated to the north of the Strip, Circus Circus casino is positioned a little way out of the main stretch. For this reason, it can be a bit of a hike to get to, particularly in the desert heat.
The newest resort on the Strip, Resorts World, is positioned close by though, so this has helped Circus Circus feel less isolated.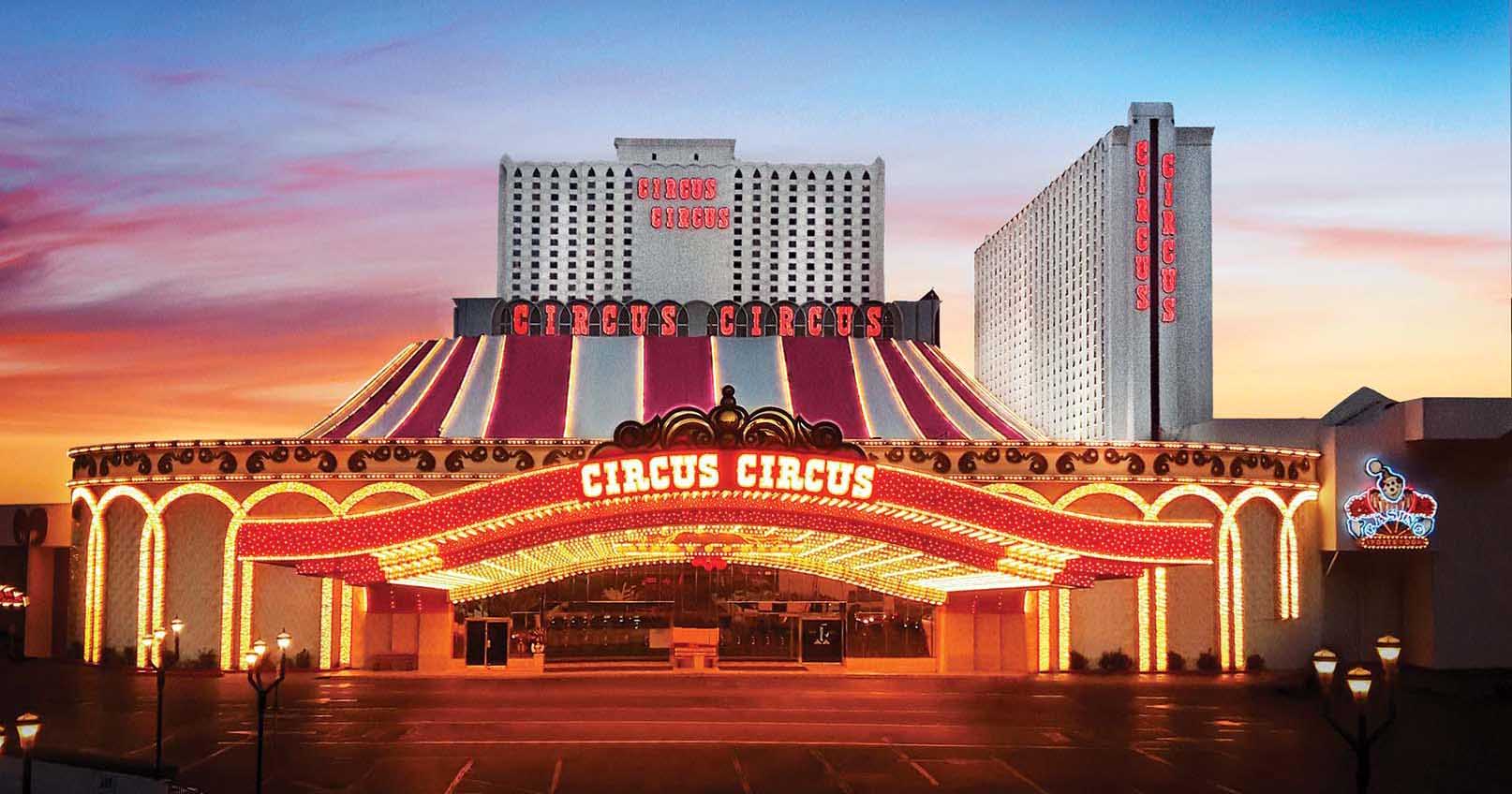 I might as well get this out straight away, if you're looking for an ultra-modern, classy Las Vegas gambling experience, Circus Circus casino is not for you.
However, if you want to experience some kitsch old-school Las Vegas history in action, then you're in the right place.
Circus Circus is a unusual mix of three casinos, an arcade, a circus, and a theme park all in one resort. it has almost a carnival or fairground feel rather than a casino one.
As well as all the usual casino slots and tables, there's a whole area of carnival games.  Here you can win a cuddly toy while live circus shows take place around you.
The casino attracts an eclectic mix of visitors, including families staying at the hotel, tourists wanting to visit and locals who enjoy the retro gambling. It is certainly not a place for the younger crowd or for those who want an exclusive Las Vegas gambling experience.
Gambling in Circus Circus casino
Circus Circus has a good sized casino space spread over three different areas. The main casino and west casino are in the main building and just outside is Slots-A-Fun.
Although the decor may need a little updating, you will find plenty of modern slot machines here. And with over 1400 to choose from, you'll have plenty of options.
But there's one thing that Circus Circus casino does better than a lot of other Strip casinos. And that's offering a wide range of good-old fashioned Las Vegas gambling fun on classic coin machines. You can play with $1 tokens in the Main Casino or try your luck on quarters at Slots-A-Fun.
Circus Circus also offers all the usual range of table games including Blackjack, Roulette Craps and Poker. And with 30 tables, there is usually space to play and reasonable table minimums too.
Just be advised that although the resort is family-friendly, Slots-A-Fun is strictly over 21's and can include some adult-entertainment.
Sportsbook and drinks service
As with all Las Vegas gambling, a complimentary drinks service is available to anyone who is gambling. As usual, this does fluctuate depending on how busy the casino is, but I've never struggled to get a drink here.
Circus Circus did used to have a designated Sportsbook, but not any more. A William Hill betting kisok is now as good as it gets for sports fans.
Rewards club
Circus Circus casino gamblers can enjoy the Circus Players Club.
As an independent resort, this does mean that you have to concentrate your spend on this one property to build your reward points.
The Circus Players Club doesn't have tiers, but you can earn various rewards such as free slot play, drinks and hotel stays as you spend.
RELATED: Las Vegas rewards clubs and how to make the most of them