In terms of sheer physical presence alone, the imposing Caesars Palace probably stands alone among Las Vegas Hotels.
It sits on the largest plot on the Strip and it is made up of several imposing towers and other buildings, all with a distinctive Roman theme.
Caesars Palace is a veritable Las Vegas icon and it comes with a price-point to match. You shouldn't begrudge them that, though. After all, there is no apostrophe in the name. It is not Caesar's Palace, it's Caesars – in other words, they seek to make everyone who stays there feel like an emperor themselves, not merely the guest of one.
Caesars Palace overview
Location: Strip (Centre)
Opened: August 1966
Last renovated: 2022
Number of rooms: 3,960
Gaming space: 124,181 sq. ft
Operator: Caesars Entertainment
Permanent shows: Absinthe
Signature attractions: The Colosseum, The Forum Shops
Known for: Its size and history and big music acts in residence
Price guide: $$$$$
Location
Caesars Palace, alongside Bellagio, is one of the two icons that dominate the centre of the Las Vegas Strip. They stand on neighbouring corners of the busy Flamingo – Las Vegas Boulevard intersection with Caesars the most northern of the two.
Caesars is actually so big that there isn't just one property opposite it. In fact, Cromwell, Flamingo, Linq and Harrah's are all located across the Strip from Caesars Palace, so you won't be short on neighbouring properties to visit.
The downside of the size of the hotel and casino is that rooms are set back from the Strip quite a long way, so it can be quite a walk before you even leave the resort.
Getting around
Once you complete the trek from room to Strip, getting around from Caesars is very easy.
There are pedestrian bridges that connect to Bellagio and Cromwell which grant easy access to a litany of other great properties and attractions on the Las Vegas Strip, including the fountain shows, the Eiffel Tower and the High Roller.
The more northern strip properties such as Mirage, Treasure Island and Venetian are also within comfortable walking distance. Getting to the properties on the south end of the Strip from Caesars Palace can be more challenging, but jumping on the tram to Park MGM from Bellagio, or the Las Vegas Monorail to MGM Grand from Harrah's/Linq will make the journey a lot easier on the feet.
Caesars Palace Rooms and Amenities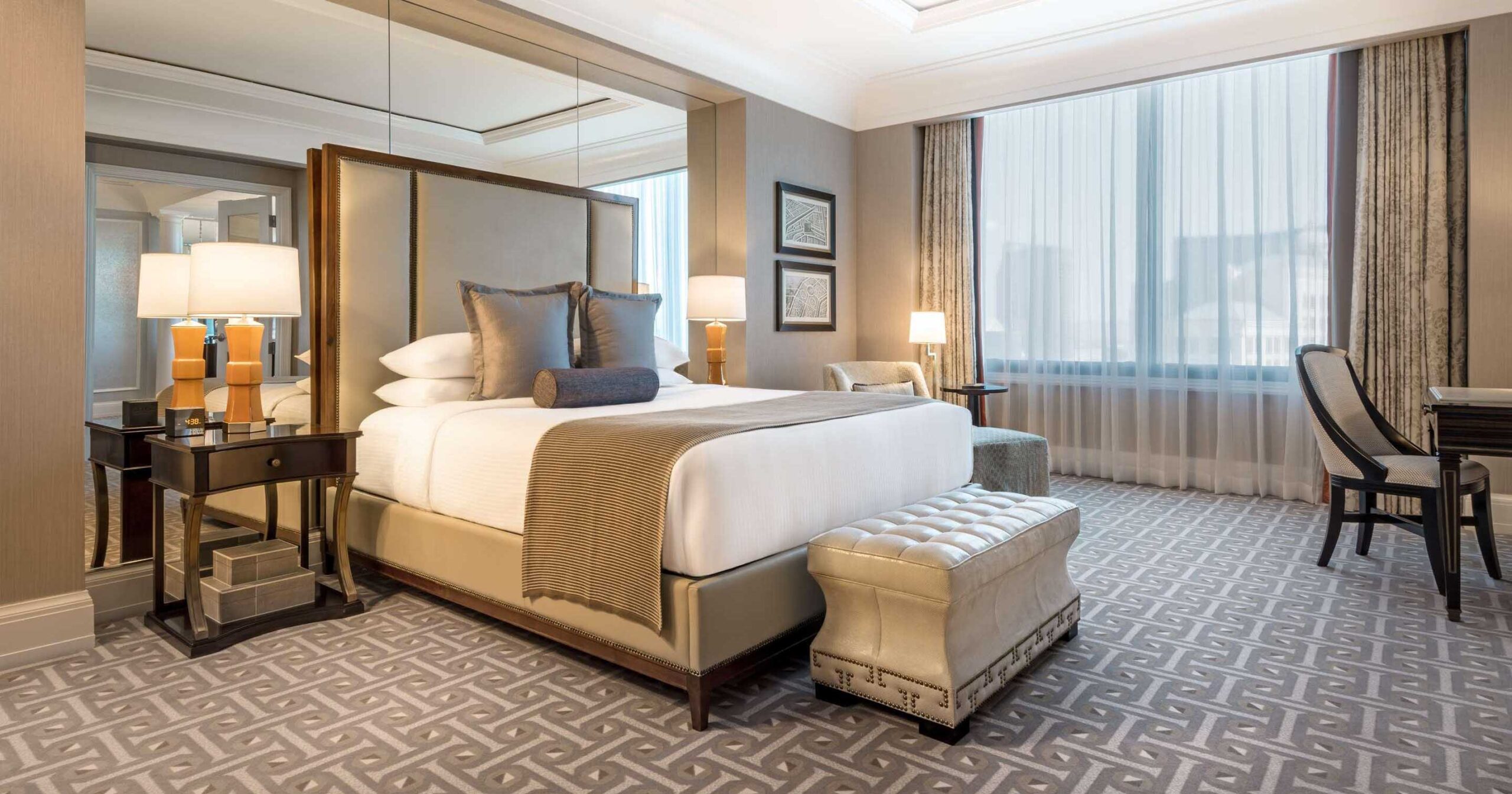 There is no such thing as a poor room at Caesars Palace, with even the most basic giving you 475 sq. ft and all the in-room facilities you're going to want.
Due to the different towers there is a lot of variation in terms of upgrades. Some of the rooms at Caesars have great Strip views although you will need to pay a little extra to get one of those, especially if you want to be overlooking the Bellagio fountains.
Resort amenities are plentiful too. There are a total of seven swimming pools available to guests as well as a spa, a salon and a fitness centre.
The gaming floor is very large, although some areas – especially around the tables area – is not the nicest place to be if you don't like being around smoke. You can read more about the Caesars Palace casino in our separate guide.
Food and Drink
Caesars Palace is the home of some seriously good food options. No matter your budget or tastes, you should be well served by the property.
The Bacchanal Buffet is widely considered to be the golden standard in Vegas, which is good going considering the competition. It is expensive, though, and queues are likely so factor that into your plans.
Gordon Ramsay is represented not once but twice at Caesars Palace. Hell's Kitchen – a restaurant themed on the popular TV show of the same name – is outside while inside you will find Gordon Ramsay's Pub and Grill. There isn't really that much difference in terms of price but the menus and atmosphere differ greatly.
Those who like Asian food can enjoy Mr Chow's Chinese restaurant and Japanese cuisine from Nobu Matsuhisa. There is a Beijing Noodle No. 9 for a more casual option too.
Amalfi caters to those with a hankering for Italian and the Old Homestead Steakhouse is a must for meat-lovers.
In addition, there are numerous small and cheaper restaurants and quick bites, including a full food court. The all-important Starbucks has a home in Caesars Palace too.
Shows and Attractions
The brilliant Colosseum makes Caesars Palace one of the best places to see headline acts in Las Vegas. Celine Dion previously had a long residency there, and Rod Stewart and Sting are there at the time of writing.
They also attract other big-name artists for smaller, limited runs so it is always worth keeping an eye on the entertainment page of their website.
Caesars also has Absinthe in a purpose-built tent and it is one of the most unique and enjoyable shows in Vegas. It isn't Cirque du Soleil, but it is of a similar styling and very much adult-only entertainment.
The other major attraction that Caesars has is the Forum Shops, which is a mall with a twist. No, literally… the escalators are spiral. Inside you will find retail outlets the suit all budgets and a lot of extra food options too. The Roman theme is continued throughout, and there is a free animatronic show to enjoy too.
Caesars Palace Pool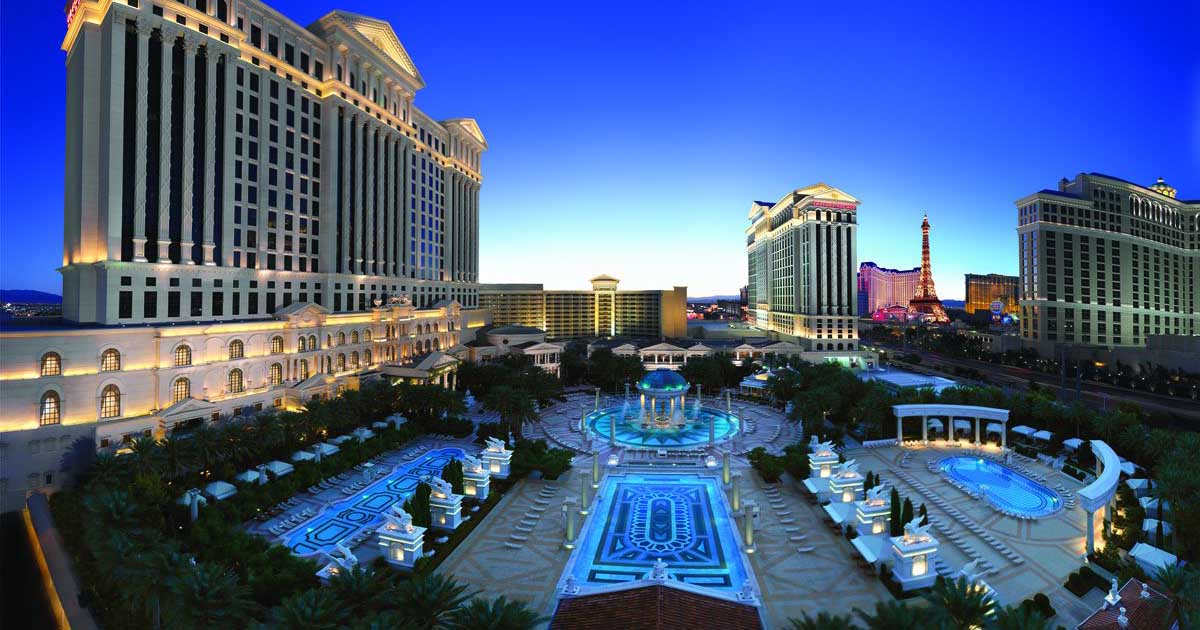 The Caesars pool complex is absolutely sprawling and definitely one of the best in Las Vegas.
Named 'The Garden of the Gods,' there is the Temple Pool, the Venus Pool, the Furtuna Pool, the Neptune Pool, the Apollo Pool, the Jupiter Pool and the Bacchus Pool.
Guests can enjoy pool-side spa treatments and drinks, and there are four swim-up blackjack tables as well as the usual array of cabanas and daybeds for hire.
Conclusion
Caesars Palace is a cultural Las Vegas monolith, both historically and in the present day. It's enormous physical presence makes it impossible to ignore, and why would you even want to?
Pros: Great shows if you're a music fan and you are unlikely to find better food options anywhere in town.
Cons: Although the casino is large, some find it a little dark and smoky for their tastes. It can take a while to get from your room to the Strip, too.
Considerations: Ceasars Palace is enormous and it is a flagship property of one of the biggest gaming companies in the world. That means it can get busy. Most will either love that or be fine with it, but if you're looking for a quieter experience it may be best to consider other Las Vegas hotels.