Circa is a genuinely groundbreaking property among Las Vegas hotels because it brought a Strip-style resort to the Downtown area.
In terms of sheer size, of course, it can't compete with the Strip. That is really just down to the fact Downtown have less land to work with than their strip counterparts.
However, the high-end feel, incredible looks and top-class amenities are top class and in Circa has even managed to bring some genuinely unique new attractions to Las Vegas, which is almost unheard of when talking about a Downtown property.
Circa overview
Location: Downtown
Opened: October 2020
Number of rooms: 512
Gaming space: 80,000 sq. ft
Operator: Derek Stevens
Permanent shows: None
Nearby attractions: Fremont Street Experience, Stadium Swim, Sportsbook
Price guide: $$$$
Location
Circa is located at the western entrance to the Fremont Street experience, just across Main Street from Plaza.
It is the tallest and most striking building in the whole Downtown area, making it the most visible of all the properties on and around Fremont Street.
Sister property Golden Gate is opposite, while Binion's is its next-door neighbour. The amazingly-name Circa parking lot, Garage Mahal, is across the road and connected via a pedestrian bridge.
Getting around
Circa is a good place from which to get around the whole Downtown area, even though it is located on one end of the Fremont Street experience.
El Cortez and the Container Park are probably the Downtown places of interest furthest from Circa, but they are no more than five to ten minutes away on foot.
The Fremont Street Experience, and it certainly is an experience, is right on your doorstep at Circa, and the property definitely sits at the end of the street that you want to be.
One place you won't be able to walk to is the Las Vegas Strip, but the regular Deuce Bus will get you there, as will a short taxi ride.
Circa Rooms and Amenities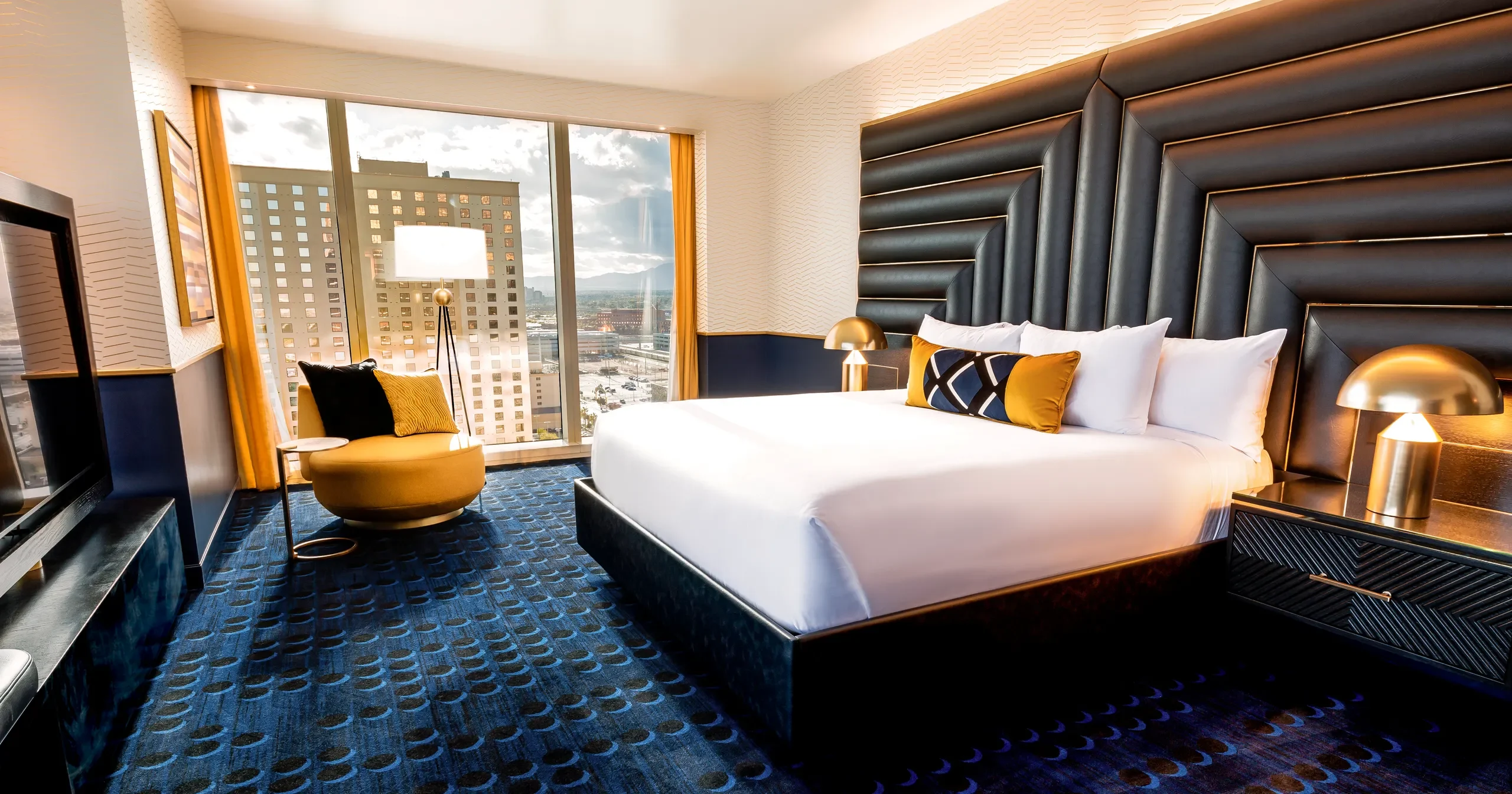 Rooms at Circa are just not going to disappoint. They are brand new and brilliantly finished to an exceptionally high standard. In fact, they are the equal of any in Las Vegas.
If you stay at Circa you are guaranteed to get at least 439 sq. ft of space and most come with great views too.
Suites are available as well if you are lucky enough to get an upgrade, and they are even better. Basically, Circa is as good as anything in Las Vegas, except maybe the very high-end luxury Strip resorts, and better than most.
Amenities are not lacking either. Circa has arguably the best pool in Las Vegas, as well as a gym, concierge service and a huge casino.
RELATED READING: Circa casino guide
Food and Drink
Dining options at Circa are very much next level too. Barry's offers a unique blend of vintage hospitality and modern innovation to produce a steakhouse to rival any other in Las Vegas.
Victory Burger is an excellent casual dining option that I would really recommend. Not only is the food quality, but it has an extensive range of draft beers.
An Asian option is provided by East 8 and Saginaw's Delicatessen will have a sandwich for every taste. Project BBQ is a food truck that serves pork, chicken and brisket to revelers on the Fremont Street Experience.
Circa also provides the longest outdoor bar on Fremont, but even that feels small compared to the incredible Mega Bar inside. Vegas Vicky's is another good bar inside the property.
There is no doubt, though, that the place to be at Circa is the Legacy Club. The exclusive rooftop bar has a vast array of cocktails and rooftop drinks beside firepits with incredible views of the Las Vegas Strip.
Shows and Attractions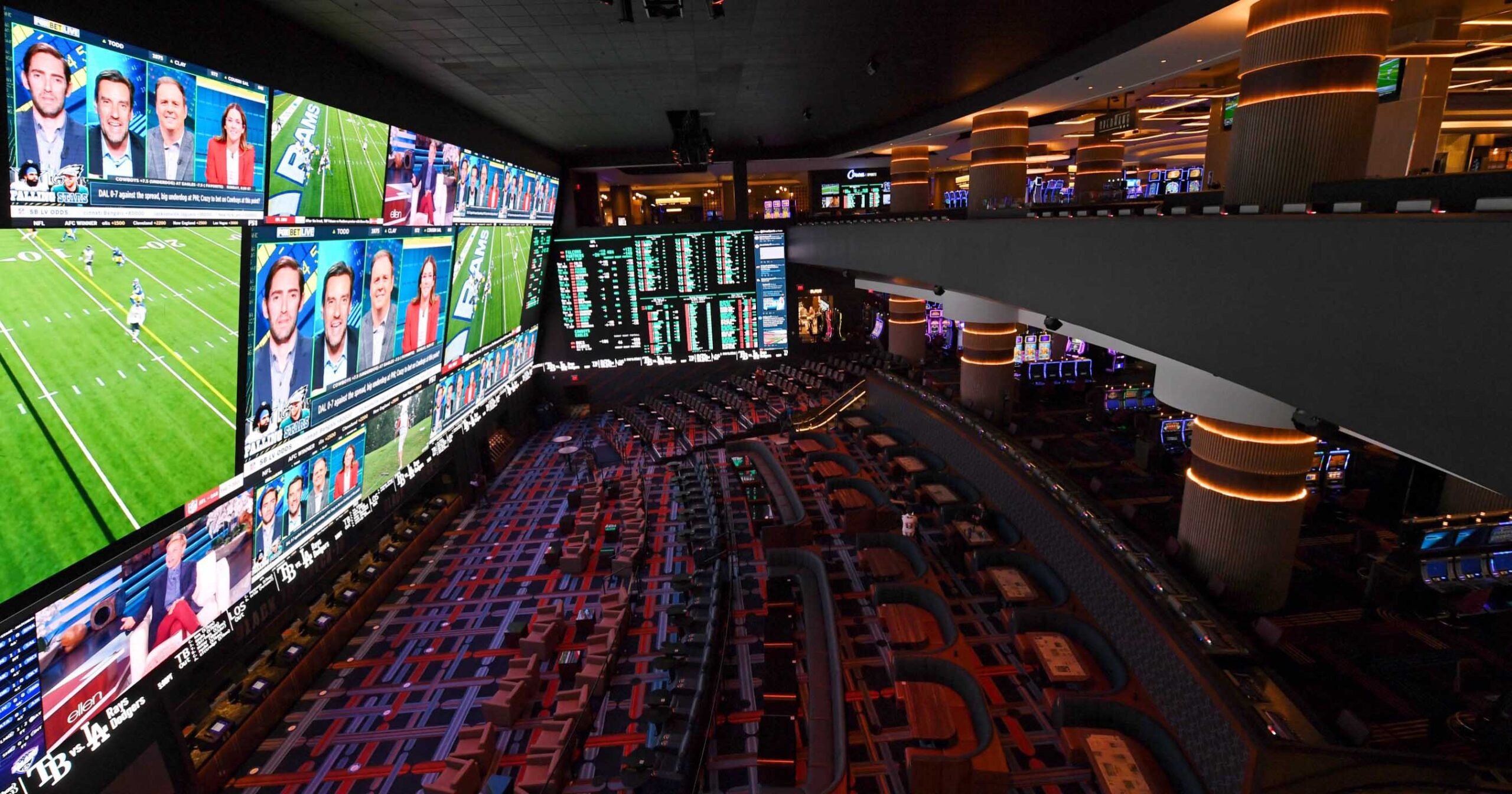 Circa does not have any permanent shows, but it really doesn't need them either given it's two big attractions.
The Circa Sportsbook is so impressive you must see it to believe it. That is not something I say lightly, but it really is that impressive.
The screens are fully two stories high and it has a lot of premium seating from which to watch the action.
Circa Pool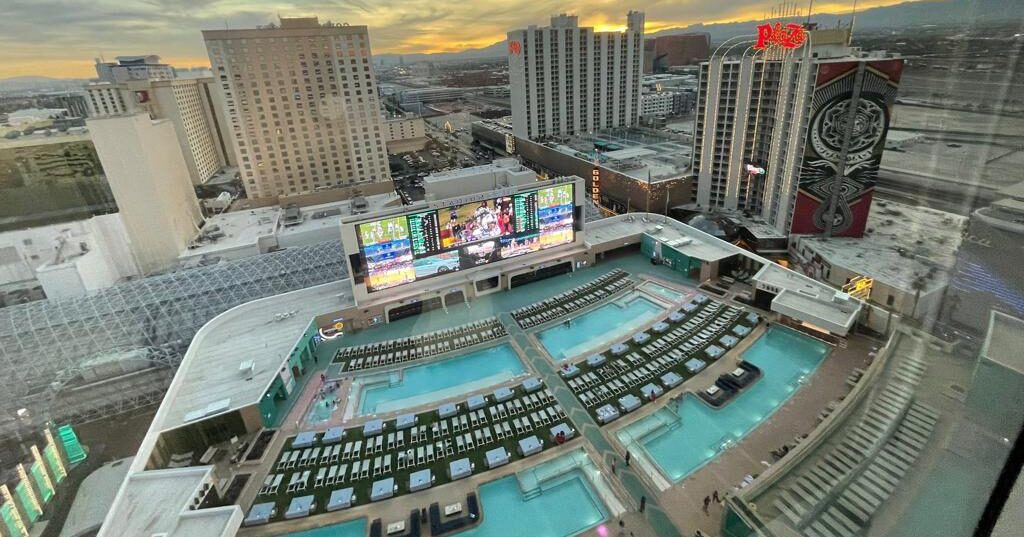 The Circa pool, Stadium Swim, is one of the best spectacles in Les Vegas. It is a large pool complex dominated by an enormous video screen which shows sports and surrounded by booths to bet on the action.
It is a premium attraction, and you won't get in unless you are a Circa guest, or a guest at sister property The D.
However, you really can't begrudge them that. For starters, that guests-only policy is largely standard with regard pools in Las Vegas nowadays, but mainly because it really is that good that it would be overrun if thrown open to the public.
RELATED READING: The best pools in Las Vegas
Conclusion
Circa is the newest of the Las Vegas hotels Downtown and it is a genuinely special addition. It has quickly established itself as a dominating presence and it will remain so for decades.
It is a Strip quality hotel right on the Fremont Street Experience. What more could anyone want than that?
Pros: Brilliant modern with a high-end feel with great attractions and an exceptional location.
Cons: It is a lot more expensive than other hotels Downtown.