One of the things we get asked most often is when is the best time to visit Las Vegas for great weather. So, what can you expect from the weather in February and will it be a good time for you to hit the Strip?
February is definitely one of the quieter times of the year for visitor volume. That is not to say it is necessarily a bad one, but if you're going for the weather there are better options.
Let's have a closer look at the Las Vegas weather in February.
High temperature: 17C/63F
Low temperature: 4C/39F
Day temperature: 14.2C/58F
Night temperature: 11.1C/52F
Sunshine hours: 9
Rainfall: 11.4mm
Rainfall days: 6
What to expect from the Las Vegas weather in February
When you think about Las Vegas, you think of the long, uncompromisingly hot days of summer with blue skies barely obstructed by a cloud, never mind rain.
You're not going to get that if you visit in February, though. In February, you're going to need your trustiest hoodie.
I'm not sure I would personally go so far as describing the weather as 'cold,' though. It largely depends upon the individual, I suppose.
It's definitely mild and, although you will still get some very pleasant days, for the most part you are not going to need your shorts.
RELATED READING: Five Las Vegas must-do's for first-time visitors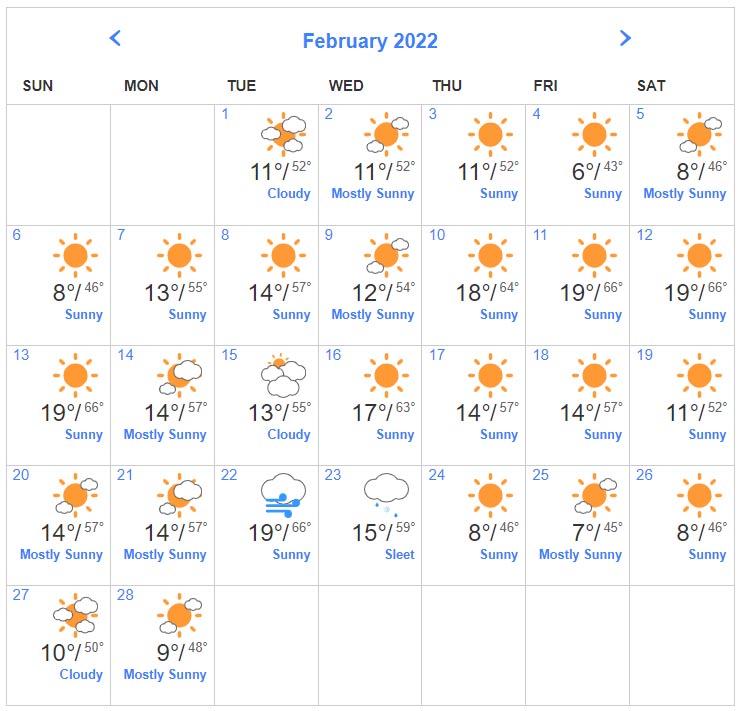 How likely is it to rain in February?
Rain is not uncommon in Nevada for February, and in fact there is even an occasional sleet shower too.
Around 20% of days in February see rain, so you will be very lucky to avoid it during your vacation.
That can sound misleading, though. Rainy days in Las Vegas are not the same as those in the UK, for example. Showers come and then pass pretty quickly.
RELATED READING: Top Las Vegas tips for first-time visitors and beginners
Humidity
Las Vegas is in the desert, so humidity is never really going to be a problem. For me personally, that is a big part of what makes the weather so good there.
It's a very dry heat generally, and it's very rare that the humidity climbs above 66% across the course of the whole year.
February is one of the more humid months. It never reaches uncomfortable levels of humidity, though.
What to pack for Las Vegas in February
Most of the pools at the hotel resorts will be closed in February. There are some that have heated pools and remain open, though. Check with your hotel if they are one of them. If not, you can save some room in your suitcase by leaving your swimwear at home.
February in Las Vegas is definitely jeans and a hoodie kind of weather. You can occasionally ditch the latter, though.
Some evenings will require a jacket as it can get quite chilly once the sun goes down.
One of the issues that does often come up in the dry heat is dry skin or lips. That's why it's often recommended to pack a lip balm/chapstick. Don't worry if you don't though, almost every gift shop or convenience store have them to purchase.
RELATED READING: Best Las Vegas pools: Eight must-book hotels for swimmers and sunbathers