The decision of where to do your Las Vegas gambling can be a tricky one when you have so much choice. Although some like to try out the new, trendier casinos, many prefer to stick with the old classics. So, what can you expect from Bellagio casino?
Is there anything more Vegasy than gambling at the Bellagio casino? Some may say Caesars I suppose, but for me it will always be Bellagio.
Call it the Oceans Eleven-effect if you want, the filming of which mostly took place at Bellagio for six months back in 2001 with a star-studded cast, and the resort features heavily in the movie.
But before I even visited Vegas for the first time, I pictured myself gambling at the Bellagio and let me assure you, it does not disappoint
RELATED: Quick start guide to hitting the casino in Las Vegas
Bellagio Casino overview
Total gaming space: 156,000 sq. ft
Rewards program: MGM Rewards
Number of Slot and video poker machines:  2300+
High Limit slots room: Yes
Table games: Baccarat, Blackjack, Roulette, Craps, lot of variations of poker
Poker Room: Yes
Sports book: Bet MGM
Smoking: Yes
ALSO READ: LAS VEGAS HOTELS: Bellagio review and guide
Las Vegas gambling at Bellagio is, for me, a must-do of Sin City.
With one of the biggest casino floors in Las Vegas surrounded in the elegance and beauty of the classic Italian themed interior, there is just something special about Bellagio and its atmosphere.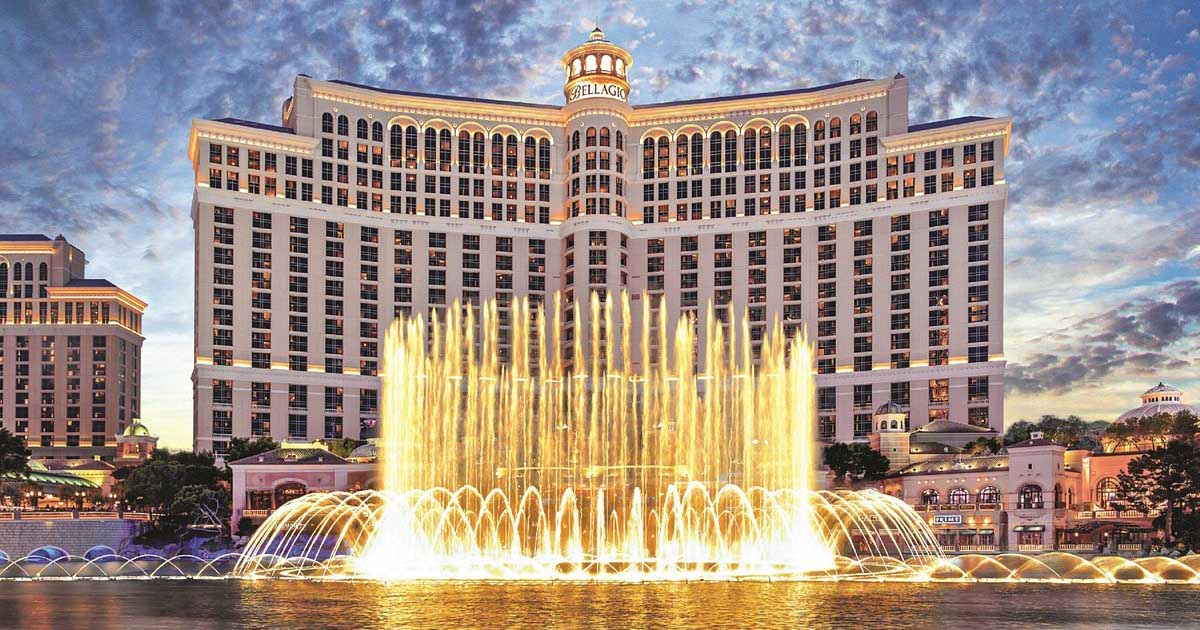 Gambling at Bellagio casino
With over 2300 slot machines, you can take your pick from all of the variety on offer and all in a spacious setting so you don't have to worry about being cramped.
Slots range from some of the older classics to the most modern you will find in Vegas so there's something for everyone.
Bellagio casino is a large bright space and is interweaved with bars and restaurants giving it a lively feel day or night.  The casino is almost broken into little pockets of gambling areas with a main walkway through the middle. It leads all the way from the impressive hotel lobby to the exclusive shopping area heading to Caesars.
Although sophisticated and elegant in design, this is still a very welcoming and inclusive casino. So, if you prefer to do your Las Vegas gambling wearing something a little more casual that is perfectly fine.
There is plenty of choice when it comes to table games, with the main stretch of tables coming either side of that afore-mentioned walkway.
All of the expected variations of Baccarat, Roulette and Blackjack are on offer but it is rare to see low-value table minimums at Bellagio. Premium property, premium cost.
Bellagio is a fantastic option for those who prefer their Las Vegas gambling in the form of Poker.
The Las Vegas poker room is one of the stops on the famed World Poker Tour with 7,000 square feet housing 40 tables and not one, but two, high-limit areas. This smoke-free room includes 24-hour tableside dining, overhead state-of-the-art music system, eight 32″ television monitors, and 11 42″ plasma screens.
Sportsbook and drinks service
As with all Las Vegas gambling, a complimentary drinks service is available to those spending on the casino floor. From my experience, despite its size, Bellagio has one of the best waitress services on the Strip.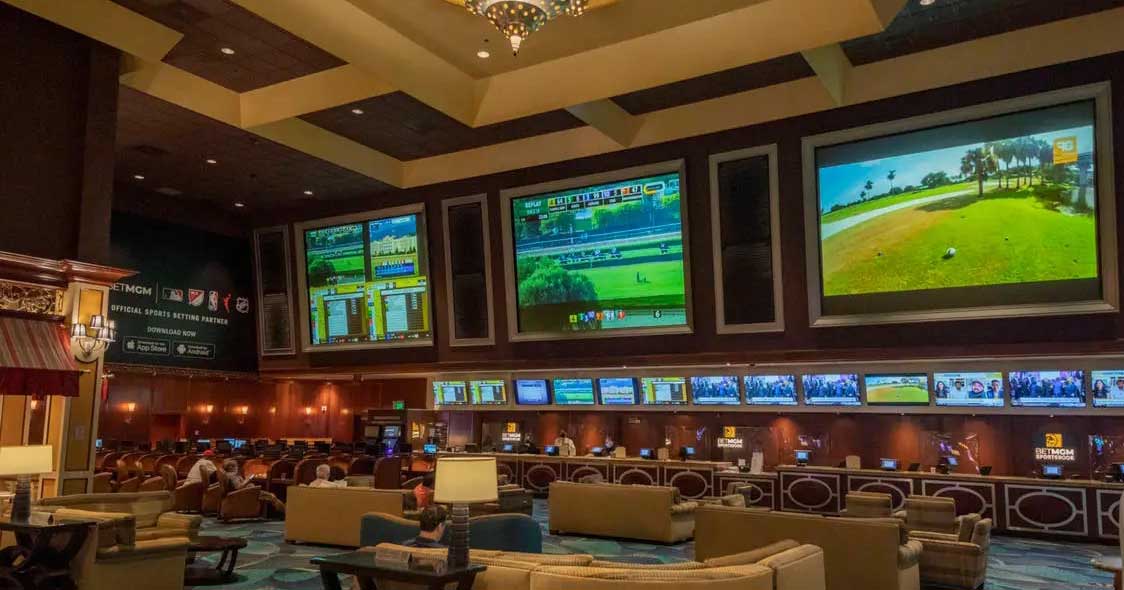 Another positive of the Bellagio is that they offer a more premium drinks range to some of the other casinos so don't be afraid to ask for Prosecco or even Champagne. My favourite day drink here is Angry Orchard cider and its the only casino that now offers it on a complimentary basis when gambling.
If sports is where you prefer to get your Las Vegas gambling fix, then Bellagio has an expansive Sportsbook. There are 99 individual monitors, seven large screens for racing, six large screens for sports. There are also 38 flat screens in the attached sports bar. You certainly won't miss any of the action.
Rewards club
The Bellagio casino is part of MGM rewards, which is one of the best and biggest in Las Vegas.
With Mirage changing hands, Bellagio is the most northern of the MGM resorts on the strip. However, it has easy enough access to its sister properties.
RELATED: Las Vegas rewards clubs and how to make the most of them