While the Strip is the definite tourist trap, Downtown Las Vegas is somewhere that all visitors to the city should make sure they check out.
To be fair, when you see Las Vegas in movies or TV its usually portrayed as the Strip, even when it sometimes isn't. When you think of the most iconic landmarks, it's usually the themed hotels or the Bellagio fountains.
Downtown Las Vegas is something that's actually quite contradictory.  Firstly, it is the closest you will come to finding the old Las Vegas of yesteryear. It is much more than that, though. You'll actually find some of the most high-tech and modern experiences anywhere in the world, all mixed together with a party atmosphere like no other.
Confused? I'm not surprised. Intrigued? I hope so. Here is my take on why visiting Downtown is an absolute must for any Las Vegas visitor.
Fremont Street Experience
Let's start with a biggie: the Fremont Street Experience. This to me sounds like it should be a show or an adventure activity that you'd buy tickets for but it's actually none of those, it's much more.
Fremont Street Experience is a stretch of land which incorporates several casinos and hotels, many bars, three live music stages, street entertainers and an over-head zip wire all underneath a canopy featuring the worlds largest digital display.  I know, right!
The Viva Vision digital screen is a genuinely impressive spectacle. It boasts 16.4 million brilliant pixels 90 feet above Fremont Street is 1,375 feet long. There are nightly light shows on the hour, every hour, from 6pm to 2am.
The Fremont Street Experience is completely free, so you can spend the evening just soaking in the atmosphere, watching live bands, drinking at the bars and moving in and out of the casinos as much as you want. It is undoubtedly one of my favourite places in the world.
Old-school Vegas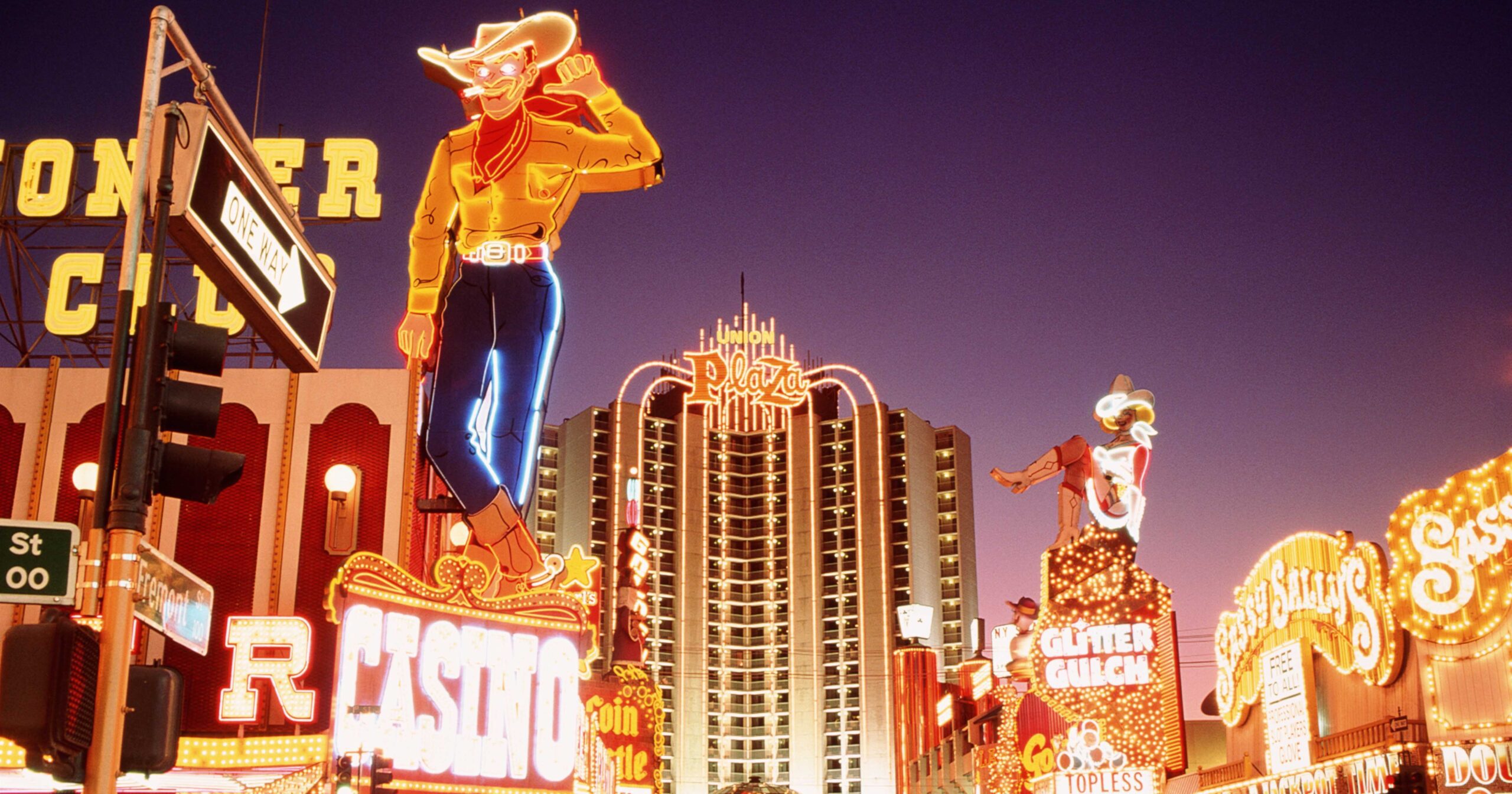 If you want to experience the closest thing you can to the Vegas of yesteryear then Downtown is the place to be. In fact, Downtown was the Vegas Strip before the Strip as we know it today even existed.
The Golden Gate was originally established in 1905 as the Miller Hotel (also at the time known as the Hotel Nevada), and still proudly sits at the top of Fremont Street.
Meanwhile El Cortez, build in 1941, is just a couple of minutes walk from the Fremont Street Experience, while the Golden Nugget, right in the heart of Fremont, was considered the first big large casino of its kind in Las Vegas when it opened in 1946.
Just beside the Golden Gate registration desk, you can see little known artefacts on display, including gaming ledgers from the early 1900s and vintage chip racks.
And don't forget to check out the Vegas Vic neon sign which has been a permanent fixture of Downtown Las Vegas since 1951.
Live Music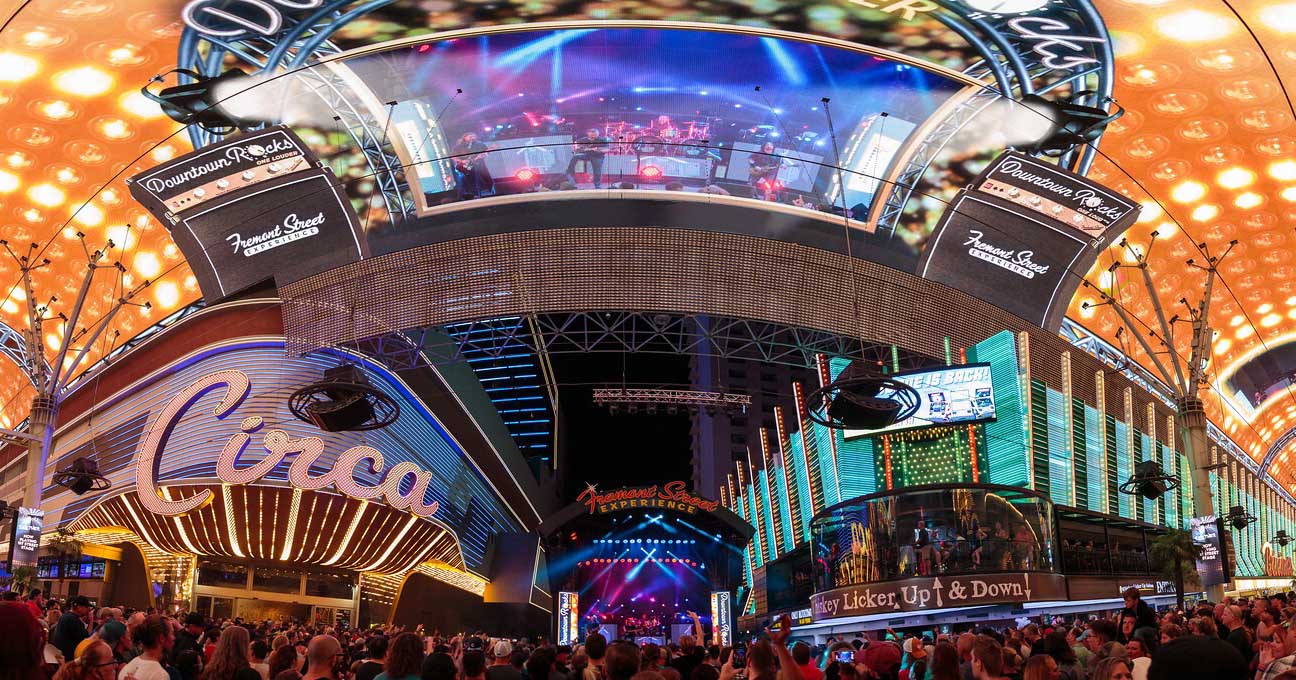 Fremont Street offers not one but three separate free music stages all under one roof, well, canopy.
Each stage has non-stop rotating live bands that play a range of well-known covers, mostly pop and rock classics. They start at 6pm each evening and it creates a party atmosphere from the minute you hit Fremont to the minute you leave.
Each stage usually gets a lively crowd too, and it can be lots of fun people-watching as they let their hair down and treat the street like an open-air dance floor.
Downtown also hosts a series of special music events with guest stars called Downtown Rocks. These free events can get really popular and can restrict movement around Fremont Street so check out the Vegas Experience website for full details of their calendar.
Incidentally, 6pm is also when everything else comes alive Downtown including the 'unique' street entertainment that frequents this area. These entertainers can be everything from dancers, magicians, musicians, muscled men, Vegas showgirls or something a little more risqué. A note to parents: this can be close to the bone decency wise, especially later in the evening, so just be aware.
Downtown Las Vegas Casinos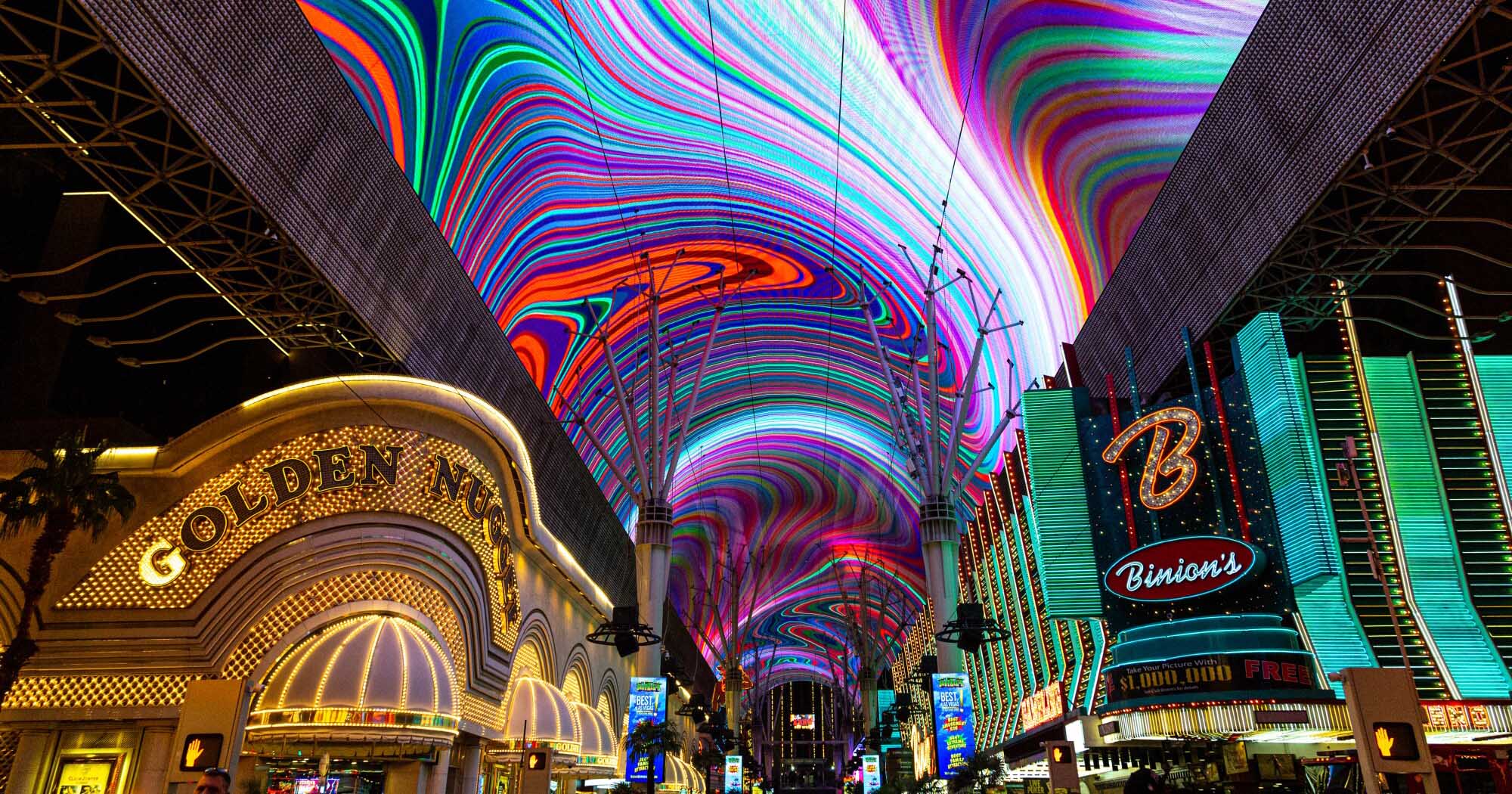 One of the main criticisms you will hear about the Las Vegas Strip is how hard it is on your feet. In fact, one of the first must-packs for any Vegas visitor is comfortable shoes.
However, come to Downtown Las Vegas and this isn't a concern. Here you will find 12 casinos all within a 10 to 15 minute walk of each other. You can literally go door-to-door casino-hopping in some of the landmark casinos that helped to make Vegas what it is today.
Starting just east of Fremont is El Cortez, then within two or three minutes walk you will reach the canopy where you will find The D, Four Queens, Golden Nugget and Golden Gate on the left and Fremont Casino, Binion's and Circa on the right, while Plaza stands proud at the top end.
Just along from Plaza is Main Street Station and The California, with its incredible Neon signage. Both are just a few minutes walk away from the Downtown Grand.
All of these 12 casinos have something different to offer, yet all add something to the fabric of Las Vegas. If you miss them casinos out of your Vegas experience, you are missing a trick.
Great Downtown Las Vegas Food and Drink
Food and fine-dining is much more the Strip's territory rather than Downtown Las Vegas. However, that doesn't mean that you can't find loads of great restaurants and some real gems there too. In fact, two of my favourite places to eat and drink are Downtown.
Plaza Hotel and Casino, situated right at the head of Fremont Street, has Oscar's Steakhouse which has spectacular views over the Fremont Street canopy and its quality and service are second to none.
Meanwhile, my favourite bar has to be Whiskey Licker-Up. It is situated inside Binion's Casino and overlooks the centre stage at Fremont Street.
Not only does this bar serve great food and beers, but it rotates. You can sit and watch the world go by on Fremont Street below with a kick-ass soundtrack from the stage. I can literally spend hours in this bar, and often do.
Downtown Las Vegas has a few great speakeasies to explore too. They include The Laundry Room, the Underground and a home-grown microbrewery right in the middle of Fremont called Banger Brewing. They are all worth checking out for a unique drinking experience.
The largest sportsbook screen in history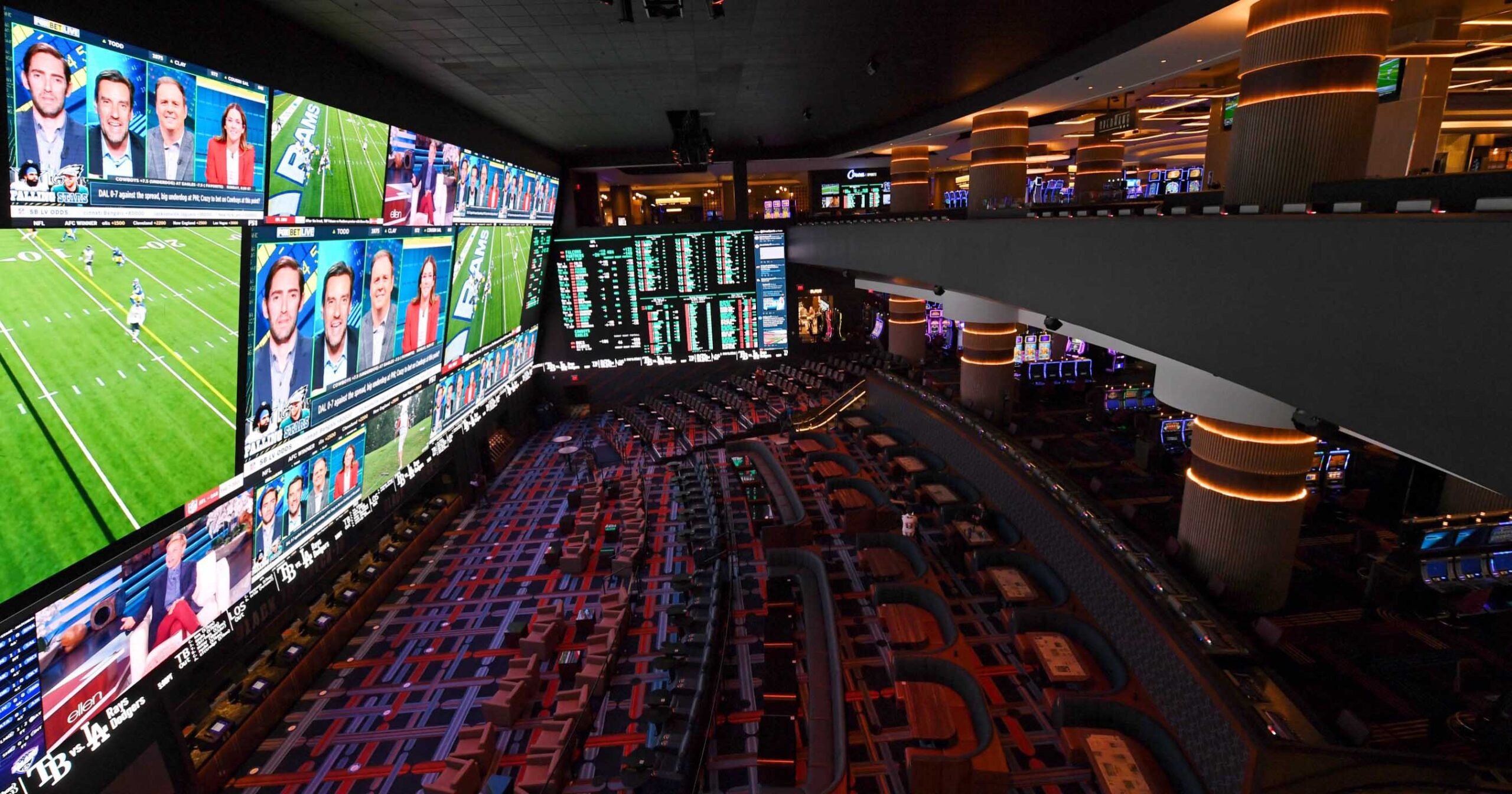 Circa Hotel and Casino opened in 2020, which makes it the newest resort in Downtown Las Vegas. It would be fair to say is the first property that has brought the Strip mega-resort feel to this location.
One of its biggest attractions is the Sportsbook. It is three levels of sports-viewing heaven with a giant 78-million-pixel high-definition screen. We can't sufficiently explain in words what a site this actually is. Think 'huge breathtaking wall of sport' and that about sums it up. Go and see it!
While we're on the subject of Circa, you will also find the restored Vegas Vickie neon sign that was originally erected in Fremont back in 1980 and also the incredible Stadium Swim experience too. Check out the Circa website for full details.
SlotZilla!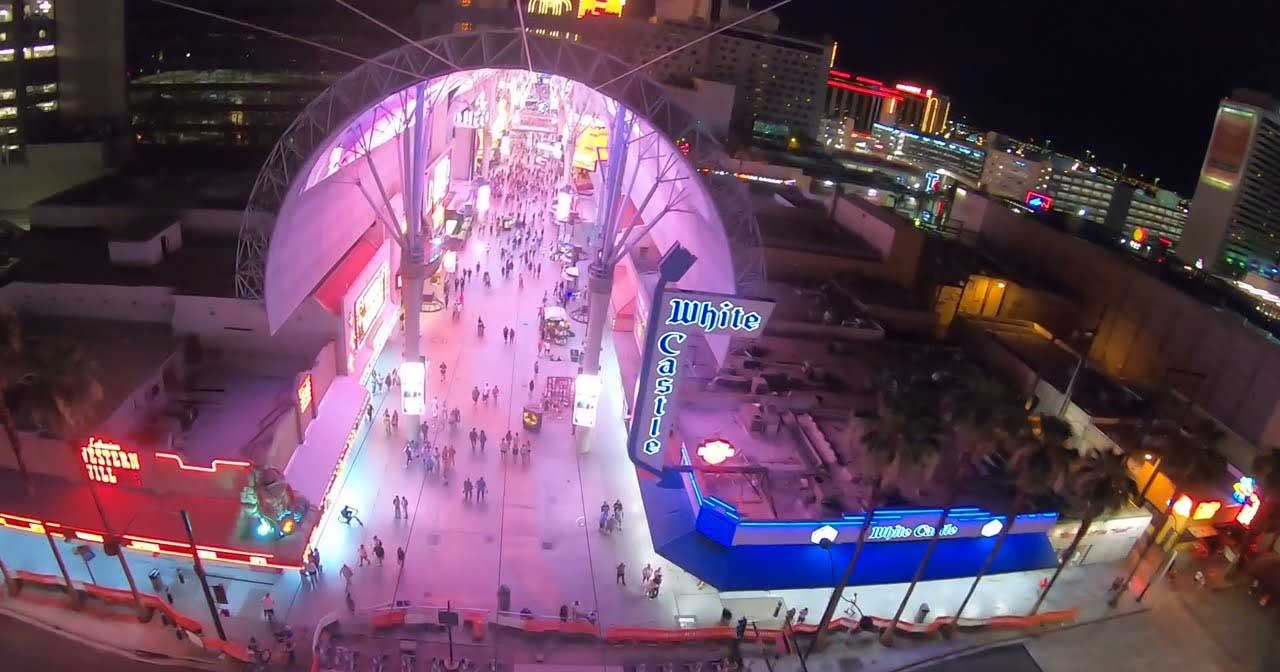 SlotZilla is a slot machine-inspired zip line attraction that whizzes you underneath the Fremont Street canopy at high speeds.
Riders can take one of two options. Zip-Zilla leaves from 77 feet in the air and takes you half way down Fremont in a seated position.
Alternatively, for the more adventurous you can take the Super-Hero Zoom. It leaves from 114 feet up, and takes you the length of Fremont Street at speeds of up to 40mph.
The multi-million-dollar SlotZilla is a design triumph too. It looks like a giant slot machine, and features Las Vegas icons such as dice, a martini glass, pink flamingo, coins, video reels, a giant arm and two showgirls.
Walk-ups are possible for this attraction but I advise pre-booking tickets to avoid the queues. Prices start from $39.
Downtown Las Vegas Attractions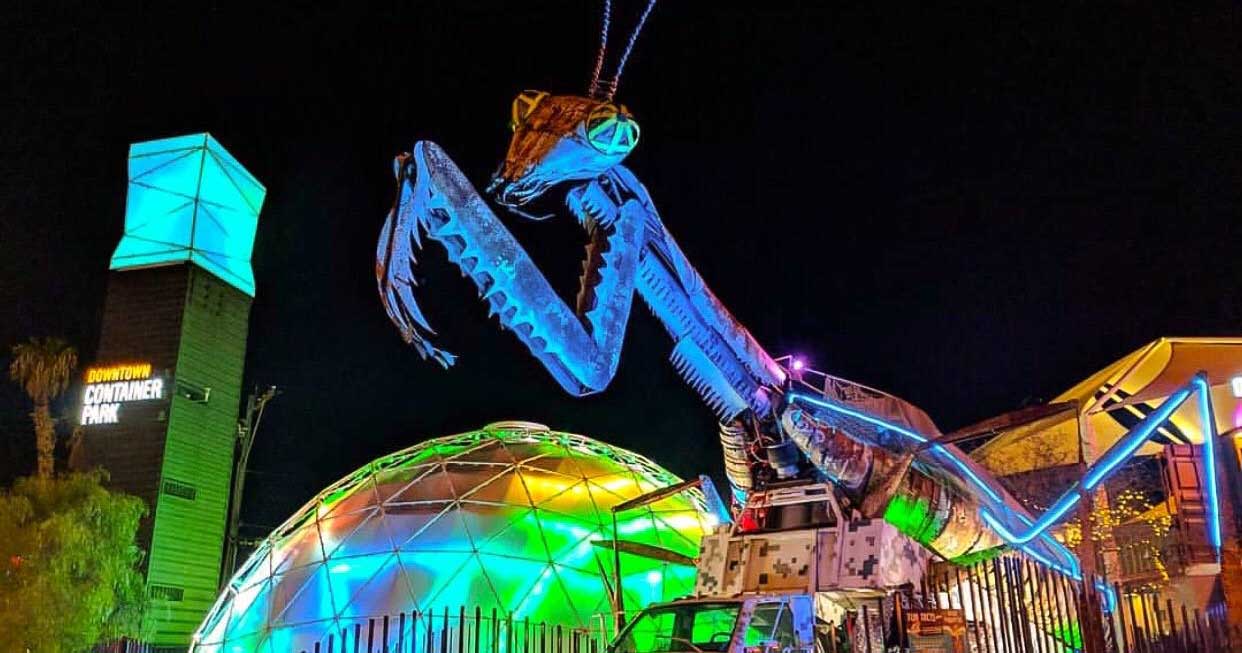 Downtown Las Vegas has its fair share of attractions outside of the central Fremont Street area.
The Mob Museum, where you can take a full tour, reliving the Las Vegas mob beginnings, is very close by. There are plenty of interactive exhibits in here too as well as the Underground speakeasy.
The Neon Museum is slightly further away but definitely worth a visit. It is easily reachable and features a boneyard of some classic retro Vegas neon signage. I'd recommend visiting later in the day so you can enjoy the full splendour of the lights. You can take a tour amongst this Vegas history and it's a great spot for photographs too.
The Downtown Las Vegas Container Park a fun place to visit, too. It is an open-air shopping centre filled with boutique shops, restaurants, and live entertainment for the family. This area has a large Treehouse and play area for children and live music and bars for adults.
It also has one of the strangest, and loudest, attractions with its fire-shooting praying mantis. It moves and shoots fire out of its antennae at random show times every evening from dusk till around 11pm. As warned, this show is loud – and hot – so make you stand well back!