Four Queens is one of the oldest and most recognisable of the Las Vegas hotels in the Downtown area.
It has distinctive golden neon in the shape of a royal crown and it's one quarter of the famous 'Four Corners' hotels and casinos on Fremont Street.
That makes it one of the most photographed hotels and casinos in all of Las Vegas. Four Queen's along with sister property Binion's are currently the only one of the main Las Vegas hotels that do not charge resort fees.
Four Queens overview
Location: Downtown
Opened: June 1966
Last renovated: 2009
Number of rooms: 690
Gaming space: 27,269 sq. ft
Operator: TLC Casino Enterprises
Permanent shows: Hypnosis Unleashed, Mike Hammer Comedy Magic
Attractions: Fremont Street Experience
Price guide: $$
Location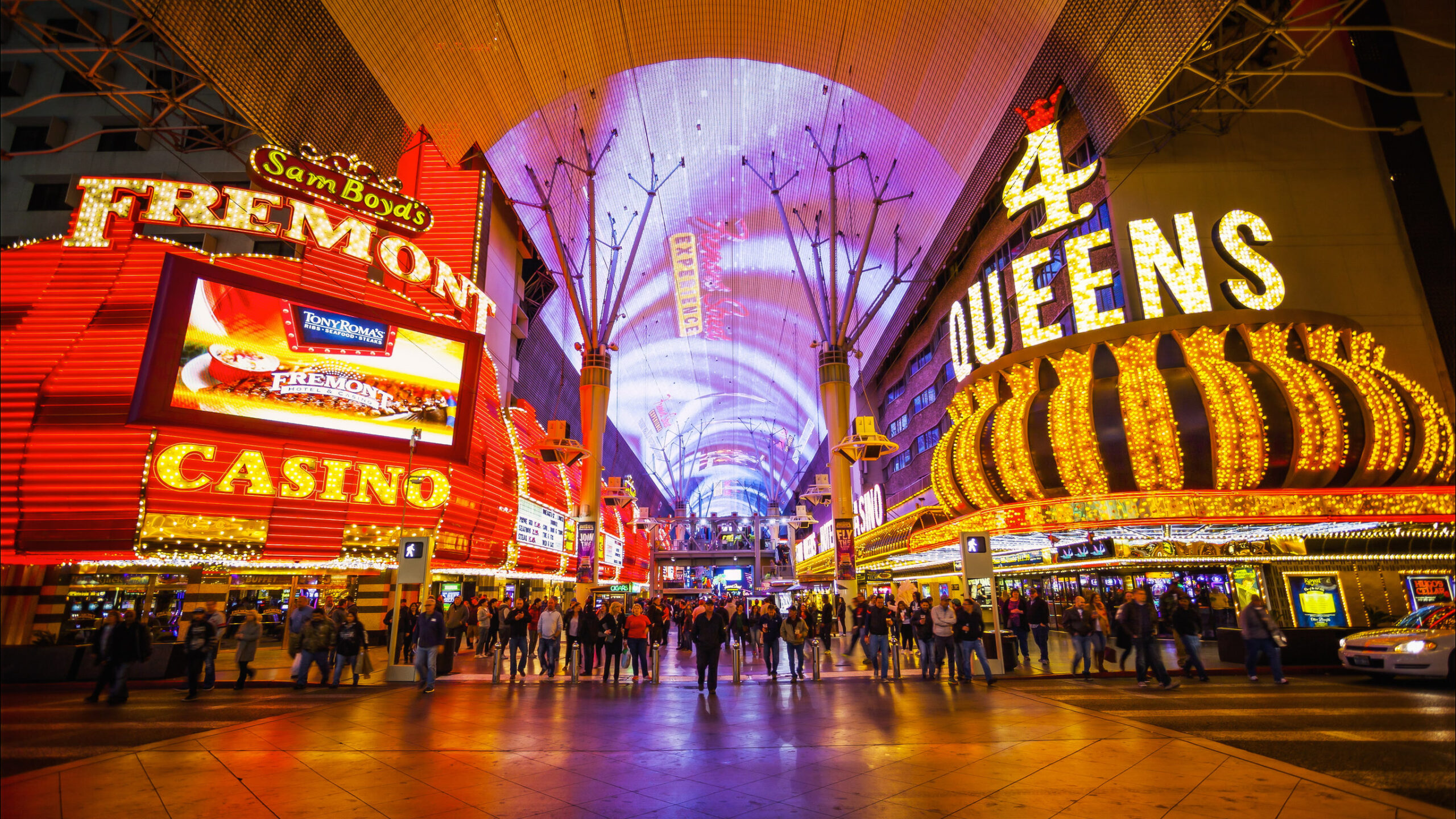 As mentioned, the Four Queens is part of an iconic part of Downtown Las Vegas where Casino Center Boulevard crosses Fremont Street.
The properties that stand on that intersection – Four Queens, Fremont, Golden Nugget and Binion's – and their distinctive vintage neon are collectively known as the Four Corners casinos and you have almost certainly seen them before in photos and movies, probably without even looking for them.
The Four Queens and the Fremont are the two properties on the eastern side of the intersection and both are under the famous video screen canopy.
Getting around
That great location makes it an outstanding spot from which to explore Downtown Las Vegas. The liveliest part of the Fremont Street Experience is the Circa/Plaza end. That is where you will find most of the live music and free concerts, and it is just a minute's stroll away.
The same can be said for the eastern entrance of the Fremont Street experience where the Slotzila Zipline is and El Cortez and the Container Park are just a couple more minutes in that direction.
The Las Vegas Strip, sadly, is not within walking distance of Downtown, but a taxi or the Deuce Bus will get you there without any fuss.
Four Queens Rooms and Amenities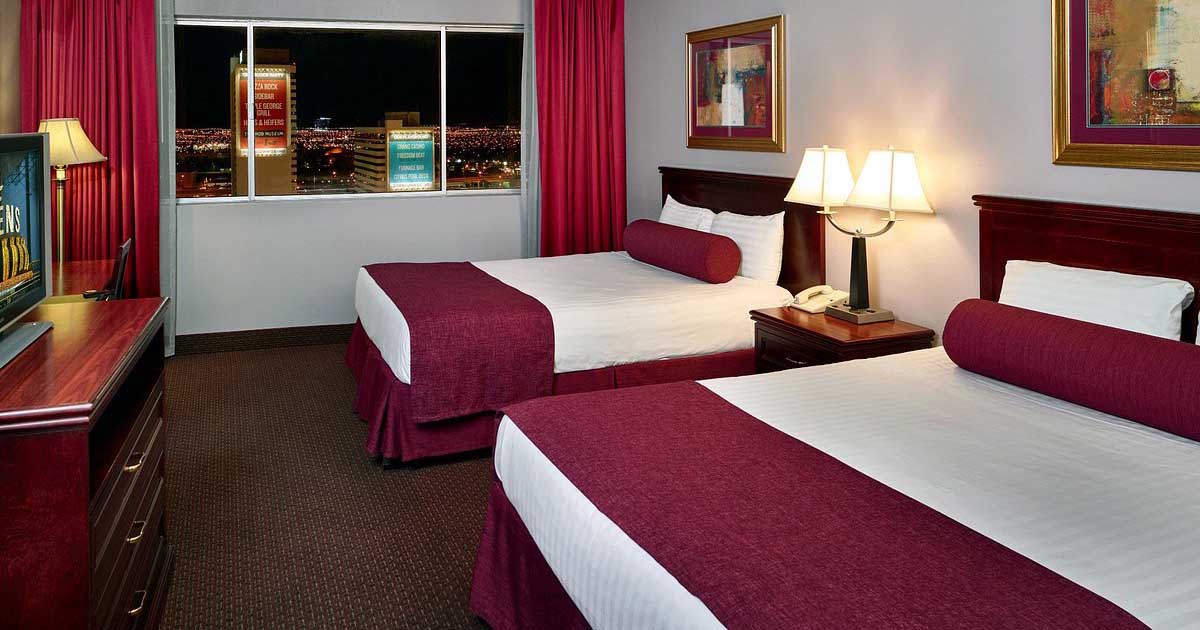 The Four Queens rooms are split into two towers, with the South one the better of the two. Rooms here will get you 325 sq. ft. The north tower rooms, meanwhile, are slightly smaller at 290 sq. ft.
Both are fine, though and decorated nicely with modern touches. There are suites available too if you don't mind paying the extra.
Amenities are on the light side, though. Guests do have access to a pool, but they will have to pop across to sister property Binion's to use theirs.
The casino is one of the smallest in Las Vegas too, but it has a really nice old-school Vegas vibe.
RELATED: Four Queens casino guide
Food and Drink
Hugo's Cellar is a fine-dining option that is very much aimed at couples. In fact, there is a long-stemmed rose on every table. Cuisine-wise, it's a vintage Las Vegas menu containing steak, shrimp, lobster and plenty of other classic dishes.
Magnolia's Veranda is a much more casual eatery and it has a great atmosphere with it overlooking the casino floor.
Chicago Brewing Co. is the most recently added restaurant/bar at Four Queens and it serves a great mix of pizzas with handcrafted micro-brews. There is a patio bar at the hotel too for soaking up that Fremont Street Experience atmosphere.
Shows and Attractions
Resident shows are much more of a Las Vegas Strip thing than it is a Downtown one. However, Four Queens is one of the few properties that has permanent shows on.
This comes in the form of Hypnosis Unleased and Mike Hammer's Comedy Magic. So, if that sounds like your kind of thing, be sure to check them out.
As with all of the Downtown properties, though, the big attraction is the Fremont Street Experience and it might just be the best one in all of Las Vegas.
Four Queens Pool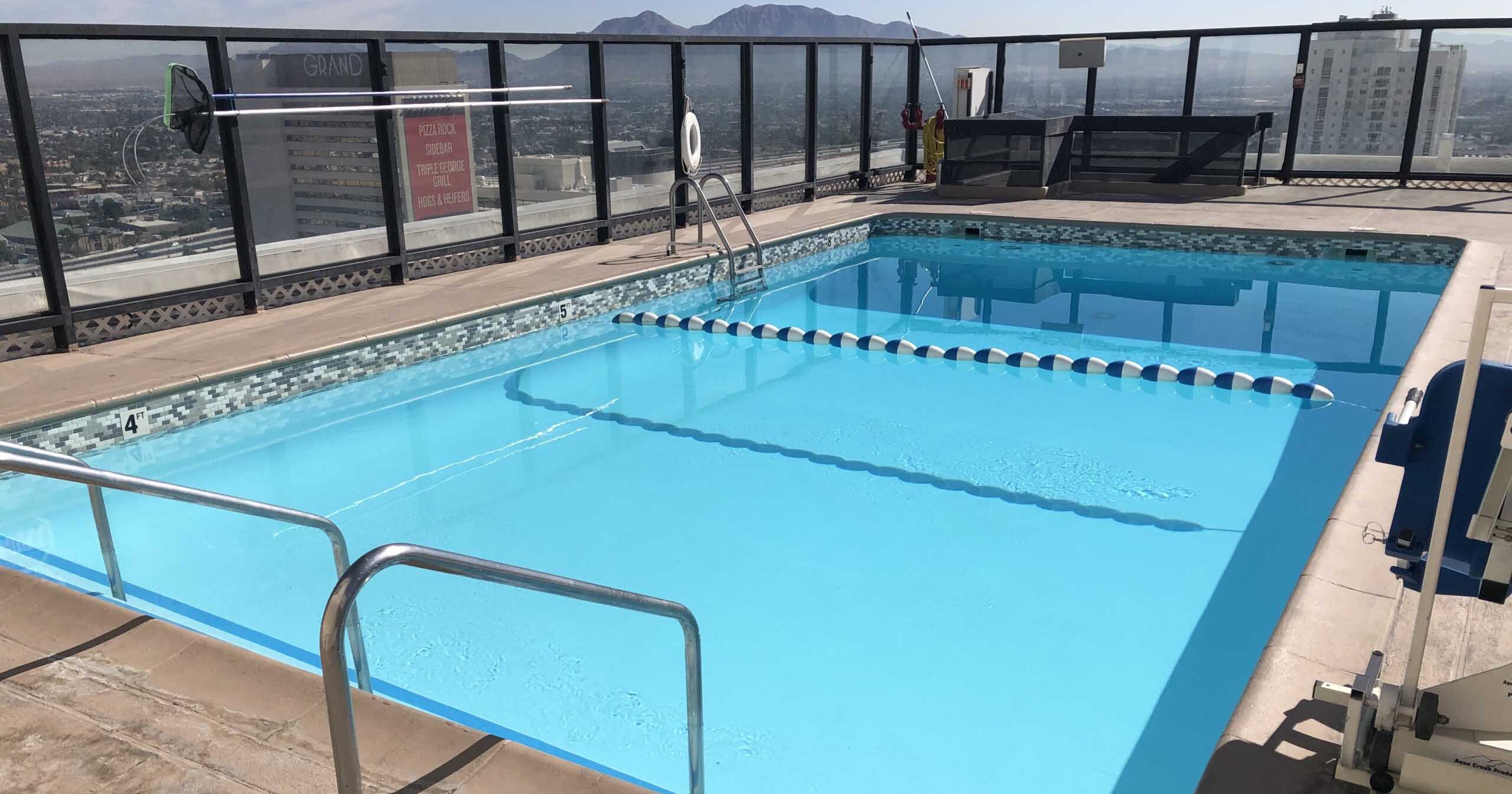 Pools are a bit of a rarity Downtown, certainly compared to the hotels on the Strip. Few have the space for them and those that do have them, Circa aside, can only really provide something relatively modest.
Four Queens is one of the properties that doesn't have a pool, which may not be ideal for those hoping to add a little sunbathing to their Las Vegas stay.
However, guests can use the pool at Binion's. It's small and a little basic, but it does have some great views from its rooftop location.
Conclusion
Four Queens is, no pun intended, royalty among Las Vegas hotels, all be it very modest royalty. It's not flash but the neon and location is iconic and it has maintained its identity throughout its entire life in Las Vegas. That's actually quite rare.
Pros: Good location on the Fremont Street experience and no resort fees.
Cons: Rooms can be on the small side and it's light on amenities.