Each week we ask a fellow Las Vegas lover to answer eight questions about what they love about Las Vegas. This week it's the turn of Las Vegas vloggers Hangovers & Handpays. 
Hangovers & Handpays are Chris and Joleen, a married couple from Belfast now living in the Northwest of England. They first went to Vegas for their honeymoon in 2011 and fell in love with the place.
They started vlogging when they renewed their wedding vows in Las Vegas and wanted to be able to share that experience with their families back home. "We almost chickened out when the departure day arrived," they admit, "however, once we got over the first day nerves it was the best decision we made and only enhanced our Vegas experience."
So, let's get to the questions.
What is your favourite Vegas hotel and why?
Planet Hollywood. It was the first hotel we stayed in for our honeymoon. We loved the party vibe, choice of eateries and Miracle Mile shops.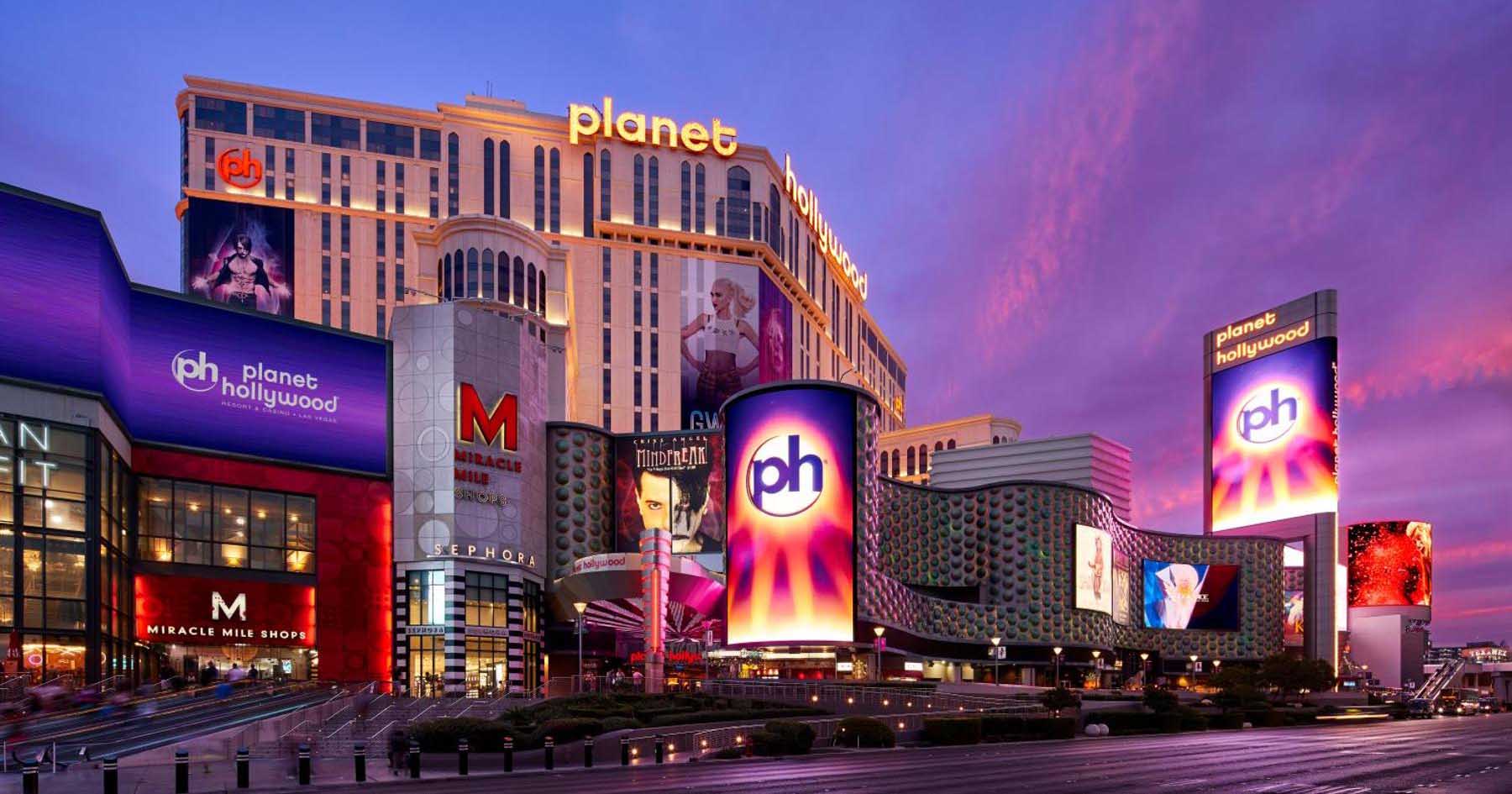 The location is one of the best in Las Vegas, and that's why we've decided to stay there for our next trip.
Bonus answer: Our previous favourite before its implosion was the Riviera, as we loved the history and Old Mob feel of the place.
What is your favourite Las Vegas Casino and why?
We have gambled at every casino on the strip over our trips, and without a doubt Mandalay Bay is our favourite.  We like the layout, spaced out feel, choice of slots, friendly staff and great selection of drinks.
Some of our best wins have been in the Mandalay Bay casino. We made friends with the cocktail waitress and she made sure our drinks never went empty. Now we always make a point of having a few nights gambling there during our trips.
RELATED READING: LAS VEGAS GAMBLING: Quick start guide to hitting the casino
What's your game and why?
We both like slots. Joleen's favourite is Buffalo Link. It's really fun to play and available in every casino.
Chris' favourite is Moon Maidens Mona (he loves a red head)! He found this game in Aria and it had the best music. It was like being at an old school rave.
Top Vegas food/drink recommendation?
In terms of fast food, we'd have to say Shake Shack. It was one of the best burgers we have ever had.
Oscar's at the Plaza was the best meal we've had in a really long time, the steaks are perfection and you have to try the Brussel sprout side dish.
When we are drinking in casinos, we love a Pina Colada. Skyfall at Delano is tough to beat if you want a drink with a view, while Whiskey Licker Up at Binion's is great for people watching.
Top tip for a Las Vegas beginner?
Chris: Buy your room essentials/supplies, such as alcohol and water, from CVS or Walgreens on the strip. It's far cheaper than the casinos. Or for even cheaper items, get a Lyft or Uber to Walmart.
Joleen: Nothing is as close as you think it is so bring comfy shoes!!!!
What's your Vegas insider tip?
Chris: In Vegas you can buy alcohol from anywhere, and as long as its not in a glass container you can take it anywhere even into the casinos. This can often save you a lot of money as the casino bars can be very expensive.
Joleen: Play myVEGAS. It is a free slot game which lets you earn rewards to redeem off items in Vegas such as 2-4-1 buffets, free drinks, money off restaurants and free hotel stays.
Related Reading: myVEGAS – How to use it to get Las Vegas freebies
Best Las Vegas memory?
That's a really hard one as we have had some amazing Vegas days.
Joleen: Downtown New Year's Day 2016. We had the best day of day drinking, the big giant cups of frozen drinks. Chris made the mistake of telling the barmaid he couldn't taste any of the tequila in his. She took it from him and poured nearly a quarter of the tequila bottle into his drink.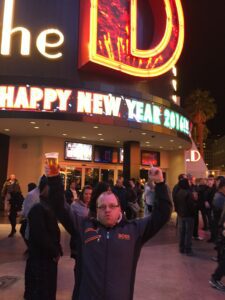 We then went to watch an Elvis show where Chris proceeded to get drunker. He was hugging the Elvis impersonator after the show and had to buy his T-shirt. Afterwards we stood outside the D and got pictures of the 2016 sign (which is also one of my favourite pictures of Chris). It's my favourite memory because Chris was so happy. We had the best craic and just laughed all day. It really was one of the best Vegas days.
Chris: Our vow renewal. We were picked up in the limo by a Scottish man, had the vow renewal by Elvis who sang my favourite Elvis song (American Trilogy), did some downtown casino hopping, had drinks in Whiskey Licker up, food in Oscars and had lots of people saying congratulations and buying us drinks. It was the best day.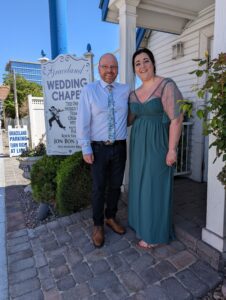 Why do you love Las Vegas?
No two days are ever the same. When you leave the hotel room in the morning you don't know where you will end up.
Vegas has some of the best entertainment and restaurants you can experience.  There is always something new to see or do. We can honestly say we never get bored in Las Vegas.
A big thank you to Joleen and Chris! Be sure to check out their great Vegas Vlogging channel on YouTube and definitely follow them on Twitter.