The Las Vegas gambling scene gives an interesting mix of retro gambling halls mixed with ultra modern mega-resorts. Where you choose to spend your dollars depends on the type of casino experience you want.  Let's take a look at what to expect at the Strip's newest offer, Resorts World casino.
Resorts World is the highly anticipated mega-resort situated to the North end of the Las Vegas Strip. Due to various stoppages, it a long time to arrive, so its opening was keenly awaited.
Initially meant to be heavily Chinese themed, Resorts World went through various re-designs during the build. It is now more of an ultra-cool, super-modern property with an Asian flavour.
Resorts World casino is a unique proposition for your Las Vegas gambling as it is the first to offer cashless gaming at slot machines and table games.
RELATED: Quick start guide to hitting the casino in Las Vegas
Resorts World Casino overview
Total gaming space: 117,000 sq. ft
Rewards program: Genting Rewards
Number of Slot and video poker machines:  1400+
High Limit slots room: Yes
Table games: Blackjack, Roulette, Craps, Poker
Poker Room: Yes
Sports book: Dawg House Saloon and Sportsbook
Smoking: Yes
ALSO READ: LAS VEGAS HOTELS: Resorts World review and guide
State-of-the art, ultra-modern, technically advanced – all of these terms can be used to describe the Resorts World casino.
In fact, you couldn't get any further away from the retro gambling halls of old Las Vegas.
Resorts World casino has a different feel to the others on the Strip, in that the casino is more of an offshoot to the property rather than the focus.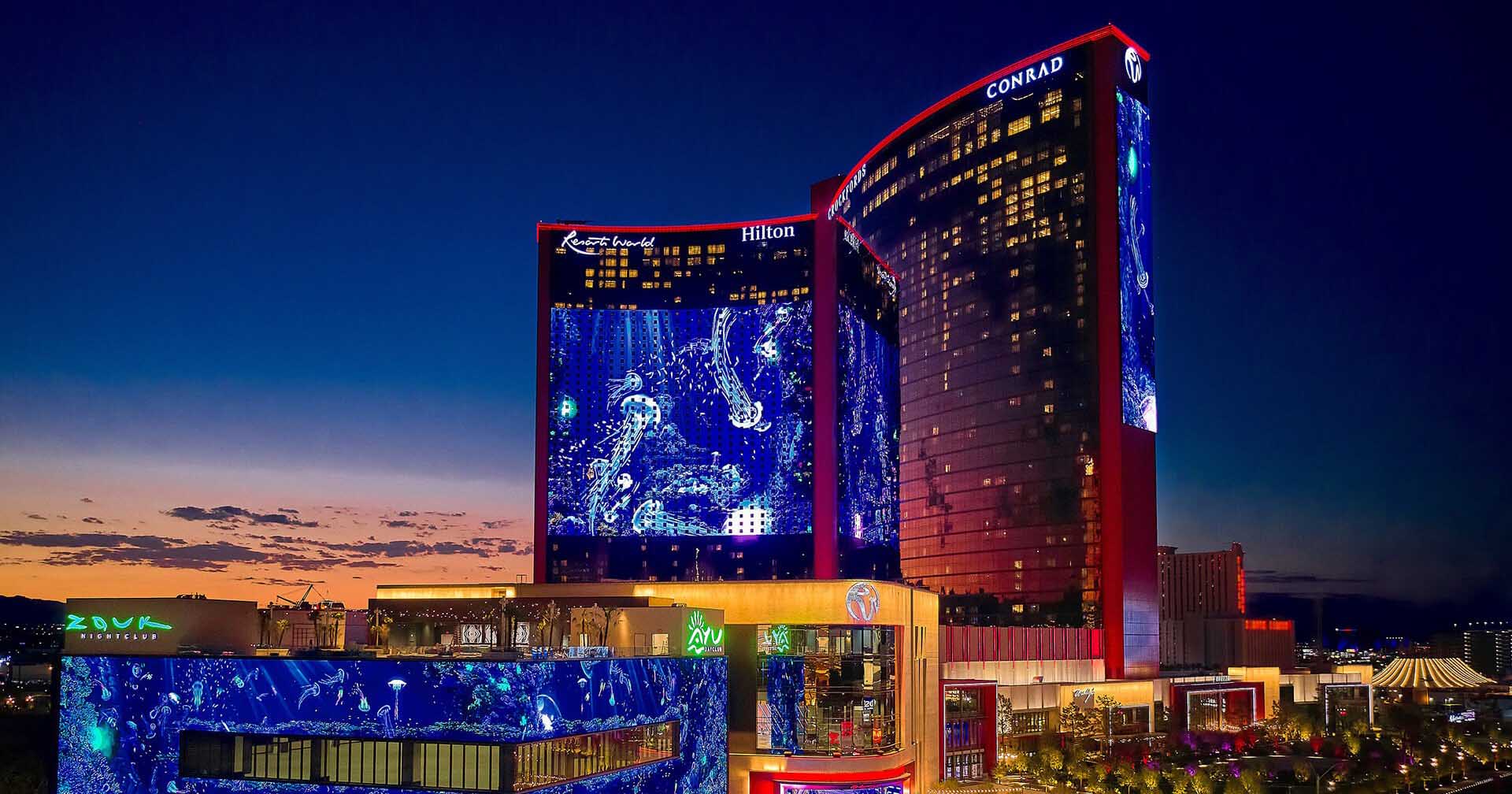 Walking into Resorts World feels like walking into a sparkling new shopping mall. With high ceilings, glass windows, gold finishing and a large open walkway through the middle.
Coming off this main walkway are various bars, restaurants, shops and the Resorts world casino.
The casino itself is large at 117,000 (or two football pitches) although not the biggest on the Strip. Its decor is clean, sophisticated, classy and as impressive as you would expect from a brand new resort.
With it being the newest, Resorts World casino is currently attracting the younger crowd and those with a bit more money to spend. Basically, anyone looking for a luxurious and modern option for their Las Vegas gambling will want to try this out.
Gambling in Resorts World casino
Resorts World casino has over 1400 slot machines, so there is plenty of choice for players.  The vast space leaves lots of room though, so it is very comfortable.
The room is shaped as a big rectangle with a large circular bar in the middle, surrounded by bars and food options. That makes it easy for you to navigate.
If you prefer to do your Las Vegas gambling at a table, then there is more than enough choice from the 117 table games on offer. All of the usual Blackjack, Craps, Baccarat and Roulette games are available.
Resorts World casino also has an incredible choice for Poker players with 30 Poker tables playing various variations of the game.
With a finger on the pulse of state-of-the-art technology, Resorts World is the first Nevada casino to offer cashless gaming at slot machines and table games.
Players can pay for their gaming by smartphone by downloading the Resorts World app and loading a digital wallet.
Resorts World is also the first casino in Las Vegas to use RFID embedded chips to provide 100% accurate reporting of a player's gaming activity.
If you like to bet with high stakes then Resorts World casino has two high-limit rooms. Crockfords casino is just off the main floor and has high limit tables games and slots in a private lounge.
Meanwhile the Sky Casino is an even more exclusive private gaming area on the 66th floor. For both of the high-limit areas minimum bet starts at $100 and can go up to $20,000.
Sportsbook and drinks service
As usual in Las Vegas, a complimentary drinks service is available to anyone who is gambling. This depends largely on how busy the casino is at any one time, but in my personal experience this isn't the easiest place to get free drinks. I may have just hit it on a busy or bad night.
If sports is where you prefer to get your Las Vegas gambling fix, then just opposite the casino is Dawg House. This is a saloon and sportsbook venue with large screens, comfortable seating and feels a little more relaxed than the rest of the resort.
Rewards club
Resorts World casino has the Genting Rewards Card which means you will need to concentrate your spend within the resort to reap the rewards.
As with other rewards clubs you can gain points while gambling, shopping, dining or using amenities such as the spa.
Please note that, at Resorts World, you do not earn credits on hotel bookings. For this, you need to be a member of Hilton Honours Rewards Club.
RELATED: Las Vegas rewards clubs and how to make the most of them