Almost all Las Vegas hotels have a casino, but the casinos can differ a lot in size, atmosphere and game selection. So, what can you expect from the Excalibur casino?
Excalibur is just one of the those resorts that you recognise in an instant. It's striking exterior is completely unique and its value pricing make it accessible to all.
But while some might find the styling a little 'tacky' or over the top, many find it a very welcoming, inclusive place to visit and the large casino floor is one of the great positives of this fun resort.
RELATED: Quick start guide to hitting the casino in Las Vegas
Excalibur Casino overview
Total gaming space: 100,000 sq. ft
Rewards program: MGM Rewards
Number of Slot and video poker machines:  1200+
High Limit slots room: No (small high limit slots area)
Table games: Baccarat, Blackjack, Roulette, Craps, Texas Hold'em
Poker Room: (Currently Closed)
Sports book: Bet MGM
Smoking: Yes
ALSO READ: LAS VEGAS HOTELS: Excalibur review and guide
The Excalibur casino is quite misleading in size. Square-footage wise it's not as big as Mandalay Bay, but the way the resort is laid out, there is little else you can see on the ground floor but casino.
Gambling at the Excalibur casino
The layout makes it appear much bigger than it is and actually can be quite disorientating when trying to find your way in and out surrounded by slot machines.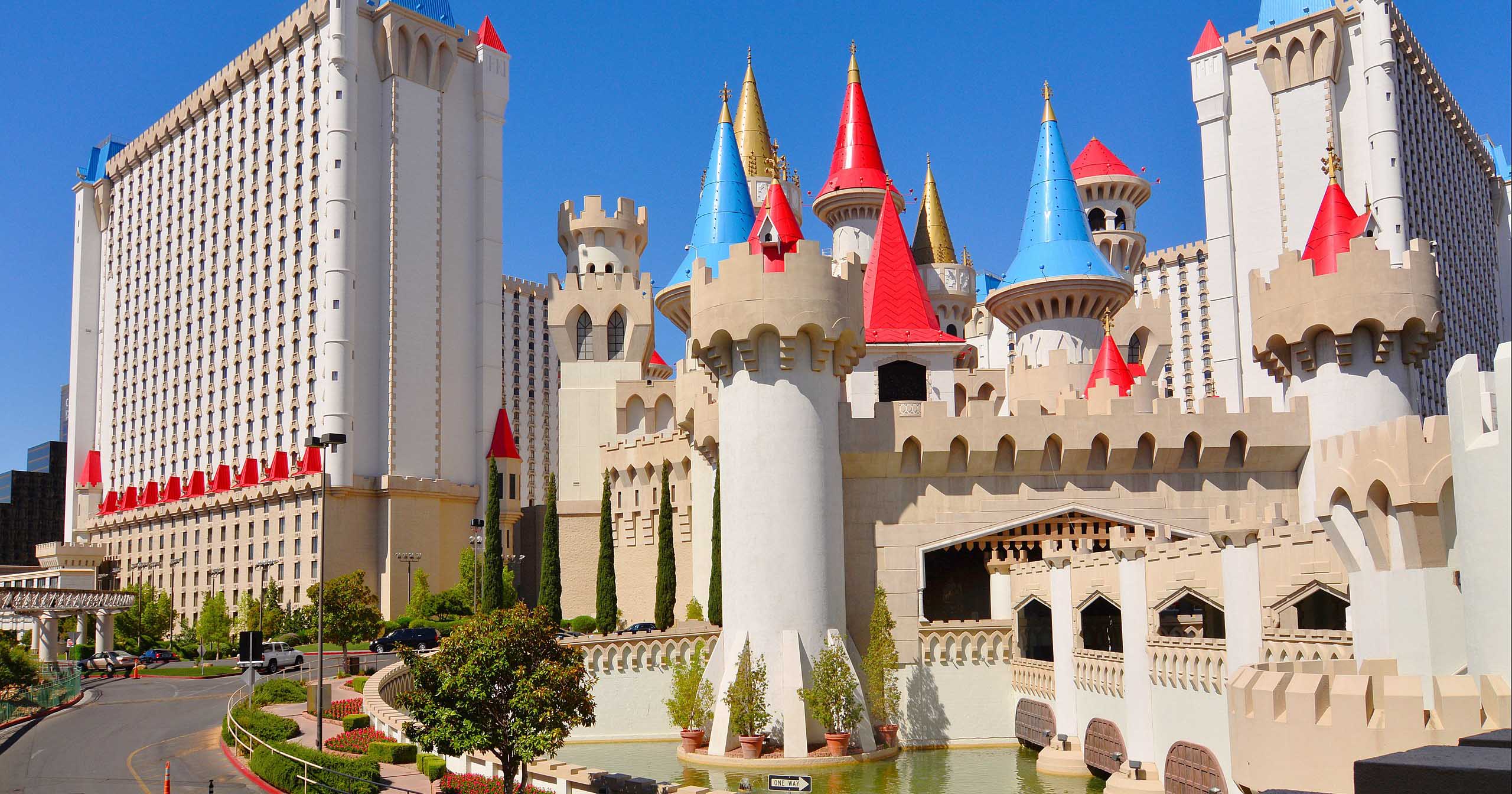 But this shouldn't put you off, as Excalibur use this space well and with over 1200 slot machines alone there is really something for everyone.
The machines are packed quite close together so you're not going to enjoy spacious gambling, but the variety of the games is extensive, including lots of old time classics too.
One of the main criticisms of the Excalibur casino is how dark it can appear, in fact it could be bright sunshine outside but always looks like evening inside.
The same could be said for a lot of casinos we know. However, the low ceilings in Excalibur does make this feel darker than most.
For those who love to frequent the tables, you can enjoy all the usual craps, roulette and blackjack as standard and there are a few poker variants dotted around too as well as a linked progressive.
The days of $5 blackjack on the Las Vegas Strip are mostly over now. However, Excalibur is one of the properties you can still find this during quieter times.
Drinks service and sportsbook
Gamblers at Excalibur casino can enjoy the usual complimentary waitress service and we have always found this to be good. Don't be afraid to ask for your favourite cocktail or ask your server what they recommend. (And don't forget to tip of course!)
There is a sports book at Excalibur but it's a little dated, especially when compared to others now available. For sports gamblers, though, it is more than sufficient.
It can't compete with Circa or Cosmopolitan. However, few can so keep those expectations in check and it will do you just fine.
Rewards Club
Excalibur is part of the excellent and expansive MGM Rewards, and that's a programme you need to be in.
Every property that surrounds Excalibur, with the exception of Tropicana, is also part of MGM Rewards, so you can accumulate points quickly in this part of the Las Vegas Strip.
RELATED: Las Vegas rewards clubs and how to make the most of them