Tropicana is no longer one of the glamour properties, but it demands respect for being one of the oldest Las Vegas hotels still in operation today.
It opened in the 1950s and has survived ever since, which is no mean feat for hotels in Las Vegas. In fact, only Flamingo and Sahara are older than Tropicana.
Is it still a viable destination for guests in 2022, though?
Tropicana overview
Location: Strip (South)
Opened: April 1957
Number of rooms: 1,467
Gaming space: 50,000 sq. ft
Operator: Penn National Gaming
Permanent shows: Laugh Factory, Purple Reign: The Prince Tribute Show, MJ Live, Murray the Magician, Legends in Concert
Signature attractions: None
Known for: Being the Strip's great survivor
Price guide: $
Location
Tropicana has a great location, and that is both part of the reason it continues to survive and the reason it struggles to thrive.
The property has some high-profile neighbours in MGM Grand, New York-New York and Excalibur, with it connected to all three by a series of pedestrian bridges.
On the one hand, Tropicana finds it very tough to compete with those signature properties backed by the MGM family. Excalibur and neighbouring Luxor have budget price points too, and both offer guests far more than Tropicana can.
However, on the other hand, the sheer popularity of that area of the Strip driven by the MGM properties means Tropicana does get just enough footfall to survive.
Getting around
Tropicana benefits from the same transport links as the other hotels in that little corner of the Las Vegas Strip, so it's well connected with the rest of town.
The Las Vegas Monorail departs from just across the road at MGM Grand, Mandalay Bay is accessible via a tram from Excalibur, and a short walk through New York-New York to Park MGM allows you to hop in a tram to Bellagio.
There is always the Deuce (bus) option too, with a stop very nearby.
Tropicana Rooms and Amenities
Tropicana isn't the most exciting place to look at from the outside with it more closely resembling a hospital than a Las Vegas Strip hotel resort, but the rooms are all done to a quality standard.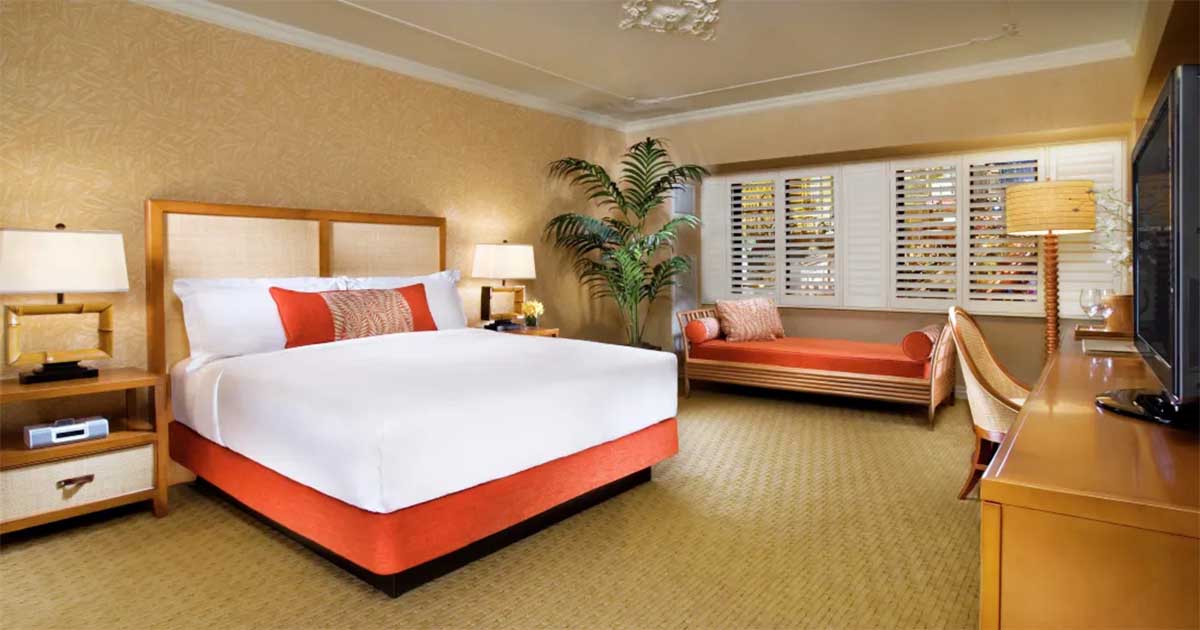 In terms of size, the basic room affords you 375 sq. ft of space, which is more than New York-New York. The first upgrade takes that to 450 sq. ft, so the dimensions are largely comparable with other properties.
The design of the rooms is appealing as well, with plantation shutters and a bamboo trim really nailing the tropical theme.
Amenities are decent too, with guests getting access to a pool, a spa and a fitness centre. There is no concierge, though.
Food and Drink
Tropicana is part of the Doubtletree by Hilton group, so they know what they are doing when it comes to maximizing what they have.
That is reflected in their dining options, which are not expansive but they still manage to be extensive. There is a sports bar, a steakhouse, an Asian restaurant and a Starbucks – because there is always a Starbucks.
There is a late-night lounge for those who want a good night out too, and a bar specializing in frozen cocktails.
Shows and Attractions
Tropicana has no real attractions to speak of. That wasn't always the case. They once housed the Casino Hall of Fame and both the Titanic Artefact Exhibit and Bodies: The Exhibit. In 2008, both closed and went to Luxor instead where they remain today.
The property also formerly housed the Las Vegas Mob Experience, but that one was ended by the property falling into financial trouble.
Nowadays, the owners see little value in attractions, although they have put together a nice array of shows.
MJ Live, an exceptional Michael Jackson tribute, is performed at Tropicana and there is a similar act covering the music of Prince. They are also the home to the longest-running show on the Las Vegas Strip – Legends in Concert. It's another tribute act, this time to divas.
Comedy is in plentiful supply too due to the Laugh Factory and Rich Little's impersonation act.
Tropicana Pool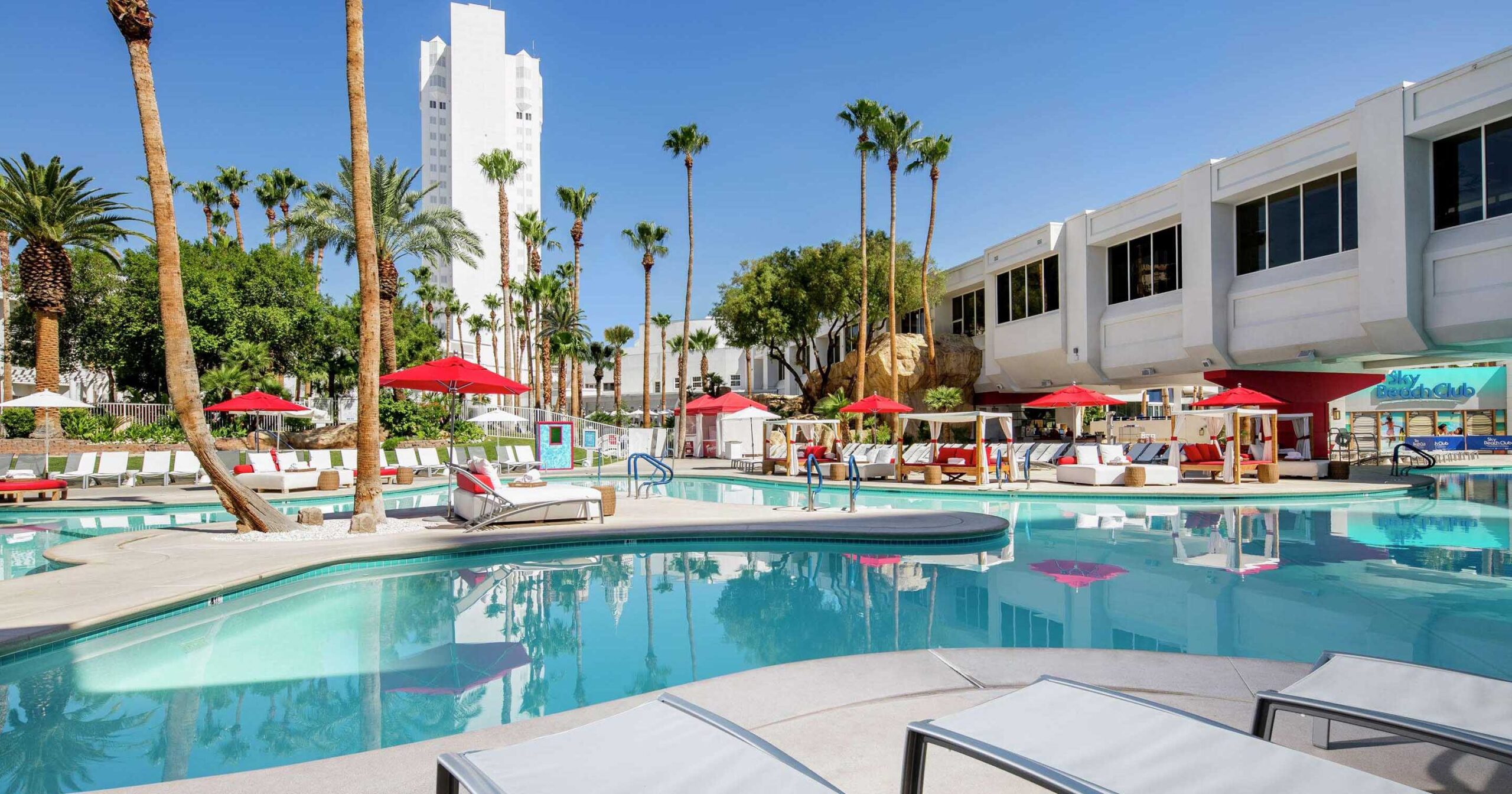 Tropicana's pool is not making anyone's list of the best pools in Las Vegas any time soon, but it's perfectly decent.
It aims for relaxing and serene more than it covets the party vibe. However, swim-up blackjack is a really nice touch.
You're unlikely to be either wowed nor disappointed by the Tropicana pool. That probably extends to most other areas of the property as well.
RELATED READING: The best pools in Las Vegas and where to find them
Conclusion
Tropicana remains a perfectly viable place to stay in Las Vegas, even if it does lack wow-factor and curb-appeal. In truth, the fact it can still survive despite that shows that the hotel does plenty right.
Pros: Does simple very well, great location, and swim-up blackjack is always a good thing
Cons: The Tropicana just looks dull, and people who are attracted to Las Vegas are not the types to be seduced by dull.
Considerations: Tropicana has an independent rewards club. That means you won't get comps at any other Las Vegas hotels no matter how much you spend there.