TI – or Treasure Island as it is still more commonly known – has a bit of a unique place among the Las Vegas hotels, although I am not entirely sure what it is.
Once upon a time, Treasure Island was a real attraction on the Las Vegas Strip with its pirate show that used to bring huge crowds to watch it. Those days are long gone, and Treasure Island has got somewhat stuck between a desire to de-theme and a reality that when you have literally built a pirate village around your front door, you can't really shift a theme with a simple name change.
The frustration with Treasure Island is that it is still a very good resort, but it really could be so much better if it was only a little braver.
Treasure Island overview
Location: Strip (North)
Opened: October 1993
Last renovated: 2003
Number of rooms: 2,884
Gaming space: 95,000 sq. ft
Operator: Phil Ruffin
Permanent shows: Mystere
Signature attractions: Marvel Avengers S.T.A.T.I.O.N.
Known for: What is used to be, sadly
Price guide: $$
Location
If you have ventured as far as Treasure Island, then you have definitely hit the north side of the Las Vegas Strip.
Mirage is next door while Wynn/Encore and Venetian are close by too. Circus Circus is also within walking distance too, as is Resorts World.
Whether you enjoy the location is probably largely down to how much you like those neighbouring properties, but there is no real reason not to like it. The Fashion Show Mall is very close by, and that's an obvious positive.
Getting around
The location can make getting around the Las Vegas Strip from Treasure Island a little challenging.
There is a tram that connects the property to Mirage, but it can run a bit of an irregular schedule. A foot bridge connects it to Palazzo and Wynn too, while Resorts World and Circus Circus are within walking distance.
Getting to the south end of the Strip can be difficult, but the Deuce bus stops directly outside and can be a true feet-saver here. There is one every 10-15 minutes, and if you hop across the road to pick it up northbound too it will take you Downtown as well.
Treasure Island Rooms and Amenities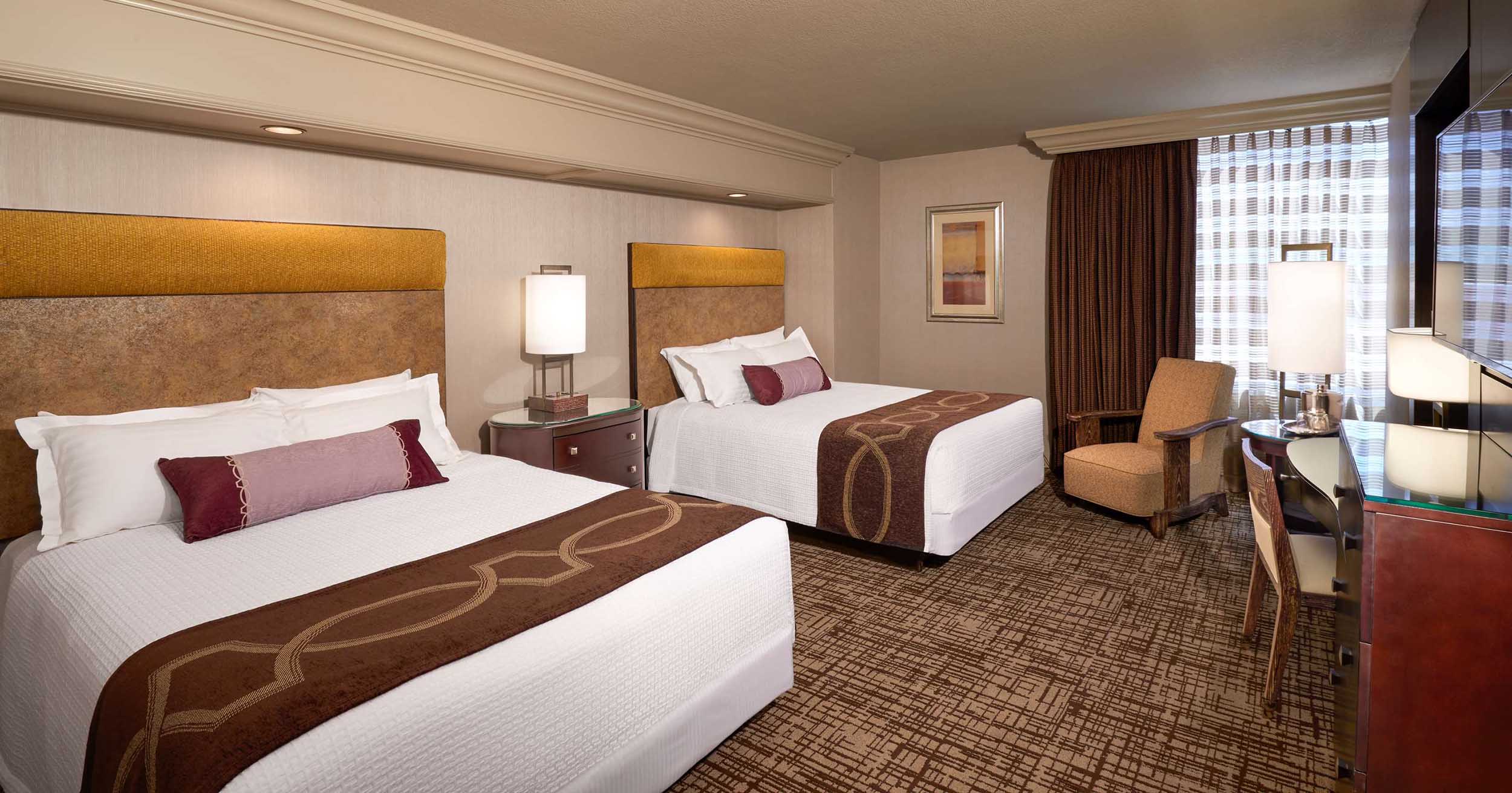 The rooms at Treasure Island are a good size and standard and they are available at a very good rate too.
The entry level room gets you 400 sq. ft of space to spread out into, and the suites get very big very quickly without really hitting you in the wallet as much as other Las Vegas hotels on the Las Vegas Strip.
Treasure Island has good amenities for guests too. The Oleksandra Spa and Salon offers a good service at a reasonable price. It also provides a fitness centre for those of you who like to keep up your exercise routines when on vacation. There is a good quality pool service too.
The gaming floor is large enough to satisfy seasoned gamblers but not so large as to intimidate beginners.
Food and Drink
Treasure Island should have enough food options to satisfy most guests. I wouldn't say the selection is comprehensive, but it is sufficient.
Phil's Steak House is the most high-end restaurant on the property, although it shouldn't hit pockets especially hard.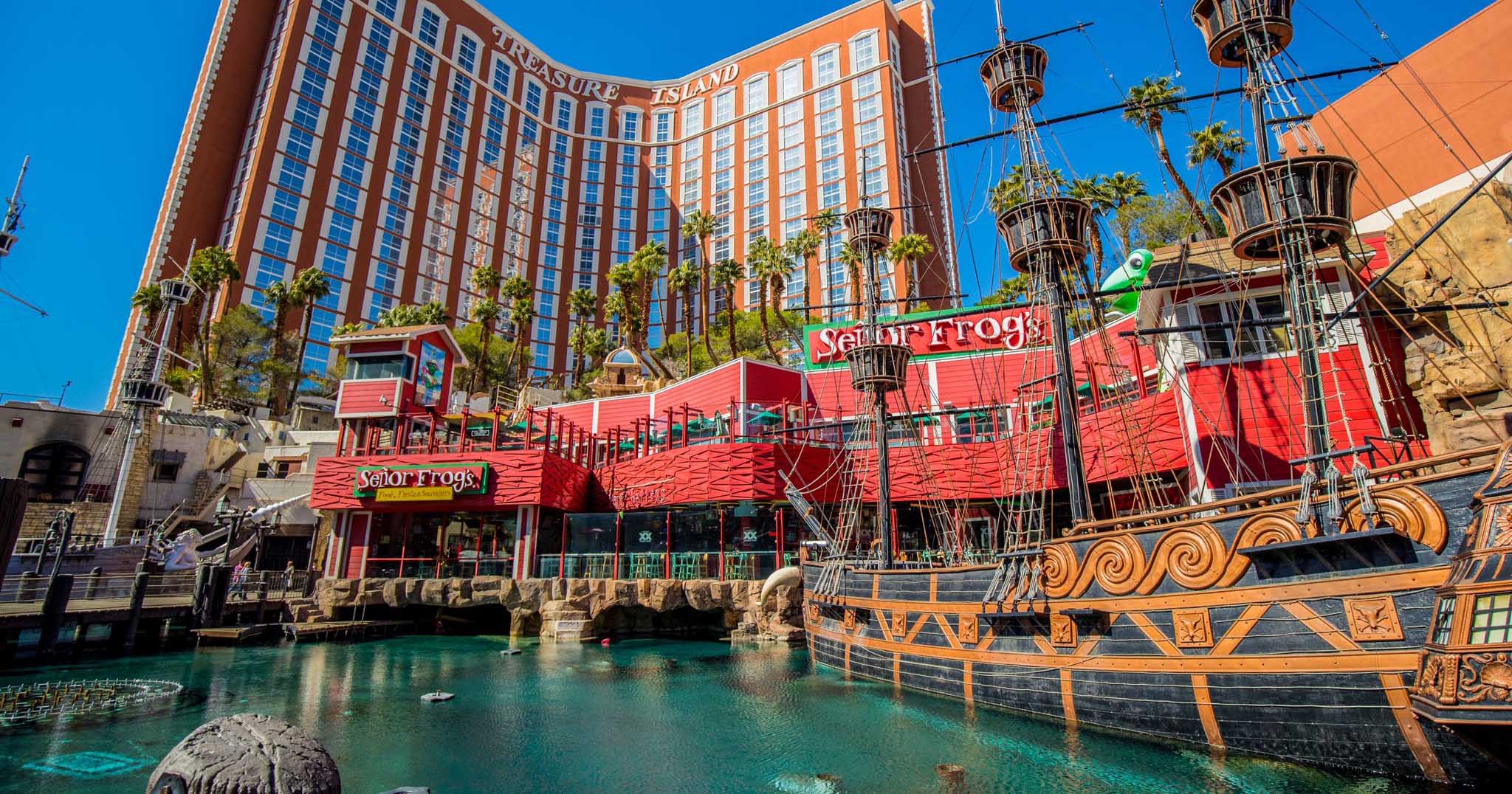 No pirate village is complete without food from the ocean, and the Seafood Shack happily obliges here. Gilley's BBQ gives meat lovers a cheaper option and the Pho offers guests the chance to sample some Vietnamese cuisine.
Senor Frogs is an eye catching eatery at the front of the property, and I'd really recommend their frozen Daiquiris. In fact, keep your eye out on groupon to pick up a great deal on them. It is also transformed after dark to provide a nightlife option, as is Gilley's.
Breeze Bar is the place to be if you want a premium cocktail or two.
Shows and Attractions
Mystere is the show in residence at Treasure Island. It is pretty standard Cirque du Soleil fare, although it is one of the cheaper ones.
The resort also attracts a series of guest performers regularly throughout the year, with the emphasis appearing to be on comedians and country music artists.
Treasure Island gets a taste of the RuPaul's Drag Race phenomenon too, with Senor Frogs hosting the show's stars for a 'Drag Brunch' on Fridays, Saturdays and Sundays.
The in-house attraction is the Marvel Avengers S.T.A.T.I.O.N. which brings the blockbuster movie franchise to life.
Treasure Island Pool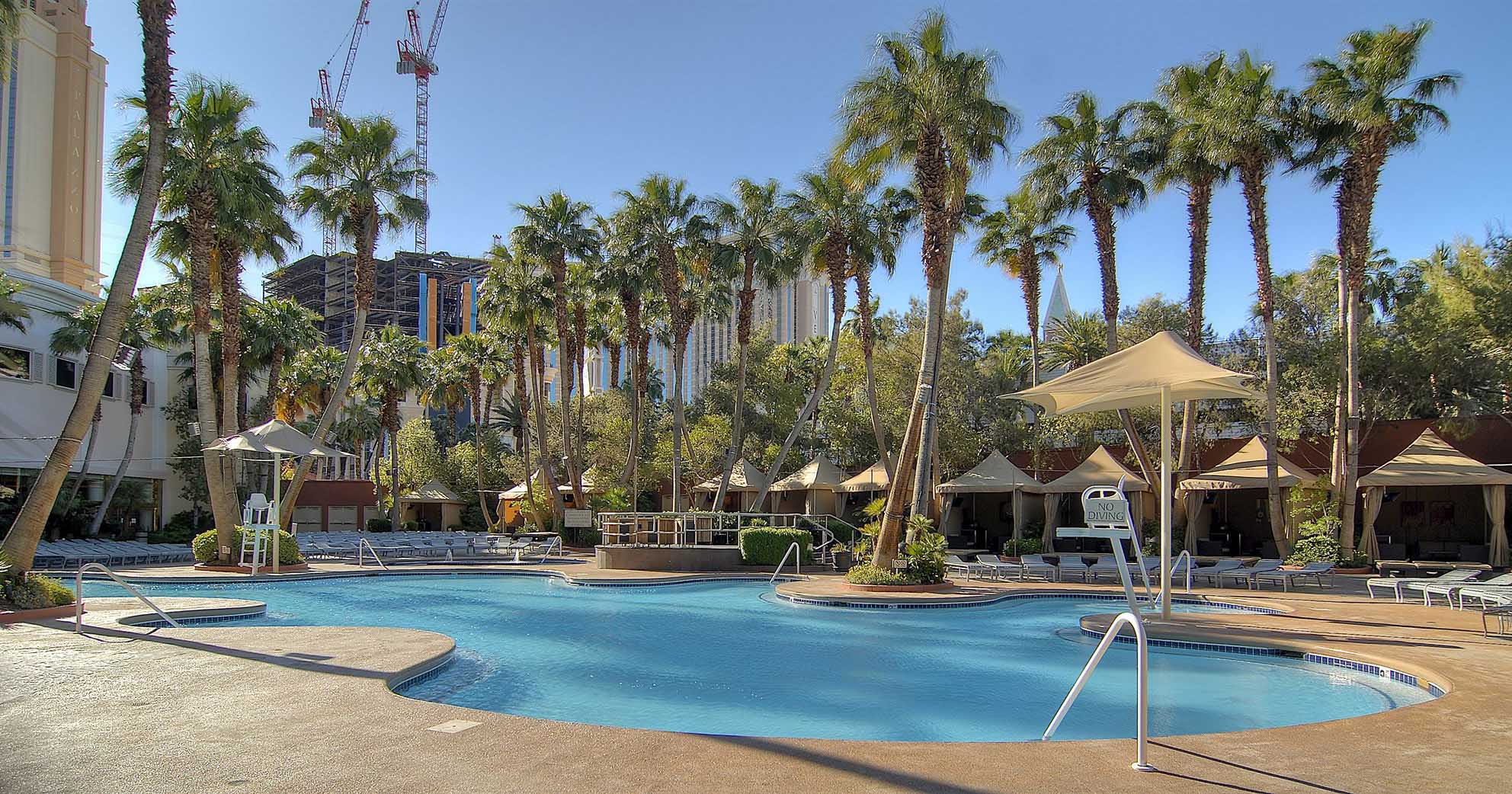 Treasure Island has a good quality pool that is shaped like a lagoon. The area has been nicely landscaped too to fit the hotel's more watered down (no pun intended) theming.
A live DJ livens things up poolside every Tuesday, and the 25-person hot tub can be great for meeting people.
Cabanas and daybeds are available for hire as standard, and there is both an Island Pub and a Pool Bar for refreshments.
Conclusion
Treasure Island isn't what it was, but it is still a very good resort on the Las Vegas Strip.
Las Vegas hotels have made a conscious effort to de-theme in recent times, and that was never really an option for Treasure Island. Therefore, the attempted rebrand to TI hasn't really worked, which is a shame.
Pros: Treasure Island is fun and the pirate village outside still brings a smile to faces. The prices are very good value.
Cons: The location can be problematic if you would rather be closer to the centre of the Strip.
Considerations: The rewards club will only really apply to Treasure Island, and that can feel limiting compared to the options provided by MGM and Caesars.