Las Vegas gambling can provide a largely chilled experience or a full blown attack on all of the senses. Whatever you're looking for, you'll likely find it somewhere. So, what can you expect from MGM Grand casino?
Hold on to your hats at MGM Grand casino, because if you're anything like me, you will not know where to start.
This sprawling casino seems never-ending as it twists and turns around the various bars and offers possibly the biggest selection of slots in any casino.
RELATED: Quick start guide to hitting the casino in Las Vegas
MGM Grand Casino overview
Total gaming space: 171,500 sq. ft
Rewards program: MGM Rewards
Number of Slot and video poker machines:  2500+
High Limit slots room: Yes
Table games: Baccarat, Blackjack, Roulette, Craps, lot of variations of poker
Poker Room: Yes
Sports book: Bet MGM
Smoking: Yes
ALSO READ: LAS VEGAS HOTELS: MGM Grand review and guide
MGM Grand casino has one of the largest gaming floors in all of Las Vegas, measuring 171,500 square feet (15,930 m2).
And if that's difficult to visualise in your mind, just imagine trying to find your way out of it once you're in the middle!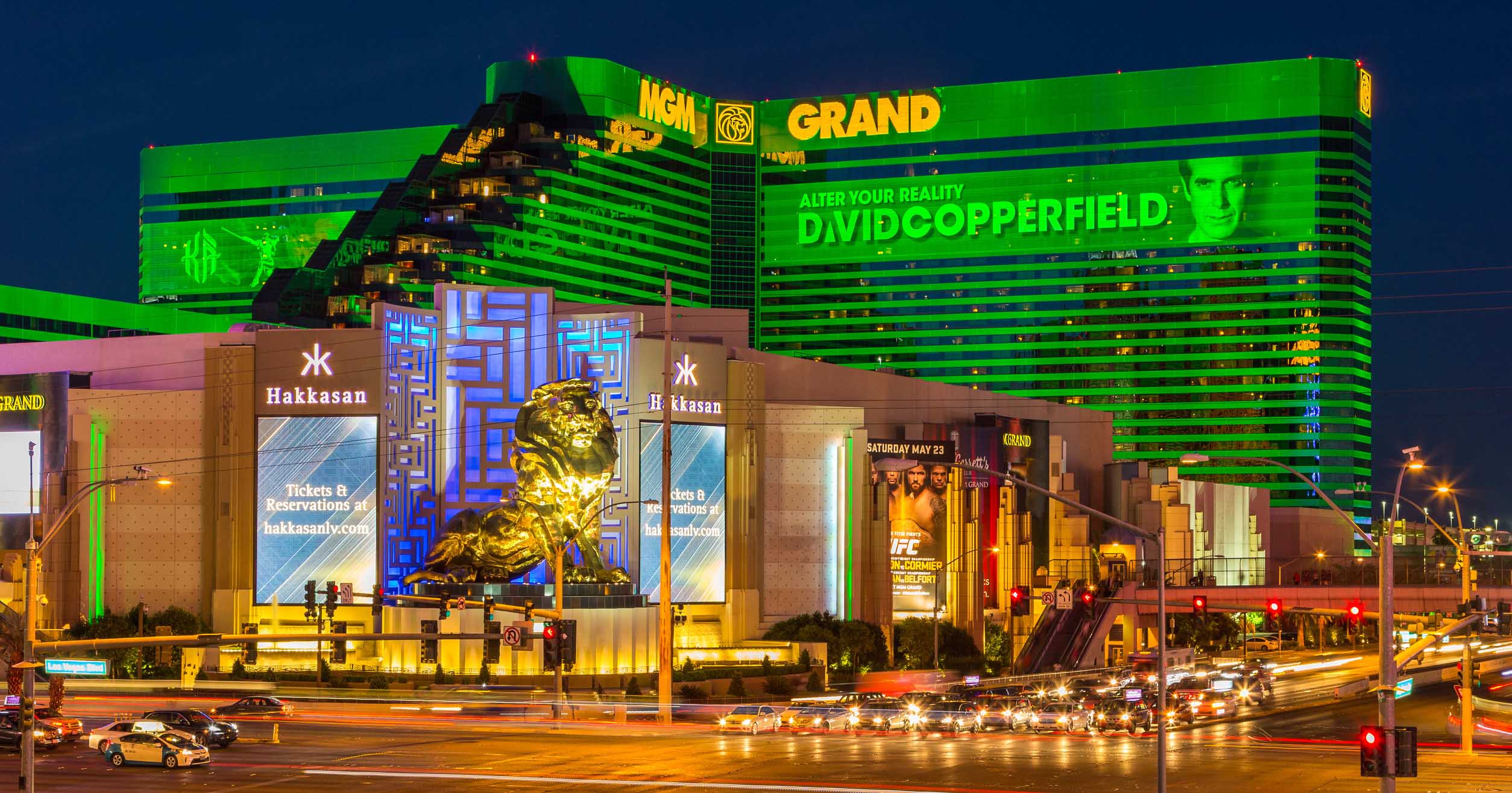 In truth, MGM Grand casino actually weaves its way around the ground-floor in a kind of semi-circle shape and that's why it appears to be never-ending. It is immersed between bars and restaurants, making it look like there are slots as far as the eye goes.
As you would expect from a casino this size, there are more than enough options when it comes to slots. You will never struggle to find something you want to play.
In fact the only problem you may have is how busy the casino gets. With so many bars, restaurants, sports events and shows at the resort, the casino benefits from a high amount of footfall.
Gambling at MGM Grand casino
For those who don't mind spending a little bit more on the slots, a high-limit room is provided with a private lounge, private restrooms and some added customer service.
MGM Grand casino has a large selection of table games too including all the usual favourites – blackjack, baccarat, craps and roulette, but don't expect to find low table minimums here, it is definitely for those with a deeper pockets. That is a Strip-wide thing these days, though, not MGM Grand-specific.
As for those who prefer poker to feature in their Las Vegas gambling, then MGM Grand is one of the few properties that still has a designated poker room.
This non-smoking poker room is open 24 hours and is the number one hot spot for Texas Hold'em. They run daily Texas Hold'em tournaments starting from $1-$2 No Limit Hold'em.
Drinks service and sportsbook
As with all Las Vegas hotel casinos, a complimentary drinks service is available to anyone who is gambling. From my experience, MGM Grand is one of the hardest places to find a waitress. That may be due to the shape and size of the casino, but there are plenty of bars close by.
If sports is where you prefer to get your Las Vegas gambling fix, then MGM has an expansive sportsbook. With sixty plasma screens simultaneously streaming sports action, there is plenty to keep you entertained while you track your bets.
Rewards club
As the name suggests, the MGM Grand casino is part of MGM Rewards. Makes sure you sign up for it as the casino is right at the heart of the MGM neighbourhood.
Mandalay Bay, Luxor, New York-New York, Excalibur and Park MGM are right on the doorstep, and they all take the same card.
RELATED: Las Vegas rewards clubs and how to make the most of them