Las Vegas gambling offers so much choice and variety. Whether you're a slots player, or get your kicks at the table, you want a casino experience to remember.  Let's take a look at what Treasure Island casino has to offer. 
Treasure Island, or TI, as it is also known, sits at the North side of the Strip. It is close to Mirage and opposite Venetian and Palazzo, so there is plenty close by. The Fashion Show Mall is also a neighbour.
The resort was originally built as a themed pirate resort to appeal to families. Part of its design features a large ship outside where nightly live shows used to draw huge crowds.
The Treasure Island casino of today is very different though. Caught in a kind of rebrand stalemate, the casino doesn't offer the same themed experience it once did.
RELATED: Quick start guide to hitting the casino in Las Vegas
Treasure Island Casino overview
Total gaming space: 95,000 sq. ft
Rewards program: TI Players Club
Number of Slot and video poker machines:  1200+
High Limit slots room: No
Table games: Blackjack, Roulette, Craps, Baccarat, Poker
Poker Room: No
Sports book: Golden Circle Sportsbook
Smoking: Yes
ALSO READ: LAS VEGAS HOTELS: Treasure Island review and guide
Treasure Island casino stands apart from other casinos on the Strip in a number of ways. Firstly, it's not linked to either MGM or Caesars, and there are not many independently owned casinos on the Strip.
Secondly, it is a themed casino without a strong theme. Yes it still carries the pirate name, ship and various pirate themed statues inside, but that's about it.
Finally, while other Strip casinos have at least one specific selling point, Treasure Island is a little more wishy washy. It doesn't score high on any one feature and in truth, it is need of some TLC.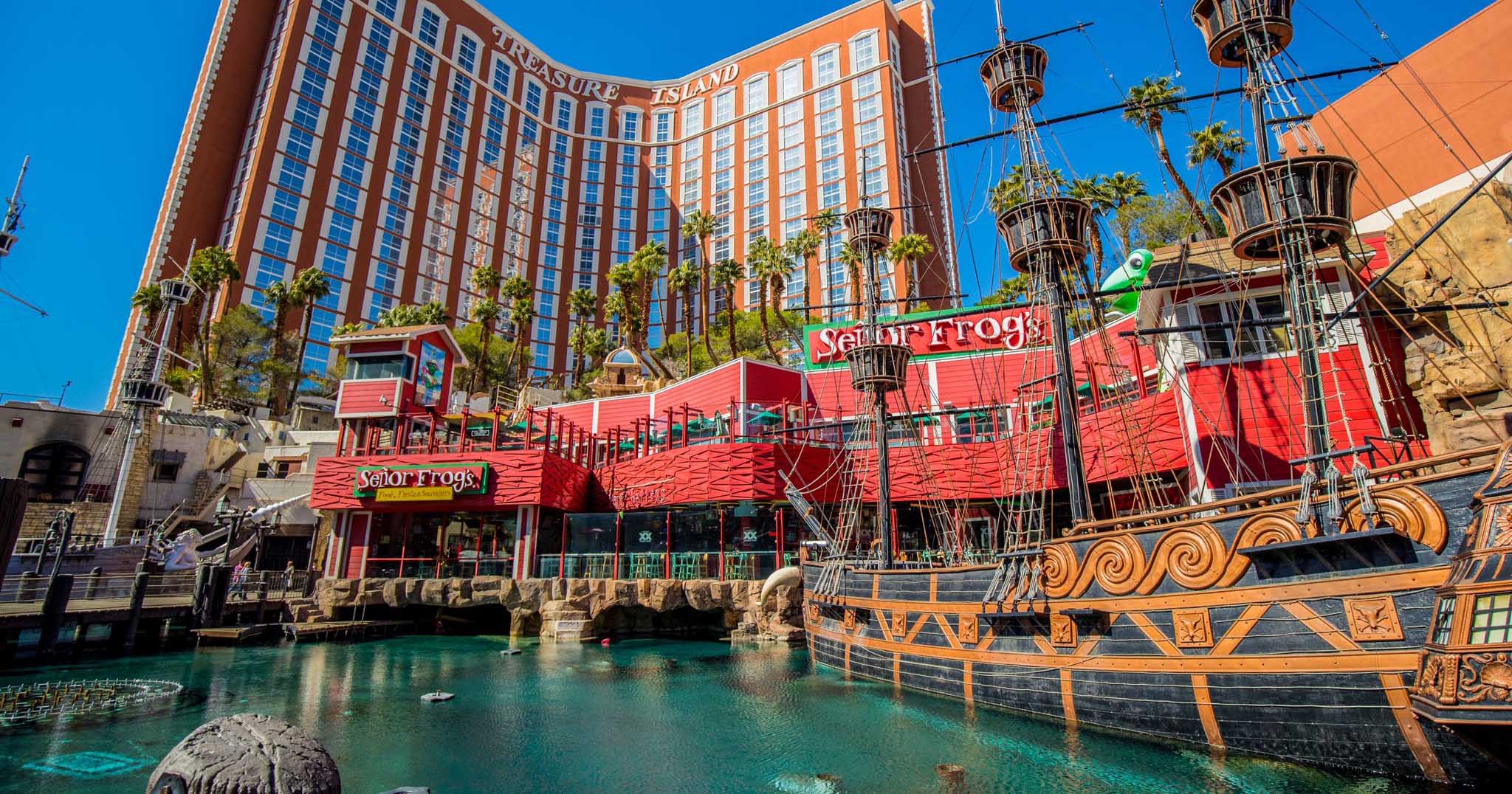 For some, especially those Vegas visitors who have experienced Treasure Island casino at its peak, this doesn't matter. In fact, it is considered part of its charm, almost like a brief blast from the past.
So although it can't rival other casinos with its size, class or theme, TI is a bit of an all-rounder and does have a character and personality of its own.
Gambling in Treasure Island casino
Treasure Island casino is on the smaller size, but certainly not the smallest on the Strip.
Although the decor may bit a little tired, the machines are not and you will find all of the most up-to-date slots here to play. And with over 1200 to choose from, there is plenty of choice.
The casino floor can appear bigger than it is due to the low ceilings and dark mood lighting. But it basically is just one big rectangle shape with walkways down each side so is easy to navigate.
Treasure Island offers all the usual range of table games including Blackjack, Roulette, Baccarat and Craps. There are different variations of Poker available too.
One of the great things about Treasure Island is that they do offer very reasonable table minimums in quieter times so that's worth bearing in mind.
The casino also has a what they call Fusion Hybrid Stadium Gaming. This is where you can play Blackjack and Roulette at the same time, with live dealers, from one machine.
For those who enjoy a little more high-octane Las Vegas gambling, Treasure Island casino has a high-limit lounge. With limits of up to $15,000 you can play Blackjack or Baccarat in luxury surroundings.
Sportsbook and drinks service
As with all Las Vegas gambling, a complimentary drinks service is available to anyone who is gambling at Treasure Island. It's a bit hit and miss, in my experience at least. However, it probably greatly depends upon the time of day you go and how busy the casino floor is.
If sports is where you prefer to get your Las Vegas gambling fix, then TI has the Golden Circle Sportsbook and bar.  With wall to wall video boards and 24 hour sports betting, you can watch your favourite teams in comfort.
Rewards club
Due to its independent status, Treasure Island casino has its own Rewards Club called TI Players Club.
This means that if you want to earn decent rewards you do need to concentrate all of your spend at this one resort. On the plus side, you do get a small reward just for signing up so its worth doing.
RELATED: Las Vegas rewards clubs and how to make the most of them