Whether you prefer to do your Las Vegas gambling in a wild, loud, busy setting or something a little more relaxing, Sin City has it all. Planet Hollywood definitely comes with a party atmosphere, so lets look at what else you can expect from this casino. 
Planet Hollywood casino is a busy little casino whether you go day or night and there's a reason for that.
Not only is it one of the smallest casino floors on the Strip so it always looks crowded. However, it is also flanked by the busy Miracle Mile Shopping Centre, making it a hive of activity.
Add this to its stylish theming, loud music and the younger crowd and you've got a party atmosphere for your Las Vegas gambling.
RELATED: Quick start guide to hitting the casino in Las Vegas
Planet Hollywood Casino overview
Total gaming space: 64,470 sq. ft
Rewards program: Caesars Rewards
Number of Slot and video poker machines:  1000+
High Limit slots room: Yes
Table games: Blackjack, Roulette, Craps, lot of variations of Poker
Poker Room: No
Sports book: Caesars Sportsbook
Smoking: Yes
ALSO READ: LAS VEGAS HOTELS: Planet Hollywood review and guide
Planet Hollywood casino has an excellent location the Strip. It is surrounded by restaurants, bars and shops so is very rarely quiet even through the day.
At night, this is even more the case with loud upbeat music playing across the casino floor. There are also go-go dancers and flashing lights with crowds of young trendy types partying around the casino tables.
What I'm saying is: if high-energy isn't your thing, you might want to go elsewhere for your Las Vegas gambling.  That's not to say that Planet Hollywood isn't a fab casino, it is.
As you would expect from anything with Hollywood in the title, the theme of the casino is movies. It seems to be more about celebrities in general though rather than just movie-stars.
The hotel rooms and suites are movie-themed, they have a Hollywood Cafe full of celebrity  memorabilia and high-profile residencies from some of the world's best known music artists, so Planet Hollywood casino is definitely on brand as one of the coolest places to be seen.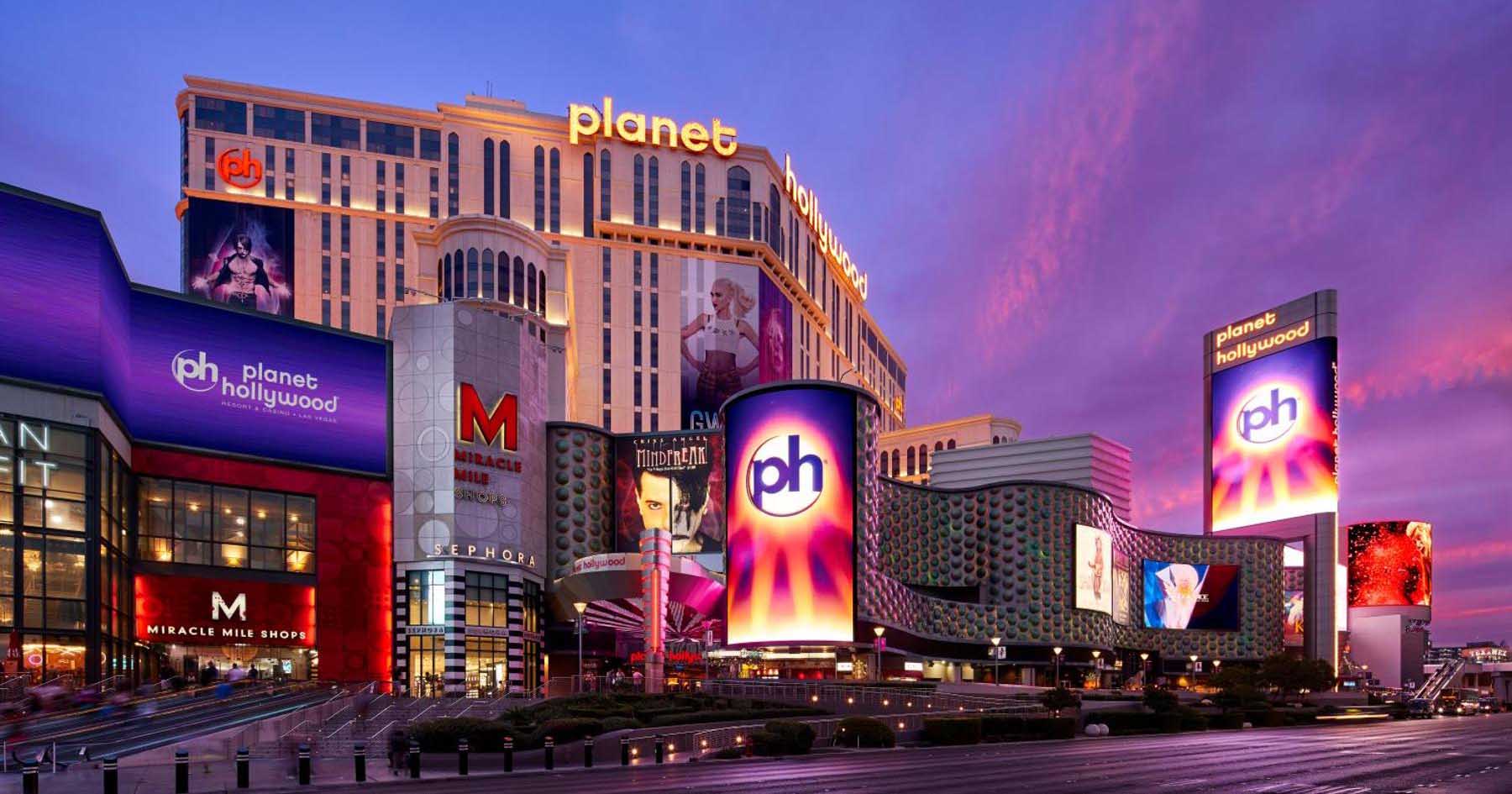 Gambling at Planet Hollywood casino
Although a comparatively small casino, Planet Hollywood packs a lot in and with over 1000 slots machines. There are also 86 table games, so there's plenty of choice.
You'll find a selection of all of your favourite slot machines here. You just maybe won't find too many of each due to the limited space. That said, I've never really struggled to find anything I want to play.
The casino also has a high ratio of table games which includes all of the usual favourites. Blackjack, Roulette and Craps are all there along with some variants. However, it can be a struggle to find a free seat at one of these, especially on a weekend.
This might also be due to the fact you can get reasonable table minimums starting from $5 so its worth checking out.
For those who enjoy even more high-octane Las Vegas gambling, there is a separate high-limit table games area. The high-limit area is fairly large and includes comfy couches. The Planet Hollywood casino has some high-limit slots too, although not all that many.
Planet Hollywood sportsbook
If sports is where you prefer to get your Las Vegas gambling fix, then Planet Hollywood has you covered.
They have a reasonably sized Race and Sportsbook with stadium seating and comfortable lounge chairs for about 50 people. It's nothing special, but it serves a purpose and it's better than many out there.
Rewards club and drinks service
RELATED: Las Vegas rewards clubs and how to make the most of them
Planet Hollywood is part of Caesars Rewards, which is one of the most popular and comprehensive in Las Vegas.
As with all Las Vegas gambling, a complimentary drinks service is available to anyone who is spending money on the casino floor. From my experience, I've always find this to be a good service, although you do occasionally have to shout over the music to give your order.