Las Vegas gambling presents so much choice, with each casino offering something a little bit different. So, what can you expect from the New York-New York casino?
New York-New York resort provides such an iconic visual on the Las Vegas Skyline. Its striking exterior, big apple roller coaster and replica Statue of Liberty makes it look like a great place to visit.
But does the inside casino match the outside for style and character? The answer is yes – and in abundance.
What New York-New York Casino lacks in space it makes up for in atmosphere, and has arguably the best look and feel of any casino on the Strip.
RELATED: Quick start guide to hitting the casino in Las Vegas
New York-New York Casino overview
Total gaming space: 84,000 sq. ft
Rewards program: MGM Rewards
Number of Slot and video poker machines:  950+
High Limit slots room: Yes
Table games: Blackjack, Roulette, Craps, Ultimate Texas Hold'em, 3-card Poker
Poker Room: No
Sports book: Bet MGM
Smoking: Yes (with a small non-smoking section)
ALSO READ: LAS VEGAS HOTELS: New York-New York review and guide
Gambling at New York-New York casino
The New York-New York casino has very little square-footage in comparison to other casinos but they use that to their advantage by creating a fantastic atmosphere.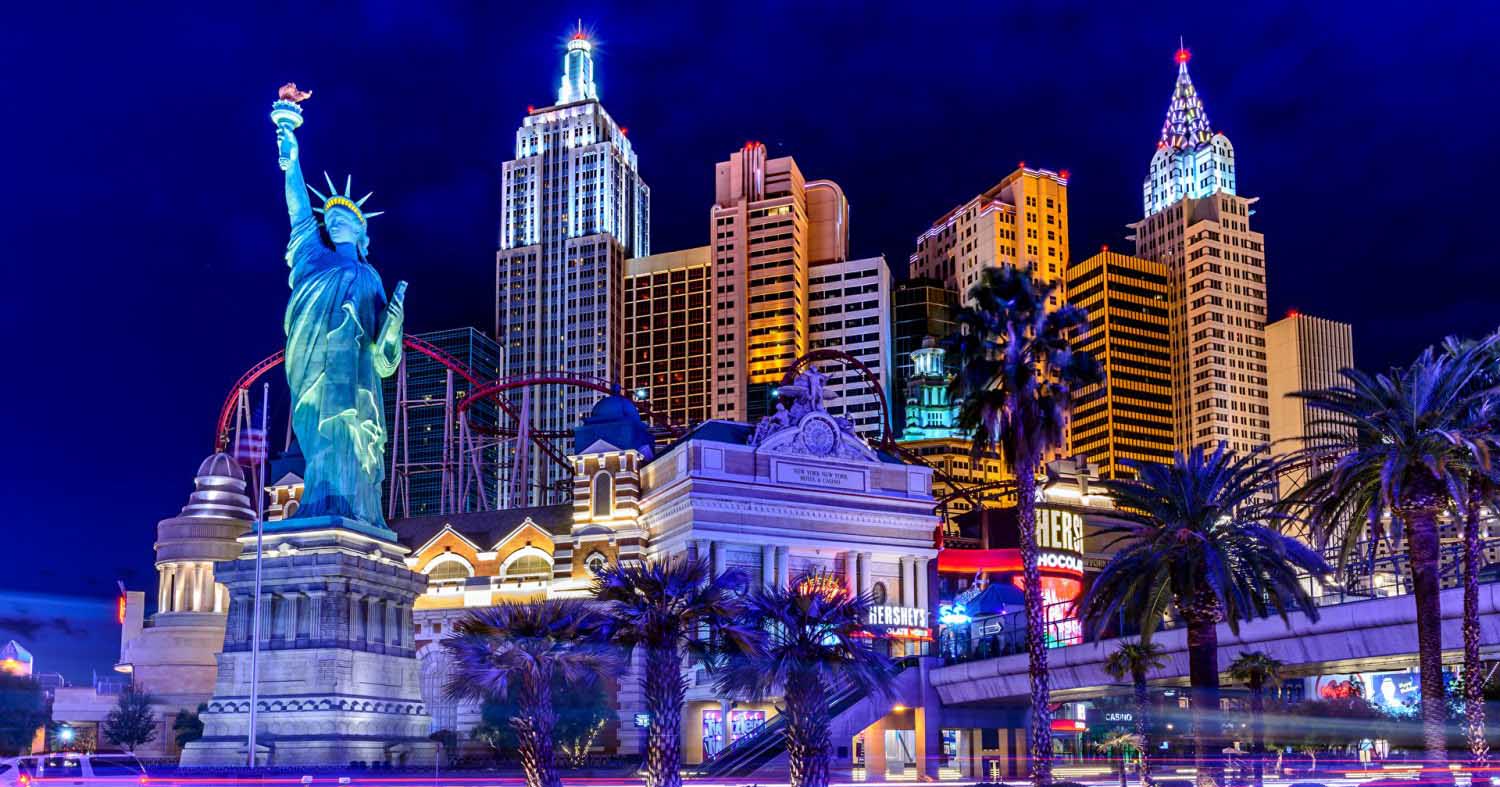 Will you have a lot of space around you when playing slots? No, but will you enjoy being amongst the hustle and bustle of a buzzing casino surrounded by bars and an incredibly themed interior? Absolutely!
The casino has a large circular bar right at the centre, fittingly called Center Bar, where music and socialising spill out onto the casino floor.
The slots are also flanked by the incredible Hershey's Chocolate Bar, Nine Fine Irishmen Irish bar and the duelling pianos of Times Square Bar. If you like some peace and quiet while you gamble, this is probably not the place for you.
However if you like a great range of games, a lively atmosphere and plenty of post-gambling frivolity then this is a must.
New York-New York casino is easy to navigate due to its size. Don't be fooled into thinking it lacks in game selection, though. There are more than 900 slot machines, including all the usual favourites are.
For those who love to frequent the tables, you can enjoy roulette and blackjack as standard. There are also a few different poker variants and even crapless craps.
New York-New York casino also has arguably one of the best casino floor views of all with its high ceilings and striking décor.
If you enter the resort via one of the pedestrian bridges from Excalibur or MGM Grand and take the escalator down to the casino floor, prepare to be dazzled!
Drinks service and sportsbook
If you're doing Vegas properly, you shouldn't really need to buy yourself a drink, and the New York-New York waitress service is generally good. Don't be afraid to ask for your favourite cocktail or even ask them to surprise you with something, it works for me!
New York-New York casino has probably one of, if not the, smallest sports books on the Strip. So, if you're looking for sports gambling there are better options elsewhere.
Rewards club
The New York-New York casino is part of MGM Rewards. It is one of the most comprehensive rewards programmes in Las Vegas, so make sure you're signed up.
There are a lot of sister properties surrounding New York-New York, so tier points should come relatively easily.
RELATED: Las Vegas rewards clubs and how to make the most of them