If you want to indulge in some Las Vegas gambling, then Downtown, where there are 12 casinos within ten minutes walk of each other, is a great place to do it. So what can you expect from the Main Street Station casino?
For me, Main Street Station casino stands out when I think of Downtown Las Vegas. Not only is it located slightly apart from the main bulk of casinos, but it has its only style and atmosphere that make it really distinctive from the rest.
And with the recognisable neon on its exterior and its classic gold trimmed interior, it really is a casino that should not be overlooked.
RELATED: Quick start guide to hitting the casino in Las Vegas
Main Street Station Casino overview
Total gaming space: 28,000 sq. ft
Rewards program: Boyd Rewards
Number of Slot and video poker machines:  800+
High Limit slots room: No
Table games: Baccarat, Blackjack, Roulette, Craps, variations of poker
Poker Room: No
Sports book: Boyd Sports
Smoking: Yes
ALSO READ: LAS VEGAS HOTELS: Main Street Station review and guide
Main Street Station is one of the smallest casinos in Las Vegas, but it is one of the most recognisable and it has a great vibe to go with that unique look.
By Downtown Las Vegas standards, Main Street Station casino is a little off the beaten track. That said, all it means is that it will take you a maximum of five minutes to walk to it than two.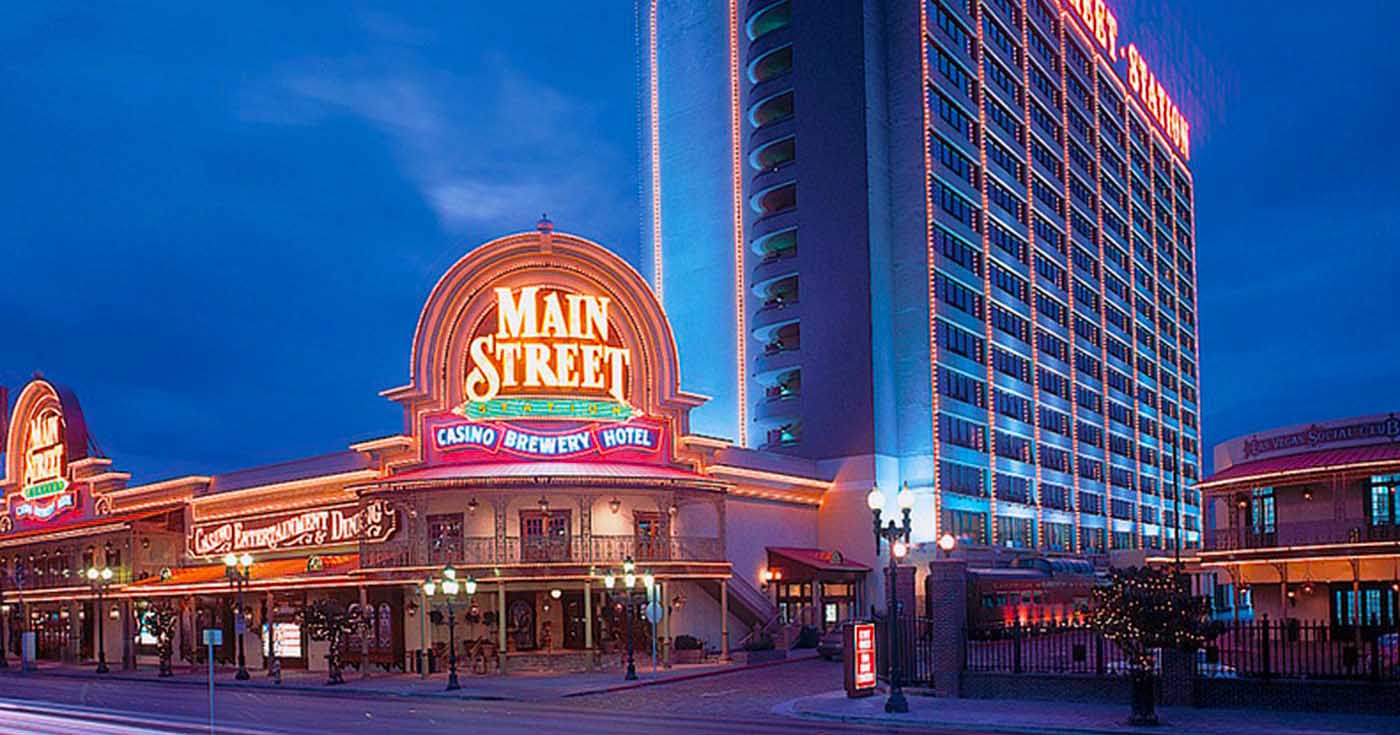 It also means that it is not one of the properties located directly on the Fremont Street Experience but, again, I wouldn't say it suffers for that.
Gambling in Main Street Station casino
Although Main Street Station casino is comparatively small, they cram a lot into that space. To be a little more precise, there are more than 800 slot machines and around 18 table games.
In all honesty, than can create a slightly cramped feeling in some places, particularly the more vintage slots machines for which there are a good selection. If you are playing the more modern games, that isn't really the case at all.
The Main Street Station casino has plenty to offer to table-game players too. There is the usual Baccarat, Roulette, Poker variants and Blackjack on offer. Main Street Station casino is quite famous for it's 20-times craps odds, and it is also one of the few places where you can play single-deck Blackjack. If you are in there at a quieter time, the minimum for both can be $5, again a real rarity.
Because it is not on the Fremont Street Experience and directly benefiting from footfall, Main Street Station is not quite as slavish to the peak times of weekends and evenings. These will still be the busiest times, obviously, but they are not usually as busy as those on Fremont Street. That makes it, therefore, a great place to come to try and avoid the Downtown crowds when it is, perhaps, too busy.
The thing that makes the Main Street Station casino so recognisable is the décor. The interior is incredibly distinctive with it's gold stylings and offers some superb views of the gaming floor from the upper level.
The attached microbrewery is another big attraction here. The homemade microbrews are served at the casino bar and in the exceptional Triple 7 Restaurant. No visit to Main Street Station is complete without it.
Sportsbook and drinks service
From my experience, the complimentary drinks service Downtown is much better than it is on the Strip.
It can vary with staffing levels and during peak times, but I can't remember ever having bad service in there.
If no Las Vegas gambling trip for you is complete without sports, Main Street Station does have a small sportsbook. It is attached  to the brilliant Triple 7 restaurant and microbrewery.
Rewards club
Main Street Station is part of Boyd Rewards, and that is definitely one worth signing up for.
There are two more properties Downtown in the same programme – The Cal and Fremont – so you can earn rewards quickly.
RELATED: Las Vegas rewards clubs and how to make the most of them