That said, The Las Vegas gambling scene is packed with so much choice, it can be hard to decide where to start. You can't get any more Vegasy than Caesars Palace casino though. Let's take a look at what you can find at this classic casino experience.
Caesars Palace as a property is instantly recognisable. Its sheer size and presence on the Strip is enormous and its Roman architecture, statues and fountains are a stunning piece of Las Vegas scenery.
When it comes to looking inside at the Caesars Palace casino, you can basically match the interior to the exterior. It has one of the biggest casino floors on the strip, and it is immersed in Roman theming. When you also factor in one of the biggest selection of slots and table games you will find anywhere, Caesars Palace casino deserves its reputation as a giant of Las Vegas gambling.
RELATED: Quick start guide to hitting the casino in Las Vegas
Caesars Palace Casino overview
Total gaming space: 124,181 sq. ft
Rewards program: Caesars Rewards
Number of Slot and video poker machines:  1600+
High Limit slots room: Yes
Table games: Baccarat, Blackjack, Roulette, Craps, lot of variations of Poker
Poker Room: Yes
Sports book: Caesars Sportsbook
Smoking: Yes
As we've already said, Caesars Palace casino is big. It can really seem like a bit of a maze to navigate. Stretching over lots of different areas, with quite dark lighting and low ceilings in some parts and incredibly high ceilings in others, its difficult to see where it actually starts and where it ends.
Unlike New York-New York or Mandalay Bay casinos, you can't look down on the Caesars Palace casino floor from an elevated position and get your bearings. At Caesars, you walk into the casino from the lobby and just keep going.
This takes you past various statues and columns, bars, restaurants, shops, the famous Colosseum theatre, the huge Sports book and so on. I've visited this casino numerous times and still can't really find my way around.
That's not necessarily a bad thing, though. What you get in return is lots and lots of Las Vegas gambling options.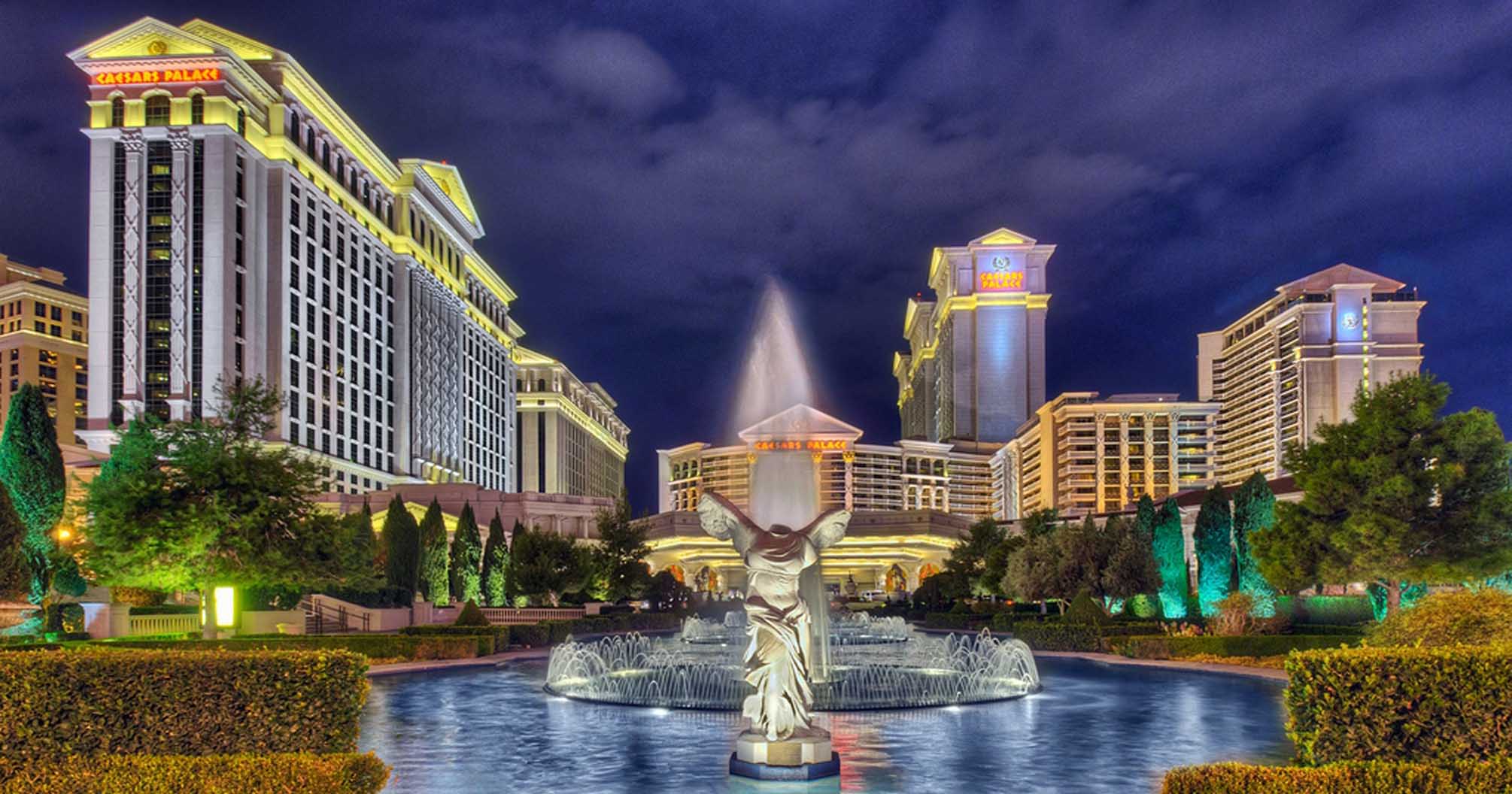 Gambling at Caesars Palace casino
With more than 1300 slot machines alone, the choice is epic and you can't help but be impressed sitting at a machine surrounded by such incredibly stunning surroundings.
What Caesars Palace casino does really well is table games, and there is an expansive area with all the variety you could hope to play.
All the usual Blackjack, Roulette, and Craps options are here. That said, as you would expect from such a high premium casino such as this, the table minimums reflect this.
There are, in fact, 185 table games at Caesars Palace, which you think would be plenty. I've seen this floor absolutely crammed on a weekend, though, so bear that in mind.
The only negative that this can bring is quite a smoke-filled environment. If you don't like smoking, this can be quite overpowering.
Caesars Palace casino is a haven for Poker enthusiasts and their 4,500-square-foot designated Poker room reflects this. With daily tournaments and lots of Poker variations on offer, you won't need to go anywhere else.
What Caesars Palace casino does really well is cater to their higher rolling guests. There are two high-limit slots rooms, with one a little more exclusive than the other. The Caesars Palace casino also has a high-limit table games areas with tuxedo-clad dealers.
Caesars Palace sportsbook
If sports is where you prefer to get your Las Vegas gambling fix, then you will absolutely love Caesars Palace Sportsbook. This huge expansive area was voted the best destination for sports betting in Las Vegas four years in a row by Review-Journal and it's easy to see why.
You can follow all the action on Caesars custom-built, 143′ HD LED display, coupled with state-of-the-art 4-Zone Directional Sound and with over 140 seats and 13 betting windows. The Caesars Palace Sportsbook is incredible and well worth a visit.
Rewards club and drinks service
RELATED: Las Vegas rewards clubs and how to make the most of them
The Caesars Palace casino is part of Caesars Rewards, which is one of the most comprehensive loyalty programmes in Las Vegas.
As with all Las Vegas gambling, a complimentary drinks service is available to anyone who is spending money on the casino floor. That said, it can be little hit and miss at Caesars Palace casino. If you find good service, though, then premium drinks such as Champagne are available to order.
ALSO READ: LAS VEGAS HOTELS: Caesars Palace review and guide