There is so much choice when it comes to Las Vegas gambling and where to spend your money, it can be difficult to know where to start. So, what can you expect from Luxor casino?
Luxor stands proudly on the south side of the Las Vegas Strip, right in the middle of Mandalay Bay and Excalibur making it a great choice to casino hop if that's what you enjoy.
It has one of the biggest casino floors in the MGM property portfolio and has the added bonus of being surrounded in the themed splendour of an Egyptian pyramid.
RELATED: Quick start guide to hitting the casino in Las Vegas
Luxor Casino overview
Total gaming space: 120,000 sq. ft
Rewards program: MGM Rewards
Number of Slot and video poker machines:  1200+
High Limit slots room: Yes
Table games: Blackjack, Roulette, Craps, Texas Hold'em Progressive, 3 Card Poker, Mini- Baccarat
Poker Room: No
Sports book: Bet MGM
Smoking: Yes
ALSO READ: LAS VEGAS HOTELS: Luxor review and guide
Luxor casino provides one of the most distinctive casino interiors that you'll find in any Las Vegas hotel.
The sprawling gaming floor is right in the middle of the 30-story pyramid, overlooked by the interior hotel corridors which house hundreds of hotel rooms. So if you're a guest, you can walk out of your hotel room and look down on to casino immediately.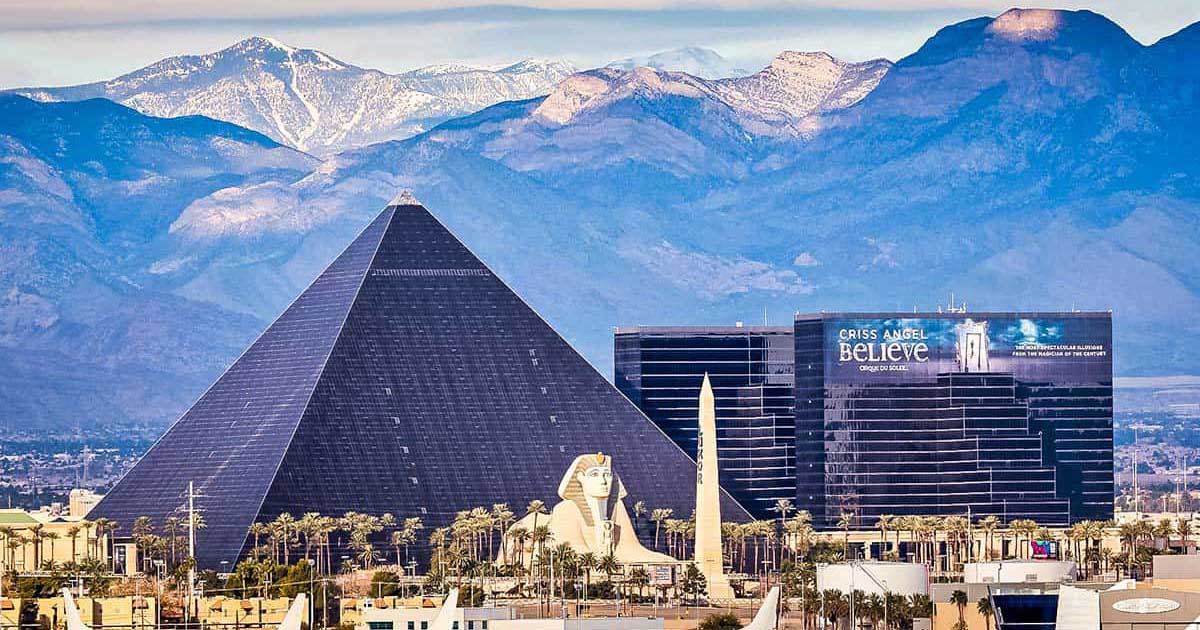 It is also surrounded by gigantic Egyptian themed statues and diagonal elevators so there's no escaping exactly where you are when you gamble at Luxor casino.
The large space does mean that you can get a little disorientated, through. It also means that the casino can feel much darker than others due to the imposing tower above.
Gambling at Luxor casino
Luxor has a huge casino and that means you are spoilt for choice when it comes to slot machines.
From traditional mechanical slot machines (a must-have for many when it comes to Las Vegas gambling), to the latest video reel machines to hit the market, and all the usual favourites, you'll not want for anything slots wise.
There is also a nice balance between the number of slot machines and table games, and you can enjoy all the usual roulette, craps tables and blackjack, plus free bet blackjack too.
Luxor offer a number of poker variations including 3-Card Poker, Let it Ride, Progressive Ultimate Texas Hold'em and some mini Baccarat.
There is a separate high-limit gambling area where you can play slots and table games that also includes a comfortable lounge and a private cocktail station.
Drinks service and sportsbook
As with all Las Vegas hotel casinos, a complimentary drinks service is available to anyone who is gambling.
In my experience complimentary drinks have been hard to come by when I've gambled in Luxor. However, that's due to the size of the casino and the amount of machines in use at any one time.
I certainly wouldn't want to suggest, however, that the drinks service can't be extremely good on another day, at another time, or in another spot on the casino floor.
There are plenty of bars around the main casino floor to get drinks if needed, too.
Luxor also has a fairly big sportsbook for those you like to gamble on sport. It's smoke-free area comes with plasma TV's and individual seats with monitors. However, it is probably in need of a little upgrade.
Rewards club
Luxor is part of MGM rewards, which is a cornerstone of visiting Las Vegas. All of the MGM properties fall under its banner, so it is important to sign up as quickly as possible.
The property is right at the heart of the MGM neighbourhood, too. That means you should get plenty of use out of your card once you have it.
RELATED: Las Vegas rewards clubs and how to make the most of them