If you want to indulge in some Las Vegas gambling, then Downtown, where there are 12 casinos within ten minutes walk of each other, is a great place to do it. The oldest of them, is the Golden Gate casino.
That means that a trip to the Golden Gate casino is a taking in a piece of real Las Vegas history. There has been a property on that piece of land since 1906, which actually pre-dates the gambling ban in Nevada.
All that history does come with compromises, though.
RELATED: Quick start guide to hitting the casino in Las Vegas
Golden Gate Casino overview
Total gaming space: 12,243 sq. ft
Rewards program: Club One
Number of Slot and video poker machines:  500+
High Limit slots room: No (But there is a high limit table game room)
Table games: Baccarat, Blackjack, Roulette, Craps, variations of poker
Poker Room: No
Sports book: None
Smoking: Yes
ALSO READ: LAS VEGAS HOTELS: Golden Gate review and guide
The first and biggest compromise for all that history at Golden Gate is the lack of size. It is the smallest of the main casinos Downtown by some distance.
What it lacks in size, though, it makes up for in noise. There is a real party atmosphere in Golden Gate casino which is in fitting with its loose roaring 20s theming.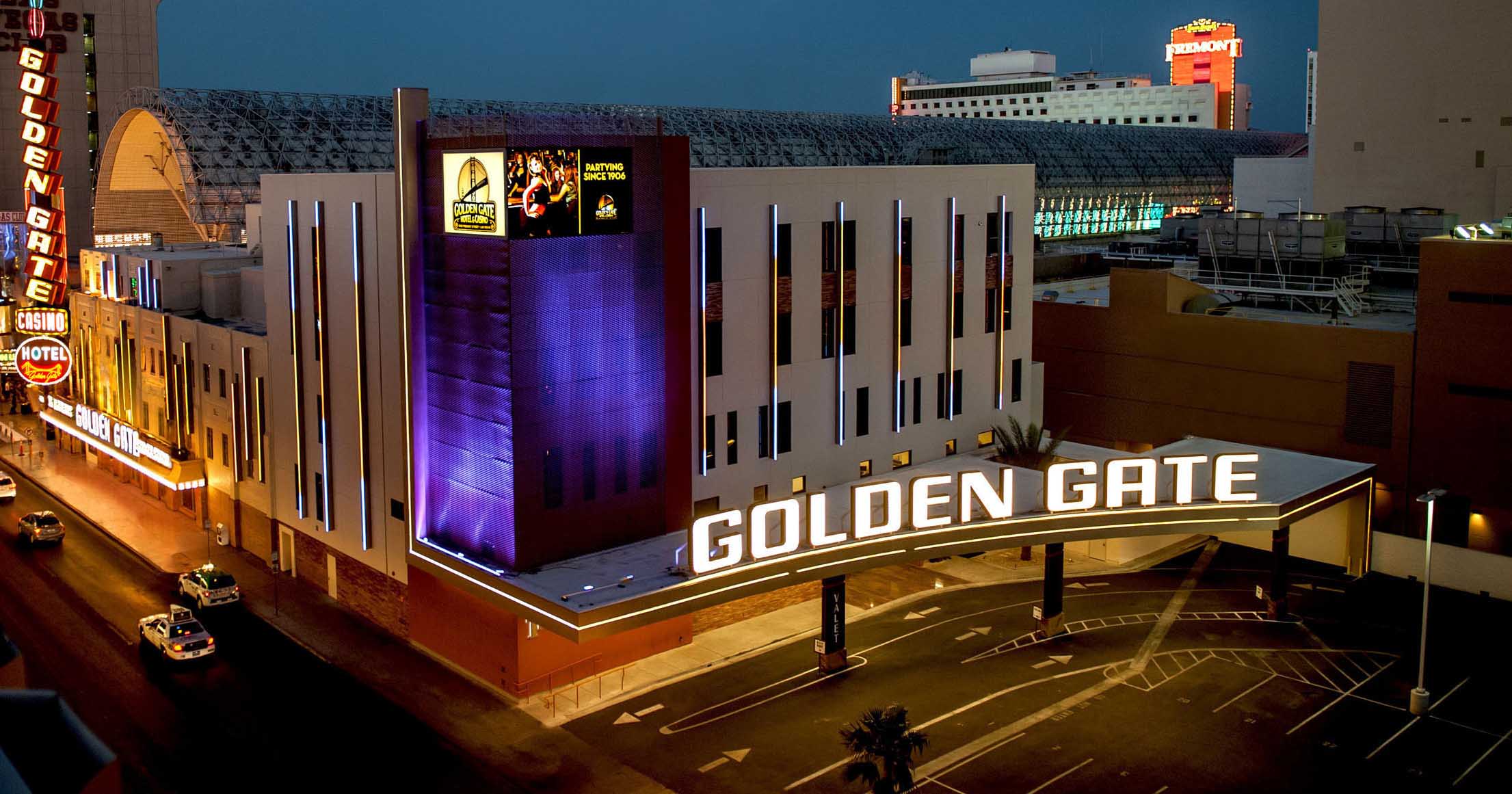 They do try to make the absolute most of all every inch of space. That can make for some elbow-bumping when playing slots unfortunately.
That is enough of the compromises, though. There are plenty of great things to explore about the Golden Gate casino too.
Gambling at Golden Gate casino
For a start, Golden Gate have a great selection of slots in their casino. You will find more than 500 from which to choose and they are well set out.
Those who love their table games are well looked after too. In fact, the single biggest win on a roulette win in Las Vegas history – a cool $250,000 – was won at the Golden Gate casino.
They can't guarantee you will get one of those, of course, but they are one of the few places in Las Vegas who still offer 3-to-2 pays on Blackjack. Newer table games like 3-card Poker and Let It Ride are also available to play.
Golden Gate casino is also part of the Derek Stevens family of properties, and that means dancing dealers.
The casino is one of the ones located on the Fremont Street Experience, so it can get very busy on nights and weekends. Bear that in mind as it will obviously mean more work for the waitresses too and service can naturally slow down as a result.
Sportsbook and drinks service
While the smaller sized gaming floor does demand compromises, it gives a little back too with excellent waitress service. They can get round the smaller area quicker than most properties can offer, and that means more drinks for everyone. Just be sure to tip properly as a courtesy.
There is also not a sportsbook. There is just no space for one I am afraid. So if your Las Vegas gambling revolves around the big game, you'll have to go elsewhere. Still, sister property Circa is just across the road and it has arguably the best sportsbook in the world, so another excuse to go there isn't really a bad thing, right?
Generally, though, the compromises at the Golden Gate casino are worth it. There is some real history to soak up there, so a little less space is a small price to pay for something ultimately irreplaceable.
Rewards club
Golden Gate is part of the Club One rewards club. That puts it alongside sister-properties The D and Circa.
That makes it arguably the best in Downtown Las Vegas with all three extremely good hotels and casinos.
RELATED: Las Vegas rewards clubs and how to make the most of them