Each week we ask a fellow Las Vegas lover to answer eight questions about what they love about Las Vegas. This week it's the turn of YouTube Las Vegas vloggers The Las Vegas Couple
You would think that vlogging Las Vegas with all its incredible sights and sounds was easy, but in reality there are few who do capture it well enough to do it justice.
One of our favourites is the Las Vegas Couple, who regularly travel from the UK to Las Vegas and always take us along with them for the ride.
We thought we'd hand the floor over to them to tell us all about what they love in Las Vegas and why.
What is your favourite Vegas hotel and why?
Darren: Has to be The Bellagio. People use words like 'iconic' and 'timeless' to describe it and I agree with all of that, but having stayed there so often, to me it's just "home".
We've made really good friendships with dealers and servers in Bellagio over the years, which optimises the importance they place on service. It's pure class top to bottom.
Sally: Hands down, Bellagio! For all the reasons Darren has said, plus there is no finer smelling hotel lobby! As we love to have a good stomp all over the strip, the location is just perfect.
What is your favourite Las Vegas Casino and why?
Darren: Based purely on the casino itself, I'm gonna say Cosmopolitan. The floor layout and variety of slots is amazing, and having the Chandelier Bar right in the middle of the action is dreamy.
The drinks service on the casino floor is (as we all know), consistently the best on the strip, regardless of what level you're gambling at.
Sally: Perhaps a little random, but I absolutely love Bally's! Nice down to earth vibe, good size casino floor, great variety of slots and I love the cheesy music! It is also the casino we got our first hand-pay in.
RELATED READING: LAS VEGAS GAMBLING: Quick start guide to hitting the casino
What's your game and why?
Darren: Although Sally has done a great job of converting me into a degen slot player in recent years, I'm always going to get the biggest buzz out of playing Craps.
There's no other action like it anywhere on the casino floor.  The dealers on that table really earn their corn and when the shooter is on a roll, I love how the money just flies around in such a chaotic but beautifully organised way.
Let's go shooter!
Sally: Slots for me! Diamond Galaxy will always be my number 1, but since it was wheeled away into retirement, Buffalo Gold has been my trusted go-to. Who doesn't love helmet hunting?!
Top Vegas food/drink recommendation?
Darren: Drink – Red Bull is your friend!  Sure, I know it's not exactly the healthiest choice, but man that stuff can help you stretch your day out just that little bit longer.  I'd always recommend a splash of vodka to accompany.
Top bar recommendation has to be Ghostbar at the Palms. The best view in Vegas, bar none!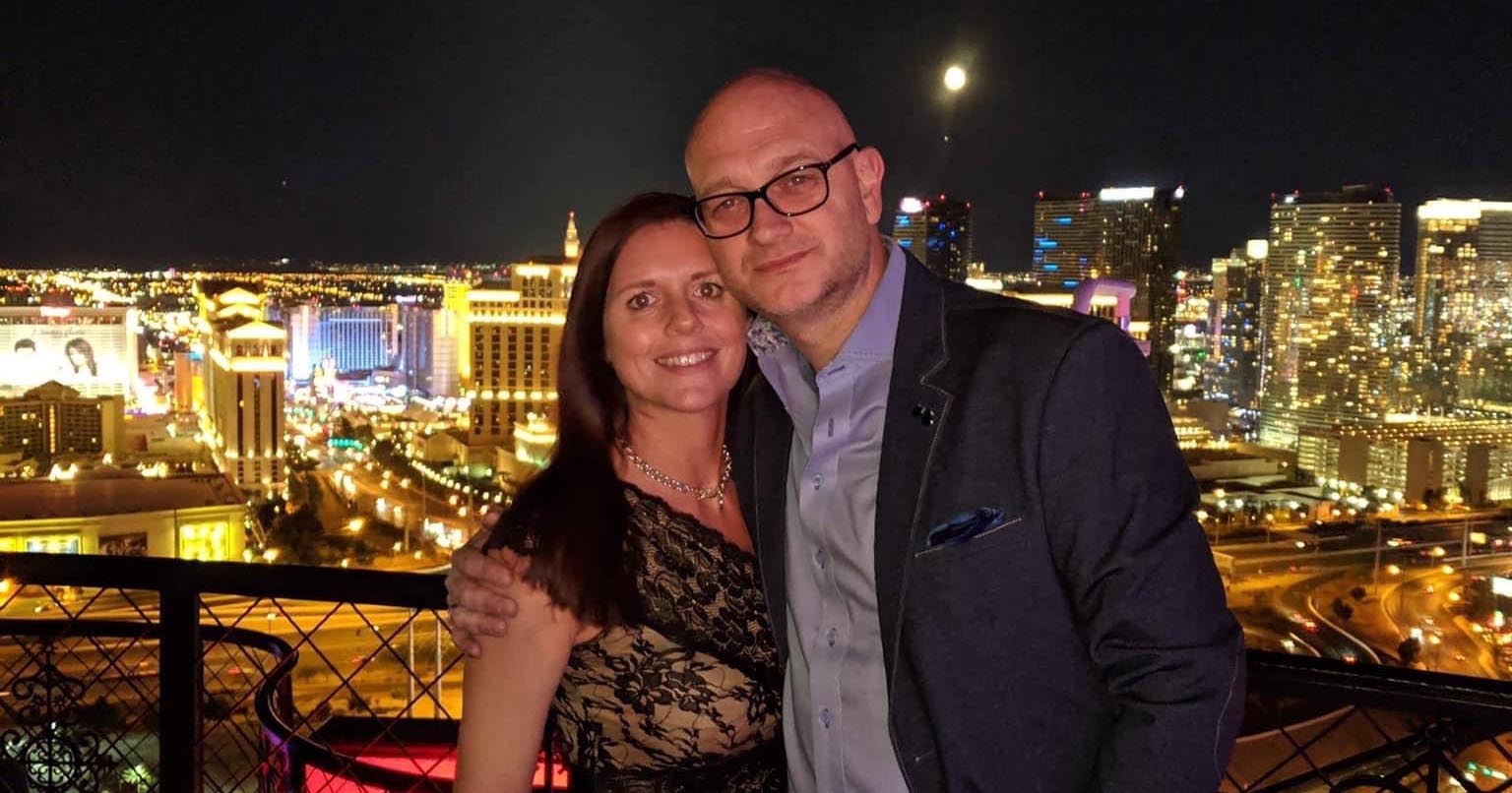 Food – for all the amazing high end restaurants at your disposal, don't underestimate the value of a cheeky slice.  Some amazing (and cheap) little pizza places all over the city and let's face it, the Americans just do Pizza right.
Top restaurant recommendation – Prime at Bellagio. Beautiful food, a view to die for and service that makes you feel like a king.
Sally: Darren has pretty much nailed this one! Although I need to add in Mon Ami Gabi here for food, this place just makes me very happy, I love everything about it. Food, location, service, ambience, value for money, it is pure wonderful!
Top tip for a Las Vegas beginner?
Darren: Let yourself go! On your first trip it can be quite overwhelming and the temptation is to stay on the periphery. Don't do that! Get stuck in. Hit that craps table, order that exotic drink, go to that nightclub, just do it and leave your inhibitions at the door.
Sally: Be prepared to fall in love… once Vegas gets you in her grip, she will NOT let you go!
Do your research! There is SO much to see and do, you can lose precious time just being bewildered by it all on your first trip. Join a Facebook group, ask lots of questions, watch a variety of vlogs to familiarise yourself with hotel locations and how best to get around etc… And when people say to ditch the heels and pack your comfies… listen!
What's your Vegas insider tip?
Darren: Has to be the Millennium Fandom bar, located on Hoover Avenue. It's such a little hidden gem and if your a fan of sci-if or all things nerdy, this place is for you. Check the website as they have cool events on every weekend.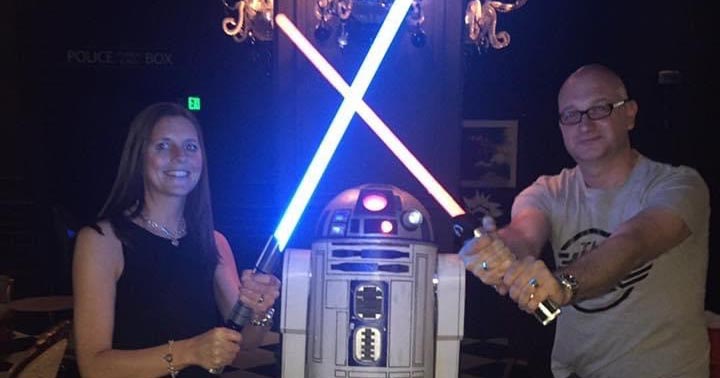 Sally: If you enjoy live music, make sure you get yourself to Carnaval Court. They have some great live bands on daily, starting at 2pm. Free entry, great fun & free shots, what's not to love?!
Related Reading: Las Vegas Rewards Club – everything you need to know
Best Las Vegas memory?
Darren: I did the meet and greet thing with Mike Tyson in one of the sports memorabilia stores in the Miracle Mile a few years back. Getting a few minutes to chat to a boxing icon and one of my heroes was amazing. He signed a glove for me which is still one of my most treasured possessions.
Sally: There's so many it is virtually impossible to choose! One of my favourites was going to the World Series of Darts at the Tropicana a few years ago. We both love the darts and were lucky enough to meet several of the players, along with Russ Bray and Eddie Hearn. It was so much fun!
Why do you love Las Vegas?
Darren: Wow – where do you start with a question like that? I guess if I had to summarise it, it would be down to the variety and energy of the city. Anything goes, it's a genuine adults playground and a chance to live like a rock star for a few days.
It's beautifully orchestrated to consume you.  From the moment you land, to the moment you fly home, you just forget whatever challenges you have back home, and embrace the chaos.
Sally: My biggest love will always be how happy it makes us both. It is just magical, there is simply nowhere else like it on earth. It can be anything and everything you want it to be and more. It is a complete escapism from reality, just get off the plane and let Vegas do the rest!
A big thank you to Darren and Sally! Be sure to check out their great Vegas Vlogging channel on YouTube and definitely follow them on Twitter.