If you're keen on jumping into some Las Vegas gambling, it can definitely be overwhelming. It doesn't have to be, though, especially at El Cortez casino.
El Cortez is, without doubt, one of the most quietly endearing properties in all of Las Vegas. Of course, 'quietly endearing' isn't really what many people go to Las Vegas for. Loudly impressive is the vibe most places tends to shoot for, especially on the Strip.
However, never underestimate the value that places like El Cortez continue to bring to the Las Vegas gambling scene.
RELATED: Quick start guide to hitting the casino in Las Vegas
El Cortez Casino overview
Total gaming space: 41,842 sq. ft
Rewards program: Club Cortez
Number of Slot and video poker machines:  700+
High Limit slots room: No
Table games: Blackjack, Roulette, Craps, variations of poker
Poker Room: Yes (non-smoking)
Sports book: Yes
Smoking: Yes
RELATED: Las Vegas rewards clubs and how to make the most of them
El Cortez is one of the older Las Vegas gambling establishments in the city, and that is the source of its charm.
It feels absolute worlds away from the sleek and sprawling mega-resort casinos that you find on the Strip, and instead has a vintage 'gambling hall' feel instead.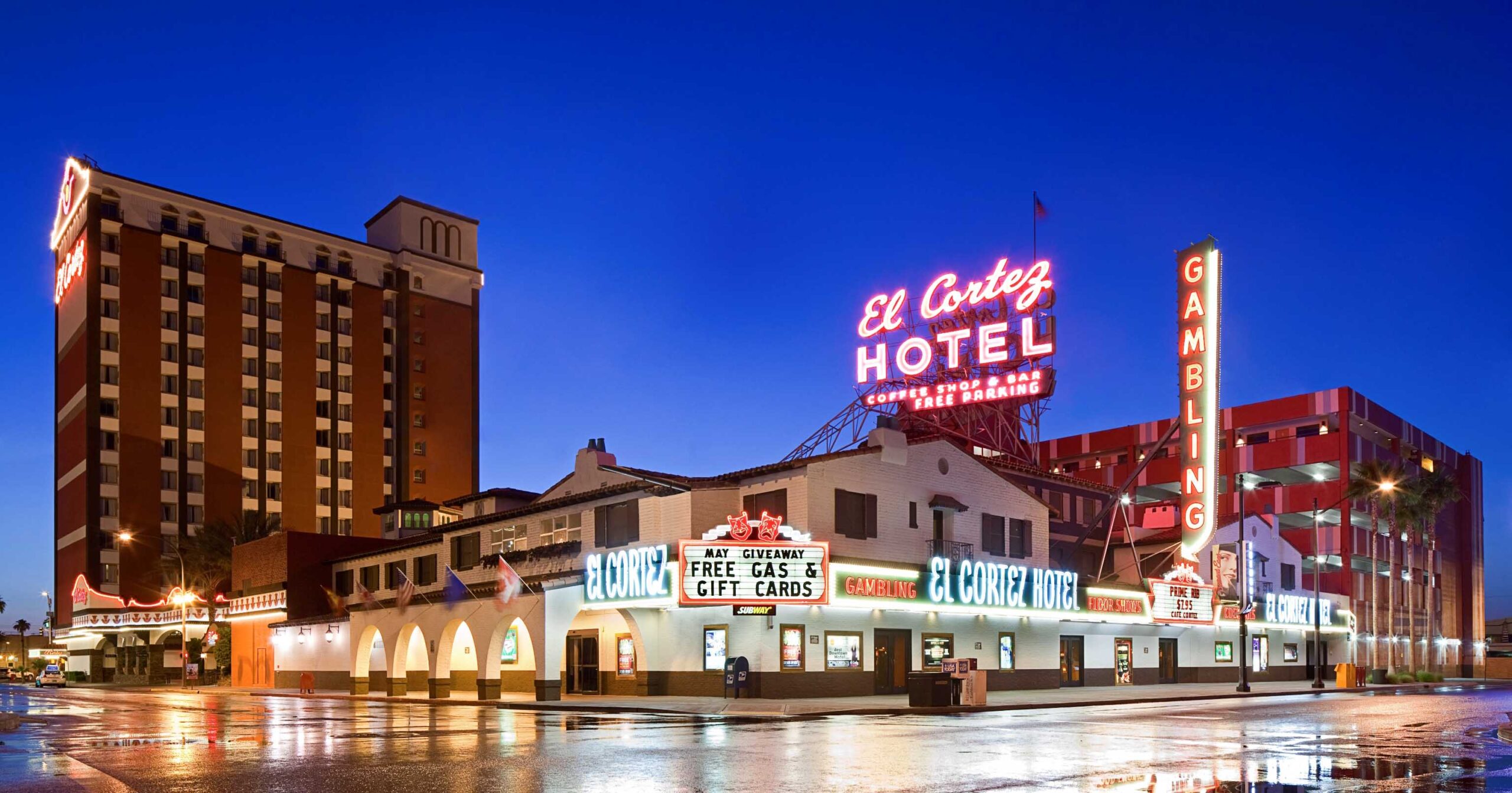 The El Cortez casino is one of the Downtown properties that is located away from the Fremont Street Experience. It is not far away, though. In fact, it is just a short walk from the eastern entrance.
That does mean it is a little quieter as El Cortez casino does not benefit from the Fremont Street Experience footfall like others in the area do.
For many, that will be a positive. With the party within very easy walking distance, El Cortez can feel like a best-of-both-worlds kind of place.
Gambling at El Cortez casino
The gaming floor does not have the most instinctive layout, in truth. That is not to say it is bad, but it's just a little unusual. It feels like a series of connecting long rooms rather than one big place. In terms of square-footage, El Cortez casino is comparative with most Downtown. They layout just makes it feel like it is not.
There is a good selection of games at El Cortez too. The layout does restrict the numbers a little, and 700 slots/video machines and 22 table games is lower than average, although that can be a good thing as you definitely don't feel at all cramped in there or on top of the person playing the next machine along from you. There is also a nice balance between old and new games.
El Cortez is very welcoming to those who love table games too, especially blackjack players as they offer both single and double deck (compared to six and eight on the Strip) blackjack that pays three-to-two. In fact, many serious blackjack players consider El Cortez to be the best place to play in all of Las Vegas.
There are plenty of other table games too: Roulette, Craps, Baccarat and Poker variants are all offered, and there is a dedicated Poker room too – although it is strictly no-smoking in there and that puts off some players.
Sportsbook and drinks service
I have found the complimentary drinks service at El Cortez better than average too, although obviously that is something that can vary at different times of the day.
The El Cortez casino does have a sportsbook, but I'd recommend curbing your expectations on it a little. It is not remotely comparable to others Downtown, never mind on the Strip. Still, it's there if you want to use it and has a fantastic retro feel.
Rewards club
The El Cortez casino is not part of any multiple-property rewards clubs, and that comes with both advantages and disadvantages.
Club Cortez tends to try a little harder to look after its members and incentivise play, which is great. Players can get very cool merch from the property as rewards, as well as the usual complimentary stays etc.
The downside, of course, is that it does lock you into El Cortez a little for your gambling.
ALSO READ: LAS VEGAS HOTELS: El Cortez review and guide